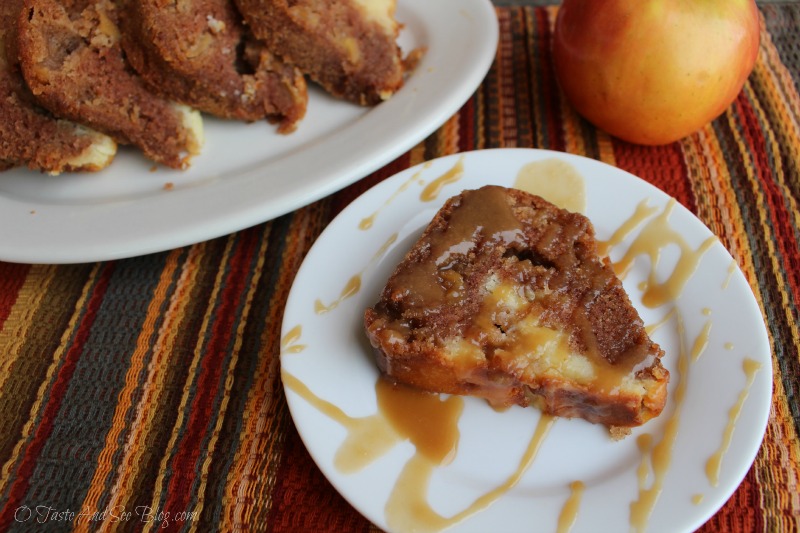 Caramel Apple Bundt Cake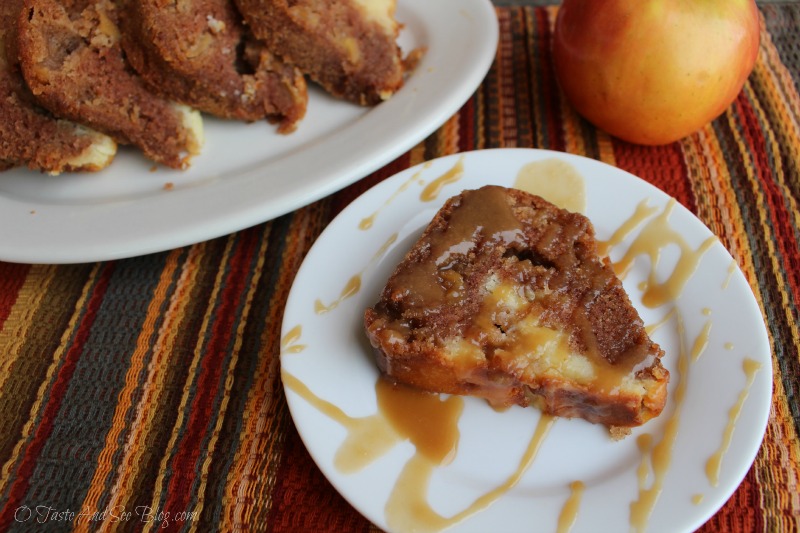 Fall is my husband's favorite time of year. He loves the changing leaves, crisp cool air and fall food!
Sadly, the one tree in our yard that usually has pretty colored leaves died and our crisp cool air comes and goes,(it was 97 again yesterday) but thankfully, we still have Fall food!
My daughter found this recipe on Pinterest, her new obsession, and decided we needed to "blog" it. For those of you who may not be a food blogger, that's code for "I've found a great new dessert and even though mom and dad are trying to diet she'll say yes if it's for the blog". She baked, I took pictures.
The original Caramel Apple Bundt Cake recipe came from Mel over at Mel's Kitchen Cafe.
The cake is super moist, has a great cream cheese filling and each piece is topped with homemade caramel! If that's not Fall in a bundt pan, I don't know what is. Mel said it would taste even better the second day…and she was right. The last couple of pieces we ate without caramel sauce, I think some of us (possibly me) may have gone a little heavy on the sauce. Fortunately, it's easy enough to make more so drizzle away!
Here's the Recipe:
3 cups all-purpose flour
1 tsp baking soda
2 tsp cinnamon
1/2 tsp nutmeg
1/2 tsp salt
3 medium apples, for about 3 cups chopped
1 Tbsp lemon juice
3 Tbsp dark brown sugar
2 tsp vanilla, divided
1 1/4 cup oil
2 cups sugar
3 eggs
8 oz cream cheese, room temperature
1/3 cup sugar
1/2 tsp vanilla
1 egg
2 Tbsp butter
2 Tbsp brown sugar
2 Tbsp white sugar
2 Tbsp heavy cream
1/2 to 1 tsp vanilla
4 Tbsp butter
1 cup firmly packed brown sugar
1/2 cup half-and-half (or heavy whipping cream)
Pinch of salt
1 Tbsp vanilla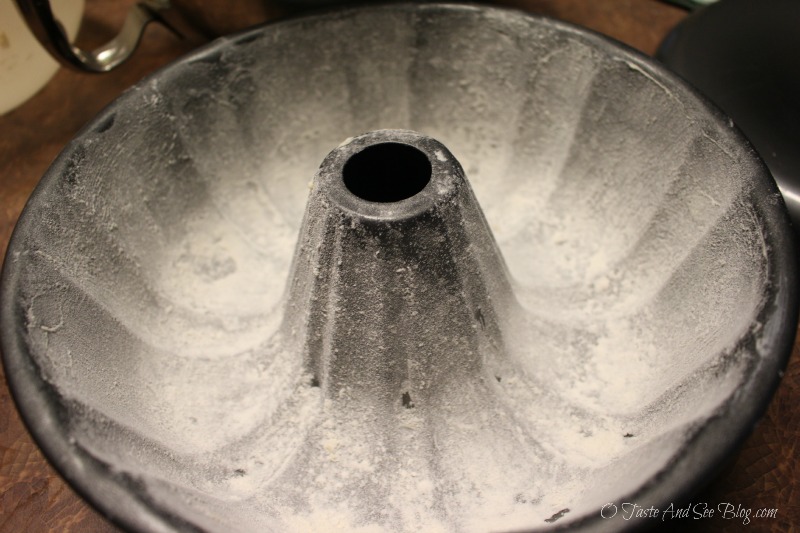 Preheat oven to 350 degrees
Grease and flour a 9-10″ bundt pan
Set aside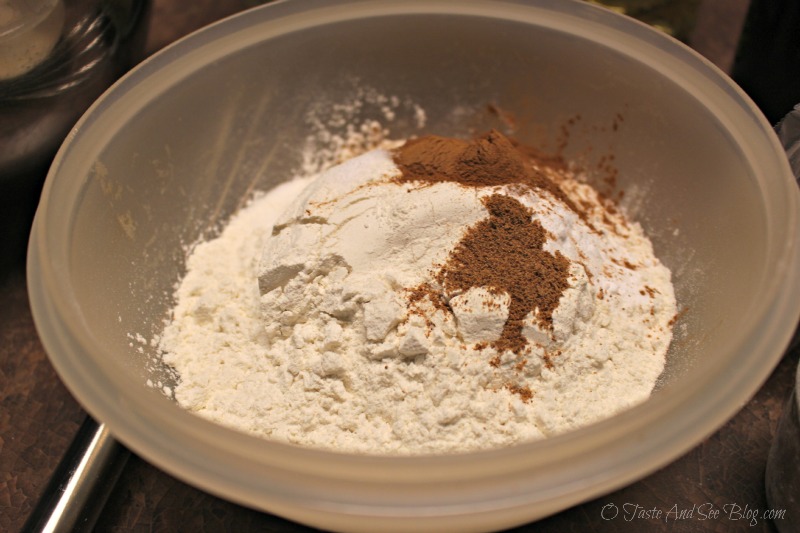 Mix together flour, soda, cinnamon, nutmeg and salt – set aside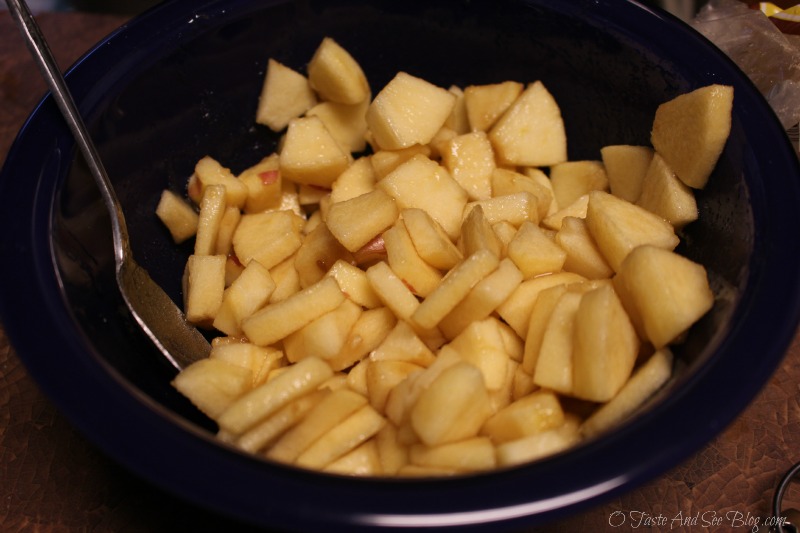 Peel apples and cut into small pieces
Toss with apples with lemon juice, then add brown sugar and 1 tsp vanilla
Toss until apples are well coated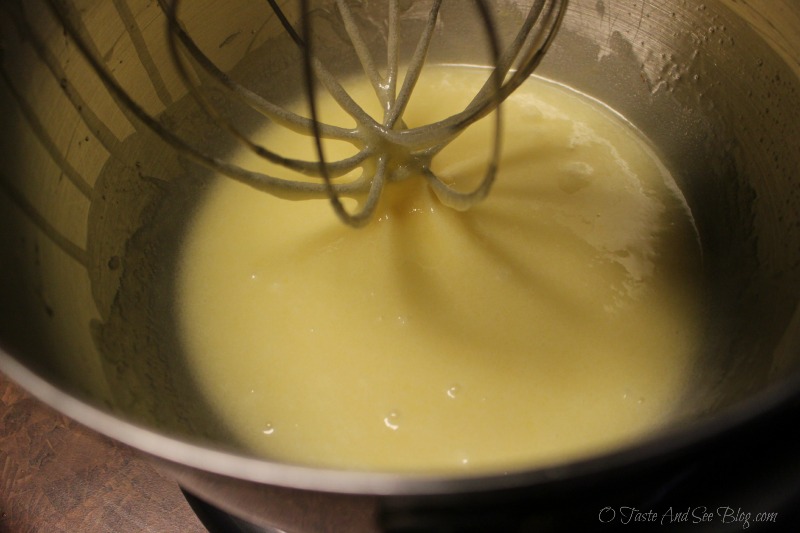 Mix oil, sugar and remaining tsp of vanilla with electric mixer until well combined
Add eggs, one at a time, mixing well after each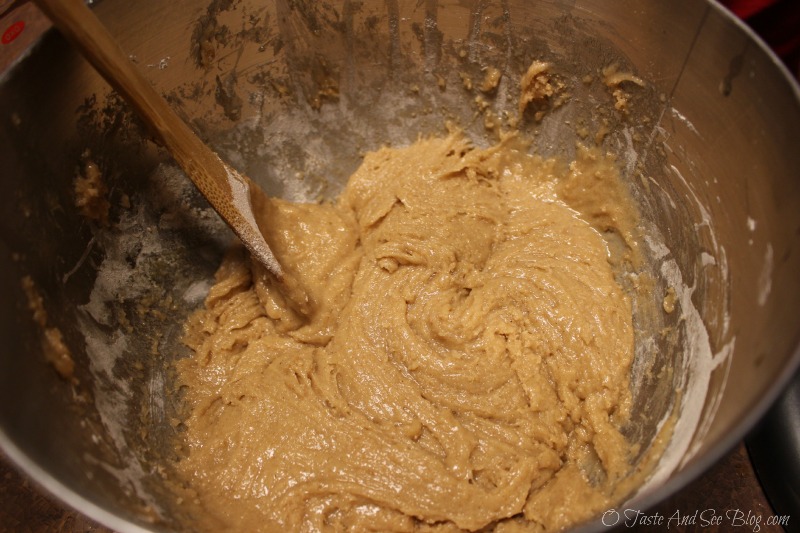 Stir flour mixture just until combined (batter will be pretty thick)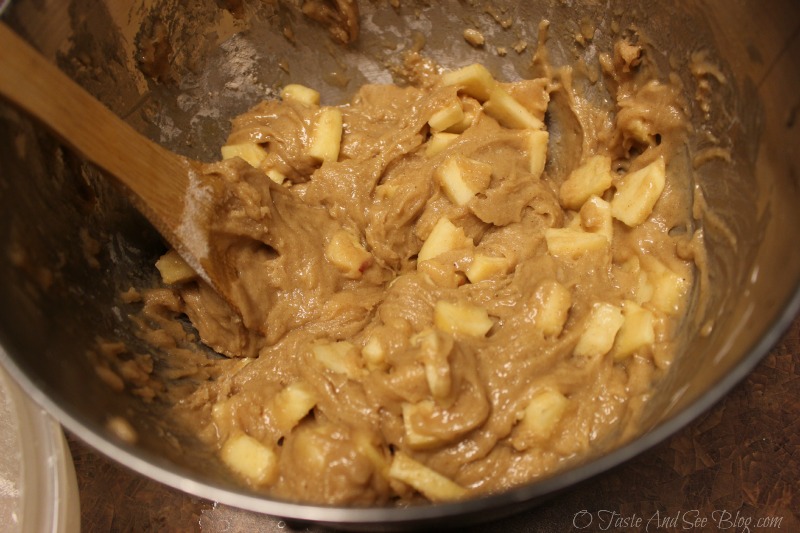 Drain any excess liquid from the apples and stir into the batter
*Don't overmix*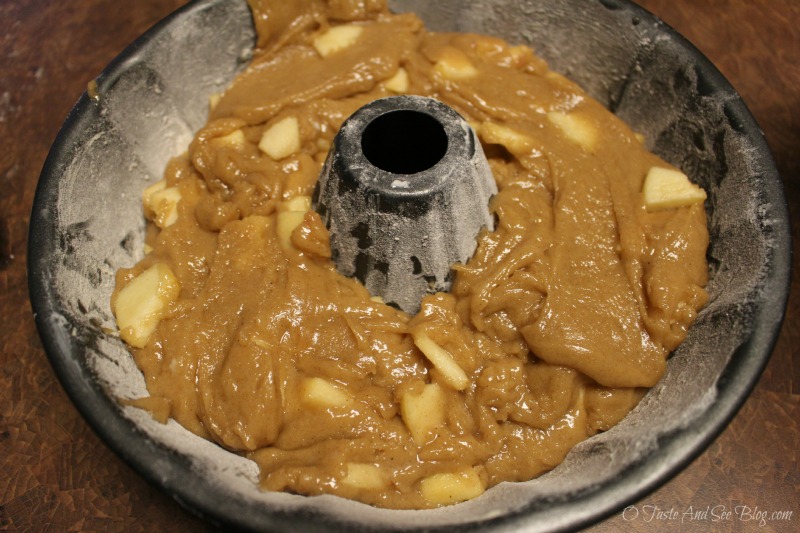 Pour the batter into the prepared pan – set aside
Now for the yummy cream cheese mixture…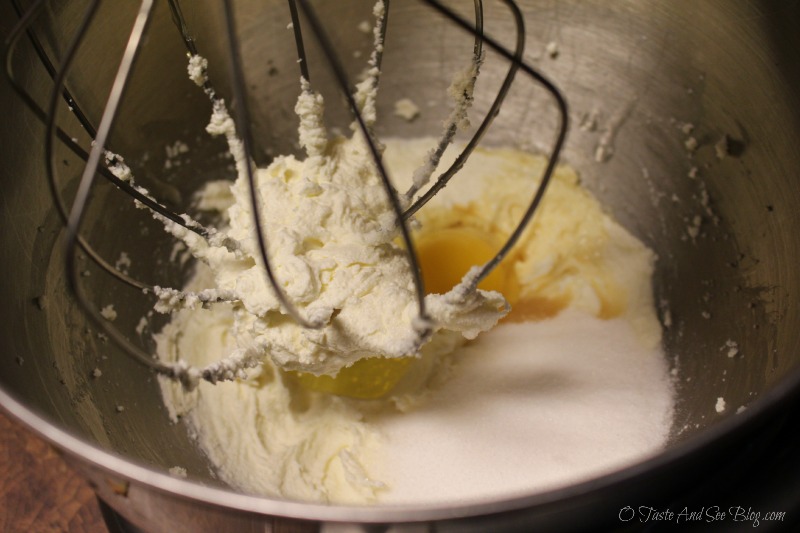 Beat the cream cheese just until smooth
Add cup sugar, vanilla and egg
Beat on medium until smooth and creamy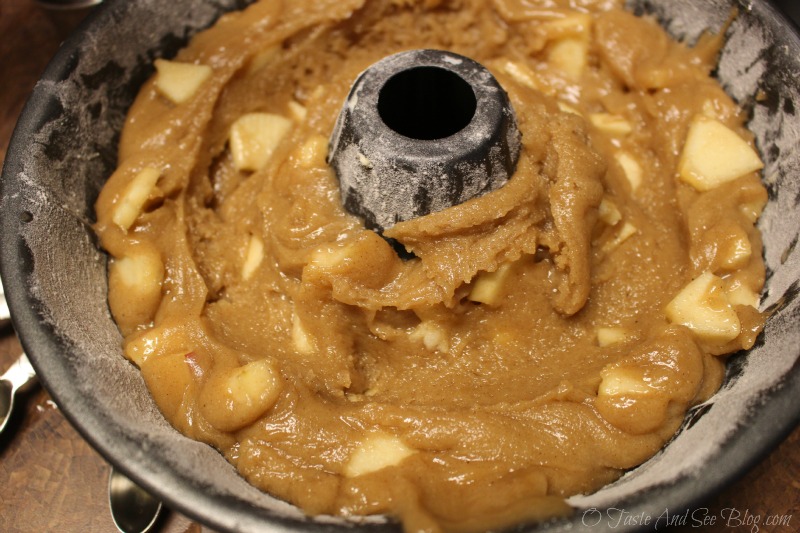 Using a spoon, spread the batter to either side making a nice deep trench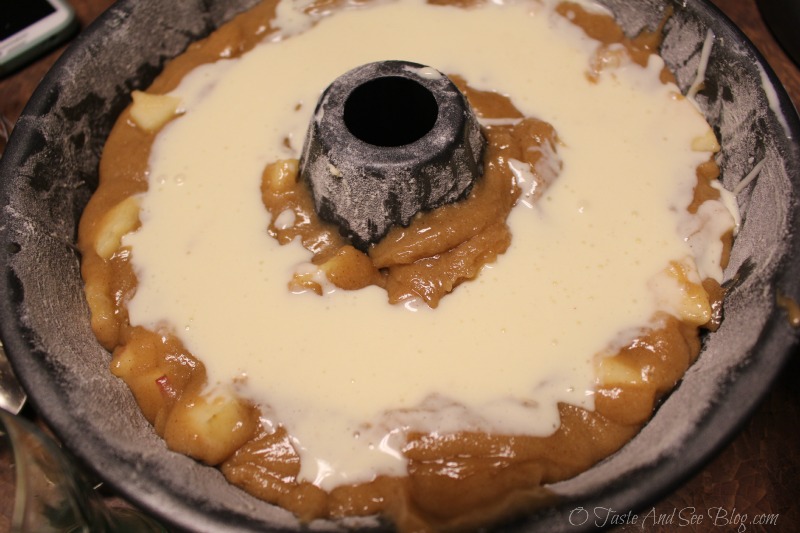 Pour or spoon the cream cheese mixture into the trench, keeping it off the sides of the pan, if possible
(Our trench needed to be a little deeper)
Using a knife, swirl the cream cheese mixture into the cake batter around it
(This is important….otherwise all your cream cheese just sits at the bottom of the cake)
Bake at 350 degree about 1 hr – 1 hr 15 min
Check after about an hour
*Bundt cake hack – use an uncooked spaghetti noodle inserted in the center of the cake, instead of a toothpick, to check for doneness.
Cake is done when noodle come out almost clean (it's ok if there's a few crumbs)
Place cake on wire rack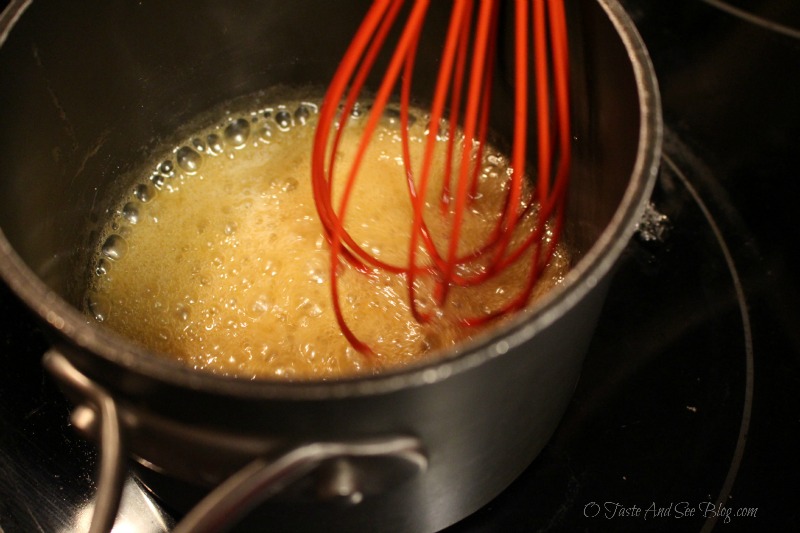 While cake is cooling, mix up ingredients for glaze in a small saucepan over medium heat
Bring to a boil and continue to boil for 1 minute, stirring constantly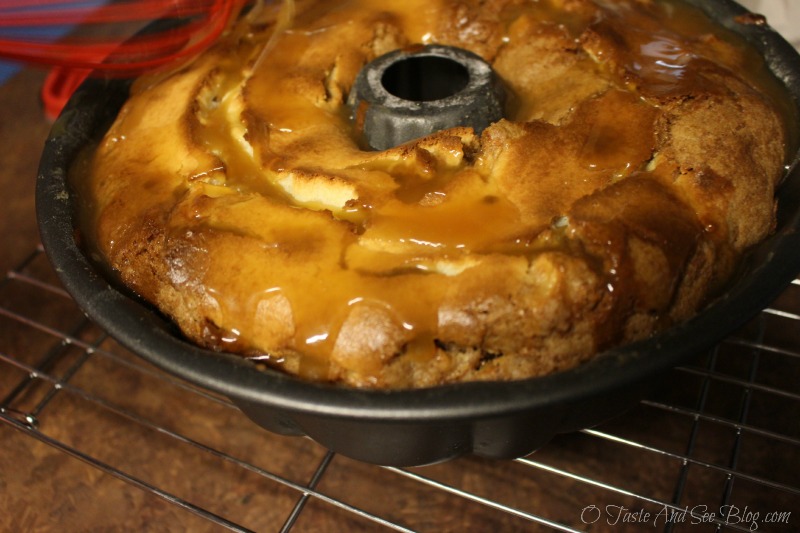 While cake is still warm and in the pan, pour glaze over
Allow cake to cool completely before removing from pan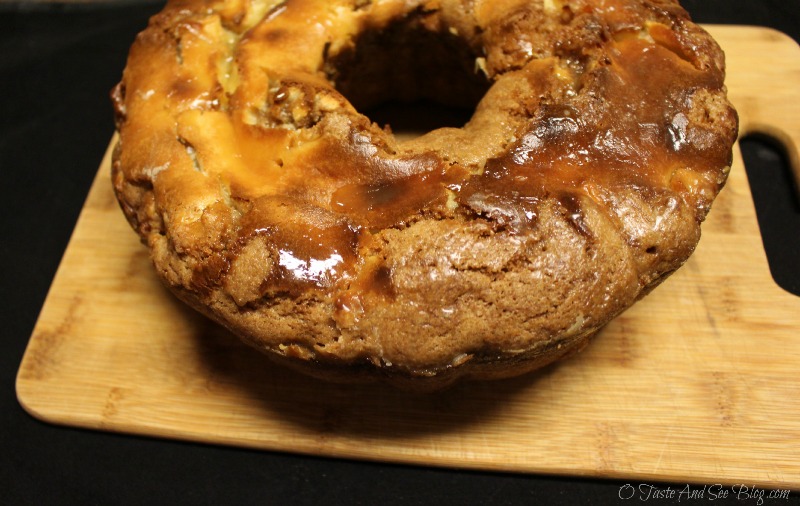 When cool, turn cake out onto plate and store covered tightly
Prepare caramel sauce before serving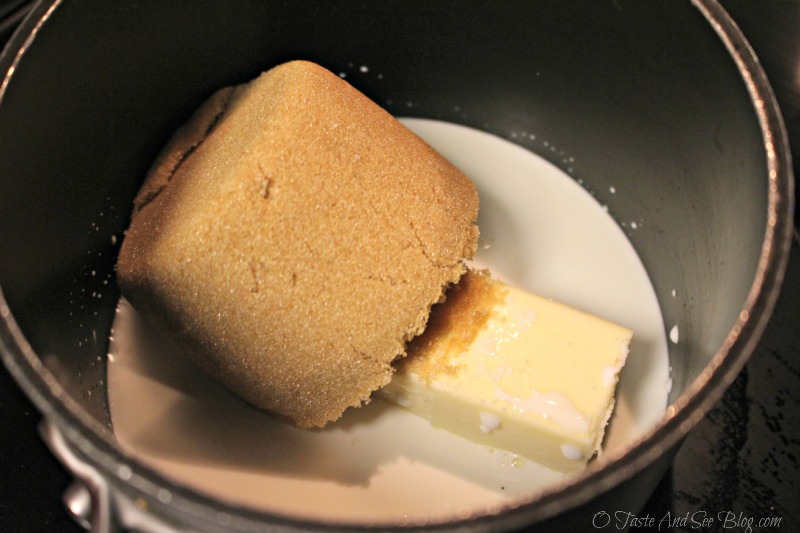 Mix sauce ingredients (except vanilla) in a small sauce pan over medium-low heat
Simmer 5-7 minutes or until slightly thickened, whisking constantly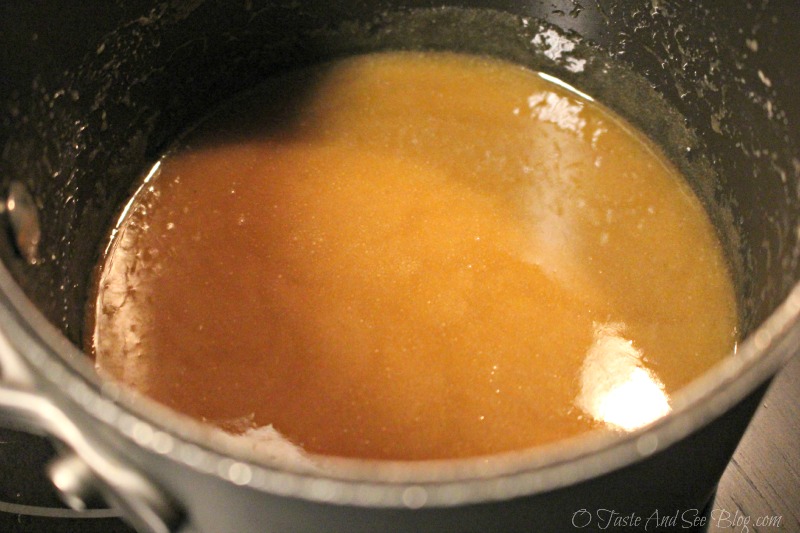 Add vanilla and continue to cook about 1 more minute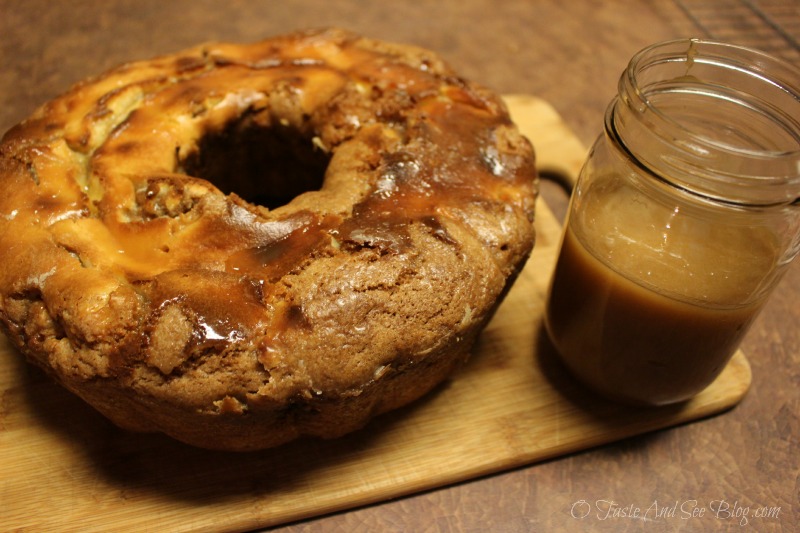 Cool slightly and use immediately or place in jar and refrigerate until ready to use
Can be made a day or two ahead, just microwave before using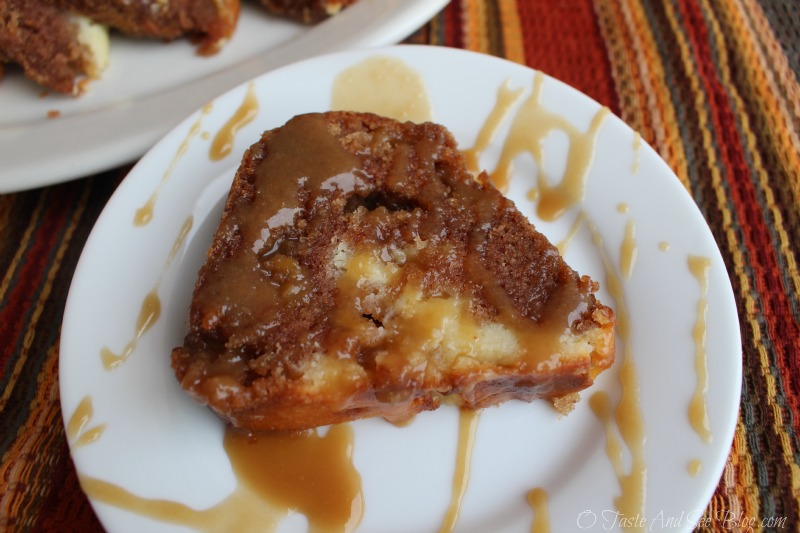 Drizzle each slice of cake with sauce just before serving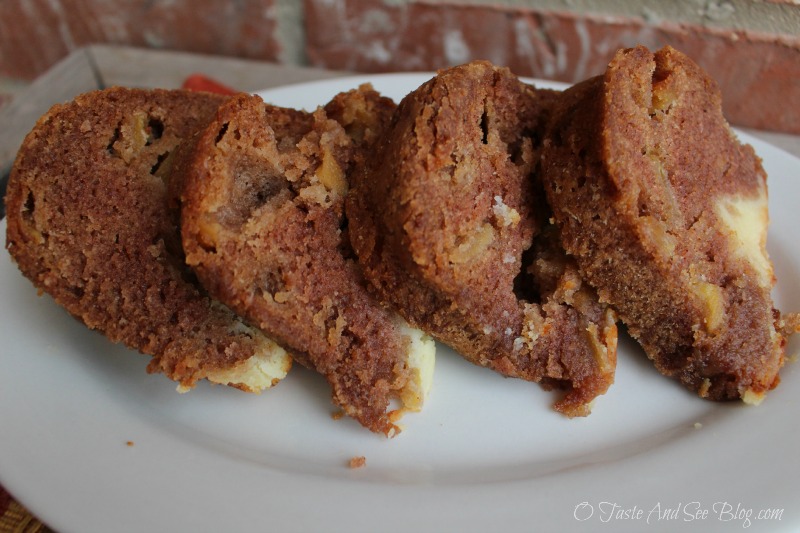 Caramel Apple Bundt Cake aka Fall in a Bundt Pan!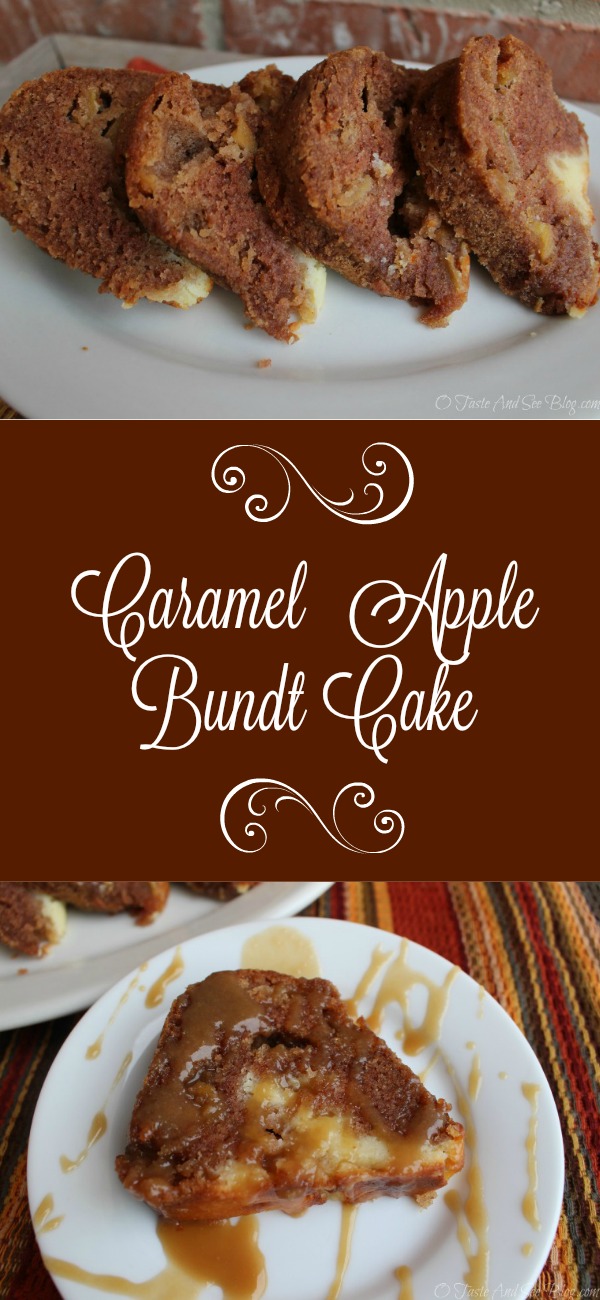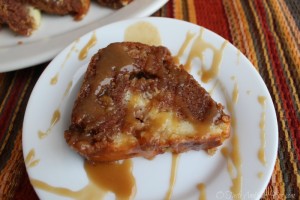 Caramel Apple Bundt Cake
2015-10-15 12:04:59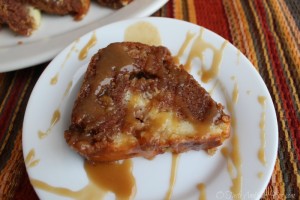 Cake
3 cups all-purpose flour
1 tsp baking soda
2 tsp cinnamon
1/2 tsp nutmeg
1/2 tsp salt
3 medium apples, for about 3 cups chopped
1 Tbsp lemon juice
3 Tbsp dark brown sugar
2 tsp vanilla, divided
1 1/4 cup oil
2 cups sugar
3 eggs
Cream Cheese Layer
8 oz cream cheese, room temperature
1/3 cup sugar
1/2 tsp vanilla
1 egg
Glaze
2 Tbsp butter
2 Tbsp brown sugar
2 Tbsp white sugar
2 Tbsp heavy cream
1/2 to 1 tsp vanilla
Caramel Sauce
4 Tbsp butter
1 cup firmly packed brown sugar
1/2 cup half-and-half (or heavy whipping cream)
Pinch of salt
1 Tbsp vanilla
Instructions
Preheat oven to 350 degrees
Grease and flour a 9-10″ bundt pan
Set aside
Mix together flour, soda, cinnamon, nutmeg and salt – set aside
Peel apples and cut into small pieces
Toss with apples with lemon juice, then add brown sugar and 1 tsp vanilla
Toss until apples are well coated
Mix oil, sugar and remaining tsp of vanilla with electric mixer until well combined
Add eggs, one at a time, mixing well after each
Stir flour mixture just until combined (batter will be pretty thick)
Drain any excess liquid from the apples and stir into the batter
*Don't overmix*
Pour the batter into the prepared pan – set aside
Now for the yummy cream cheese mixture…
Beat the cream cheese just until smooth
Add cup sugar, vanilla and egg
Beat on medium until smooth and creamy
Using a spoon, spread the batter to either side making a nice deep trench
Pour or spoon the cream cheese mixture into the trench, keeping it off the sides of the pan, if possible
(Our trench needed to be a little deeper)
Using a knife, swirl the cream cheese mixture into the cake batter around it
(This is important….otherwise all your cream cheese just sits at the bottom of the cake)
Bake at 350 degree about 1 hr – 1 hr 15 min
Check after about an hour
*Bundt cake hack – use an uncooked spaghetti noodle inserted in the center of the cake, instead of a toothpick, to check for doneness.
Cake is done when noodle come out almost clean (it's ok if there's a few crumbs)
Place cake on wire rack
While cake is cooling, mix up ingredients for glaze in a small saucepan over medium heat
Bring to a boil and continue to boil for 1 minute, stirring constantly
While cake is still warm and in the pan, pour glaze over
Allow cake to cool completely before removing from pan
When cool, turn cake out onto plate and store covered tightly
Prepare caramel sauce before serving
Mix sauce ingredients (except vanilla) in a small sauce pan over medium-low heat
Simmer 5-7 minutes or until slightly thickened, whisking constantly
Add vanilla and continue to cook about 1 more minute
Cool slightly and use immediately or place in jar and refrigerate until ready to use
Can be made a day or two ahead, just microwave before using
Drizzle each slice of cake with sauce just before serving
O Taste and See https://otasteandseeblog.com/