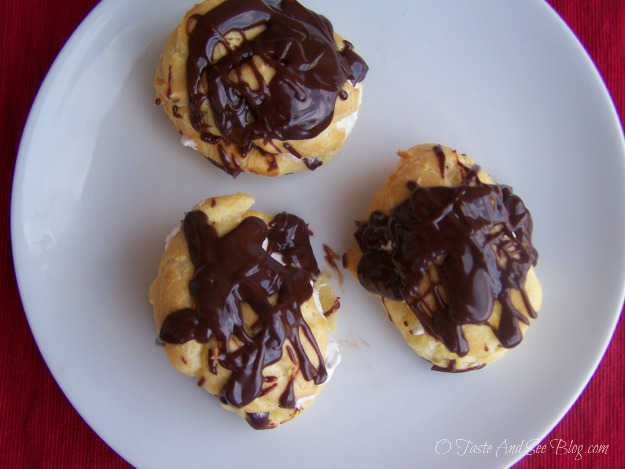 Chocolate Ganache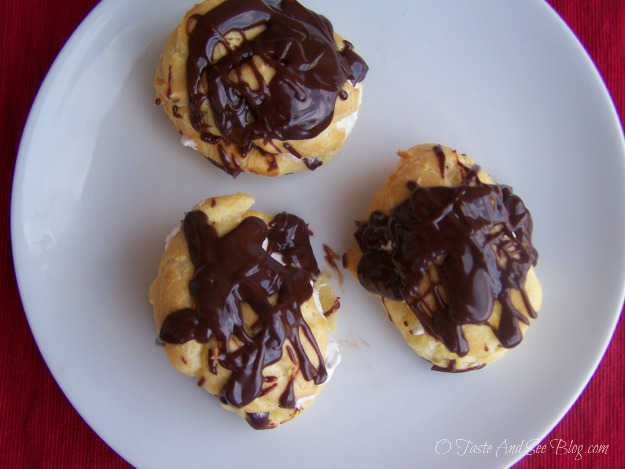 As promised, the extra special topping on the Cream Puffs, made with the remainder of my extra special Ghirardelli Chocolate Chips…..Chocolate Ganache!
I've always loved to watch cooking shows, even when I was young. This was before the days of cable when cooking shows were only found on PBS and long before The Food Network with all it's popular chefs. I'm sure that puts me into some sort of "nerd" category, but hey…what can I say?
One of my favorite shows was called Death By Chocolate, hosted by Marcel Desaulniers. I watched often but the only thing I ever remember him making was Chocolate Ganache. I seem to remember him making it every show, which I suppose accounts for his nickname… "The Ganache Guru".
I was pretty young and the fanciest restaurant I had ever been to was probably Steak and Ale. My idea of a "fancy" dessert was most likely chocolate mouse, so when I first heard him talking about Chocolate Ganache I thought it was probably the most decadent, difficult recipe you could make. As he so aptly demonstrated on my TV screen, it was indeed decadent, however, anything but difficult. It's the fastest and easiest way to add smooth rich chocolate sauce to anything!
I also learned from him the best way to melt any chocolate…a "do it yourself" double boiler. He would always use a pan with a little water in it, topped with a glass bowl. Every time he melted chocolate it turned out PERFECTLY! That's when I stopped using the microwave and tried his idea. Now, I too, get perfectly melted chocolate EVERY time!
Here's the Recipe:
1 cup chocolate chips
1 cup heavy cream
*Smaller or larger amounts can be made depending on your need. The key is equal amounts chocolate and heavy cream*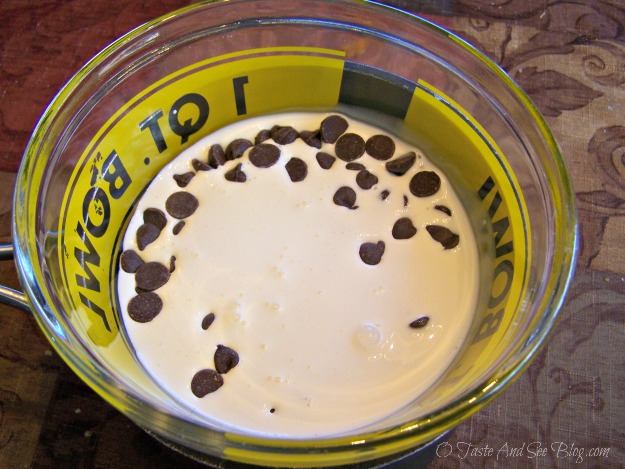 Using a double boiler (glass bowl placed on top of pot with water in it)
Place chips and cream in bowl
Heat pot over medium heat until chocolate begins to melt
Whisk until smooth

Rich, smooth, shiny Chocolate Ganache…Every time!
I did have a little left after the Cream Puffs. Here's what happened to it…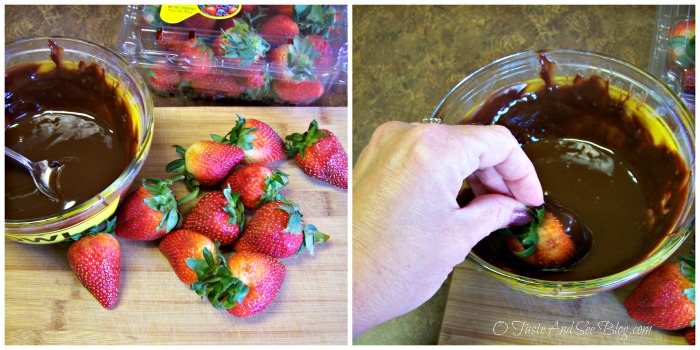 I don't recommend this as the standard covering for chocolate strawberries….it dries soft…but it was VERY good!
But still some remained….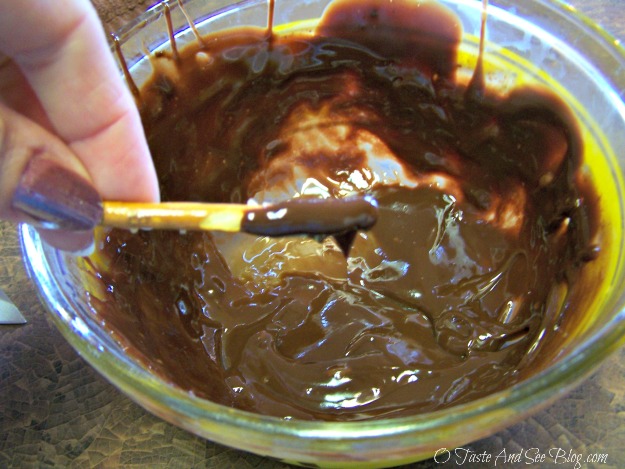 It was Ghirardelli….it couldn't go to waste! Although, I did "spoil" my dinner.
Chocolate Ganache
2014-03-22 16:36:56
Decadent, delicious, beautiful chocolate sauce. Perfect addition to almost any dessert
Ingredients
1 cup chocolate chips
1 cup heavy cream
Instructions
Using a double boiler
Place chips and cream in bowl
Heat pot over medium heat until chocolate begins to melt
Whisk until smooth
Notes
Amount may be adjusted according to need. Most important...equal amounts of each
Double boiler - heavy sauce pan topped with heat proof glass bowl that fits the pan but doesn't touch the bottom
O Taste and See https://otasteandseeblog.com/