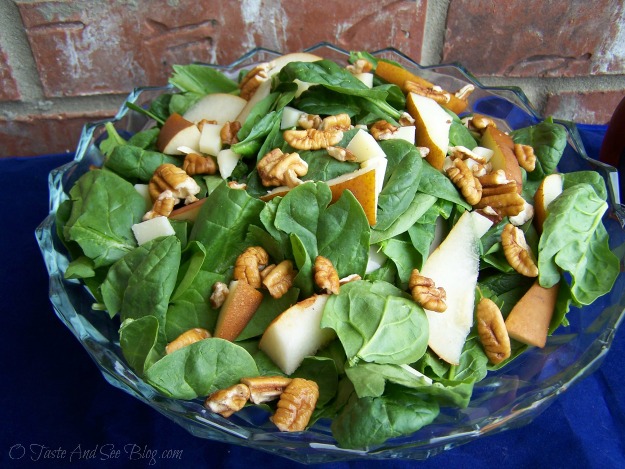 Pear Spinach Salad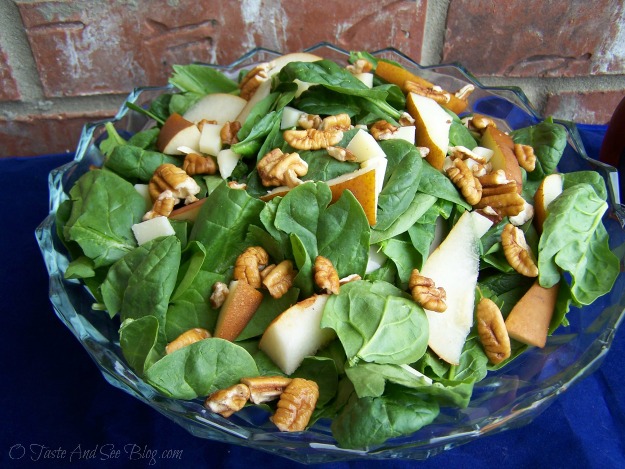 Summer is officially here…kids are out of school, vacations are anticipated and the temperatures are rising. The one thing most people DON'T want to do this time of year is spend time in a hot kitchen. Grilling outside is a great way to avoid the heat of the kitchen but what about side dishes?
Our answer…Salad, but not just any ordinary salad…Pear Spinach Salad with Maple Dressing!
We first had this dish when a friend brought it to a pot luck. I noticed the dressing was already added (I can be a little picky about dressing) but the combination of pear, nuts and spinach was so inviting I decided to try it without asking what it was.
The first bite was DELICIOUSLY sweet with a familiar flavor. I had never had anything like it, but it was wonderful. I thought I recognized the flavor…but no, it couldn't be. After a few more bites I finally asked.
The secret ingredient…..
Full Pear Spinach Salad recipe posted at The Best Blog Recipes Gallery.