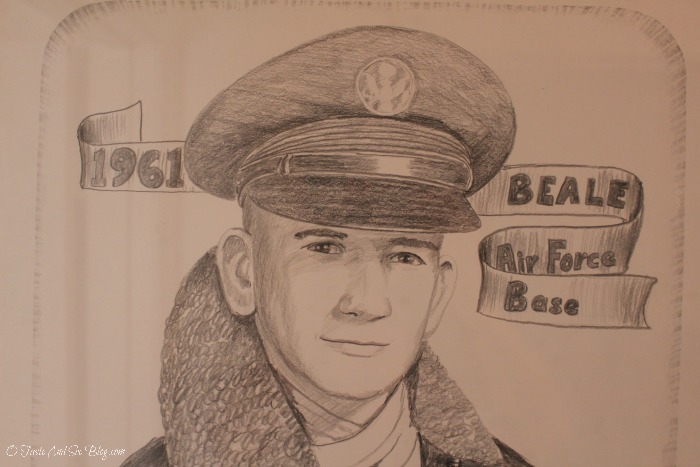 Sharing a Cup and a Story with My Favorite Veteran
This is a sponsored conversation written by me on behalf of The J.M. Smucker Company. The opinions and text are all mine. I'm partnering with Folgers® at Walmart through the Share A Cup & A Story campaign, to create personal connections with Veterans and honor their service to our country.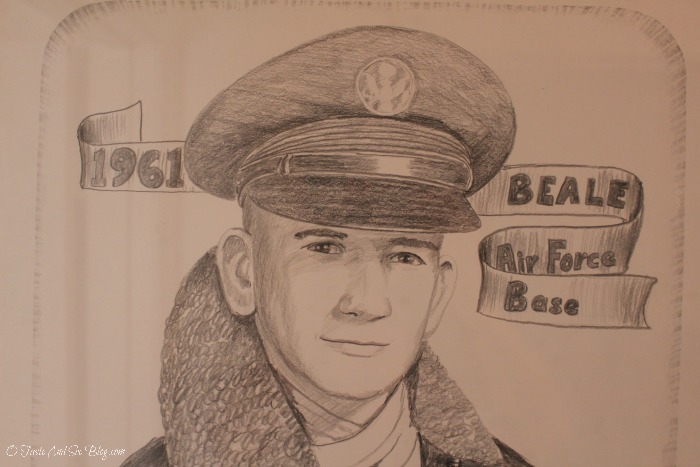 With Veterans Day approaching, I thought this would be a good time to talk about my favorite veteran…my dad. He is an unconditionally loving father, faithful husband, provider, man of integrity and yes, veteran. My goal here is to honor the man I am privileged to call my dad.
We've had a busy few weeks and although my parents live only a couple of miles away I've hardly seen or talked to them. So, on a recent Saturday morning I headed over to their house to spend some time with them.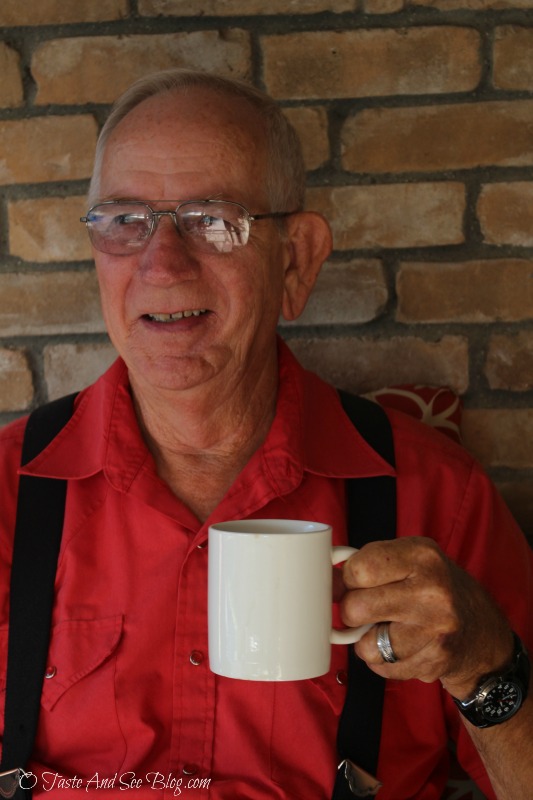 When I arrived my dad was doing what I've known him to do every morning of…well…I guess his adult life…at least as long as I've known him. He was drinking his morning coffee. He likes it black and not too strong and his preferred brand is Folgers® Classic Roast.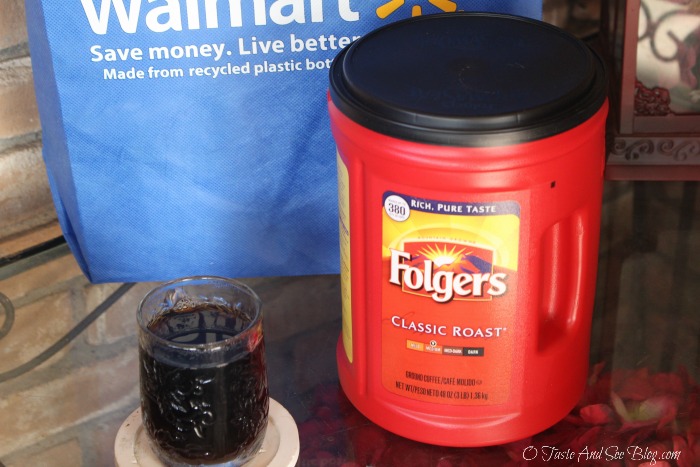 My parents LOVE their coffee and Walmart, which is the only place in town I've seen the 48 oz can of Folgers.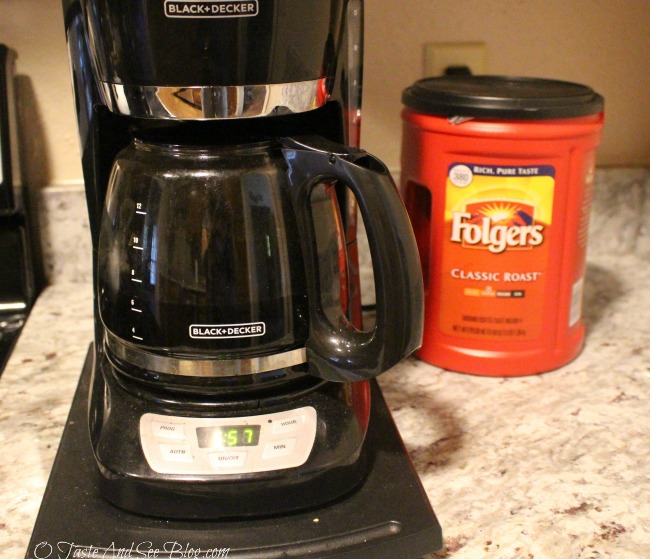 Once, many years ago when we lived far from each other and before I was a coffee drinker, they were visiting and I had purchased coffee for them (probably also at Walmart). As soon as my mom saw it was Folgers her response was, "Oooh, you got the good stuff!" So from then on, I always "got the good stuff" when they were coming.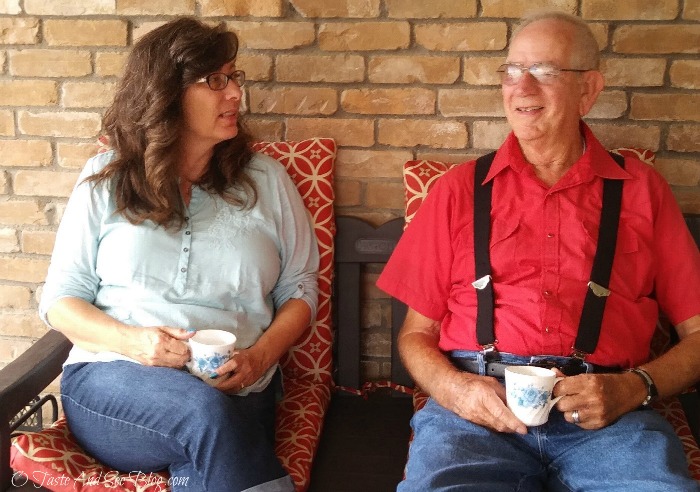 As I visited and we caught up on our activities the conversation turned to my dad and his military career. He enlisted in the Air Force in 1961, right out of high school. This was just before our official involvement in the Vietnam War. He spent eight years in the military and learned many valuable lessons as well as life and vocational skills that have served him well.

He became an airplane mechanic on a KC-135Q, probably not a plane most people are familiar with. It was a refueling plane for the famed SR-71 Blackbird. Now that's a plane we've all heard of…today. But, back when he was in service it was highly classified, top-secret and only those in direct contact with it even knew about it. Because they were spy planes and top-secret, they weren't allowed to land just anywhere. Usually, it was someplace in the US or Okinawa, Japan but it flew all over the world. The refueling plane and its crew were sent around the world with it. My dad has literally been all over the world, too many countries to count. When I was a kid I used to love to hear him tell stories about all the places he'd been and things that had happened there.
His home base was Beale Air Force Base in California, but he had to be ready to leave at a moment's notice, sometimes to be gone a couple of days, sometimes several weeks. I remember him telling of a time they were sent to Alaska, in the dead of winter. They had left unexpectedly and were not prepared, ending up without winter clothing! That's bad! But, my dad HATES the cold so for him it was horrible!
He spent some time in Vietnam, as did most service men of that time, but those are not stories he talks about. The 60's were a time of great "turmoil" here at home and sadly our service men were not welcomed home with thanks and appreciation by some. They did not receive the honor that most from wars past and present have received. But it didn't lessen their commitment and character.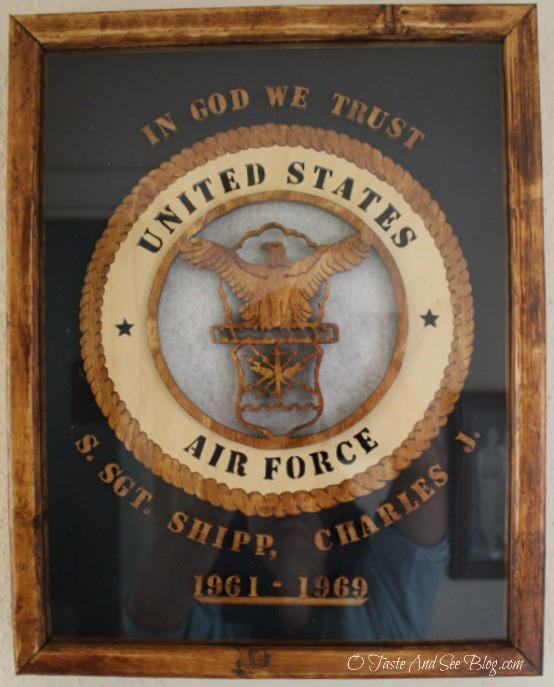 Not long ago my dad received this plaque from his church. It's hand carved and must have taken many hours. I'm not sure they will ever completely know how much it touched my dad. He told my mom and me that since he left the service in 1969, he'd never had anyone do something like that for him. He is proud to have served his country and I am thankful that even though it's been almost 50 years, someone took the time to show their appreciation.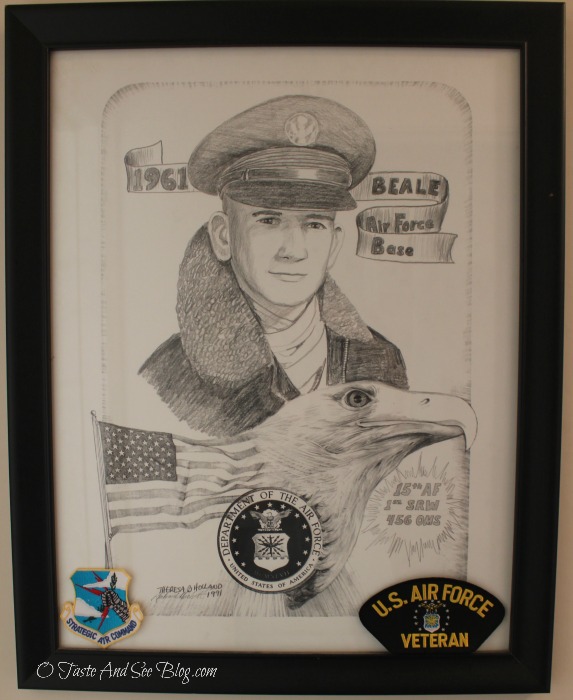 This Veteran's Day take a moment, maybe share a cup with a Veteran, listen to their stories and just say "Thanks!"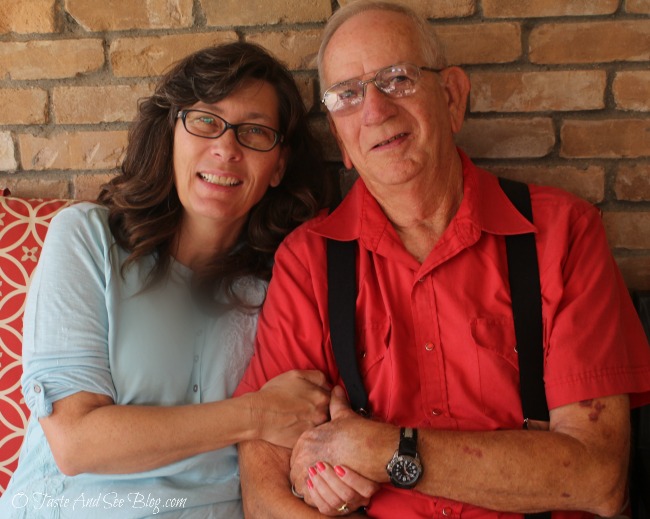 Who's your favorite veteran to share a cup and a story with?