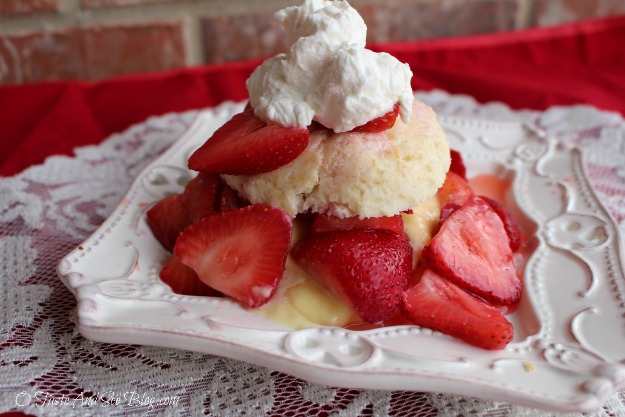 Strawberry Shortcake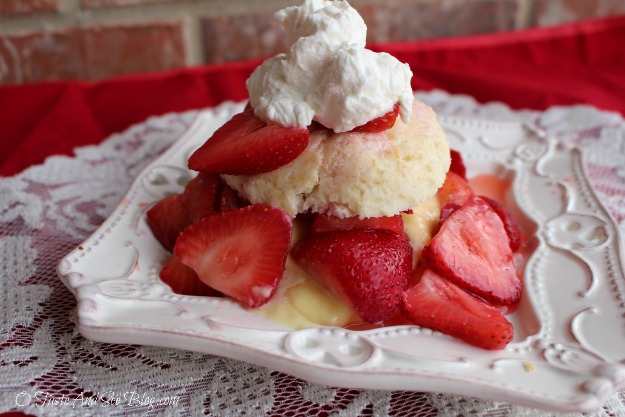 Today I'm linking with Emily at Nap-Time Creations as she shares an awesome Summer Fun Series! I'm honored to be a part of this great series that offers fun ideas, suggestions and recipes for things to do this summer.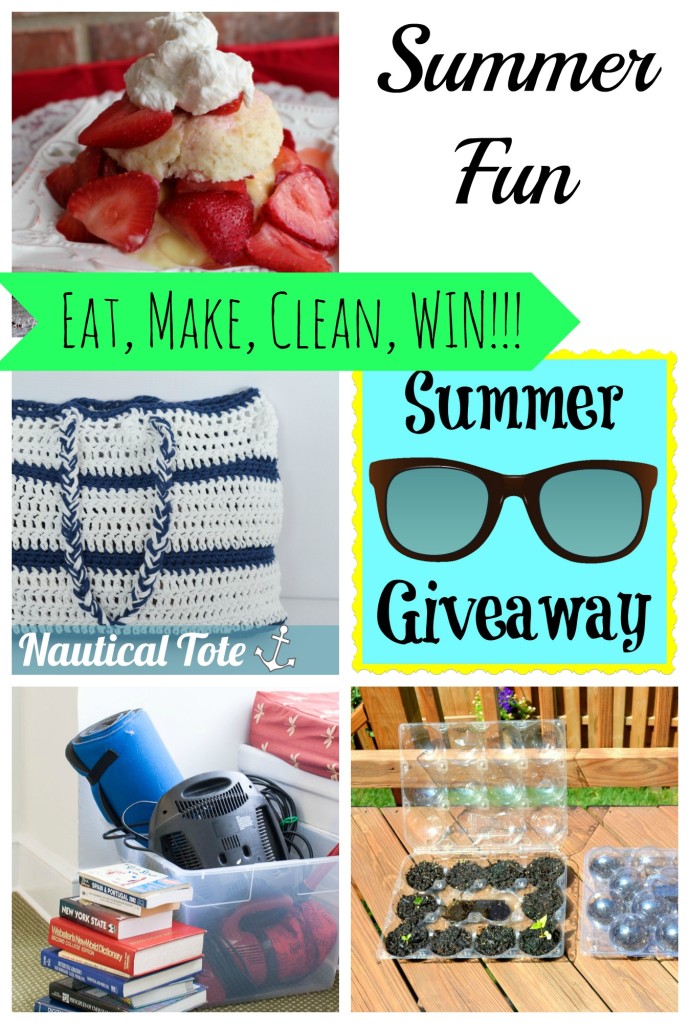 I told you about our "dessert eating month", shared with my in-laws, and how to make the Sweet Cream Biscuits for this Strawberry Shortcake recipe. It's a wonderfully refreshing summertime dessert, but what makes this dish somewhat unique is the vanilla pudding.
I had eaten Strawberry Shortcake all my life, but had never had it quite like this until I married my husband and gratefully acquired some of his favorite recipes from his mom. The addition of the vanilla pudding adds a creamy texture to an already delightful dessert!
To simplify the process we use box pudding but you could make it from scratch if you like. We do prefer Homemade Whipped Cream but Cool Whip or Redi Whip works in a pinch. This makes a beautiful presentation so it's perfect for serving to guests. Everything can be made earlier in the day. I don't recommend making the Sweet Cream Biscuits the day before…they aren't nearly as good the next day…so eat them ALL…you know, to avoid waste.
Here's the Recipe:
1 recipe Sweet Cream Biscuits
1 large package Jell-O Vanilla pudding (and milk to prepare)
1 pint fresh strawberries – sliced
Bake Sweet Cream Biscuits allowing enough time to cool completely before serving
A couple of hours before serving make Homemade Whipped Cream.
Slice strawberries and sprinkle with about 1/4 – 1/2 cup sugar (depending on taste and sweetness of strawberries) Allow to sit, unrefrigerated. This allows the strawberries to soften slightly and brings out the juice. Let them sit for about 30 minutes or until you see juice forming then cover and refrigerate until ready to serve.
Prepare vanilla pudding according to package directions allowing time for pudding to chill before serving.
Assemble just before serving
Assembly Directions: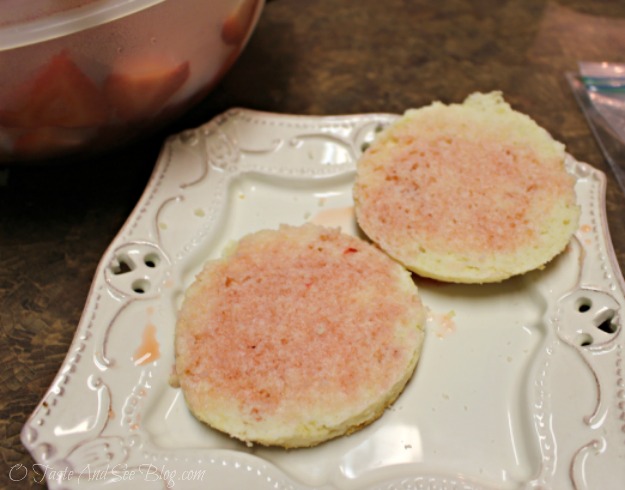 Split open one shortcake and spoon some strawberry juice on each half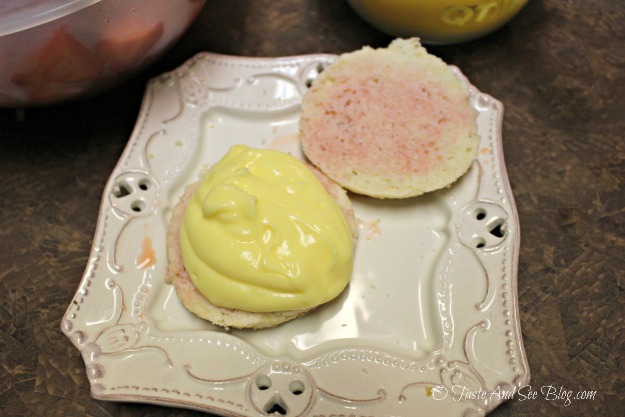 Spoon pudding onto bottom of short cake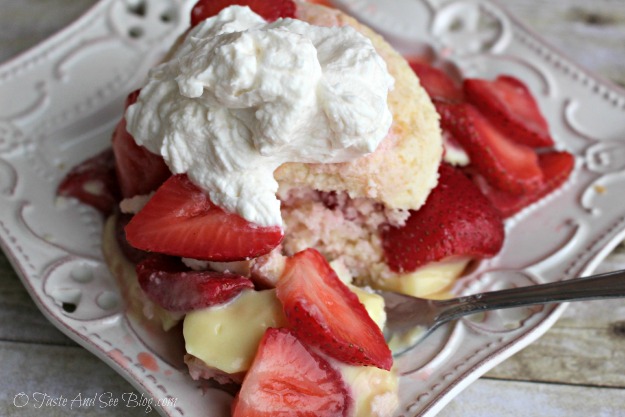 Top with strawberries
Replace top half of short cake
Spoon over more juice if desired
Dollop with whipped cream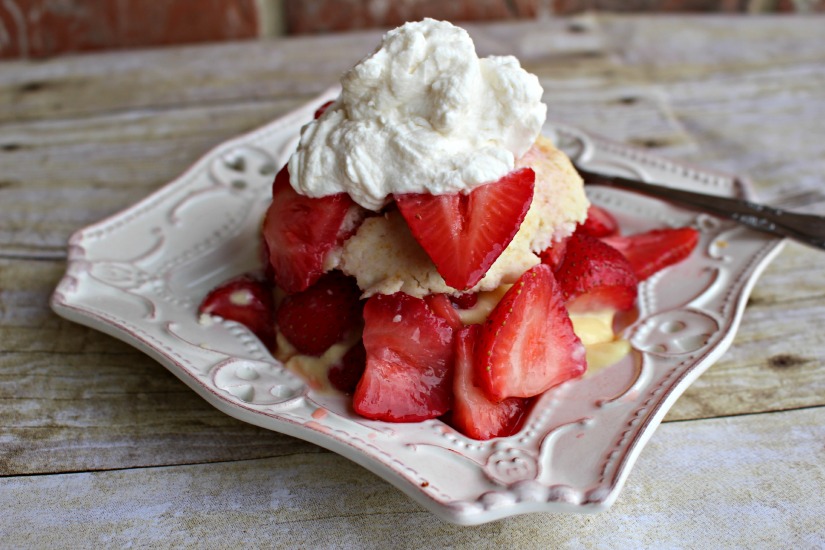 Serve Immediately!
Also, the Sweet Cream Biscuits can be made a few hours before serving, but aren't good as "left overs". I don't recommend making them the day before.