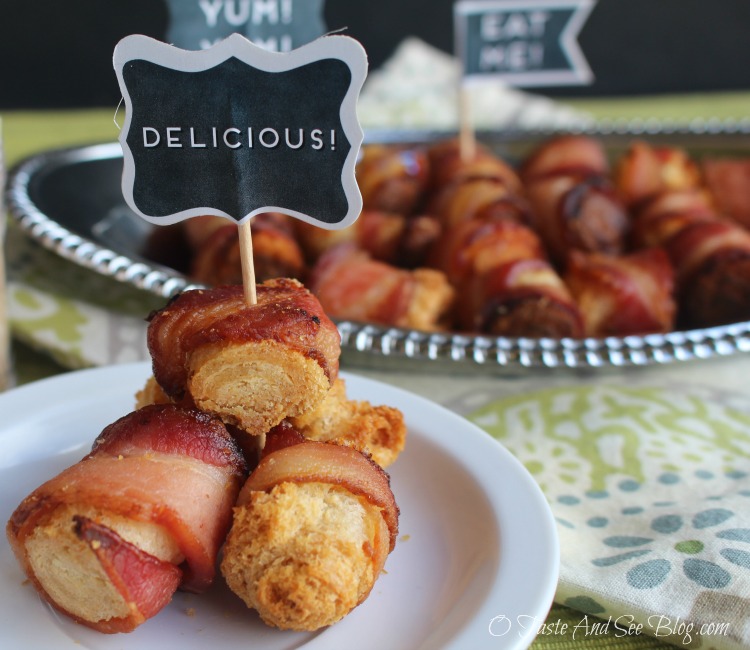 Make Ahead Bacon Bites
This is a sponsored post written by me on behalf of Tyson Foods, Inc. All opinions are entirely my own.
Today's recipe for Bacon Bites is an easy make ahead meal, perfect as an appetizer, snack, or brunch add-on.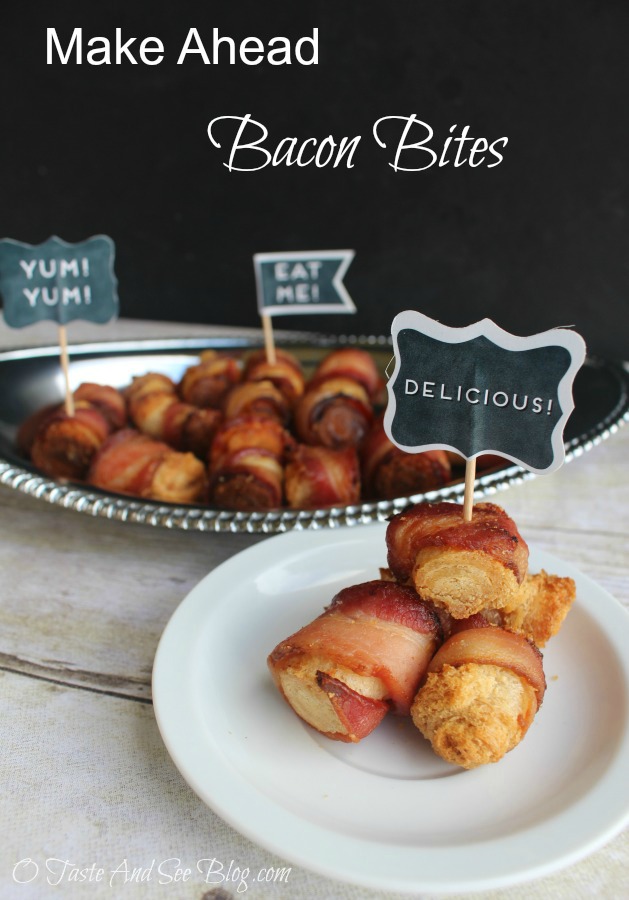 BACON!!! I LOVE bacon! I grew up eating bacon, literally E-V-E-R-Y day. So, I was thrilled when the rest of the world caught on to its crunchy, salty, de-liciousness.
Now, it's EVERYWHERE…. and rightfully so! Who doesn't love bacon!? Its one of those foods that once you smell it, you immediately want it. It's perfect anytime!
You know what else I love about bacon? It's a "humble" food. It doesn't have to be the star of the show. Oh, it will accept the challenge boldly of being front and center on a dish if needed but it's just as content
being added as a side, garnish or ingredient and allow other ingredients to stand on its shoulders and shine. Really, doesn't bacon make just about everything better?
If you need a good snack, appetizer or brunch addition these Bacon Bites may be just what you're looking for. Besides the taste, the great thing about these is they can be made ahead of time, frozen and baked up in about 25 minutes whenever you need them. I first made these for a Mother-Daughter Tea where we served 150 ladies. My daughters and a friend helped me assemble them several weeks ahead then all we had to do was pull them out and bake. Everyone loved them!
Bacon is the "star" of this recipe so it's a good idea to use a high quality, great tasting brand. I chose Jimmy Dean® Applewood Smoked Bacon.
After I made them I took some over to my parents to try. They had no idea what brand or for what reason I had made this recipe. The first words out of my dad's mouth were, "THAT'S good bacon!" My husband immediately looked at me and said, "You know, that's got to go on the blog." There's nothing better than a natural reaction.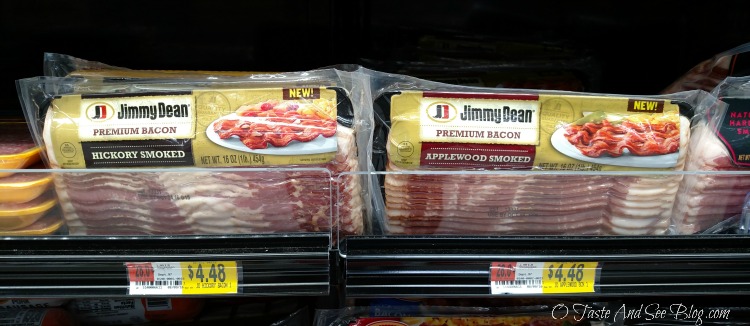 My mom was surprised to hear it was Jimmy Dean (she didn't realize Jimmy Dean had bacon) and wanted to know where I had found it. She was thrilled to hear I had purchased it at Walmart….which is less than a mile from her house! I'm pretty sure she's on her way there this morning to pick some up. I also reminded her to use the $1 off coupon.
I know your mouth must be watering, so without further adieu…..
Here's the Recipe:
8 oz package cream cheese – softened
16 oz package Jimmy Dean® Applewood Smoked or Hickory Smoked Bacon
1/2 tsp garlic powder
white or wheat bread – 16-20 pieces
*This recipe can easily be halved or doubled depending on how many you're serving. Keep in mind, each piece of bread makes 3-4 Bacon Bites*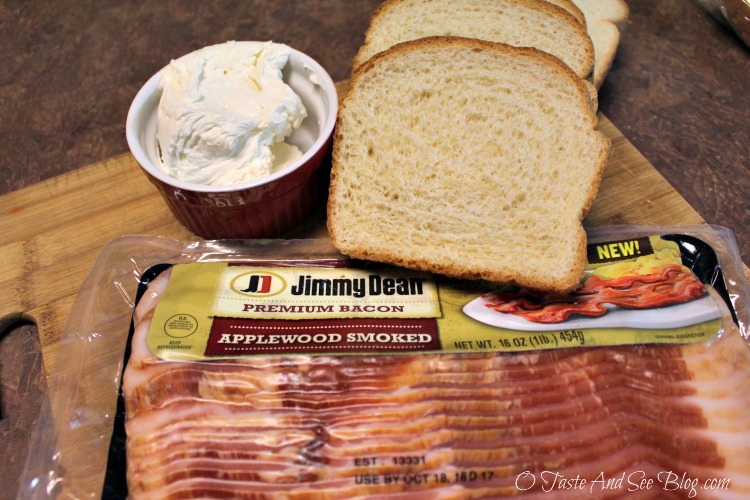 Mix softened cream cheese with garlic powder – set aside
Line a baking sheet or other pan with parchment paper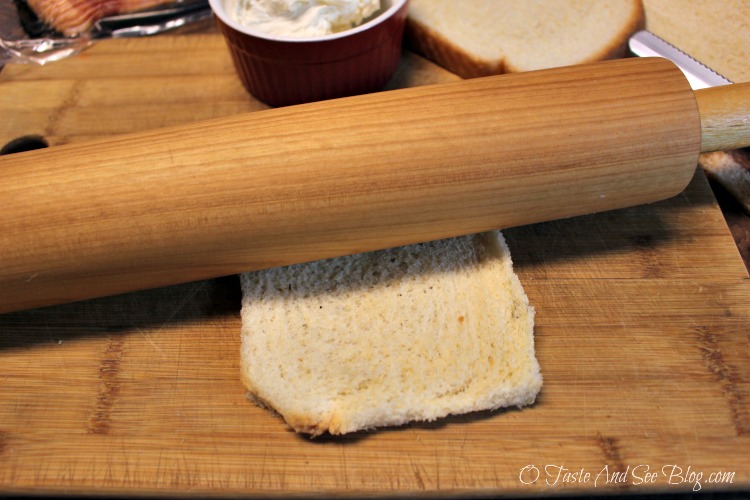 Start by cutting the crust from the bread
Roll over the bread a couple of times with a rolling-pin to flatten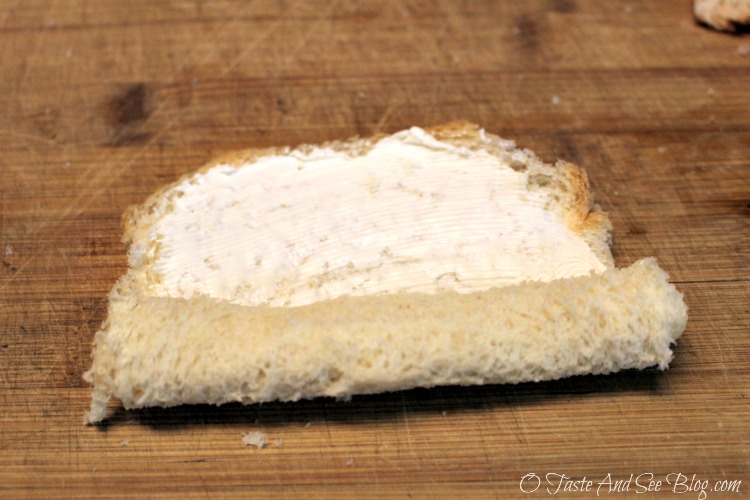 Spread with cream cheese mixture, making sure to go all the way to the edge (This makes sure it will seal when rolled)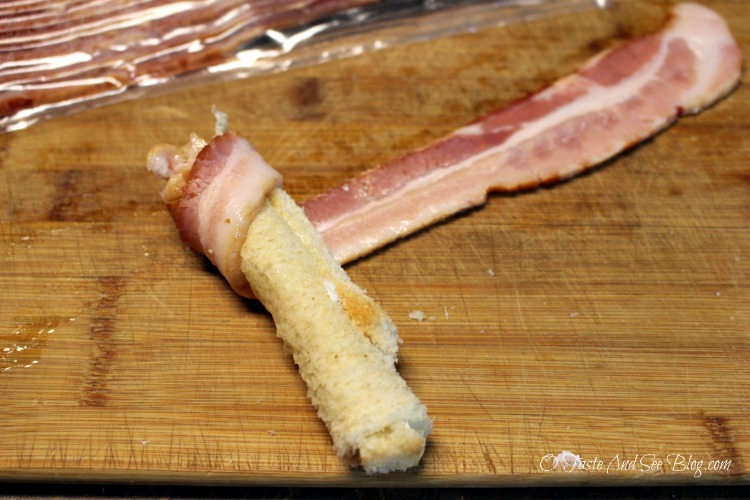 Take one slice of bacon and, beginning at one end of the bread, wrap the bacon around the bread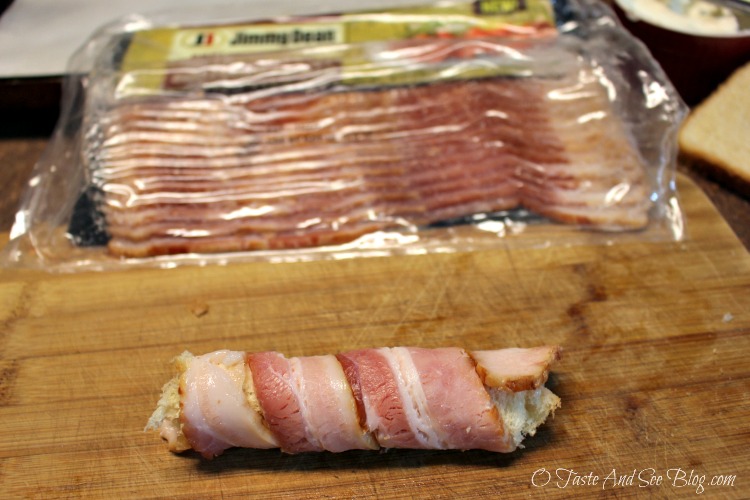 "Stretch" bacon to reach the bottom if needed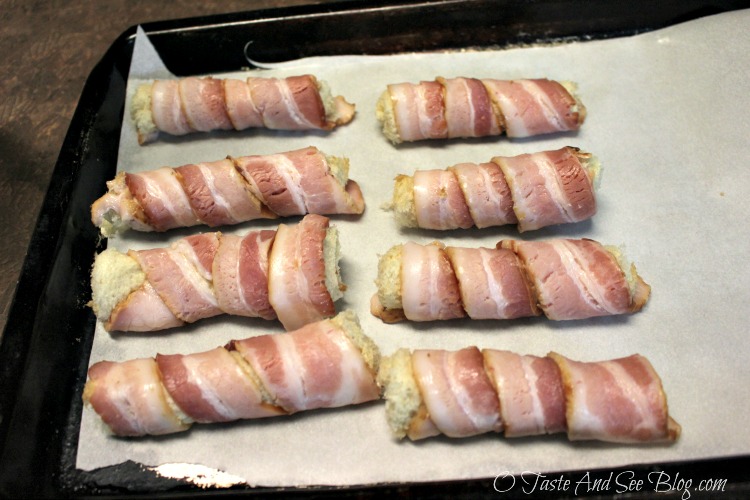 Place each roll on prepared pan
Repeat until desired number of rolls have been made
Place pan in freezer for at least 1 hour
*At this point, rolls can either be bagged and stored in an air-tight container in the freezer for several weeks or baked and served right away*
When ready to use:
Preheat oven to 375 degrees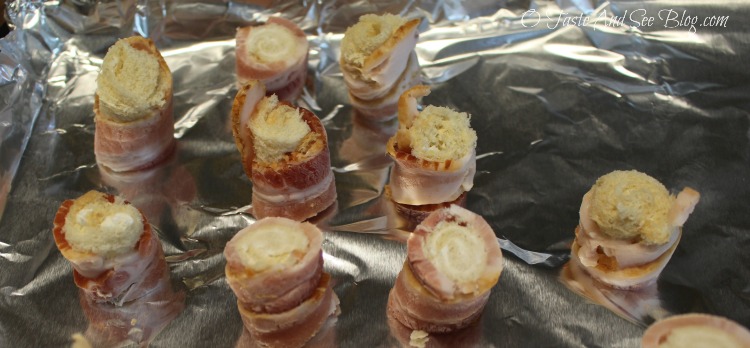 Line a baking sheet with aluminum foil (for easier clean up)
Cut each roll into thirds or fourths (you're preference) and place cut side down about 1 inch apart on prepared pan
Bake 20-25 minutes or until bacon is crispy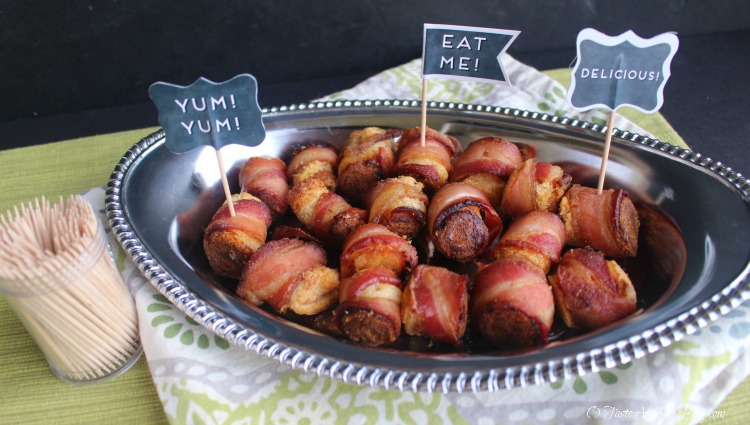 Best served warm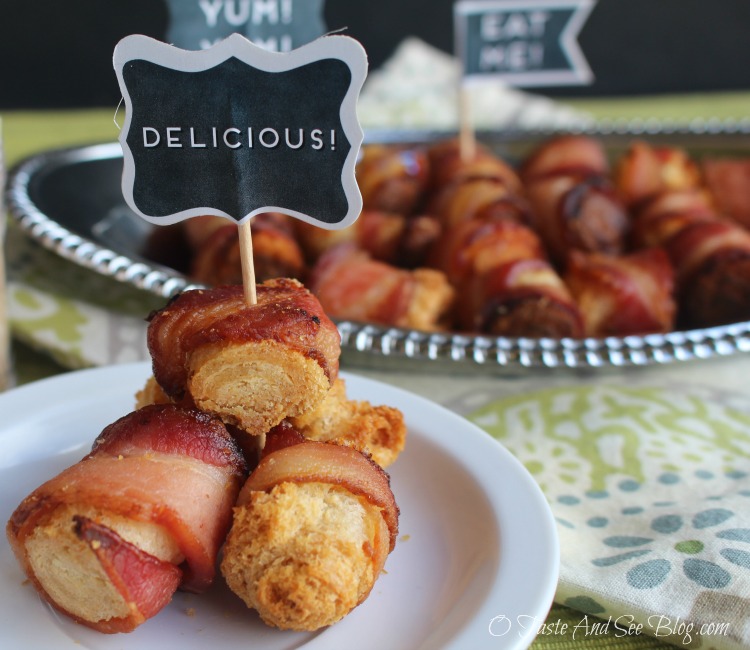 .