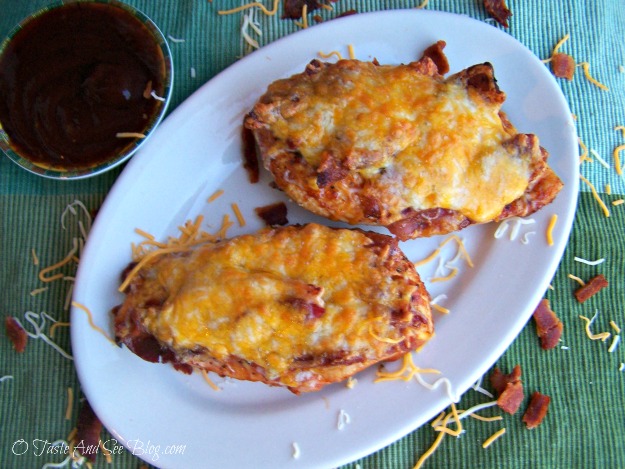 Bacon Cheese BBQ Chicken
Disclaimer: No offense is intended for those who eat, enjoy and promote those foods mentioned below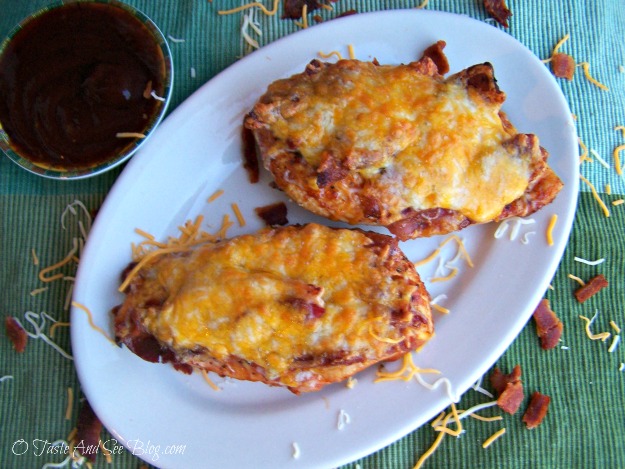 A few simple ingredients turn boring chicken into Bacon Cheese BBQ Chicken
Like many other things, Food has its "Fads"
What I mean by that is, types of foods, particular foods and diets tend to cycle in and out of popularity, like clothing styles. For example, right now some "trendy" foods are:
Butternut Squash: Now, there are only two things my husband doesn't eat….raw onions and SQUASH. So, I don't make squash. I don't really like them much myself so I've never tried the Butternut variety, I've never purchased a Butternut Squash, and I'm not completely sure I'd know one if I saw it. I'm sure they're very good, if you like squash.
Quinoa: I see recipes for this stuff EVERYWHERE! A few days ago, I finally just asked my Facebook readers, "What is Qunioa?" I wasn't even sure how to pronounce it. Let's just say, it got mixed reviews…about the taste AND pronunciation. So, I'm still not quite sure how to pronounce it and will probably only try it if my friend, RaShell, gives me some. (She offered to give me her's…she didn't like it)
Kale: Another one we aren't likely to be having here. My husband would try it if I made it, but because he spent several years in restaurant management, he still thinks of kale as a "decoration". That's what they used to garnish plates and the salad bar….
I'm very happy for these lovely foods and their "ten minutes of fame", as the saying goes. I know they are really healthy and I might even like some of them if I tried them, but I just don't generally follow "Food Fads"…
There is, however, one "trendy" food I can REALLY get behind….

BACON!!!!
I LOVE bacon…I've always LOVED bacon. I was eating bacon BEFORE it was "trendy". I'm glad others have FINALLY "come around".
It's not just for breakfast anymore…there's whole cookbooks devoted to bacon….some drinks include bacon….even desserts with bacon…also, made up products with bacon (i.e. baconnaise – bacon flavored mayonnaise – not kidding) Not to mention the non-food items, like the 2014 calendar we saw with monthly BACON pictures! Bacon is EVERYWHERE!
Unlike most current "trendy" foods, it's not healthy for you. But it's just so GOOD! It turns almost any ordinary dish into something wonderfully salty, crunchy, and DELICIOUS…like this Bacon Cheese BBQ Chicken…
Here's the Recipe:
boneless skinless chicken breasts – 1/2 to 1 per person, depending on size of chicken
BBQ sauce – your favorite brand
bacon – cooked – enough to cover each chicken breast (about 2 slices per breast)
cheese – cheddar or cheddar-jack
Pepper
*My measurements aren't exact on this one. The amount of cheese, bacon and bbq sauce depend on your taste*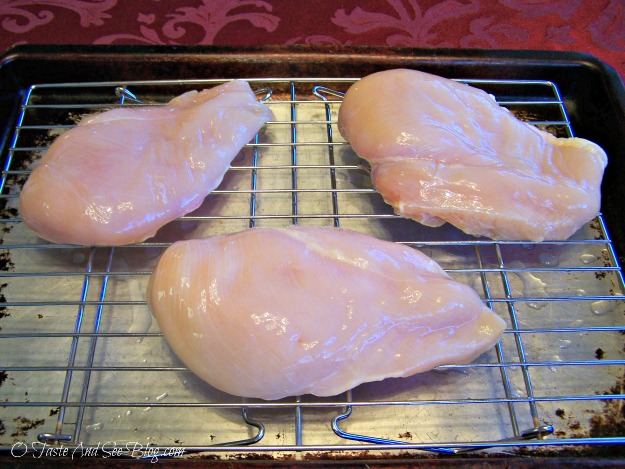 Preheat oven to 350 degrees
Put a wire rack on a baking sheet
Place chicken on wire rack
Sprinkle lightly with Pepper
Bake at 350 for about 10 minutes, then baste with bbq sauce
Bake about 10 more minutes and turn chicken, basting both sides
Continue baking and basting until chicken is done
*Total time about 30 minutes, depending on thickness of chicken*
While chicken is baking, cook bacon (I microwave)
***Lining the pan with foil would have been a good idea to save time with clean up***
Place bacon on top of chicken to cover (about 2 pieces per breast)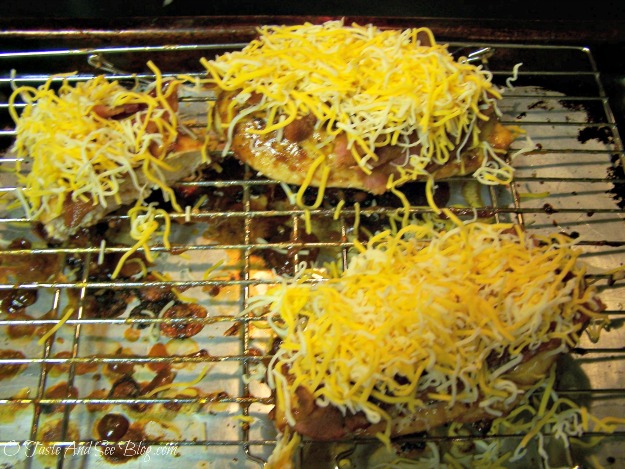 Top bacon with shredded cheese (I used cheddar-jack)
*sliced cheese could also be used*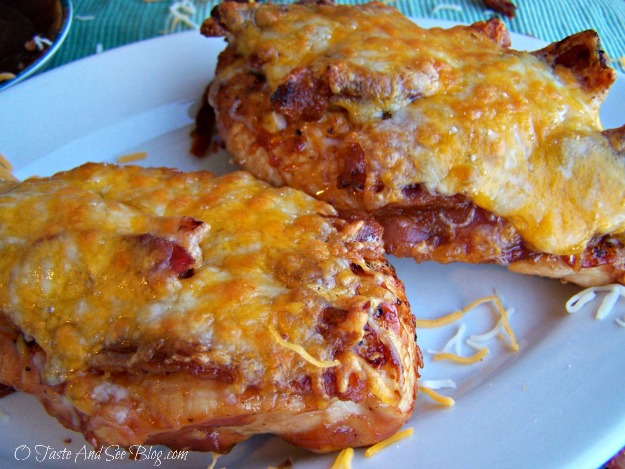 Turn oven to broil
Place chicken under broiler until cheese is melted
Serve with extra BBQ sauce
How does our family deal with the "unhealthiness" of bacon?
The same way we try to approach most things…….
MODERATION and SELF CONTROL
This Post Featured at: