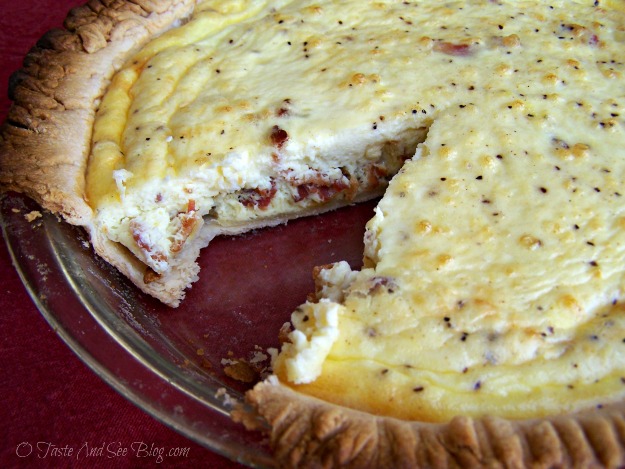 Bacon Swiss Quiche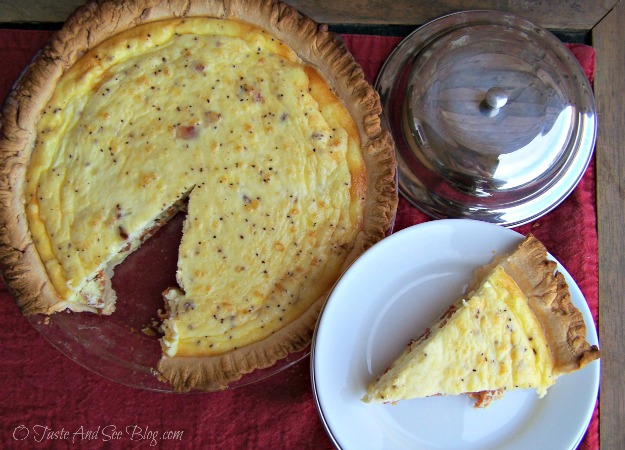 Although I've never read it, every time I make Quiche I think of the book
Real Men Don't Eat Quiche.
I really enjoy Bacon Swiss Quiche but I don't make it too often because most of my family doesn't really like it. One of my daughters used to eat it because we called it "Bacon Pie". She didn't realize the main ingredient was eggs, which she doesn't like. That all ended several years ago when I was in Alabama with my parents after my mom's heart surgery. My mom thought quiche sounded good so I was going to make it for her. I couldn't remember the exact recipe so I called home to get someone to read it to me from my recipe book. Of course, the person who answered the phone had to be the daughter who liked "Bacon Pie". Imagine her shock when she read "eggs"…and lots of them. That was that!
I think Quiche is for anyone but it does make a great "Ladies Luncheon" dish. I like to serve it with a small croissant (usually purchased from Sam's Club) and Strawberry Strawberry Spinach Salad or maybe French Onion Soup. That doesn't sound like a lunch menu my husband would be thrilled about. Maybe if all those were served as sides for say…brisket or some other large quantity of grilled meat…that might work?
This is a "traditional" French recipe I learned to make with my friend Eunice. It's the perfect recipe for me because it has no onions. If you like them, they could be added. Other meats could also be used instead of bacon…for instance ham or sausage would be good.
Here's the Recipe:
1 uncooked pie crust
3/4 cup shredded Swiss cheese
8 slices of bacon – cooked and crumbled
6 eggs
1 cup half and half
1/2 tsp salt
1/4 tsp pepper
pinch nutmeg
pinch cayenne pepper
*I use refrigerator pie crust*
Preheat oven to 450 degrees
Spray pie pan with non stick spray
Unroll pie crust and place in prepared pan
"Flute" the edges of crust
*I'm not great at this, I crimp them with a fork*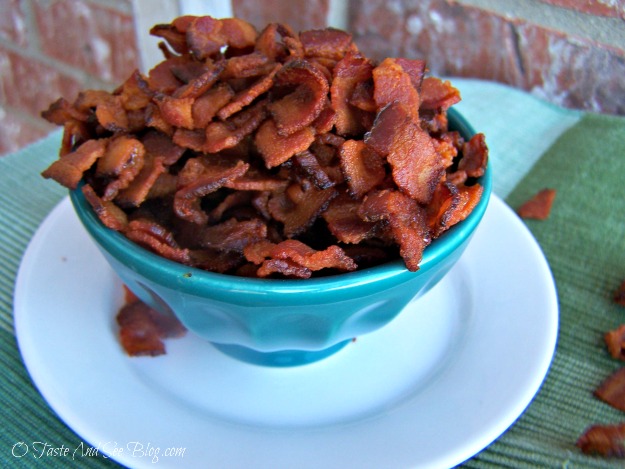 To save time, prepare Bacon Bits ahead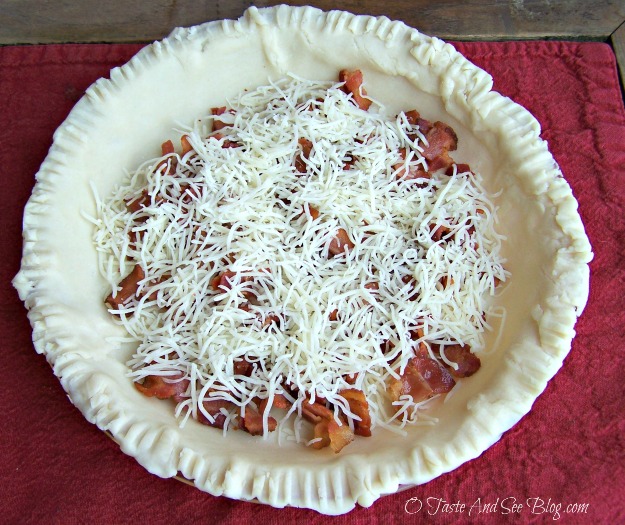 Place bacon and cheese in bottom of uncooked pie shell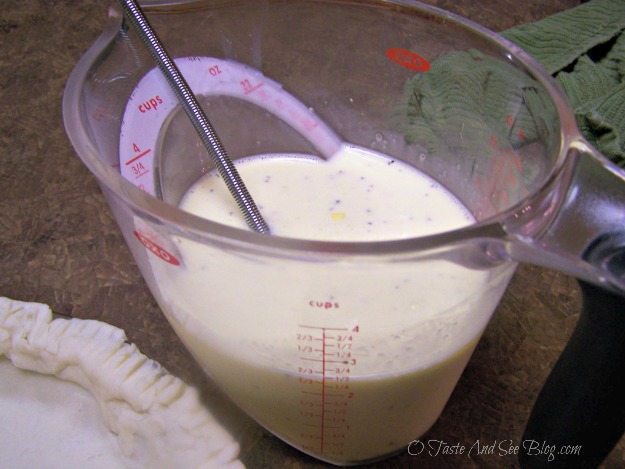 Mix eggs, half and half, and spices together and whisk until well combined
*To save on clean up, I measure liquid in a 4 cup measuring cup then add eggs and whisk*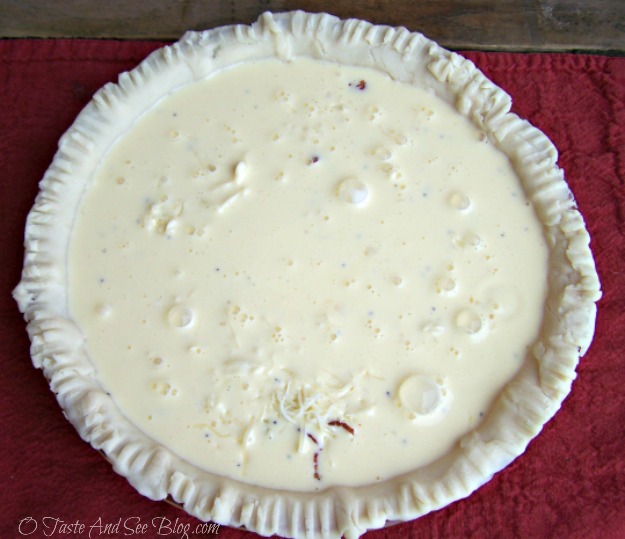 Pour egg mixture over bacon and cheese
Bake at 450 degrees for 15 minutes
*Check crust to make sure it's not getting too brown. If edges are brown enough, "tent" with foil to prevent burning*
Reduce heat to 325 degrees and continue to cook about 20 minutes or until done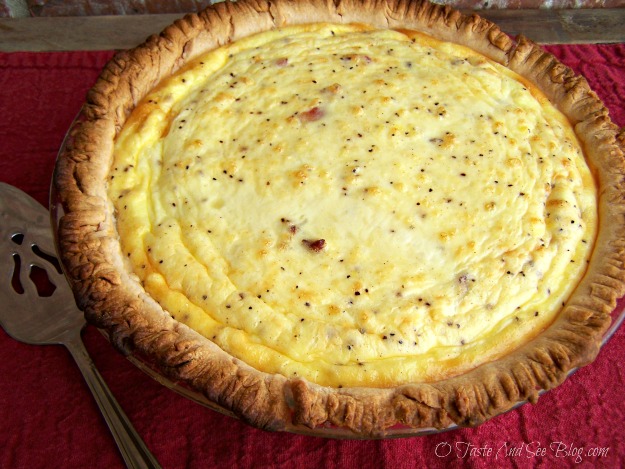 Quiche is done when it no longer "jiggles" in the center and knife or toothpick comes out clean
If you like soft scrambled eggs, you can leave it a little "jiggly"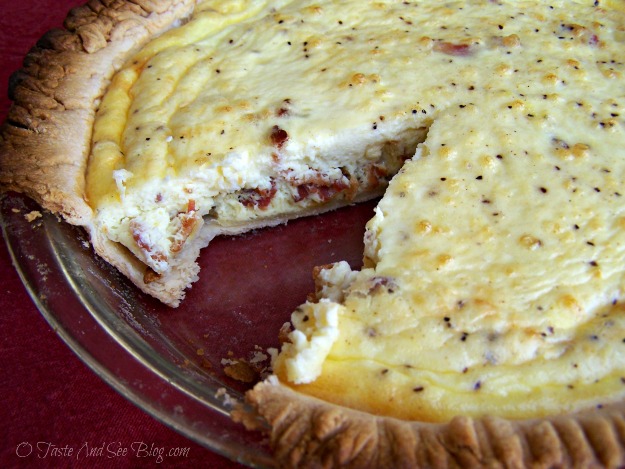 Let stand about 10 minutes before cutting

Is it true? Do "real men" eat Quiche?