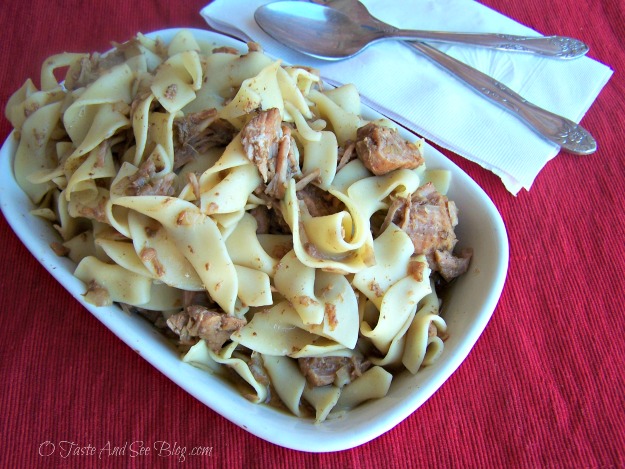 Beef and Noodles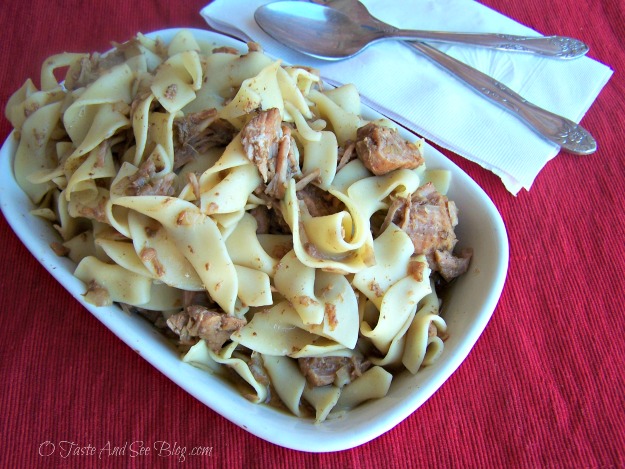 My husband was taught (from very young) that there are some things you NEVER say to your wife. One of those things being, "That's not the way my mom makes it", and to his credit, he's never said that to me. Although, this Beef and Noodles dish did prompt me to ask his mother for some of his favorite recipes.
We hadn't been married too long, about a year maybe, when my husband asked me if I knew how to make Beef and Noodles. I told him I wasn't exactly sure but if he could describe it to me I could probably figure it out. It was a dish his mom made but I had never had it, so I wasn't familiar with it. He told me all she did was boil the meat and put in some noodles. Well, I thought that sounded a little bland so I questioned him further. Was there anything else she put into it? Any seasonings or special ingredients? No, no, he insisted, just beef and noodles. I didn't think it sounded so great but I figured if that's what he liked, I'd try it.
I did exactly what he said. I boiled some stew beef until it was tender then added some egg noodles, just like he said. We had it for dinner and sure enough….it wasn't quite like his moms.
The next day, I called her (which I should have done before making it the first time) and asked about it. As it turns out, there was a little more to it. The key ingredient? Onion Soup Mix! The next time I tried it, there was a world of difference…it was just like mom's.
Here's the Recipe:
(printable recipe card below)
2 1/2- 3 lbs. beef – cut into small chunks (stew beef, roast, any type that can be chunked)
Egg noodles (uncooked)
2 envelopes dry Onion Soup Mix
4 cups water
*I make mine in a crock pot but it can be made in a large pot on the stove*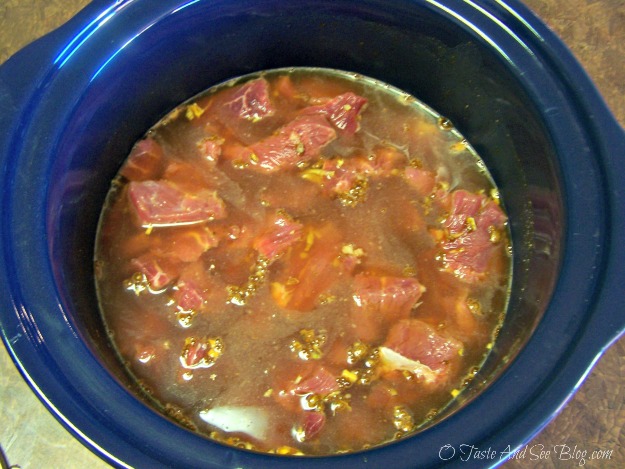 Combine all ingredients
In Crock pot: Cook on high 4-5 hrs
About 20-25 minutes before serving, add noodles
Serve when noodles are done
**The amount of noodles added depends on whether you like more beef or more noodles
Adding less noodles also give more "gravy"
More water can be added if needed to finish cooking noodles
**If cooking it in a pot on the stove, bring to a boil, cover and simmer for about an hour or until meat is very tender. Return to boil and add noodles. Cook until done**
While I had my mother-in-law on the phone about this recipe I asked her to send some of his other favorites too!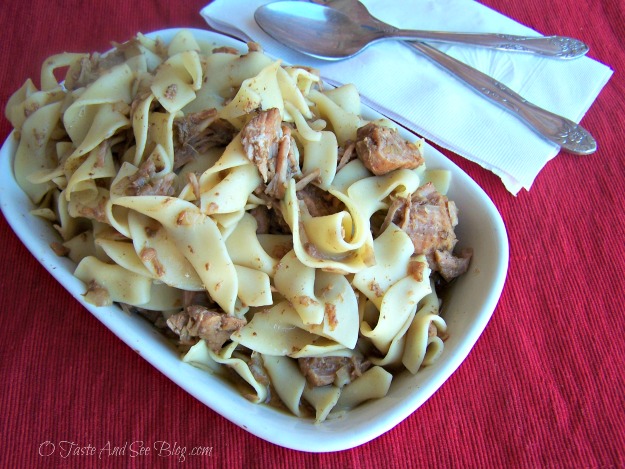 Beef and Noodles
2013-11-20 02:08:03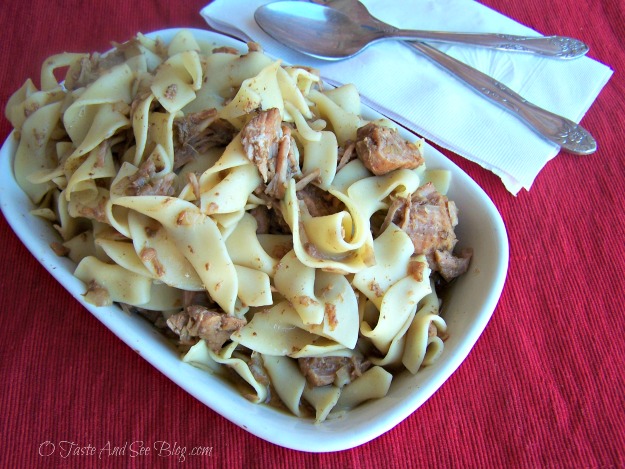 Ingredients
2 1/2- 3 cups Beef - cut into small chunks (stew beef, roast, any type that can be chunked)
Egg noodles (uncooked)
2 envelopes dry Onion Soup Mix
4 cups water
Instructions
In a crock pot combine all ingredients
Cook on high 4-5 hrs
About 20-25 minutes before serving, add noodles
**The amount of noodles added depends on whether you like more beef or more noodles
Notes
**If cooking it in a pot on the stove, bring to a boil, cover and simmer for about an hour or until meat is very tender. Return to boil and add noodles. Cook until done**
O Taste and See https://otasteandseeblog.com/