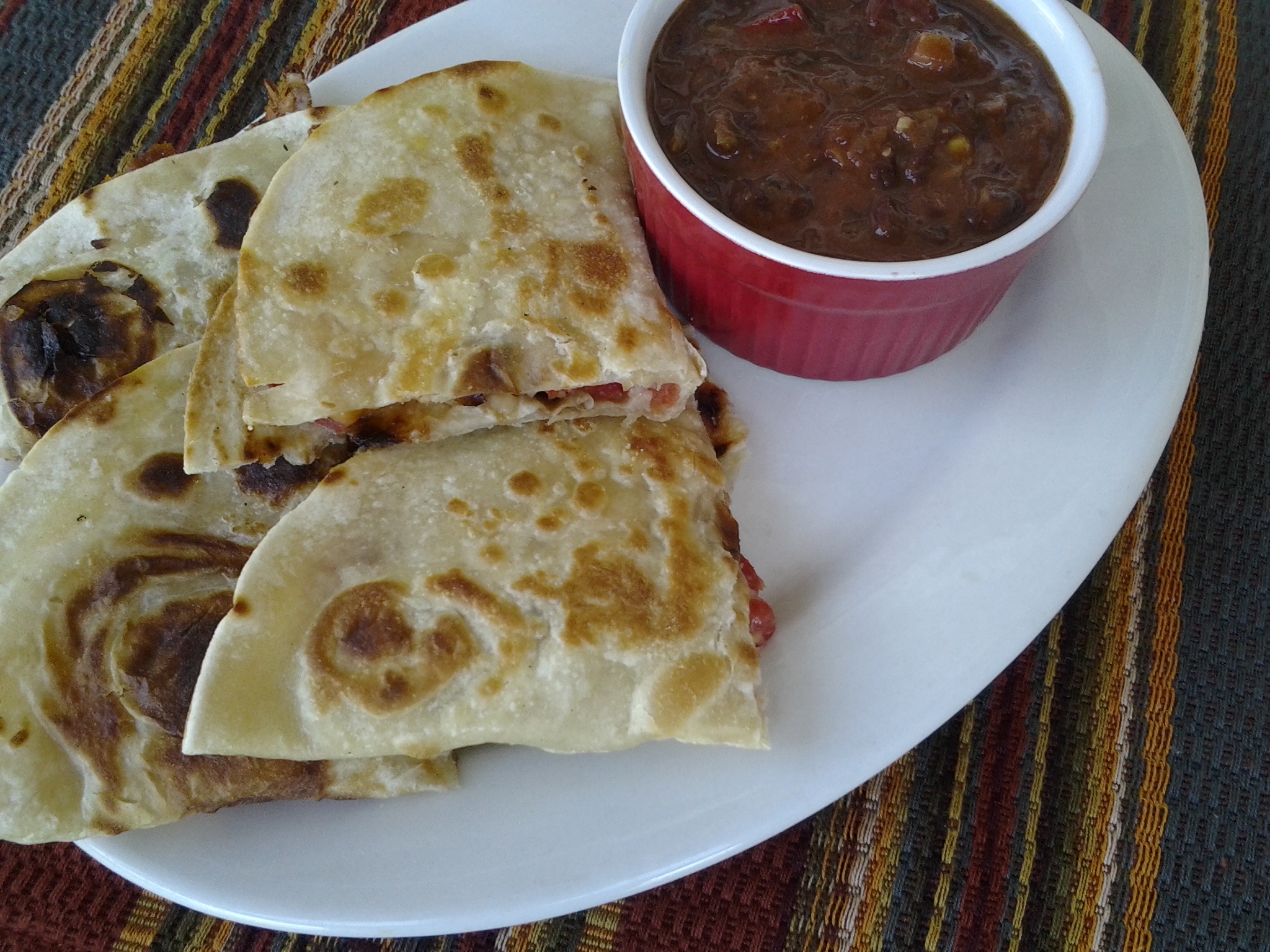 Chicken Quesadillas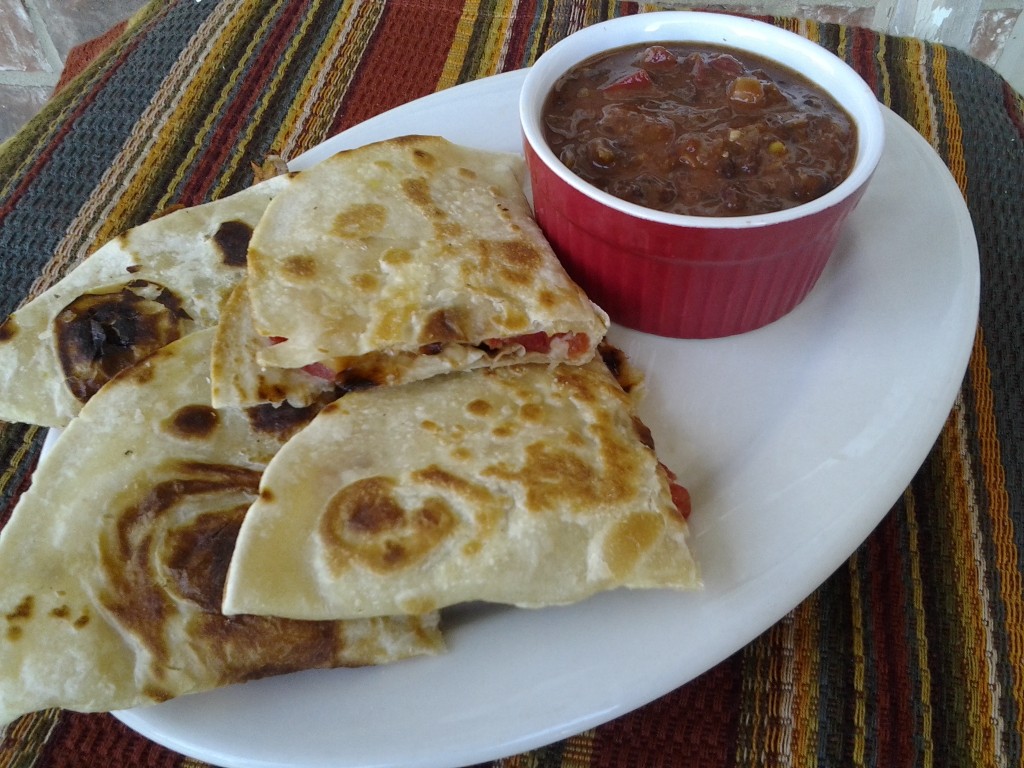 As I looked back through my recent pictures to decide what to write about, I realized….We have had a lot of Mexican food lately. Thankfully, my family enjoys it.
We had these Chicken Quesadillas with our Big Red Soup on Saturday. They were made with an extra piece of chicken left from the night before. The best part about quesadillas is how easy they are to make. We love them as an addition to any Mexican meal, as quick lunch or Sunday night dinner. Not to mention, it's a great way to use up that one piece of leftover chicken.
Here's the Recipe:
(printable recipe card below)
Chicken – cooked and chopped (I also make them with pork or beef but chicken is our favorite)
Cheese – Mexican, cheddar or Jack-Cheedar mix
Tomatoes – canned or fresh
Flour tortillas
Butter
Toppings: Salsa, Sour Cream, Jalapenos, Cilantro
Heat skillet over high heat – I have a designated "tortilla skillet" (see picture)
If using "left over" chicken heat it in pan first. Remove and set aside
Butter one side of the tortilla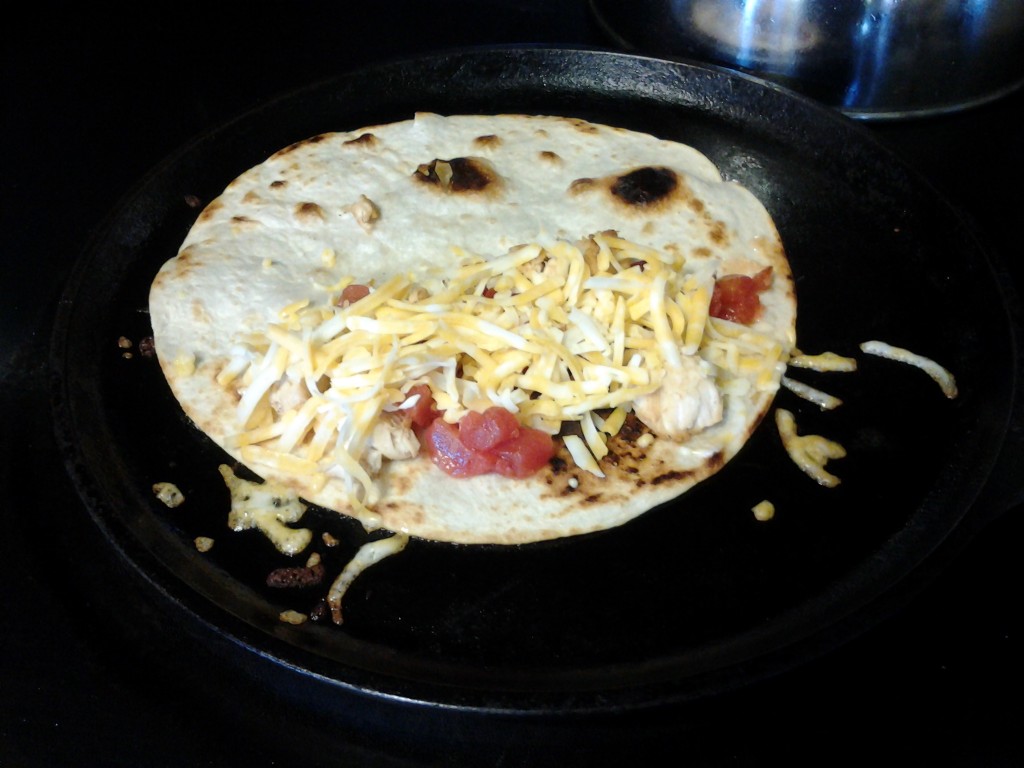 Place tortilla, butter side down, on hot skillet
On half the tortilla place chicken, tomatoes and cheese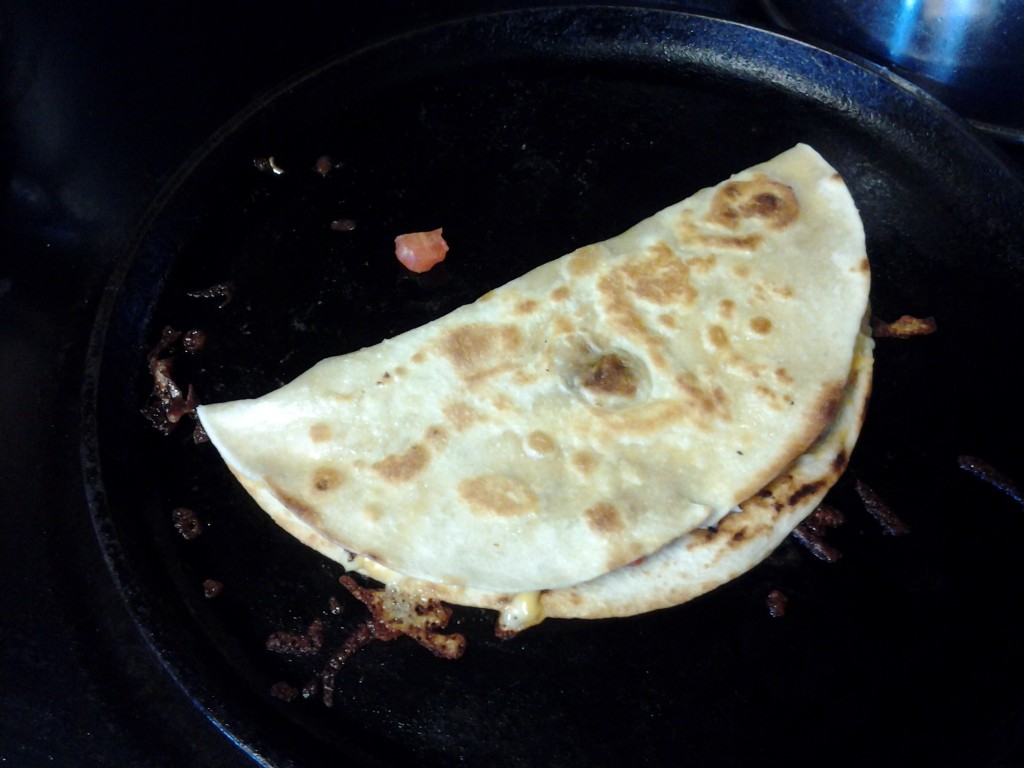 Fold the other half of tortilla over toppings
Cook on both sides until golden brown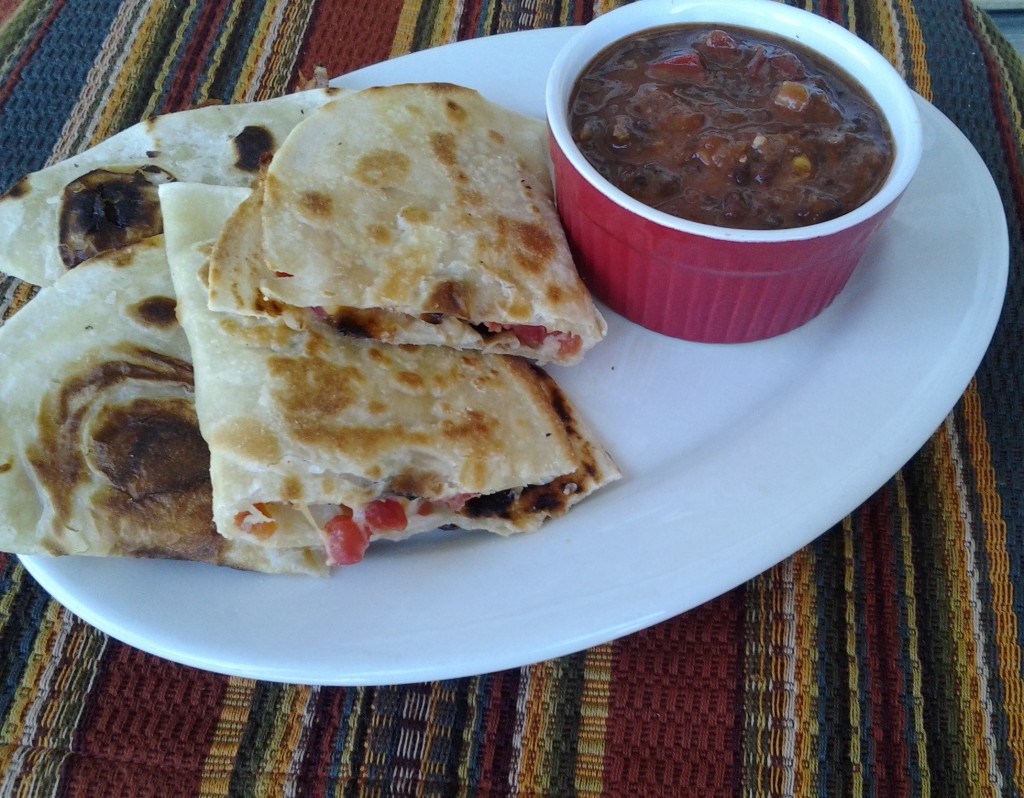 Cut in half and serve with salsa, sour cream or jalapenos
Quesadilla….ANOTHER great way to use leftovers!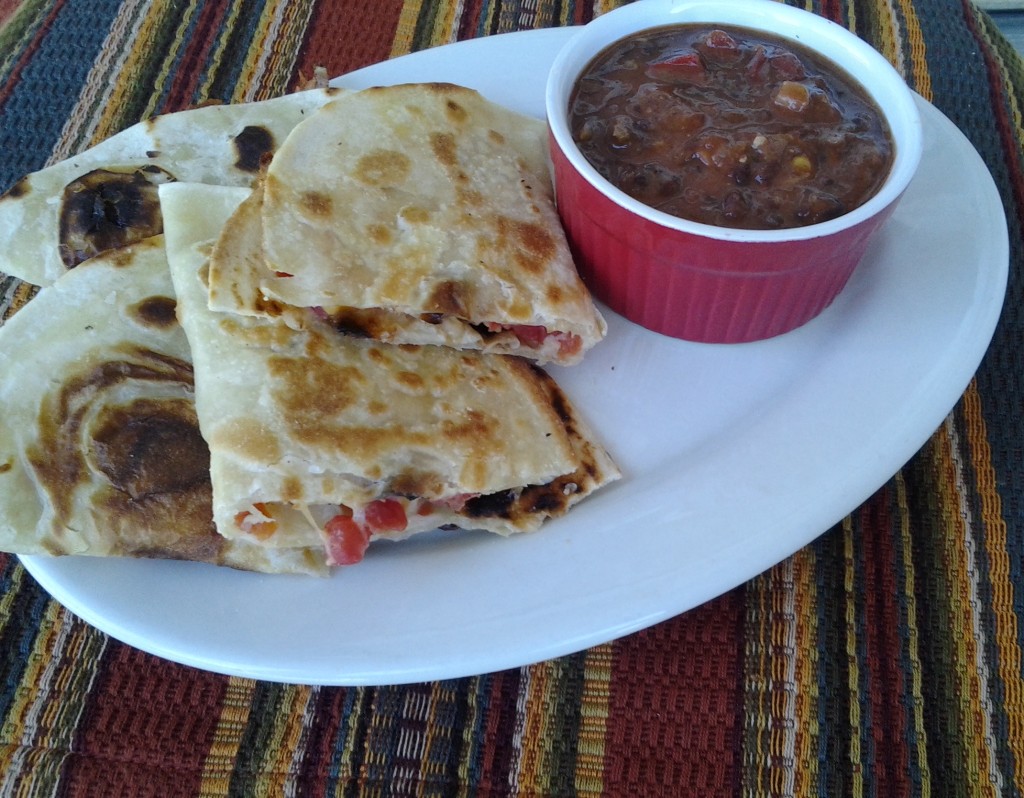 Quesadilla
2013-09-26 14:28:38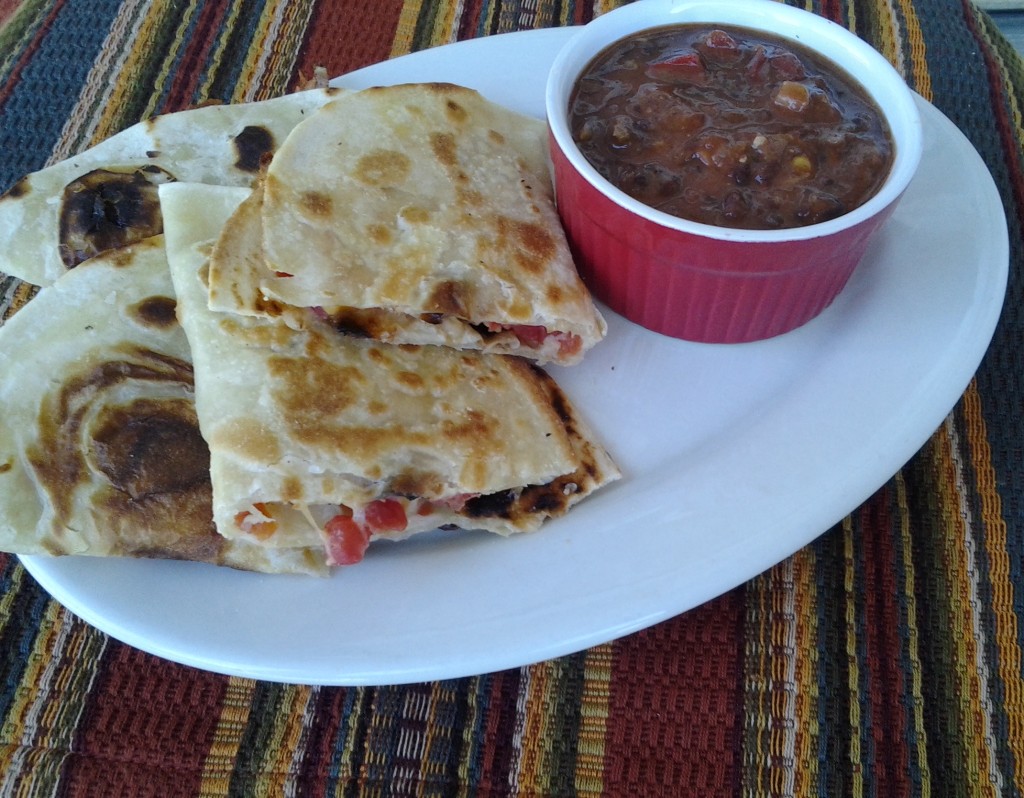 Serves 4
Made with chicken, beef or pork. Another great way to use leftovers for an addition to any Mexican meal or to make a quick and easy lunch.
Ingredients
Cooked and chopped chicken
Butter
Flour tortillas - 4 small
Cheese - Cheddar or Mexican blend - about 3/4 cup
Tomatoes (optional)
Toppings
Salsa
Sour Cream
Jalapenos
Cilantro
Instructions
Heat skillet over high heat. If using leftover chicken heat thoroughly in skillet, remove and set aside
Butter one side of each tortilla
Place tortilla on hot skillet, butter side down
On one half of tortilla place chicken, tomatoes and cheese
Fold other side of tortilla over filling
Grill until golden brown on both sides
Cut in half and serve with toppings
Notes
When I need to make a large number of these I use my big electric griddle. If making them one at a time keep them in the oven on 175-200 until ready to serve.
O Taste and See https://otasteandseeblog.com/