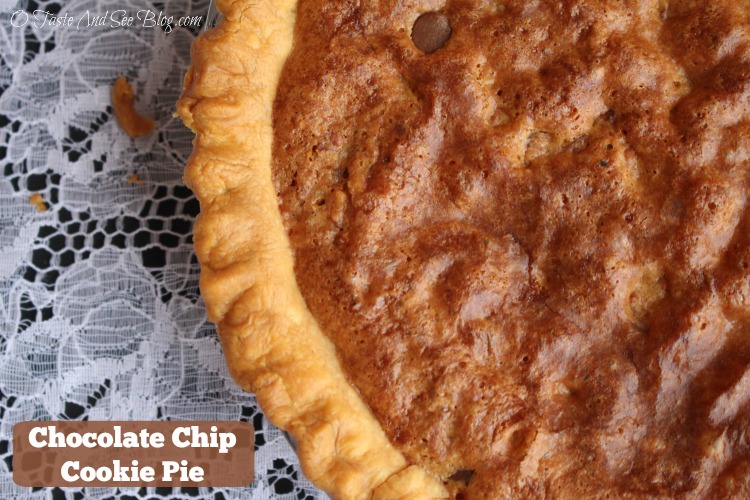 Chocolate Chip Cookie Pie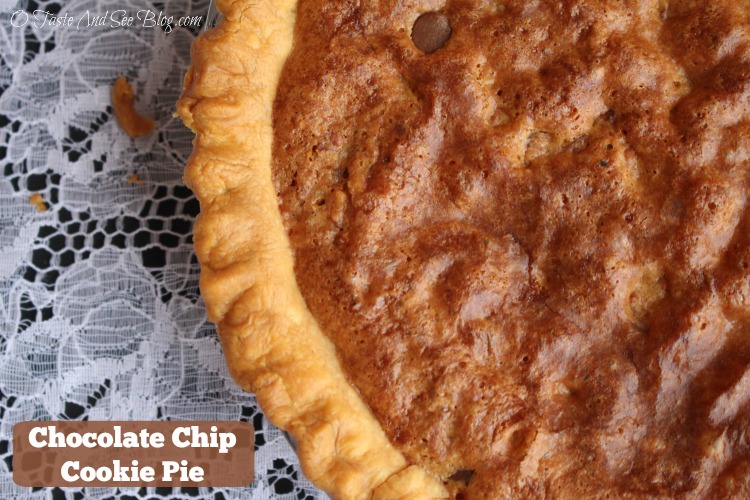 You know how I enjoy sharing the "National Food Days", right? Well, today may quite possibly be the absolute BEST Food Day of ALL!! According to my source, today is….
INTERNATIONAL NO DIET DAY!!!!
Now, THAT'S a day just about anybody can get behind! And it just might have to be in order to get the full enjoyment out of today's recipe….Chocolate Chip Cookie Pie!
Seriously, it's everything you love about a nice soft, thick chocolate chip cookie baked into a pie crust. What' NOT to love about that?! My only regret is I didn't get pictures of the inside….guess I'll just have to make it again.
About the Recipe:
It's super easy, in fact even easier (and quicker) than chocolate chip cookies. If you can make cookie dough, you've got this pie in the bag. As you know, I don't make homemade pie crust so that makes it even easier.
I'm a big fan of eating pie while it's warm…. I know, let it cool it cuts better, and all that… but our family LOVES warm pie. I highly recommend having a slice of this one while it's warm, or heat it for a few seconds in the microwave before serving. Also, a nice BIG scoop of vanilla ice cream makes it even more delicious. If you want to just "go nuts" or you're having one of those "I NEED CHOCOLATE" days, add a scoop of ice cream AND drizzle with hot fudge and warm caramel sauce….. After all….
It's INTERNATIONAL NO DIET DAY!!!!
Here's the Recipe:
1 unbaked 9-inch deep-dish pie shell
2 eggs
1/2 cup all-purpose flour
1/2 cup granulated sugar
1/2 cup packed brown sugar
3/4 cup butter, softened to room temperature
1 cup semi-sweet chocolate chips
1 cup chopped pecans (optional)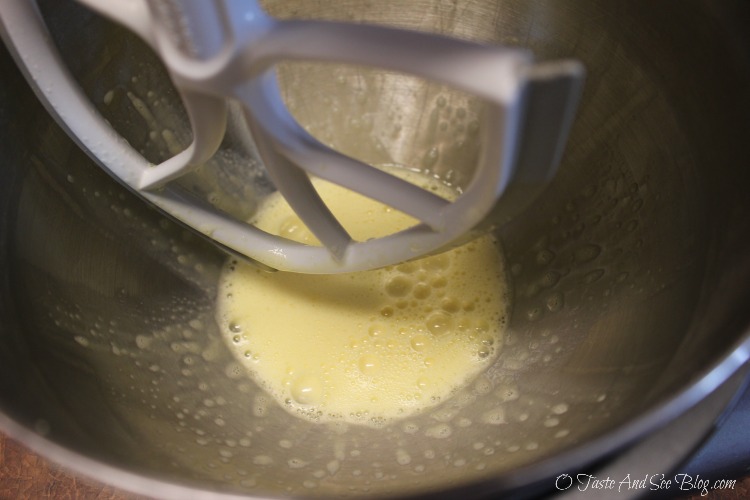 Preheat oven to 325 degrees
Place the pie crust in a pie pan and crimp the edges (if using refrigerator crust)
Beat eggs with electric mixer on high speed until light and foamy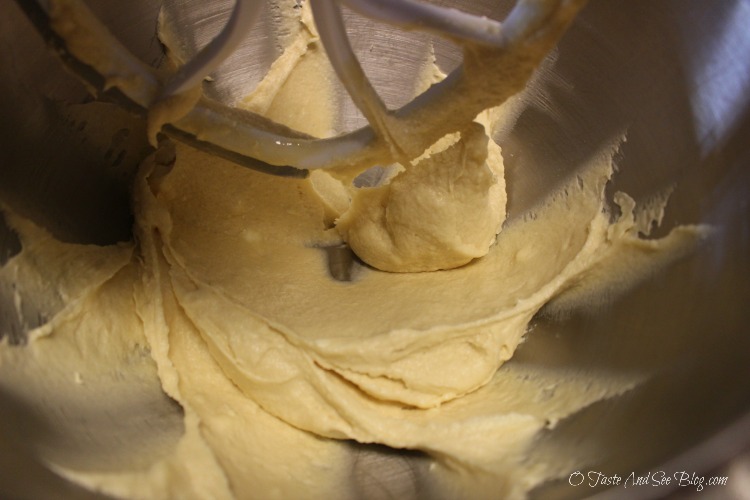 Add flour and sugars and beat until well combined
Add softened butter and mix again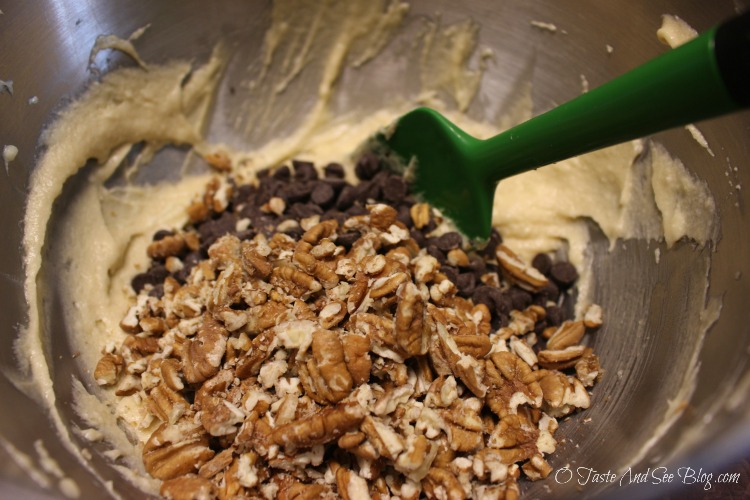 Stir in chopped pecans and chocolate chips until evenly distributed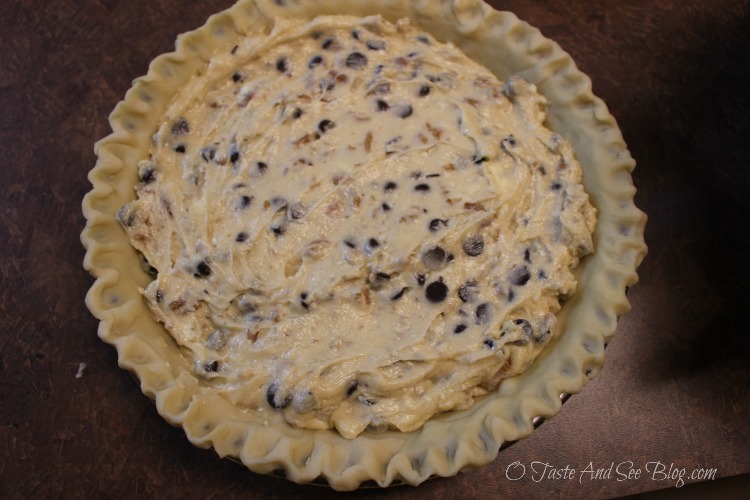 Place cookie mixture in prepared crust and bake at 325 degrees for 50-60 minutes or until knife blade inserted into center come out clean.
*Be careful, you may hit a chocolate chip*
Allow to cool about 30 and serve while still warm….with ice cream….and chocolate sauce….and caramel… or not.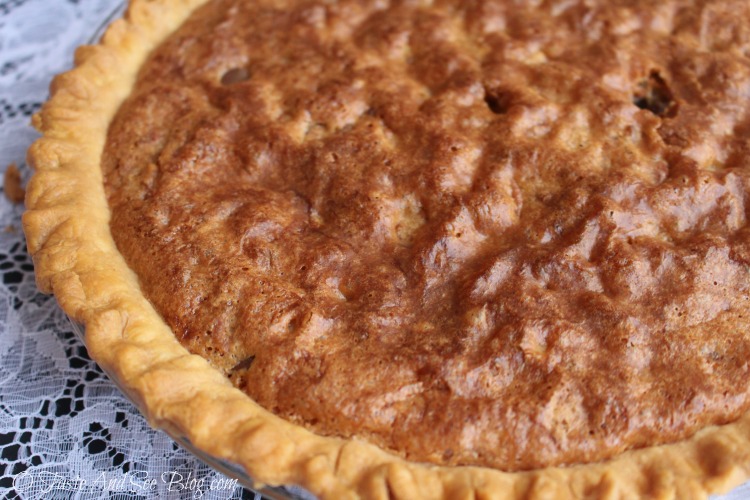 Maybe I'll change the name to …. International No Diet Day Pie
Chocolate Chip Cookie Pie
2016-05-05 19:47:34
Serves 8
Ingredients
1 unbaked 9-inch deep-dish pie shell
2 eggs
1/2 cup all-purpose flour
1/2 cup granulated sugar
1/2 cup packed brown sugar
3/4 cup butter, softened to room temperature
1 cup semi-sweet chocolate chips
1 cup chopped pecans
Instructions
Preheat oven to 325 degrees
Place the pie crust in a pie pan and crimp the edges (if using refrigerator crust)
Beat eggs with electric mixer on high speed until light and foamy
Add flour and sugars and beat until well combined
Add softened butter and mix again
Stir in chopped pecans and chocolate chips until evenly distributed
Place cookie mixture in prepared crust and bake at 325 degrees for 50-60 minutes or until knife blade inserted into center come out clean.
*Be careful, you may hit a chocolate chip*
Notes
Best served with ice cream
O Taste and See https://otasteandseeblog.com/