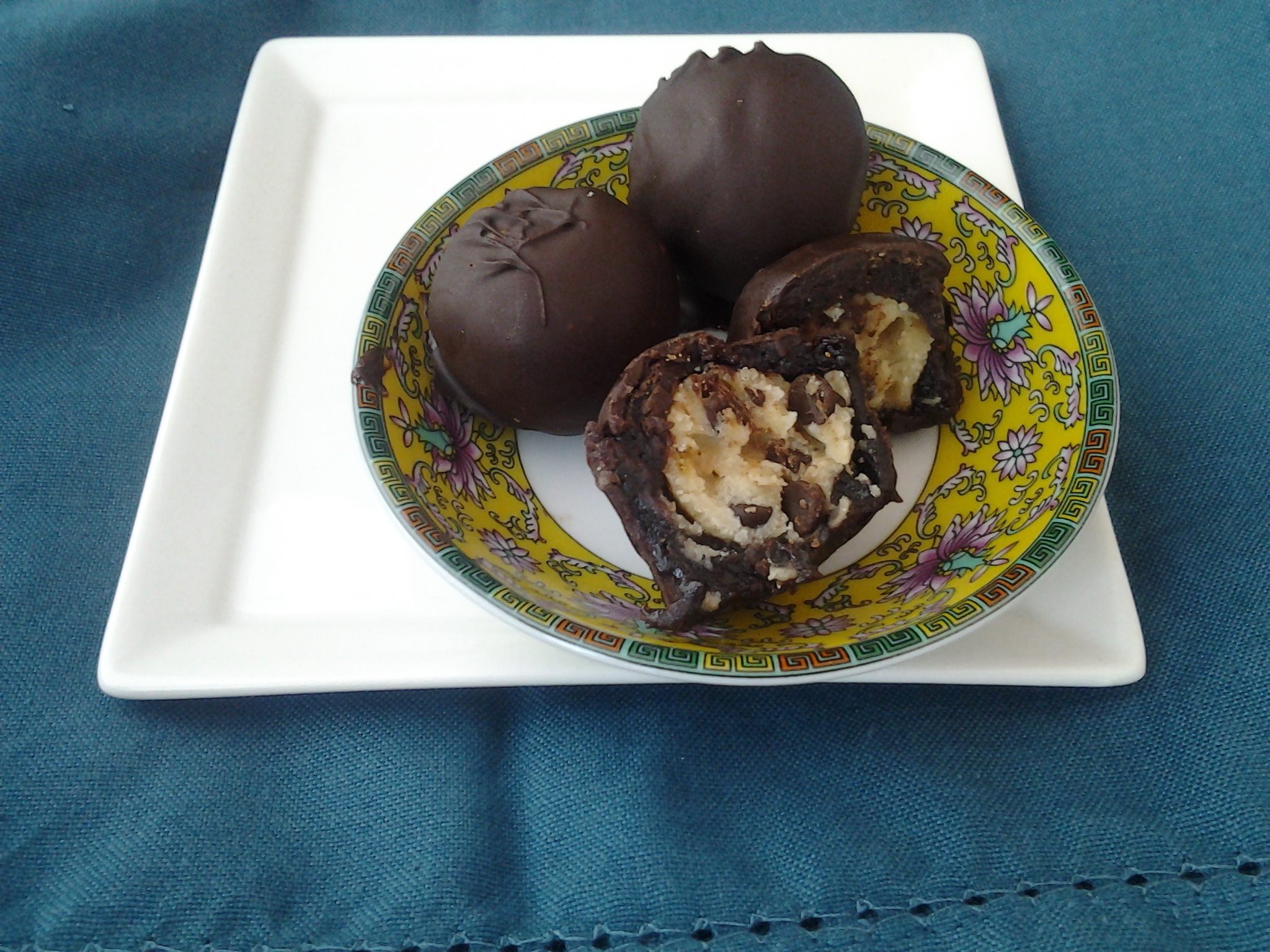 Cookie Dough Brownie Bites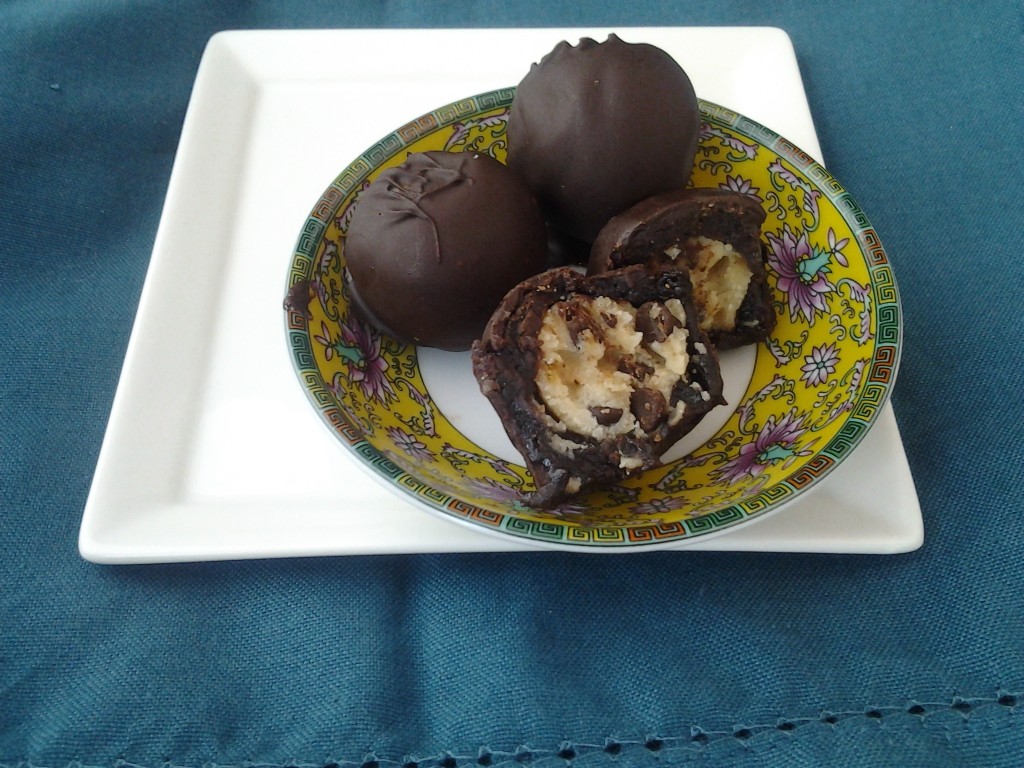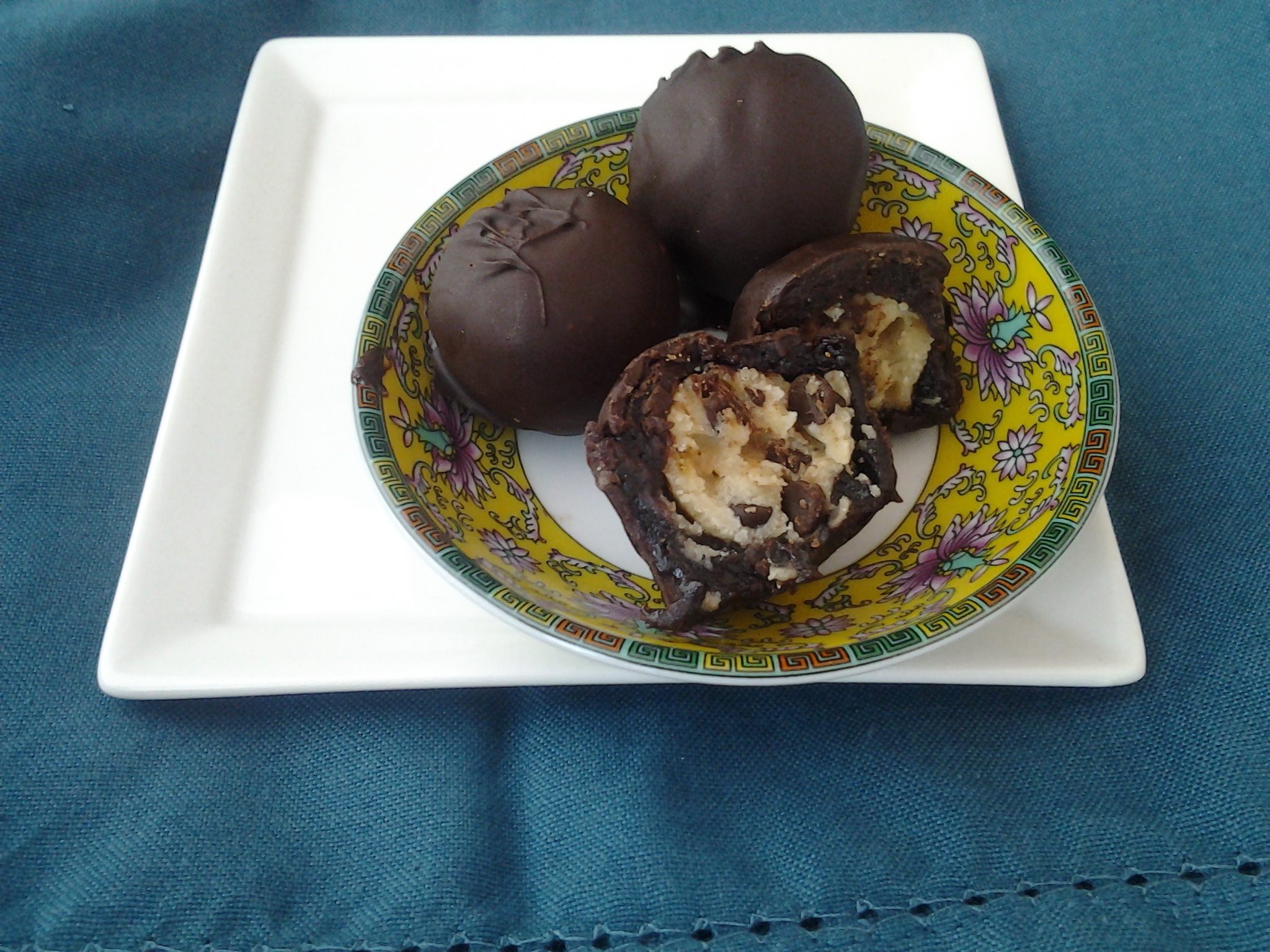 We saw these Cookie Dough Brownie Bites online and just had to try them. They aren't hard but they do have several steps so it can take a little time.
Complete recipe and instructions at bottom of the page.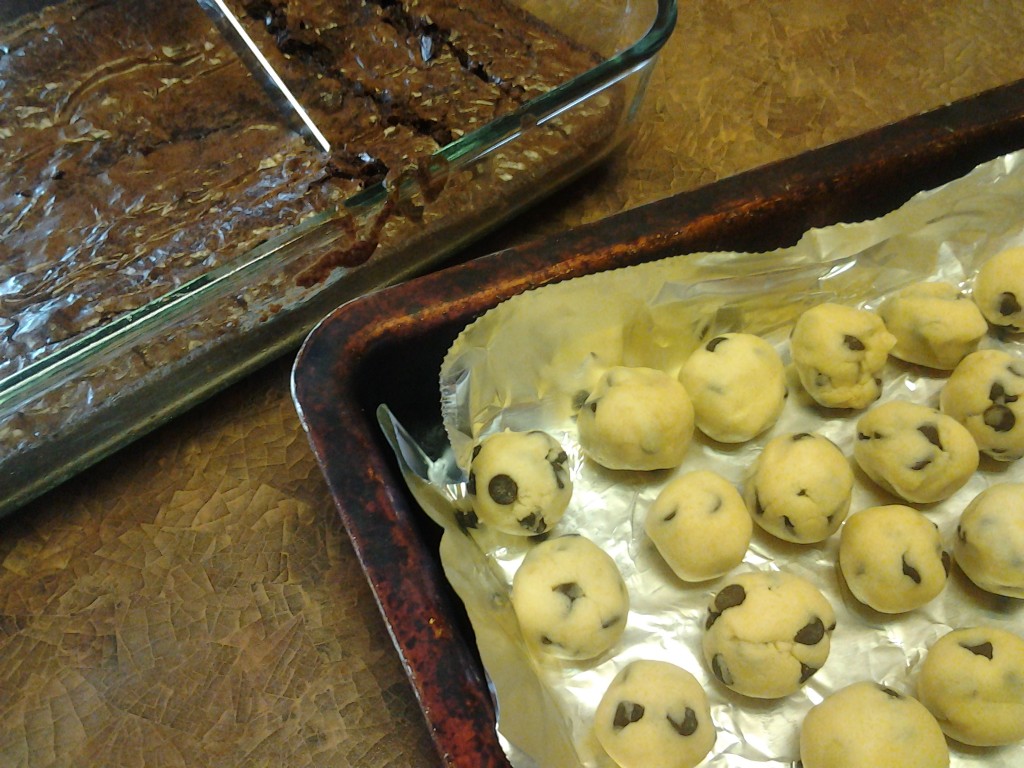 First you make a box of fudge brownies, then you make cookie dough (no eggs)
Form cookie dough into small balls and freeze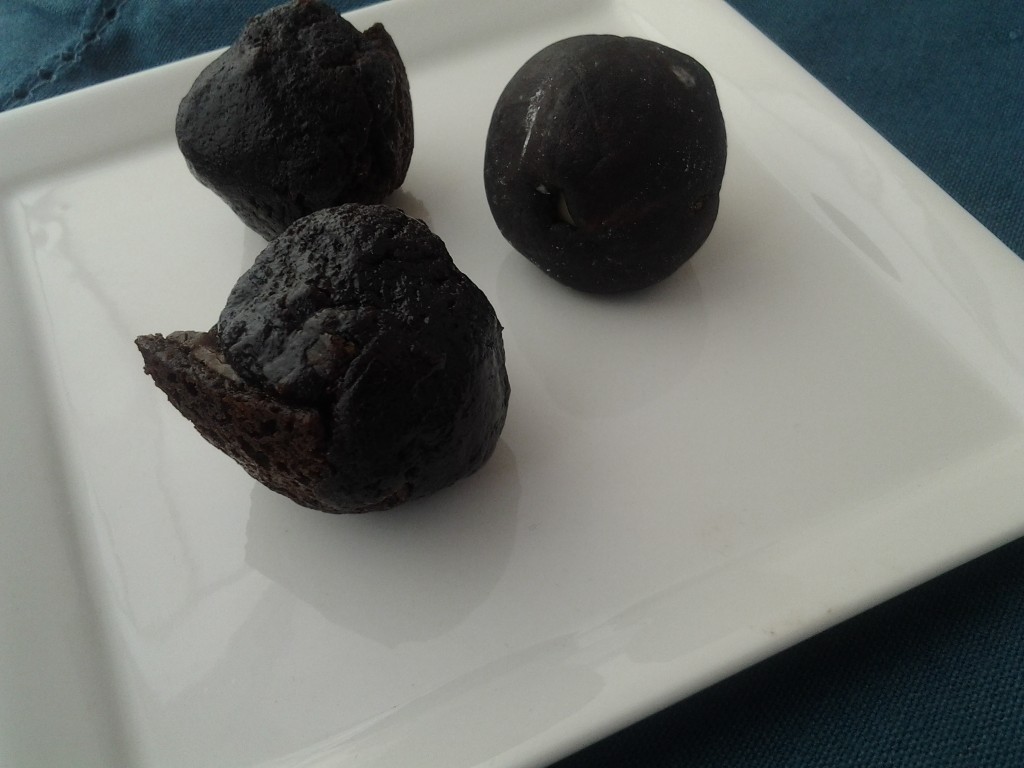 Wrap the cookie dough balls in brownie
Freeze again for about an hour
Dip in chocolate Almond Bark
Store in freezer or refrigerator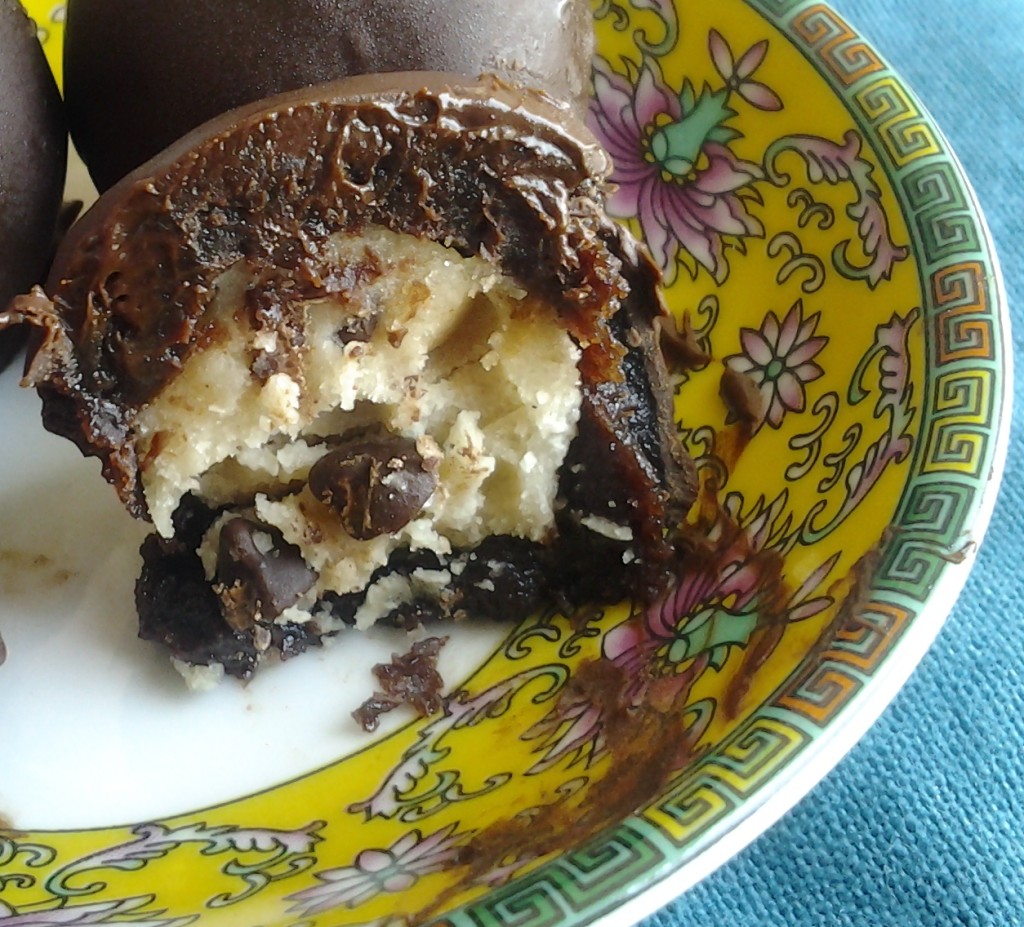 Brownie and Cookie in the same dessert! What's not to love about that?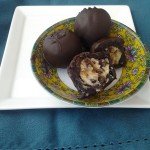 Cookie Dough Brownie Bites
2013-08-31 00:41:17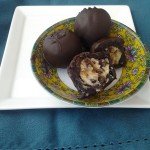 Cookie Dough wrapped in a brownie then dipped in chocolate
Ingredients
1 box FUDGE brownie mix
Cookie Dough
3/4 cup softened butter
3/4 cup brown sugar
1/4 cup white sugar
2 Tablespoons milk
1 tsp vanilla
2 cups all purpose flour
pinch salt
1 cup mini chocolate chips
Coating
chocolate almond bark
Instructions
Prepare brownie mix according to directions and allow to cool completely
While brownies are baking prepare cookie dough by beating together sugars and butter until creamy
Add milk and vanilla beating to combine
Beat in flour and salt until soft dough forms
Stir in chocolate chips (must be mini)
Line baking sheet with waxed or parchment paper
Roll dough into small balls - about a teaspoon
Place on baking sheet and freeze for about an hour until firm
Cut brownies into 1 inch squares
In the palm of your hand, flatten a square of brownie (Best to flour hands first)
Place cookie dough inside brownie and wrap. Rolling helps to cover the dough completely
Place back on baking sheet and freeze again for at least 30 min
Melt almond bark in double boiler or microwave. I start with a couple of squares then melt more if needed.
Using a fork, dip balls into chocolate to coat
Place back on baking sheet to set (can return to freezer or refrigerator to set)
Notes
Placing balls back on "frozen" baking sheet helps the chocolate to set quickly
Use floured hands to roll dough in brownies, it can get messy.
Will have extra cookie dough left over. Freezes well to be used later
We made our dough balls quite small and used 11x7 for brownies. That gave us 44 "bites"
To save extra melted chocolate just pour on a piece of waxed or parchment paper and allow to cool. Store in baggie and reuse later
Small is good...They are VERY rich
If the chocolate coating gets too thick add a little shortening to thin it out
O Taste and See https://otasteandseeblog.com/