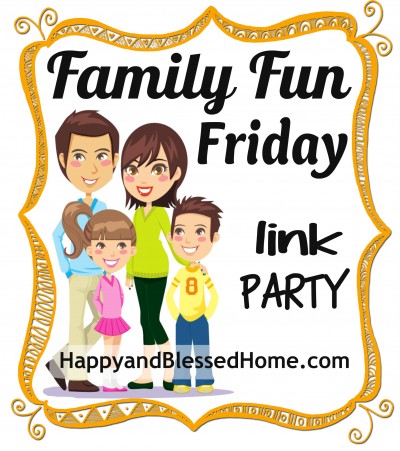 Cookies and Cookie Bars Family Fun Friday
Welcome to Family Fun Friday!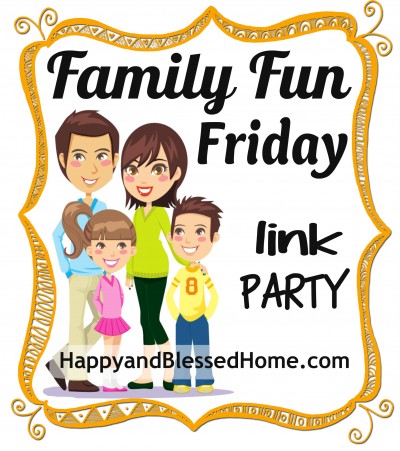 A BIG THANKS to Stephanie for filling in for me last week while I was away! I LOVED the Chocolate Bliss Features.
Family Fun Friday is a collection of Family Friendly posts to help families connect. Whether it be through encouragement, homeschool printables, craft ideas, family activities or delicious family recipes, our goal is to promote family togetherness. We hope you'll stick around a while and check out some of the great ideas you see here.
I hope you have enjoyed your first weeks of summer and are finding some fun ways to spend time with your family. Perhaps this week's Cookies and Cookie Bars Family Fun Friday will give you some fun and yummy ideas to make with your kids. They all looked so good I wasn't able to narrow it to six, so this week there are EIGHT features! ENJOY!!!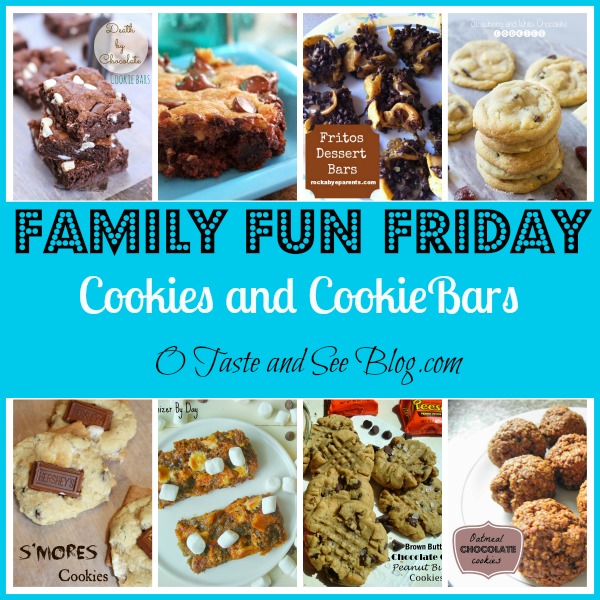 Starting us off we have Death by Chocolate by Christine at I Dig Pinterest. Having FOUR different chocolate ingredients I think the name says it all!
Merissa at Little House Living shared her Choco-Banana Bars, a great Pinterest recipe that gives us a tasty use for over-ripe bananas.
Number three, by Elizabeth from Rock A Bye Parents, gave us Fritos Dessert Bars…possibly the most unusual of our features, but I think it sounds totally delicious! Hey, I just bought Fritos at the store yesterday!
Annie at Annie's Noms shared Strawberry and White Chocolate Cookies. Strawberries naturally pair well with white chocolate so why not put it together in a cookie?
For those of us who love S'mores but only enjoy them around a campfire, Melinda from Look What Mom Found…and Dad too! gave us S'mores Cookies. The perfect recipe for making S'more anytime.
Elie from Organized By Day developed these S'mores Bars all by herself. She admits "they may not look good, but they taste delicious!"
Elie also shared with us her Brown Butter Chocolate Chip Peanut Butter Cookies…now THAT'S a mouthful! I think I'd like to have some of those.
Joanna from Ecuador in My Eyes gave us a great gluten free option with her Oatmeal Chocolate Cookies. We have friends with food allergies and I know it can be difficult to find good gluten free treats…Thanks for sharing this one, Joanna.
Please stop by my awesome co-host's to check out their features…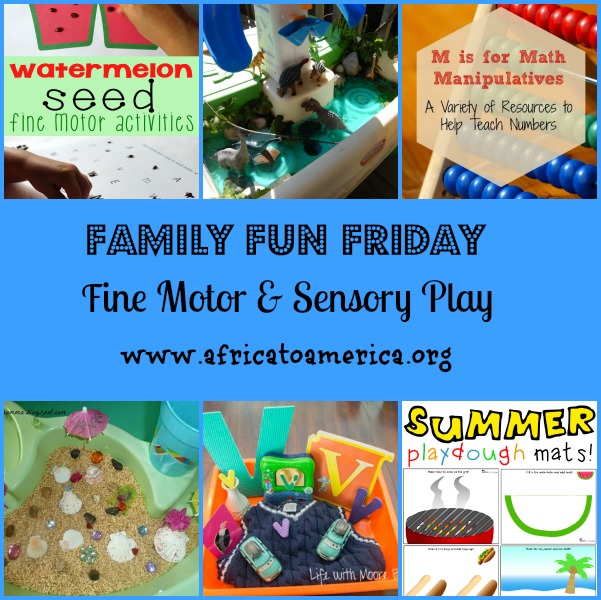 Carly is featuring Fine Motor & Sensory Play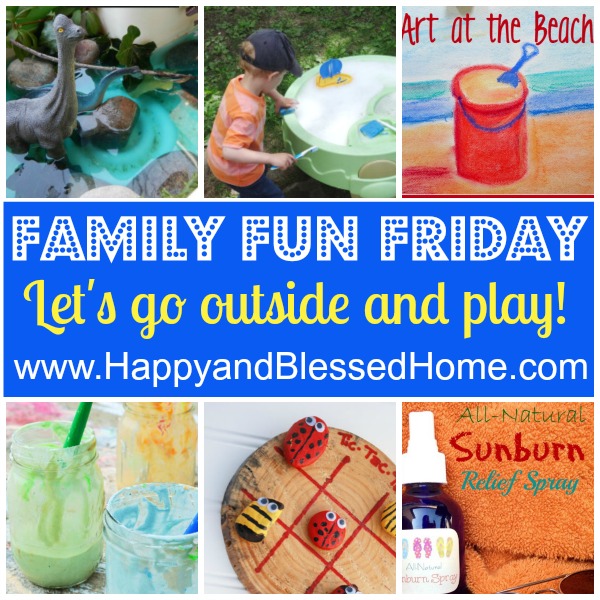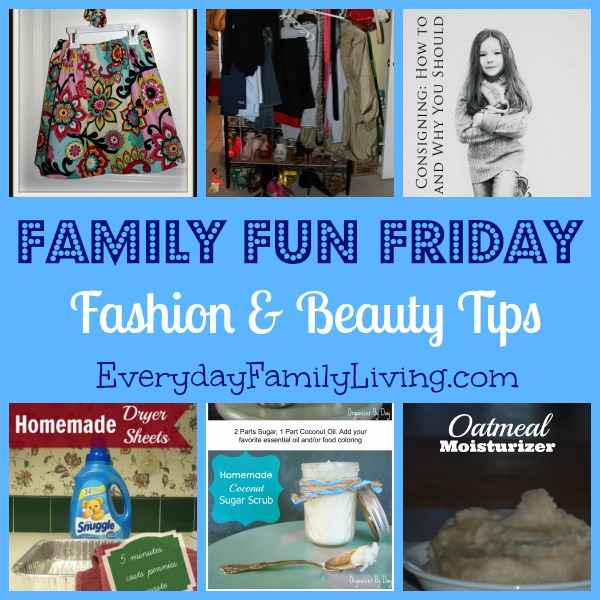 Stephanie is featuring Fashion & Beauty Tips
Time to meet the ladies behind Family Fun Friday: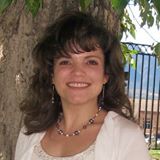 Monica created Family Fun Friday and blogs at HappyandBlessedHome.com where she shares free preschool tools and printables, encouraging words for moms, and ideas for having fun together as a family. Follow: Blog / Facebook / Pinterest / Twitter /Google + / Bloglovin'. Monica will feature Family Fun Posts.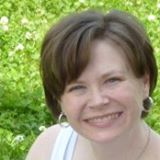 Stephanie Kay is a busy homeschooling mom of 5. She blogs at Everyday Family Living where she shares practical ideas for home organization, family activities, books and education, and health & fitness. Follow: Blog / Facebook / Pinterest / Stephanie will feature Money Saving and Organizing Tips.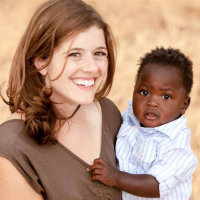 Carly is an adoptive mama and piano teacher who blogs at Africa to America. She writes about globalism, compassion and motherhood. Follow: Facebook / Pinterest / Twitter. Carly will be featuring posts on kid learning and crafting.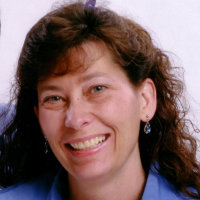 Danita enjoys blogging about cooking and shares yummy recipes on her blog OTasteandSee. Follow: Blog / Facebook / Pinterest / Twitter /Google +. Danita will feature Delicious Recipes.
Please Don't Forget a Few Simple Rules:
Link Only Family Friendly Post – Don't make me spell it out…
Follow Your Host(s)
Spread the Word
Mingle! Bloggers Love Comments
If you link up, you permit the hosts of Family Fun Friday to use your pictures/ideas as part of future posts and/or social media
Remember, bloggers love pins, shares, comments and follows, so if you see something you like…let them know.
Now, on the the party!