Time Saving Tuesday – Easy Game Day Food
Special thanks to Red Baron Pizza and The Women Bloggers for sponsoring this post. As always, all opinions are my own.
My husband and son love a good college football game with some great game day food. I love a good college football game with some great Easy Game Day Food! This Time Saving Tuesday is all about Easy Game Day Food!
For many years now our Fall Saturdays have been spent mostly doing one thing…. watching college football…. specifically the Florida Gators, when possible. We lived in Pennsylvania for 10 years and SEC football was one of the things my husband missed most. Usually, it's just my husband and son.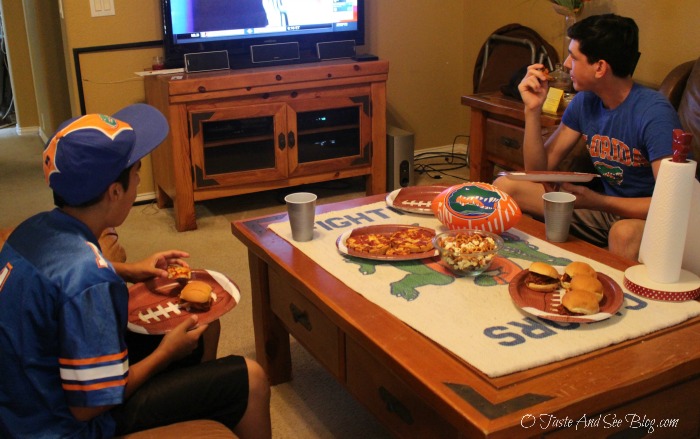 Sometimes I watch with them but on this particular Saturday we had a little impromptu "home-gate" party with one of my son's friends.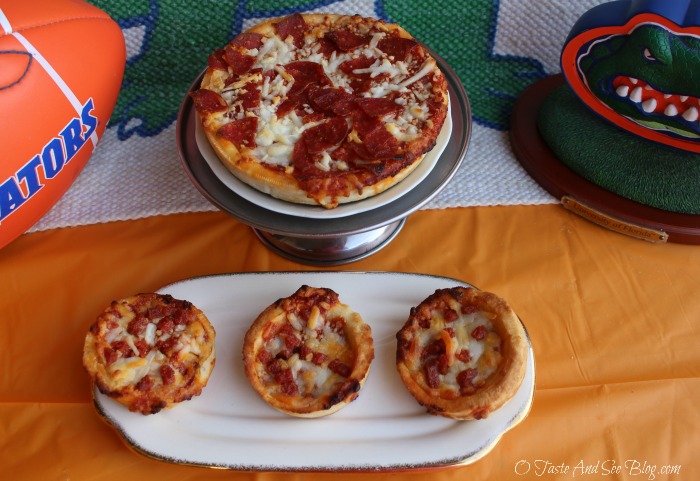 Since this was an "impromptu party" (meaning my son walked in with a friend and said, "Hey, Mom, can Aryian stay and watch the game… and eat?) I was thankful I had been to Sam's Club earlier in the week and picked up Red Baron Minis and Deep Dish Singles.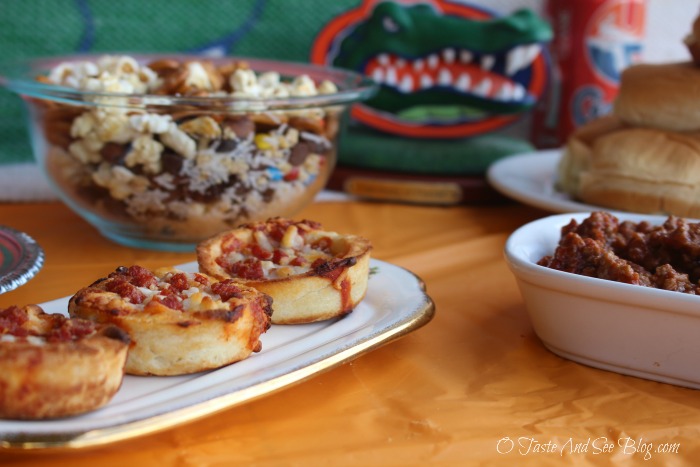 I also had fixin's for Sloppy Joe's and whipped up a bowl of "Gator Grab Mix".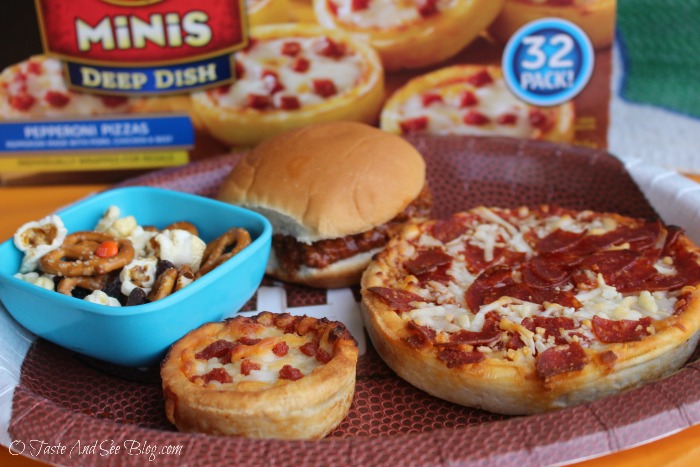 Everything was ready in about 30 minutes!
We've been big fans of Red Baron Pizza almost as long as we've been football fans, but this was our first time to try the Minis and Singles. In true Red Baron style, they were delicious! Which is exactly why my motto is…..It doesn't have to be difficult to be delicious!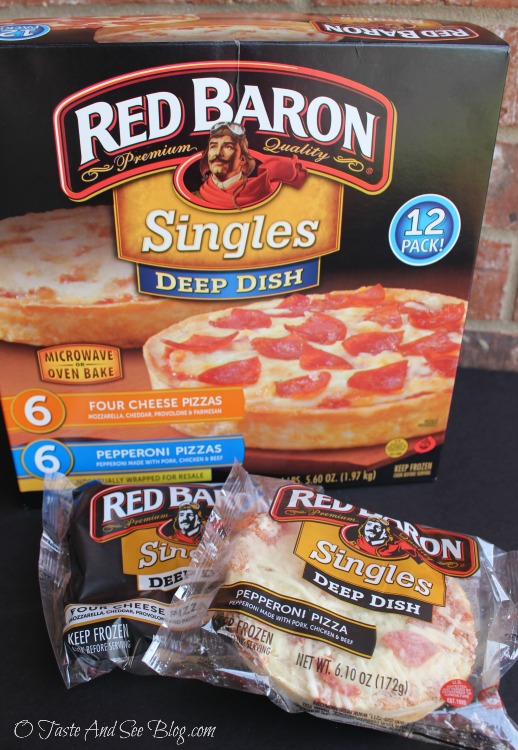 The box of Singles comes with Pepperoni and Cheese pizzas, which just happen to be our favorite. They are individually wrapped so you can make as many as you need then save the rest for later.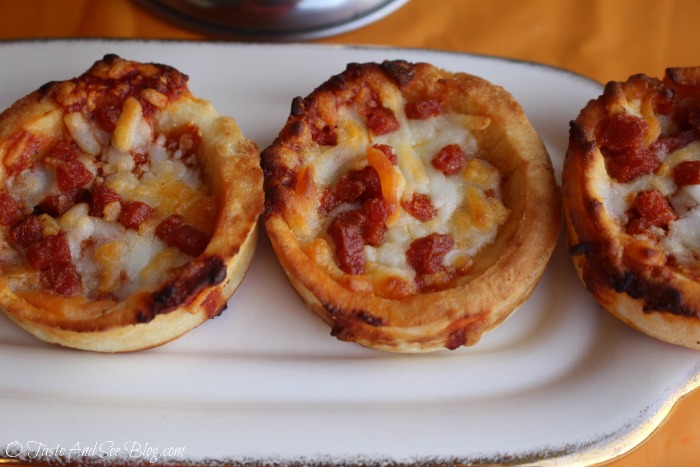 I loved the Minis! Besides just being stinkin' cute, they taste great, too!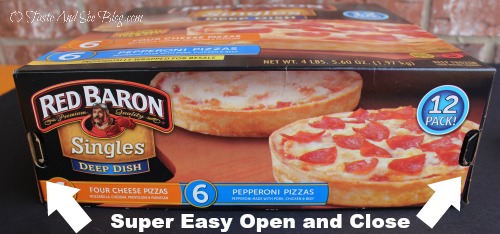 Ok, so here's where I'm going to totally "cooking nerd" out for a minute. I just have to say…lovin' the closure on these boxes! I noticed these right off! Usually, I'm struggling to get boxes like this open and end up tearing them up so badly they don't close well and my food goes back into the freezer falling out and into the abyss that can be the bottom of a chest freezer.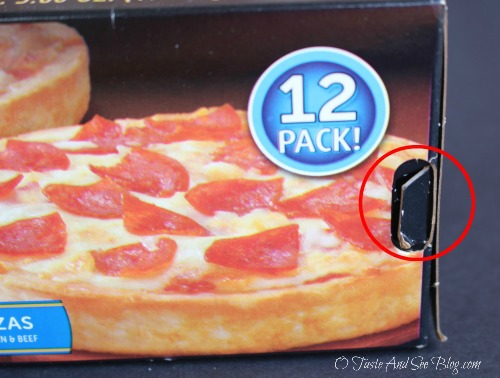 But these little tabs are super easy to open and re-seal the box! Hey, don't judge, sometimes it's the little things that make us happy.
I popped the pizzas in the oven but they can also be done in the microwave, which is great when you're feeding teenage boys. In case you haven't….you simply CAN NOT seem to keep the food coming fast enough. The Sloppy Joe's cooked up while the pizzas were baking.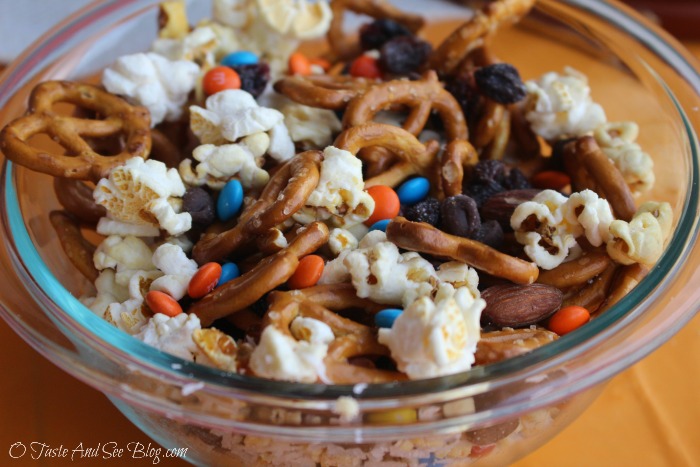 Then there's the Gator Grab Mix…which is really just party mix using whatever odds and ends you have in the pantry. You know, like peanuts, candy coated chocolate pieces, raisins, pretzels, chocolate chips….literally, whatever you have. It's a great way to use up those odds and ends and everyone loves it… even if it doesn't come out the same way twice.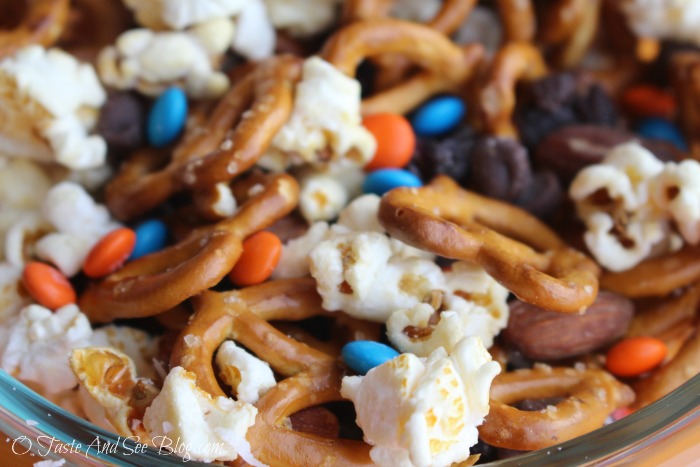 For this "recipe" I used pretzels, popcorn, raisins, chocolate chips, mini candy coated chocolate pieces, almonds and coconut flakes. But again, whatever you have works. Just throw it all in a big bowl and give it a toss.
Now, since my husband grew up in Florida, we've been Gator fans for a long time. My son's friend, on the other hand, is a Texan through and through and Gator football was new to him.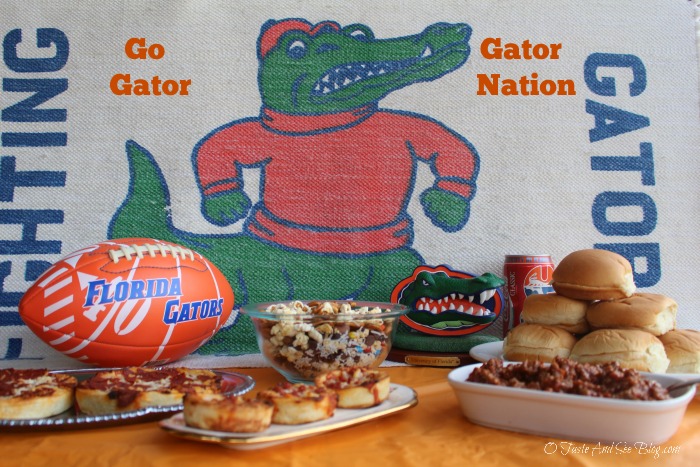 So, we pulled out all the stops with the Gator decor. My son also decided to have a little fun with him and convinced him that the most important thing when watching a game is….the attire! So, here's what happened…..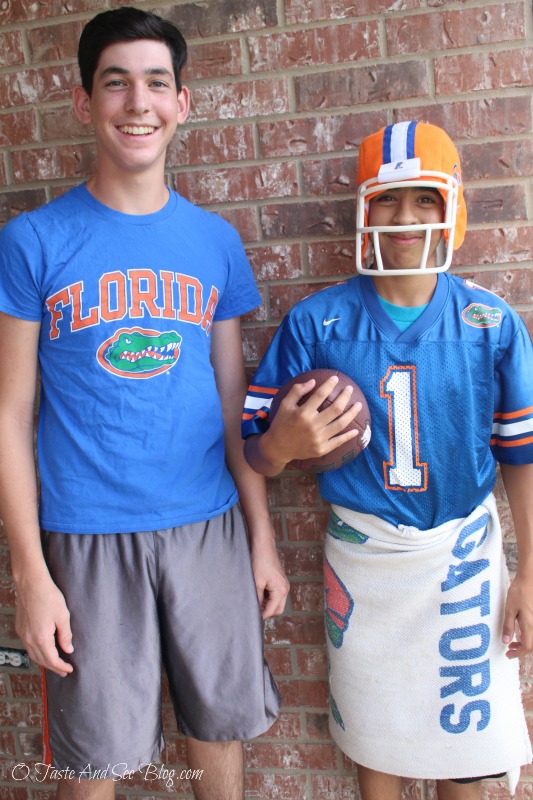 Aryian is SUCH a good sport!