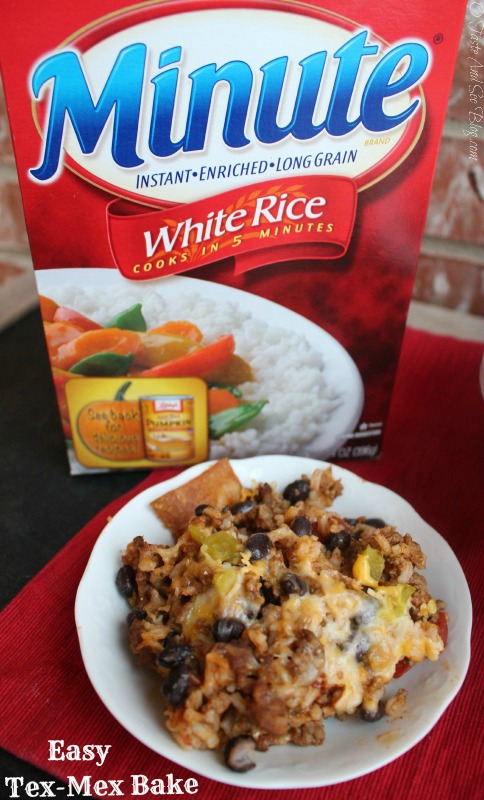 Easy Tex-Mex Bake
This post was written on behalf of Minute® Rice. All opinions are my own.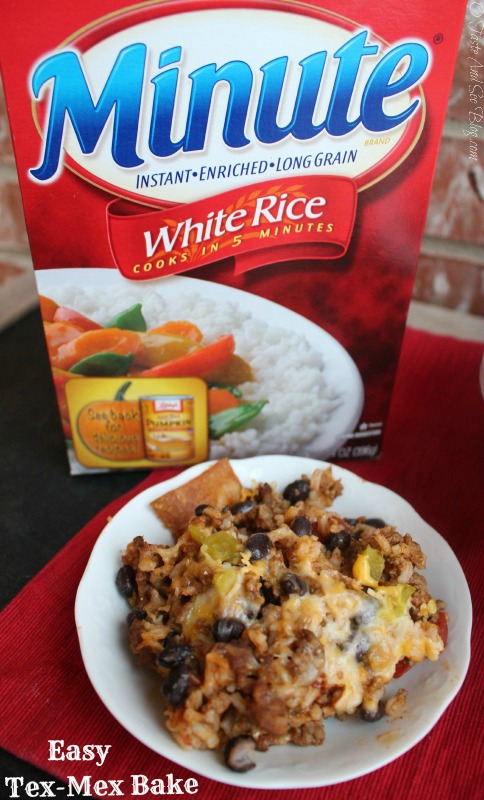 Oh my, I realized I haven't posted anything Tex-Mex in weeks! YIKES! Well, it's not because we haven't been eating any, that's for sure.
If you've read very many of the recipes here you know I LOVE Mexican and Tex-Mex dishes. It's my go-to on a busy day, any time I've forgotten to get something out for dinner and lots of times just because it's Tuesday…or Wednesday…or Thursday. You get the picture.
One of my goals here at O Taste and See is to encourage moms (or anyone else) to cook at home. I know how busy life can be, but sitting down for dinner with your family is so important. We make it a priority.. and that means I cook…or sometimes my girls. It isn't usually a big fancy meal, lots of times it's something from the crock pot. With the right ingredients and recipes a home cooked dinner can be on the table in less time than it takes to have pizza delivered or run to the drive thru.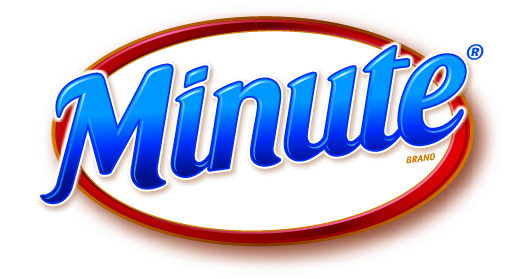 A great pantry staple for a quick and easy dinner is Minute® Rice. Great tasting, fluffy rice really is ready in five minutes!
I grew up eating rice and we still eat rice almost every night. . Minute® Rice has a whole family of products to make your life a little easier. White Rice is perfect for smothering with gravy (my personal favorite) or serving with stir fry. Whole Grain Brown Rice or Multi-Grain Medley make a quick, easy and healthy addition to almost any dinner.
Don't have five minutes? Minute® Ready to Serve Rice products are even faster! They're fully cooked, heat in the microwave in sixty seconds, eaten right out of the bowl and NO clean up! Sounds ideal for a quick lunch or for the babysitter to prepare when mom and dad go out for "date night".
I made this Easy Tex-Mex Bake in less than thirty minutes, everyone LOVED it. My daughter thought it would be perfect for taking to our church fellowship meal….I I totally agreed!
Here's the Recipe:
1 cup Minute® Rice – uncooked
1 lb lean hamburger
1 can black beans – drained
1 can chili tomatoes
1 small can diced green chilies
4 Tbsp taco seasoning – divided
1/4 tsp cumin
1/2 bag tortilla chips
1-2 cups shredded cheddar cheese
Preheat oven to 350 degrees
Boil 2 cups water and add rice, cover and remove from heat
The rice should be ready in about 5 minutes. Meanwhile…
Cook hamburger completely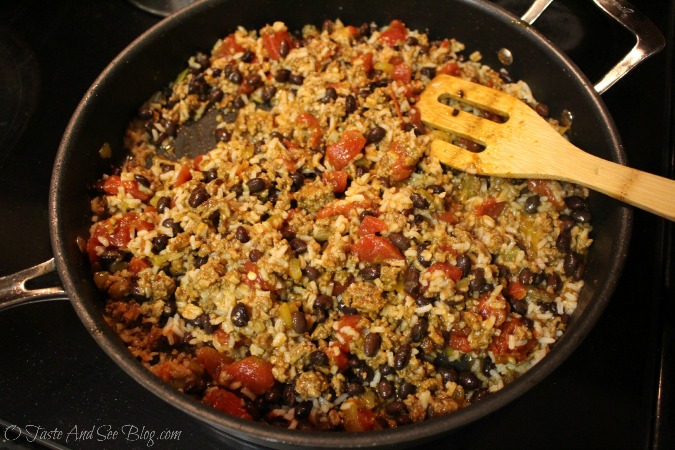 Drain hamburger
Add 2 Tbsp taco seasoning and 1/2 cup water
Stir and heat about 1 minute
When rice is ready
Add rice, tomatoes, beans, chilies, remaining 2 Tbsp taco seasoning and cumin
Stir until well combined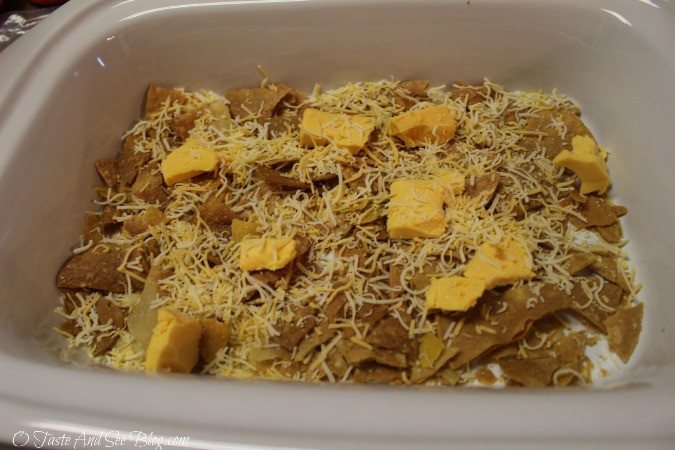 Layer the bottom of a 9 x 13 pan with crushed chips (you may not need 1/2 bag)
Top with cheese (I used some prepared cheese product and some shredded cheddar)
Layer rice mixture on top of chips and top with more cheese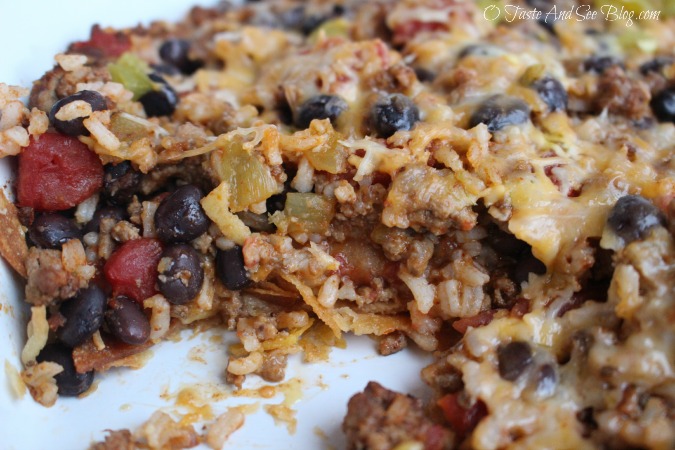 Bake about 15 minutes or until cheese is melted
Garnish with jalapeno and sour cream, if desired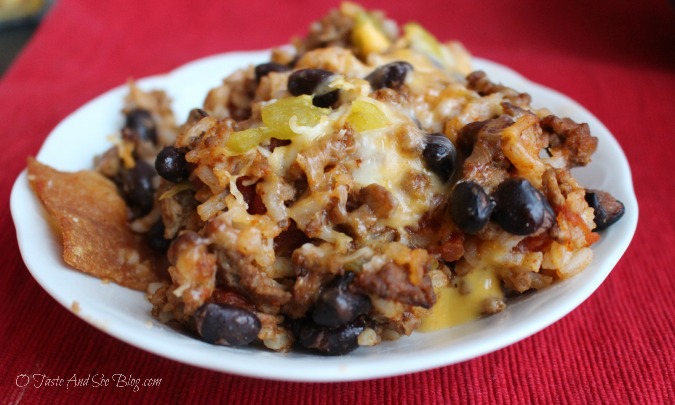 Check out Minute® Rice recipes for more quick and easy dinner ideas that everyone will enjoy!
This is a sponsored post written by me on behalf of Minute® Rice.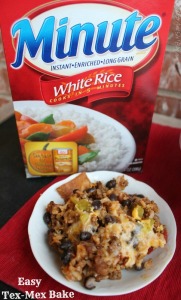 Easy Tex-Mex Bake
2014-12-12 21:09:24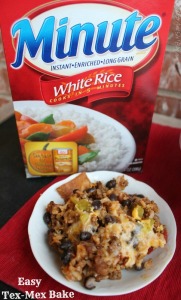 Serves 6
Ingredients
1 cup Minute® Rice – uncooked
1 lb lean hamburger
1 can black beans – drained
1 can chili tomatoes
1 small can diced green chilies
4 Tbsp taco seasoning – divided
1/4 tsp cumin
1/2 bag tortilla chips
1-2 cups shredded cheddar cheese
Instructions
Prepare rice according to box
The rice should be ready in about 5 minutes. Meanwhile…
Cook hamburger completely
Drain hamburger
Add 2 Tbsp taco seasoning and 1/2 cup water
Stir and heat until combined
When rice is ready
Add rice, tomatoes, beans, chilies, remaining 2 Tbsp taco seasoning and cumin
Stir until well combined
Layer the bottom of a 9 x 13 pan with crushed chips (you may not need 1/2 bag)
Top with cheese (I used some prepared cheese product and some shredded cheddar)
Layer rice mixture on top of chips and top with more cheese
Bake about 15 minutes or until cheese is melted
Garnish with jalapenos and sour cream, if desired
O Taste and See https://otasteandseeblog.com/