Family Fun at Flying J Ranch Ruidoso NM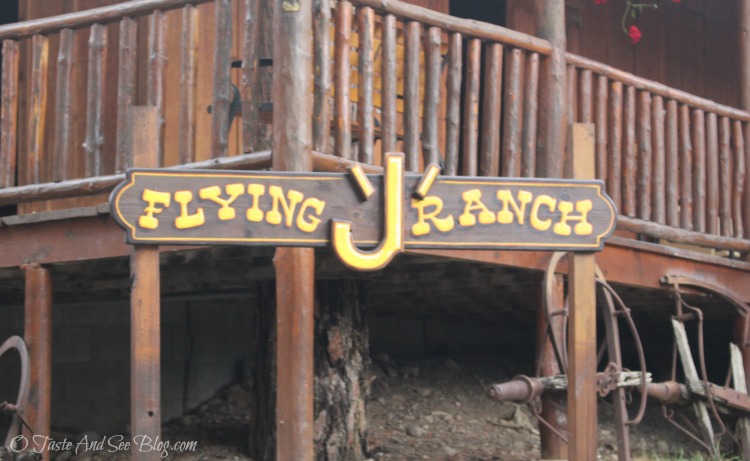 Flying J Ranch is a fun, family-friendly must-see attraction when visiting Ruidoso, NM! James and Cindy Hobbs have been welcoming folks to the Flying J since 1982 and they've perfected the art of Western hospitality. Each night they serve an authentic chuck-wagon supper and entertainment is provided by the Flying J Wranglers, some of the best western musicians around!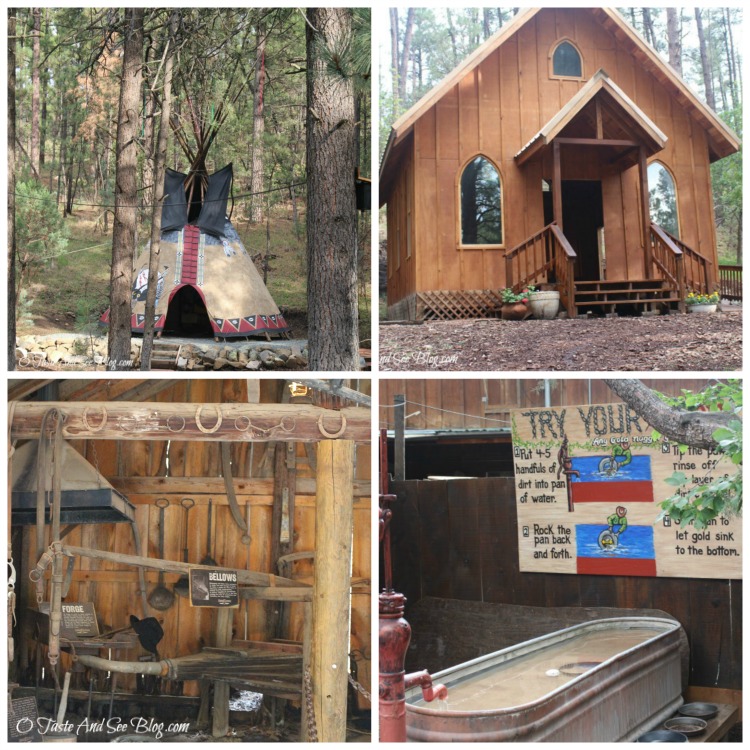 Supper is served at 7:00, but you'll want to get there when the gates open at 5:30 and the activities start. Everyone will enjoy walking around the old west town of Bonita City and exploring the chapel, blacksmith shop, tepee and jail. There's pony rides and deputy training school for the kids.
I enjoyed trying my hand at panning for gold AND you get to keep what you find. FUN!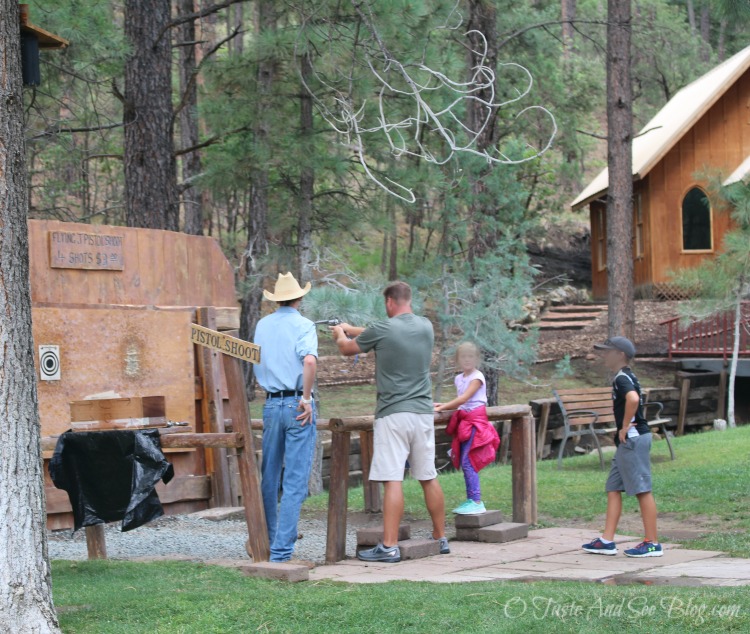 Oh, and there's a pistol shoot. Yup, just like an old west cowboy, you can shoot a real .45 caliber pistol. The line for the pistol shoot gets pretty long so I recommend going there first.
These are just a few of the things to see and do before the show starts.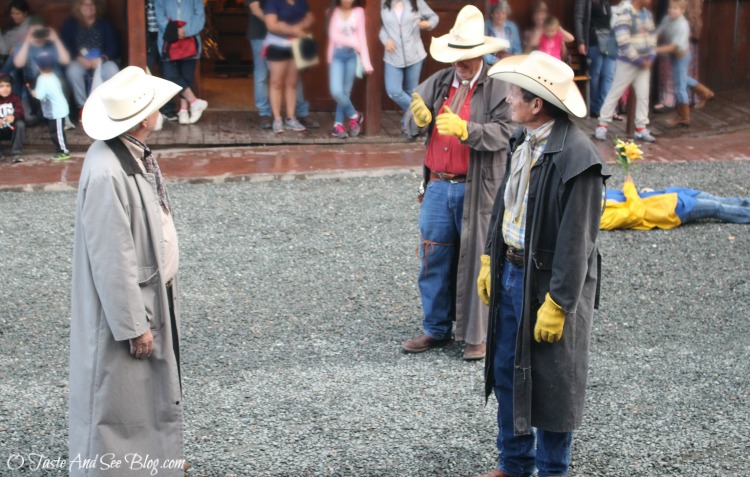 Just before dinner there's a gunfight! Because no self-respecting old west town would be complete without one, right? Don't worry, they don't use the real .45's for the gunfight. It's all in fun.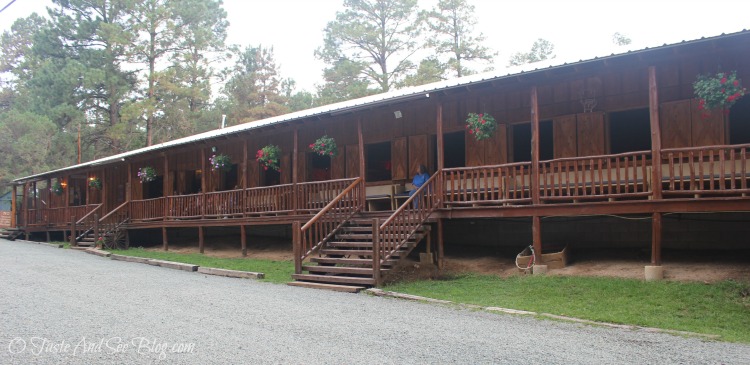 Then it's time for supper. Normally, it's served on the big front porch of the main building, but the night we were there it rained. This didn't slow them down one bit, they have a plan for everything.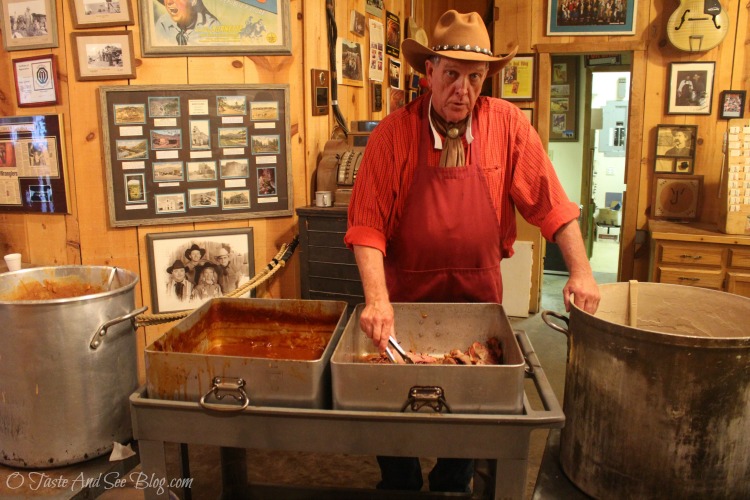 They have serving down to a science, getting up to 600 people through the line in 20 minutes. Let me tell you, as someone who's prepared and served meals for large crowds, that's no easy feat!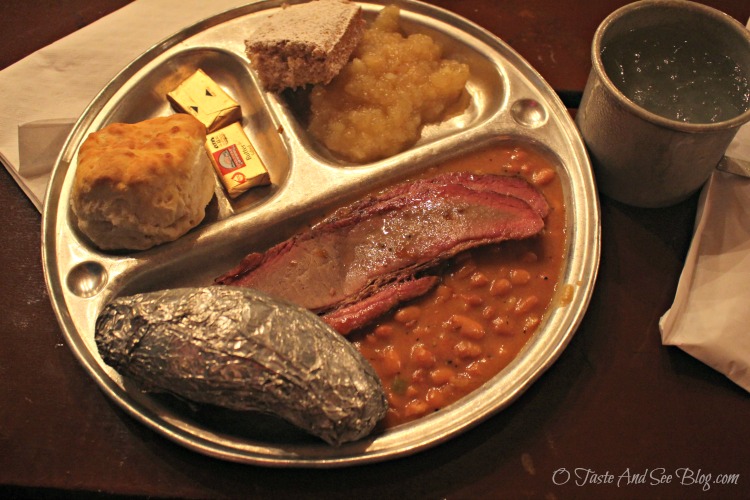 The (mostly) authentic chuck-wagon supper includes a generous portions of deliciously tender brisket or chicken, baked potato, chunky apple sauce, biscuit and, of course, the cowboy staple….. "the cheapest pinto beans money can buy"! Coffee, tea or lemonade is served in what else? A tin cup.
After dinner the real attraction begins. The Wranglers take the stage for an unforgettable performance!
They have amazing harmonies, fancy fiddling, banjo playing, guitar picking, hilarious comedy AND Cindy is a world champion yodeler! Seriously, that's not something you can hear just anywhere. She's really good! I got to spend a little time talking with her after the show and she a world-class sweetheart as well.
After the show stick around to visit the gift shop for a souvenir or Wrangler CD and Cindy's Sweet Shop for hand-dipped ice cream.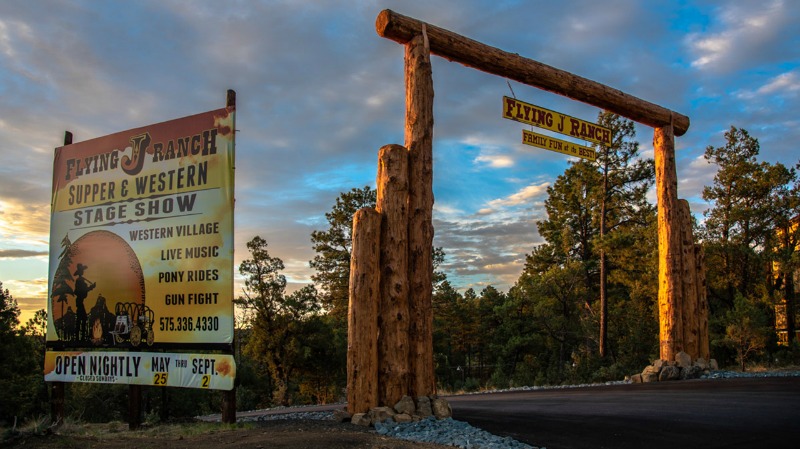 Performances are Mon-Sat, June – Labor Day and Saturday evenings until mid-October. It's some of the best family-friendly entertainment I've seen and well worth a visit.