Staying Organized with the 2015 Daily Planner
Today, Time Saving Tuesday is all about staying organized.
I'm so excited to share this review with you today! This post is written on behalf of 2015 Daily Planner, but believe me when I say ALL opinions are my own.
I have struggled for years to find the perfect planner. When I was young and single, I just looked for something pretty. After I got married and when I had small children that still worked. As my children have gotten older and life has become more busy I need so much more to keep us all organized.
About this time each year my quest would begin. I think I've used just about every planner on the market, and while each had a thing or two I liked, none seemed to have everything I needed. Was I just asking too much?
Then my husband suggested I go to an online calendar…Eeeek! Honestly, that borders on my worst nightmare. You have no idea how "technologically challenged" I am…it's not pretty! So, I continued to settle for whatever I could find.
When I was asked to do a review for the 2015 Daily Planner by Sue Hooley, I was super excited! It seemed like a perfect fit for me. When my planners arrived my excitement was even greater. I could hardly believe it…EVERYTHING I wanted in a planner! How did she know all the things I needed? Easy, she's a mom, too! Who better to design a planner for moms?
Instead of telling you, just let me show you all the things I love about this planner…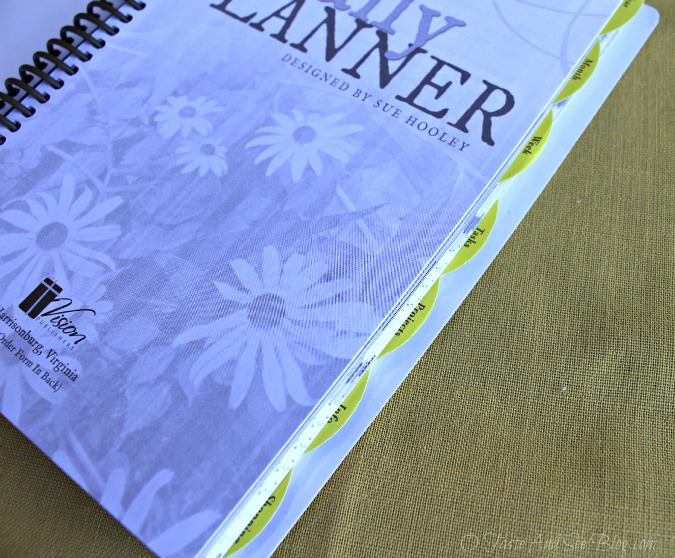 Lots of sections for different activities and tabs for each so I can easily find what I need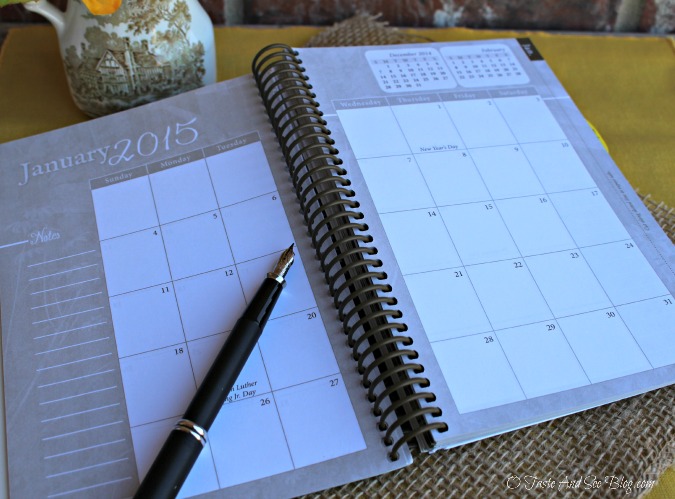 A yearly and monthly calendar, because I need to plan ahead and I need to see lots of days at a time.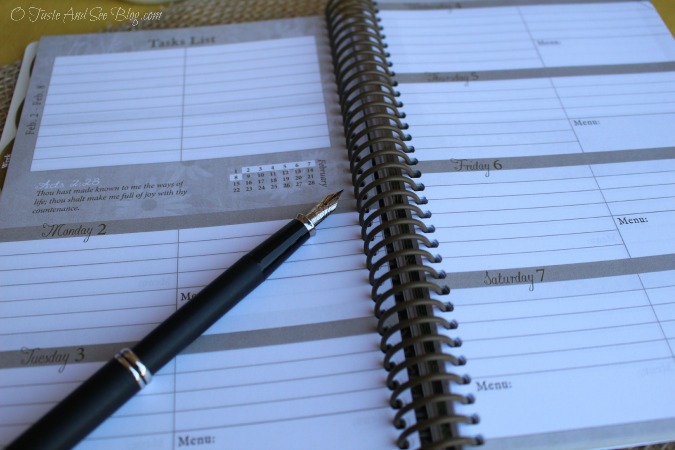 Full pages for each week where I can keep details about what everyone is doing and where they need to be
And, a Menu box each day so I can plan dinner around our activities!
This is one of my favorite features! I've always coordinated meals with activities, but I used to keep a separate menu plan because I didn't have room in my planner. Now I have everything in one place!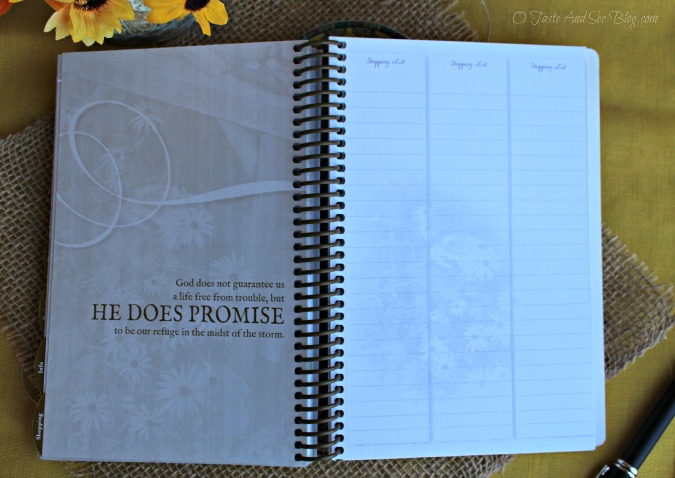 Along with that, there's a whole section in the back with perforated shopping lists!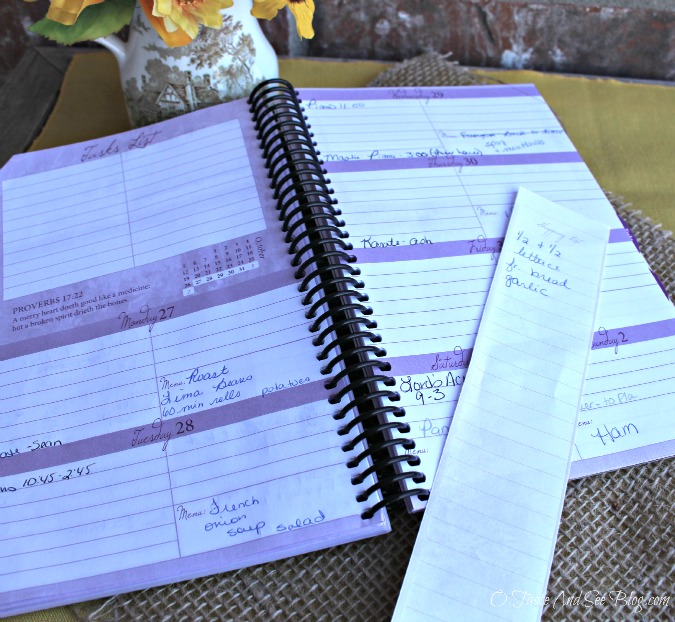 See how easy! I take one out, make dinner plans then immediately write down what I need to pick up from the store.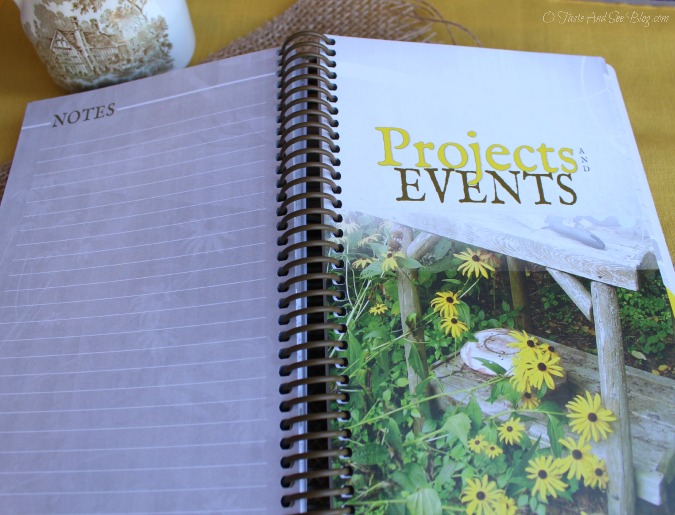 A section for Projects and Events. This is great for party and special occasion planning, or keeping up with school projects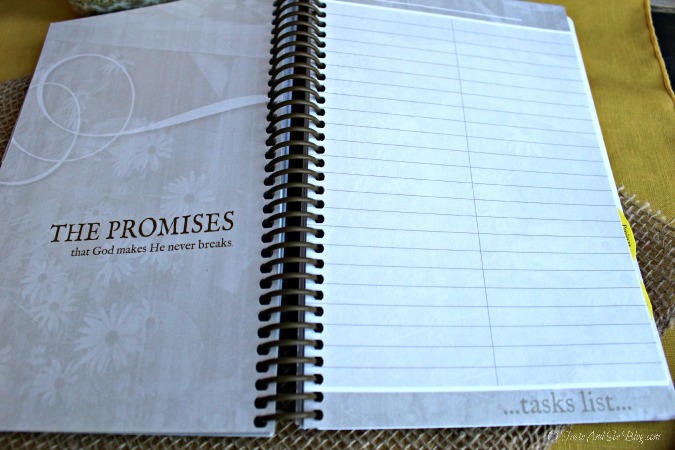 The Tasks section is where I keep up with my daily "to do" lists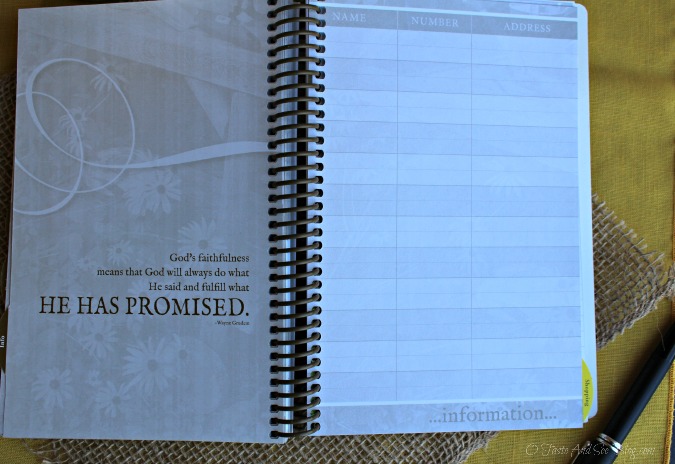 As if that's not enough, it has a place to keep important information like addresses and phone numbers. I know my Christmas card list is going here.
All the practical things I need, but it also includes extras like…

Words of encouragement and a verse each week to remind me of what's really important in life. I tend to be very task oriented and can get focused on doing rather than relationships, so this is an added blessing for me.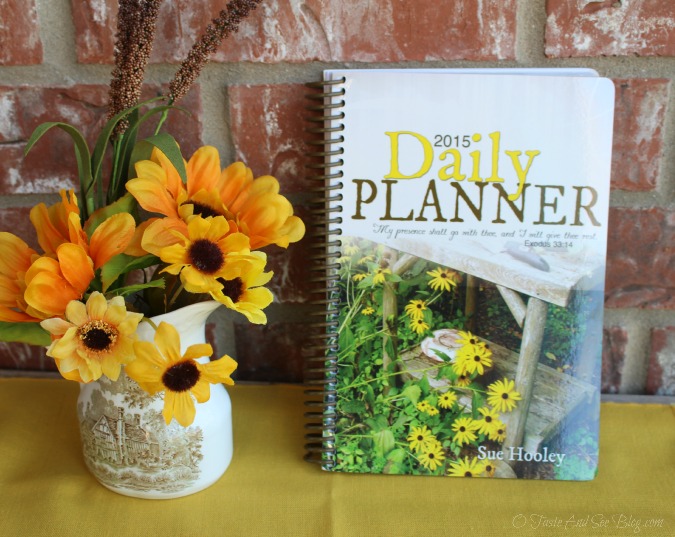 And It's Really Pretty!
I know function is more important that beauty, but it is nice to have both. Ladies appreciate that combination.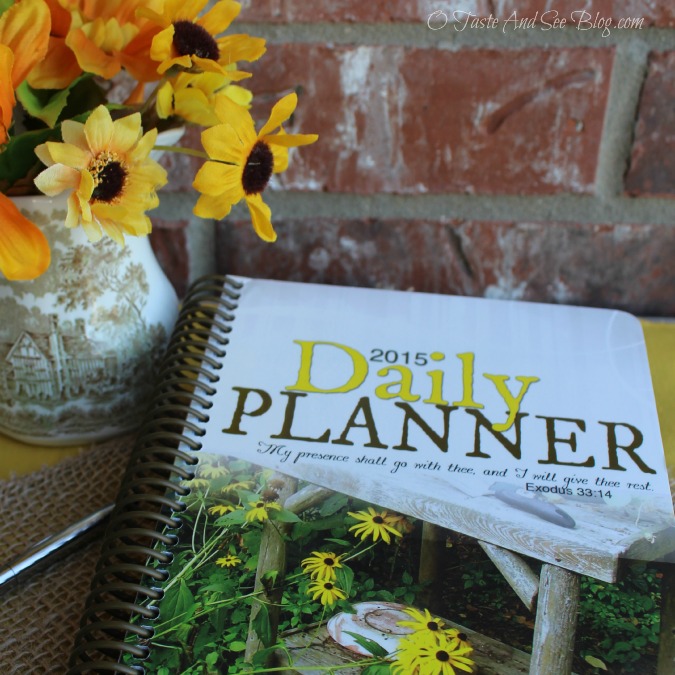 What about the cost? Often getting everything you want or need costs WAY too much. Thankfully, that's not the case with the 2015 Daily Planner. It's very reasonable and the more you order the more you save. So order with a friend or buy extras as gifts for other moms who are looking for ways to stay organized. From now till the end of the year you can order by clicking the 2015 Daily Planner ad at the top of my sidebar or visit Sue anytime at Homemaker's Friend.
Sue graciously sent me a 2014 and 2015 Daily Planner for which I'm so thankful!
My quest for the perfect planner is OVER!
How do you stay organized?