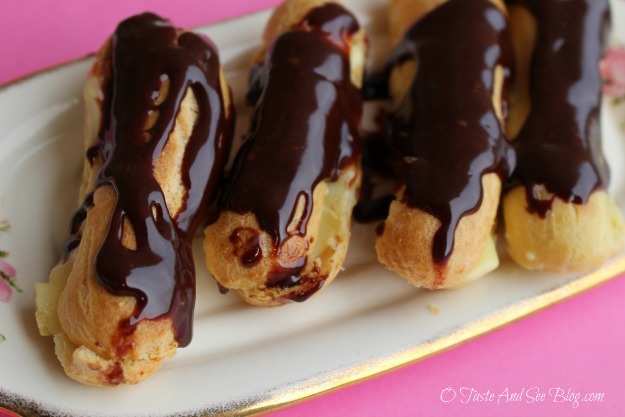 Mini Chocolate Eclairs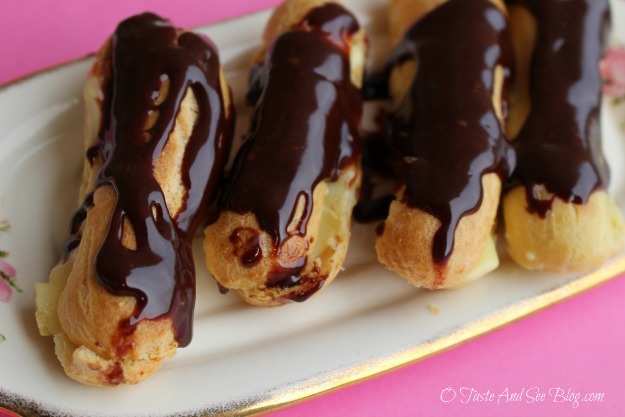 Not too long ago I made Churros and Mexican Chocolate Sauce. The sauce makes more than we usually eat with Churros so it was just sitting in the refrigerate. It's too good to throw out but I didn't really have a "plan" for it.
Then I had a dessert emergency. What's a "dessert emergency"? Last minute guests, forgotten dessert commitments, late night (or anytime) cravings that require a dessert, but you realize you don't have one. I usually keep frozen Mini Chocolate Eclairs on hand for these situations, but not this time. What I did have was Mexican Chocolate sauce, a box of vanilla pudding mix and all the ingredients for Cream Puffs. Together, that's the perfect recipe for homemade Mini Chocolate Eclairs!
I love being able to make something yummy out of things I already have on hand.
Here's the Recipe:
Cream Puffs – 1 recipe
1 small box vanilla pudding and ingredients needed to prepare, usually milk
Piping bag and large round tip
Prepare Mexican Chocolate Sauce according to recipe
Prepare pudding according to directions
Place in refrigerator to thicken while making eclairs
Preheat oven to 400 degrees
Spray a baking pan with non stick cooking spray
Prepare Cream Puff batter according to recipe
Using a pastry bag with a large round tip (about 3/4 if you have it) pipe a 3″ line of batter on a greased cookie sheet
*Please excuse the "well used" baking sheet…it was a dessert emergency and I just grabbed the first pan I saw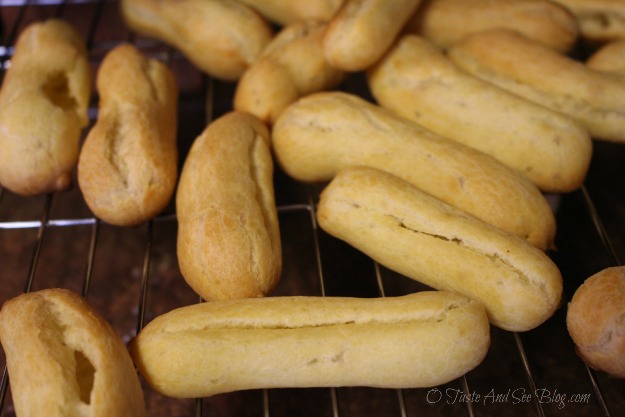 Bake for 30-35 minutes
Remove from pan and immediately cut a slit in each one to allow steam to escape
Cool on wire rack
When completely cool, slice lengthwise and fill with pudding
Place top back on eclair and drizzle with Mexican Chocolate Sauce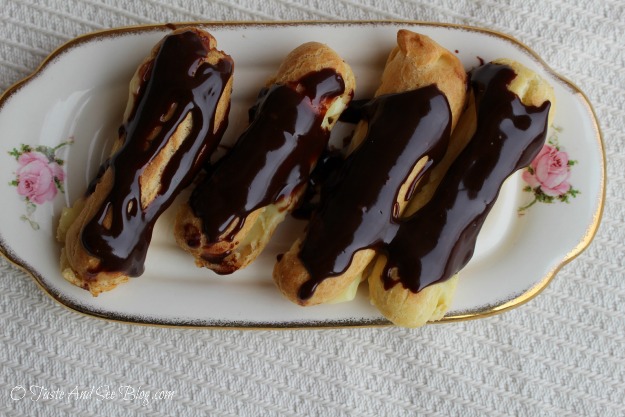 It can be a little time consuming to make everything at one time.
I would recommend preparing the pudding and Chocolate Sauce ahead of time.