Sausage Balls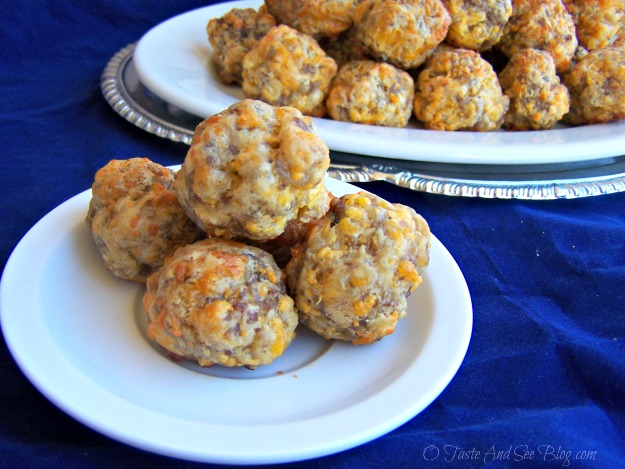 Sausage Balls are a Southern tradition. They're good for breakfast, lunch, dinner, snack or appetizer. You can eat them hot, cold or at room temperature. They can be made ahead, frozen and reheated…and still taste wonderful! (Instructions for making ahead, freezing and re-heating found below, under the recipe)
My mom (aka the Snack Tray Queen) makes these often, we had them at our wedding reception, I've made them for groups as small as our family and as large as one-hundred-fifty. But, believe it or not, I didn't like them! Well, at least that's what I thought.
I've mentioned before I used to be a picky eater. Mostly, I made up my mind before trying things whether I liked them or not. That's what happened with Sausage Balls. The first time I ever tried them was a few years ago when my daughters, a friend, and I were making them for a Mother-Daughter brunch for a large group of ladies. They smelled so good I decided to try one….
Well, let me just say….I LOVED THEM! We ate so many I was afraid I wasn't going to have enough for our Mother-Daughter! They are addictive. You really can not eat just one.
They do take a little time so I almost always make them ahead, sometimes the day before and sometimes a couple of weeks. If I make them more than a day or so in advance I freeze them on a baking sheet then put them in a freezer bag. A couple of hours before I'm ready to serve I put them in the crock pot on low or keep warm to thaw and re-heat.
If mixing raw meat with your hands "grosses you out" you may just need to enjoy them when someone else makes them. A spoon just won't do, sorry.
Here's the Recipe:
1 lb breakfast sausage, such as Jimmy Dean (hot or mild, your preference)
8 oz cheddar cheese
2 cups Bisquick
1/4 c water
Preheat oven to 350 degrees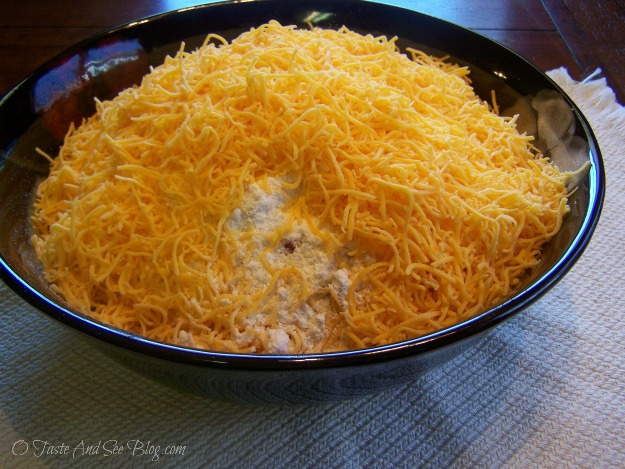 Place all ingredients in a large bowl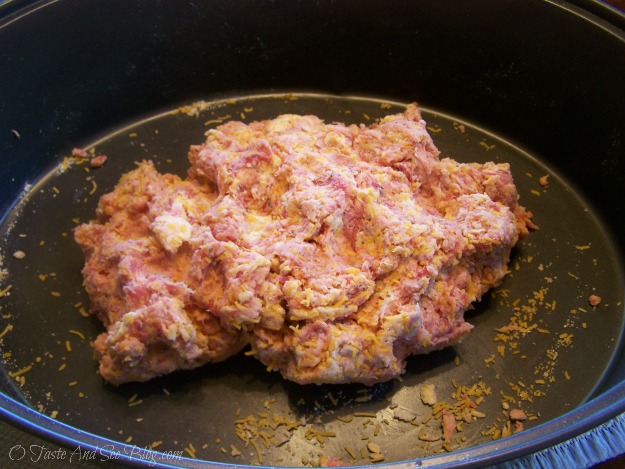 Using your hands, mix until all ingredients are very well combined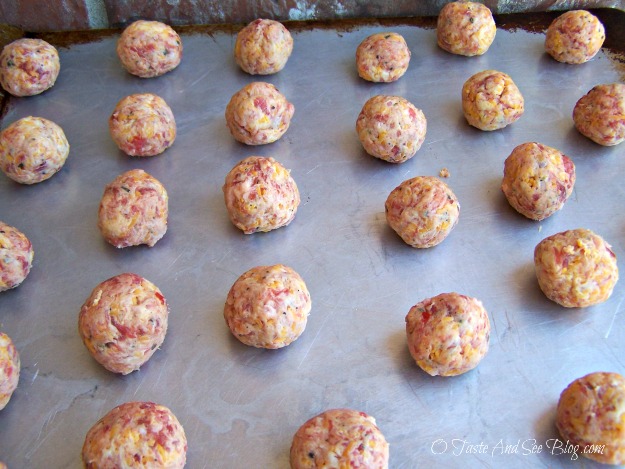 Roll mixture in about 1″ balls and place on baking sheet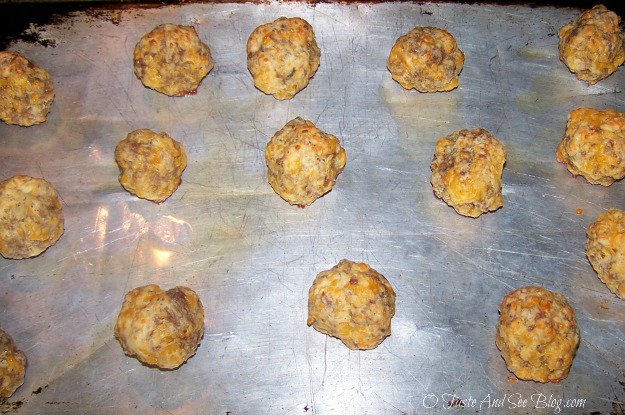 Bake about 15-20 minutes or until completely done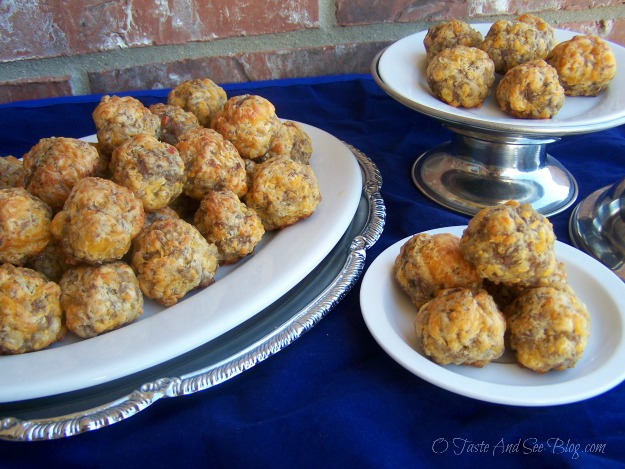 With Sausage Balls, it doesn't matter how many you make….they will all be eaten!
Making Ahead:
Cool sausage balls completely.
Place side by side (but not touching) on a baking sheet
Place in freezer about 1 hour or until frozen.
Remove from baking sheet and place in airtight container or freezer bag
Re-heating Instructions:
Sausage balls can be reheated in microwave, oven or crock pot
Microwave:
Place a few at a time in a damp paper towel and heat about 20-30 seconds. Check then heat at 10 second intervals until heated through
Oven:
Wrap frozen sausage balls in aluminum foil and place in 350 degree oven about 20-30 minutes (depending on how many you have)
Crock pot:
Place a damp paper towel in the bottom of crock pot (this well keep them from drying out as they reheat)
Place sausage balls in crock pot and heat on low until heated through (a crock pot full may take 2-3 hours)
Turn crock pot on "keep warm" setting and snack on them all day or serve when ready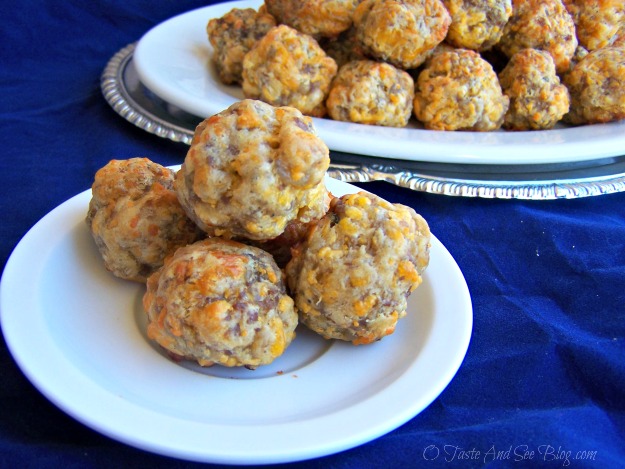 Sausage Balls
2014-06-24 03:22:22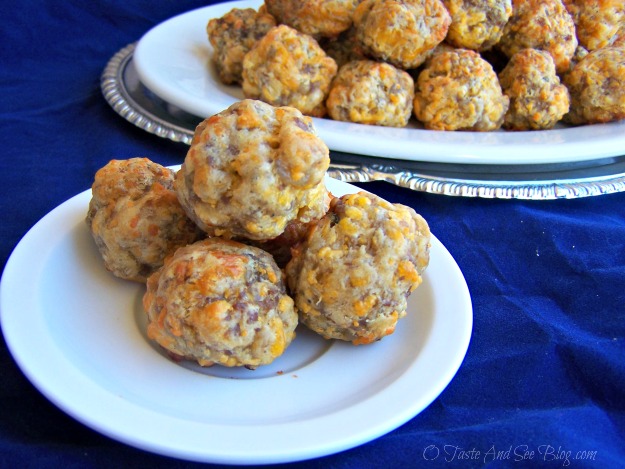 Ingredients
1 lb breakfast sausage, such as Jimmy Dean (hot or mild, your preference)
8 oz cheddar cheese
2 cups Bisquick
1/4 c water
Instructions
Mix all ingredients in a large bowl
Using hands, mix until well combined
Bake at 350 degrees for about 20 min.
Notes
Can be made ahead and kept in refrigerator a couple of days or in freezer 2-3 weeks.
Making Ahead
Cool sausage balls completely.
Place side by side (but not touching) on a baking sheet
Place in freezer about 1 hour or until frozen.
Remove from baking sheet and place in airtight container or freezer bag
Re-heating Instructions
Sausage balls can be reheated in microwave, oven or crockpot
Microwave
Place a few at a time in a damp paper towel and heat about 20-30 seconds. Check then heat at 10 second intervals until heated through
Oven
Wrap frozen sausage balls in aluminum foil and place in 350 degree oven about 20-30 minutes (depending on how many you have)
Crockpot
Place a damp paper towel in the bottom of crockpot (this well keep them from drying out as they reheat)
Place sausage balls in crockpot and heat on low until heated through (a crockpot full may take 2-3 hours)
Turn crock pot on "keep warm" setting and snack on them all day or serve when ready
O Taste and See https://otasteandseeblog.com/