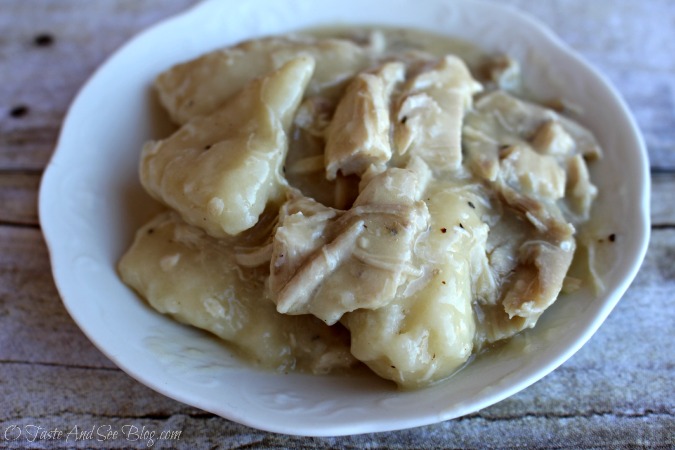 Old Fashion Chicken 'n Dumplins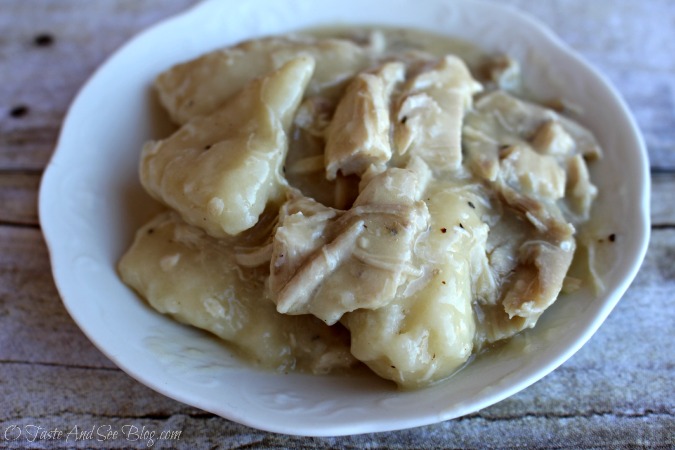 I am a Southerner through and through and love good Southern Comfort Food. BUT, there are a few "Southern" things I've never done and some "Southern" foods I just don't really like. I do realize admitting these things could be equated with sacrilege. However, here it goes….
Southern Things I've Never Done:
Been to Graceland. In case you aren't familiar, home of Elvis aka The Southern Mecca. I did however, go to an Elvis concert when I was about eight or nine. That has to count for something, right?
Owned a velvet Elvis painting. I did have a large poster purchased at the aforementioned concert.
Seen the movie Gone with the Wind. GASP! Yes, sad but true. Somehow I've just never taken the time to sit down and watch it. Ok, this one probably is sacrilegious and I probably just got a big ol' "Bless your heart" from several of you.
Been to a NASCAR Race. I have toured Darlington Speedway, a couple of times, but never been to a race. We prefer football.
Monogrammed Southerners love monogramming.
Southern Foods I Don't Care For:
Fried Okra. Just can't do it. I make if for my family but I just don't like it.
Turnip Greens (or Collard or Mustard). Too bitter and I really don't enjoy the smell either.
Potato Salad, macaroni salad, tuna salad…insert anything called salad and mixed with mayo. It's the mayo…totally grosses me out. Like I can hardly look at it. And. The. Sound. I know, most of you are saying, "Mayo makes a sound?" Yes, that slurping sound it makes coming out of the jar….way too much for me! Only thing worse is the smell! I can't talk about it any more.
Fried Green Tomatoes. Too tangy. Yes, I shared a recipe and I make these but only my husband eats them.
And until recently…..Chicken 'n Dumplins
My grandmother made Chicken 'n Dumplins and everyone raved. For me, they've always been slimy.
I made them for the first time several months ago and people said they were good, but again….slimy.
I decided to try a different recipe and to my surprise, I actually liked them! No slim or at least not much! My husband even said they were "Cracker Barrel" good, and we all know that means!
Chicken 'n Dumplins can take a good bit of time. I did it in two days.
Day 1 – boil chicken and de-bone. Day 2 – Make dumplins and put it all together
Here's the Recipe:
1 whole chicken
1 small onion
1 stalk celery
1 clove garlic – peeled
dash or 2 of parsley
1 1/2 tsp salt – divided
1/2 tsp pepper
Dumplins:
2 cups all-purpose flour (White Lily if you have it)
1 Tbsp baking powder
1 1/4 tsp salt
1 cup milk
Day 1: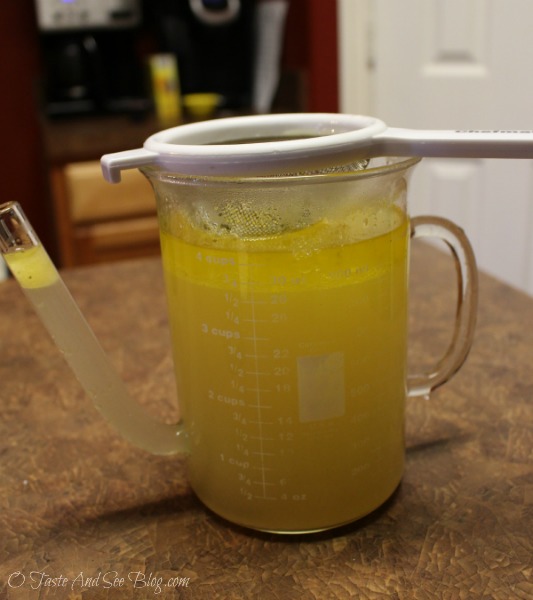 Place chicken in a large stock pot and cover with water
Add all other ingredients except pepper, using only 1 tsp of the salt
Boil until chicken is done and failing off bone
Keep a close eye and add more water as needed
Remove chicken and allow to cool then de-bone
Using a de-fatting cup, strain broth and set aside 6 cups
Any extra broth can be refrigerated for a few days or frozen and used later
Place everything in refrigerator until ready to assemble
Day 2: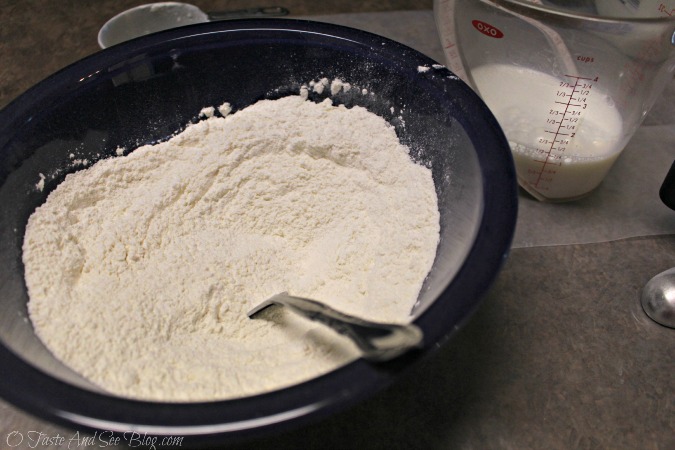 Mix together dry ingredients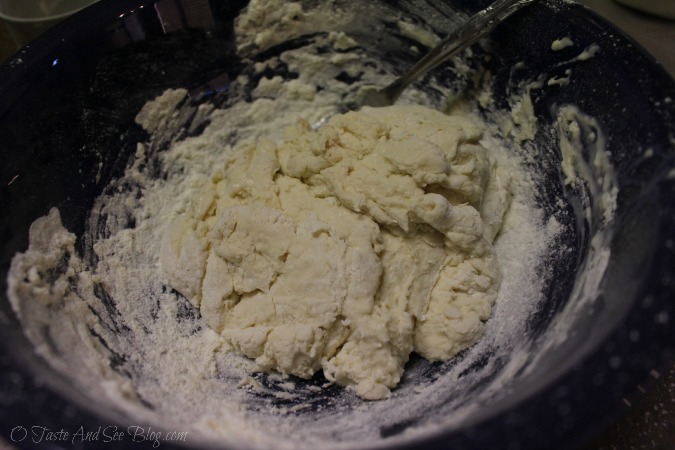 Add milk and mix together until dough forms a ball
Be careful not to over mix
Cover and allow dough to rest 5-10 minutes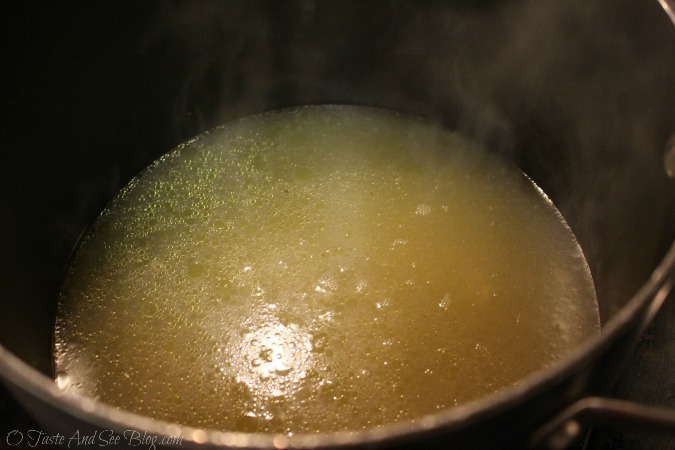 While dough is resting
Add the reserved 6 cups of broth, 1/2 tsp salt and 1/2 tsp pepper in a large stock pot
Bring to a rolling boil
*If it starts to boil before you're ready, turn it down and cover with a lid so you don't lose any to evaporation
When dough is ready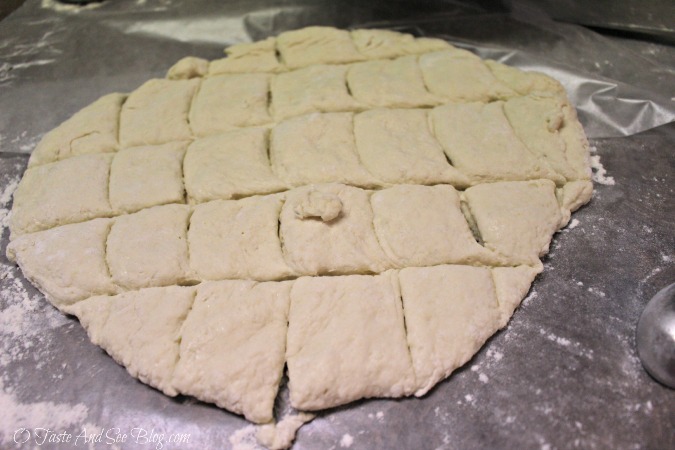 Remove from bowl and place on a floured surface
Flatten to about 1/2 inch thick and cut into 1/2 inch squares (I used my pizza cutter)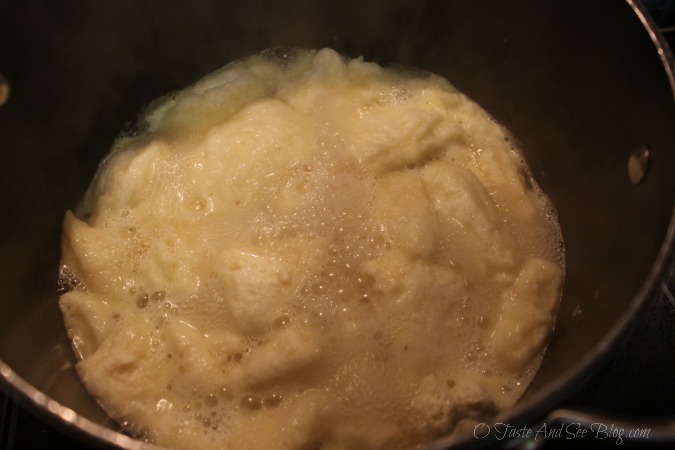 Drop dough one piece at a time into boiling broth
Dough will immediately sink but then float after a few seconds. Drop them in slowly waiting for others to float before adding too many. Above all DO NOT STIR. This will cause your dumplins to fall apart. It may seem crowded but use all the dough pieces.
Turn down heat and simmer 20-30 minutes
Broth should thicken as dumplins cook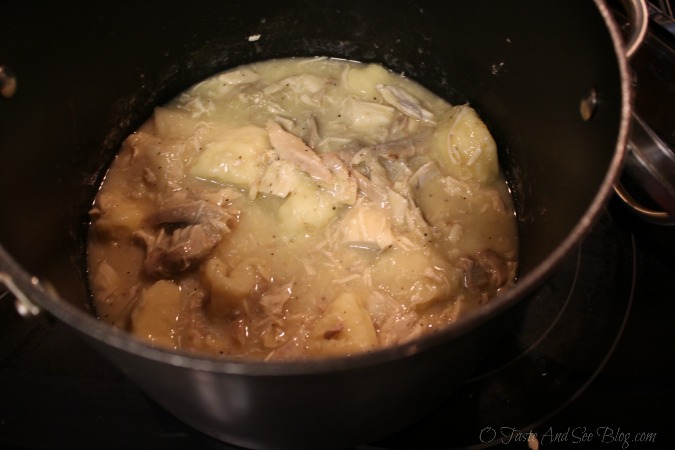 When dumplins are done, add your de-boned chicken to the pot
Depending on how big your chicken was you may not need all of it. I think I used about half and saved the rest for something else.
At this point you can GENTLY stir
Continue to simmer about 5 minutes or until chicken is heated through
Add more salt and pepper to taste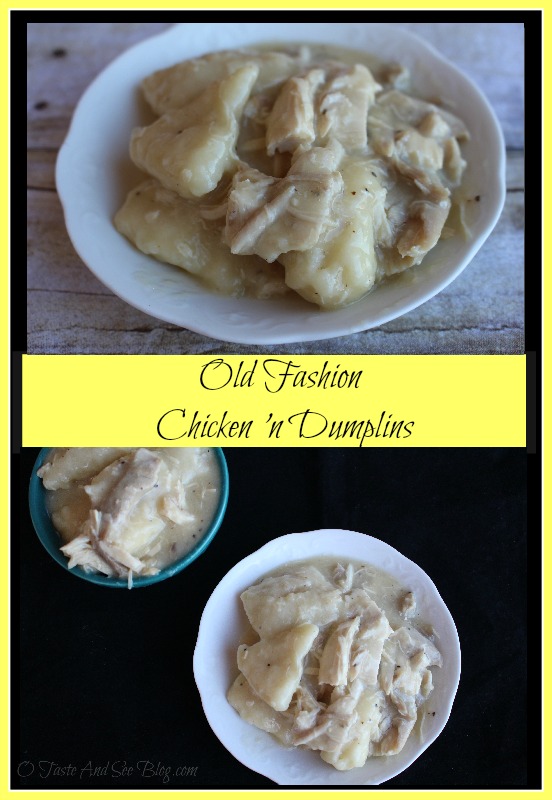 Suggested Sides:
Are there foods from your region of the country you don't care for?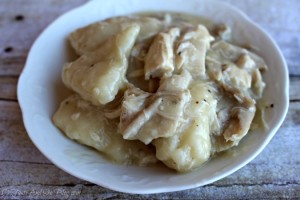 Old Fashion Chicken 'n Dumplins
2015-03-01 00:46:05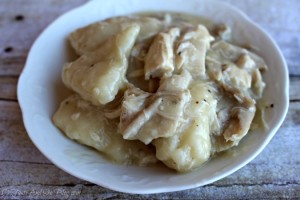 Serves 6
Ingredients
1 whole chicken
1 small onion
1 stalk celery
1 clove garlic – peeled
dash or 2 of parsley
1 1/2 tsp salt – divided
1/2 tsp pepper
Dumplins
2 cups all purpose flour
1 Tbsp baking powder
1 1/4 tsp salt
1 cup milk
Day 1
Place chicken in a large stock pot and cover with water
Add all other ingredients except pepper, using only 1 tsp of the salt
Boil until chicken is done and failing off bone
Keep a close eye and add more water as needed
Remove chicken and allow to cool then de-bone
Using a de-fatting cup, strain broth and set aside 6 cups
Any extra broth can be refrigerated for a few days or frozen and used later
Place everything in refrigerator until ready to assemble
Day 2
Mix together dry ingredients for dumplins
Add milk and mix together until dough forms a ball
Be careful not to over mix
Cover and allow dough to rest 5-10 minutes
While dough is resting
Add the reserved 6 cups of broth, 1/2 tsp salt and 1/2 tsp pepper in a large stock pot
Bring to a rolling boil
When dough is ready, remove from bowl and place on a floured surface
Flatten with palms or roll to about 1/2 inch thick and cut into 1/2 inch squares (I used my pizza cutter)
Drop dough one piece at a time into boiling broth
Dough will immediately sink but then float after a few seconds. Drop them in slowly waiting for others to float before adding too many. Above all DO NOT STIR. This will cause your dumplins to fall apart. It may seem crowded but use all the dough pieces.
Turn down heat and simmer 20-30 minutes
Broth should thicken as dumplins cook
When dumplins are done, add your de-boned chicken to the pot
Depending on how big your chicken was you may not need all of it. I think I used about half and saved the rest for something else.
At this point you can GENTLY stir
Continue to simmer about 5 minutes or until chicken is heated through
Add more salt and pepper to taste
Notes
This is a bit of a process so I break it up into 2 days
When putting everything together, if broth boils before you're ready, turn it down and cover with a lid so you don't loose any to evaporation
O Taste and See https://otasteandseeblog.com/