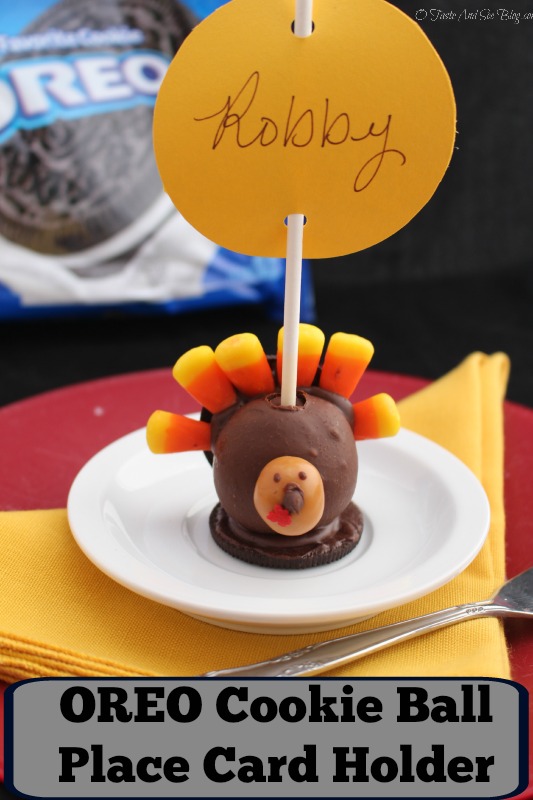 OREO Cookie Ball Place Card Holder
This #OREOCookieBalls shop has been compensated by #CollectiveBias, Inc. and its advertiser. All opinions are mine alone
I'm SUPER excited to share these #OREOCookieBalls with you!
I first had Cookie Balls several years ago when a neighbor gave us a tin of Christmas goodies. I was amazed to find out they were made from OREO cookies. Of course, I couldn't wait to ask for the recipe. One ball was sent for each member of our family, but I can neither confirm nor deny everyone received their allotted Cookie Ball.
With Thanksgiving just around the corner, I've been thinking about food…more than usual. We love celebrating with food and "themed" food is my favorite! These little turkeys made from OREO Cookie Balls are an adorable Thanksgiving themed treat. Busy with other holiday baking, Cookie Balls are the perfect three ingredient no-bake dessert.
Here's the Official OREO Cookie Ball Recipe:
Ingredients:
1

pkg

(8 oz.) brick cream cheese, softened
36 OREO Cookies, finely crushed (about 3 cups)
4

pkg

. (4 oz.

each

) semi-sweet baking chocolate, melted
Make it!
MIX cream cheese and cookie crumbs until blended.
SHAPE into 48 (1-inch) balls. Freeze 10 min. Dip balls in melted chocolate; place in single layer in shallow waxed paper-lined pan.
CUSTOMIZE it with your own ingredient additions or decorative skills.
REFRIGERATE 1 hour or until firm.
Share and enjoy!
Extras needed for making turkeys:
2nd bag of OREO cookies – for back and stand (and possible snacking while you make these)
lollipop sticks – I used the smaller diameter
more chocolate for melting – possibly
mini chocolate chips – used for beak
red fall leaf cake decoration – for gobbler (if you have heart-shaped they work well, too)
candy corn – for feathers
soft caramel candies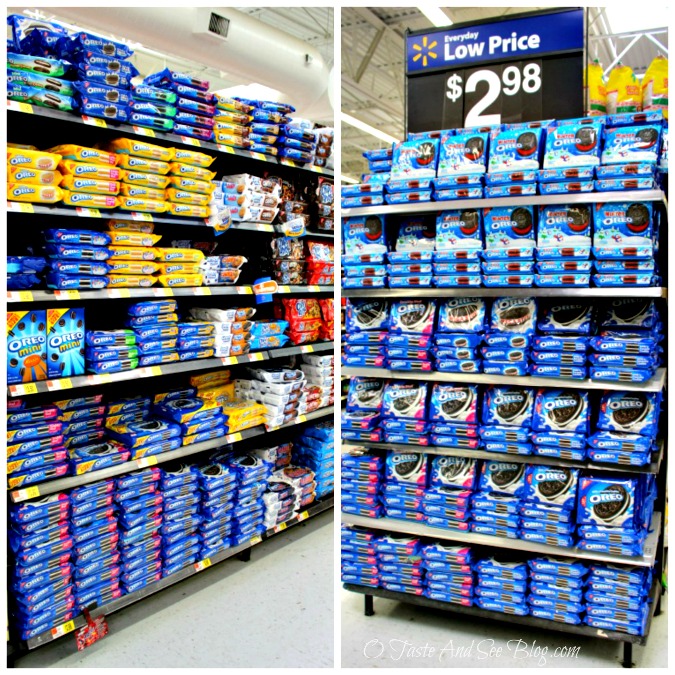 To save money and time, I stopped by Wal-Mart to pick up the things I needed for the Cookie Ball Place Card Holders. They had a variety of OREO flavors and an OREO coupon!
One word of advice… get your candy corn early. They go fast after Halloween!
To make the Cookie Balls: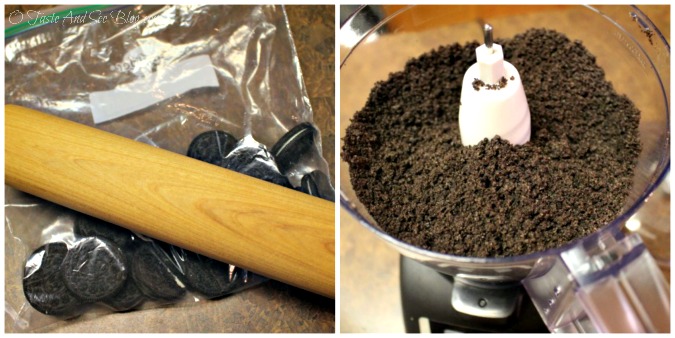 Crush the cookies into fine crumbs using a rolling-pin and plastic bag or food processor. This would be the perfect job for a little helper.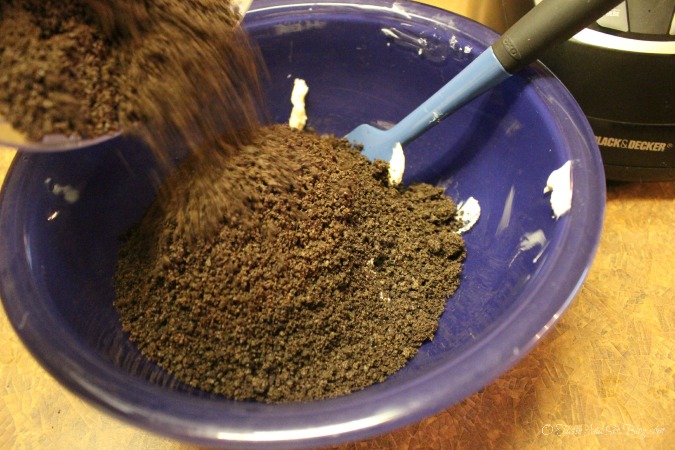 Cream cheese should be softened. If you're like me and forget to get it out, you can microwave it for about 10 seconds to soften slightly.
In a large bowl, add the OREO crumbs to the cream cheese and mix until combined.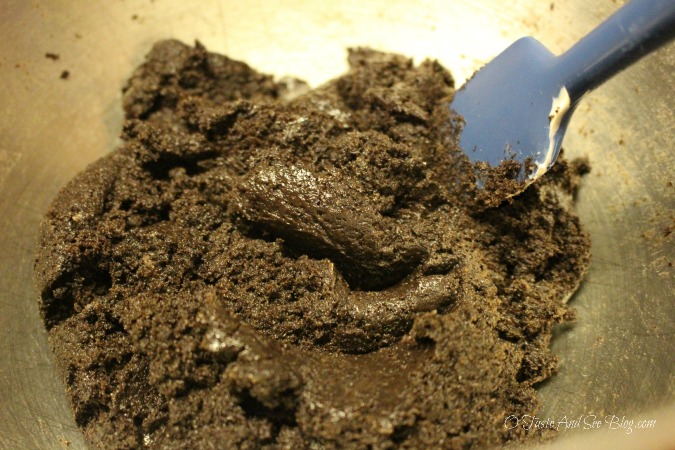 You don't want to see any streaks of white.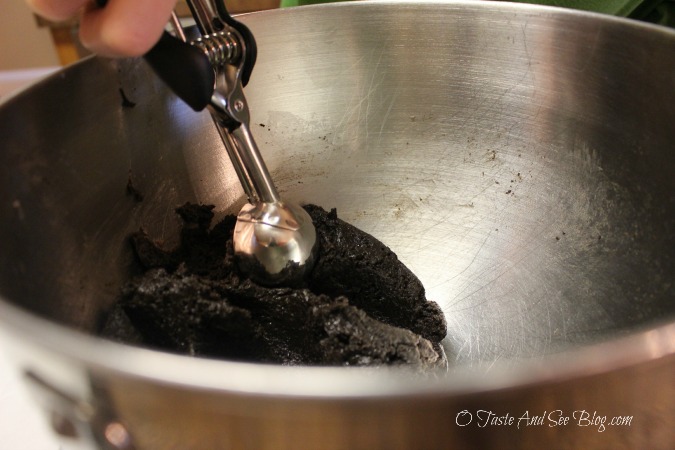 I wanted a little bigger ball so I used a medium cookie scoop to form, so my yield was about 30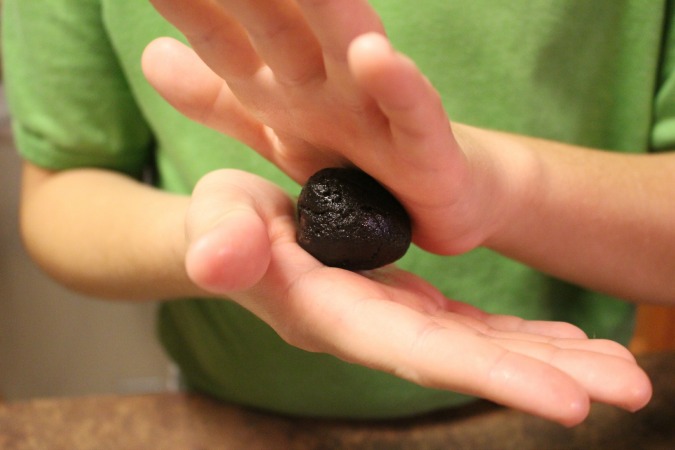 After scooping, roll between hands to get a nice round ball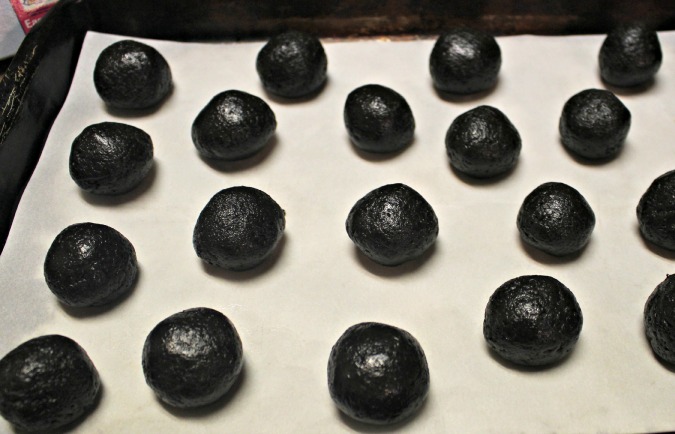 Place Cookie Balls on a baking pan lined with parchment paper and freeze for about 10 minutes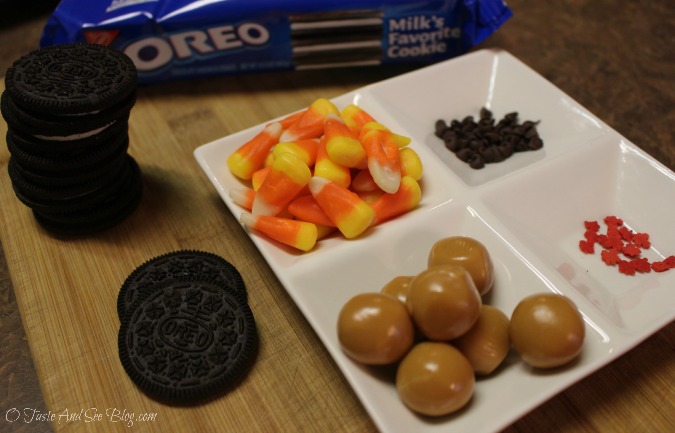 Now's the time to get the rest of your ingredients ready. For each Place Card Holder you'll need:
1 OREO
1 lollipop stick
1 mini chocolate chip
1 leaf sprinkle
7 candy corn
1/2 caramel candy
Start with the caramel. Divide each candy piece in half and roll between hands to form a slightly oval ball. Heating them 5-7 seconds in the microwave makes them softer and easy to roll.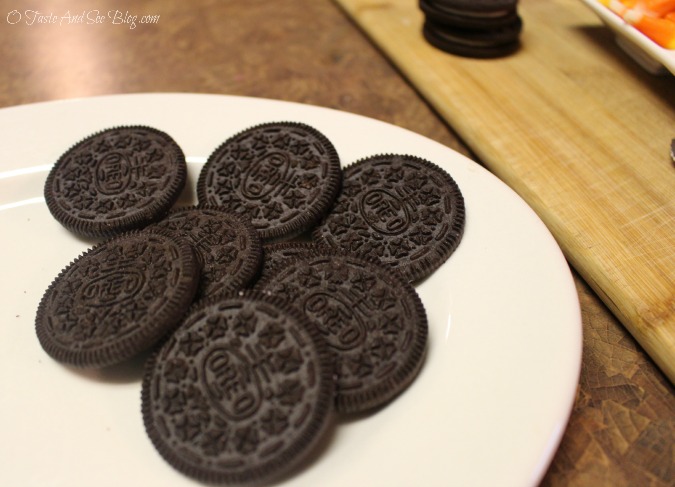 Open your OREO cookies and take out the inside. It's not needed for this project so what you do with it is up to you. I know, "A kid will eat the middle of a OREO first!"..and I don't judge!
Melt your chocolate:
I used a 12 oz bag of semi-sweet chocolate chips and had extra on hand to melt as needed. I also added 1 tsp shortening for added "smoothness".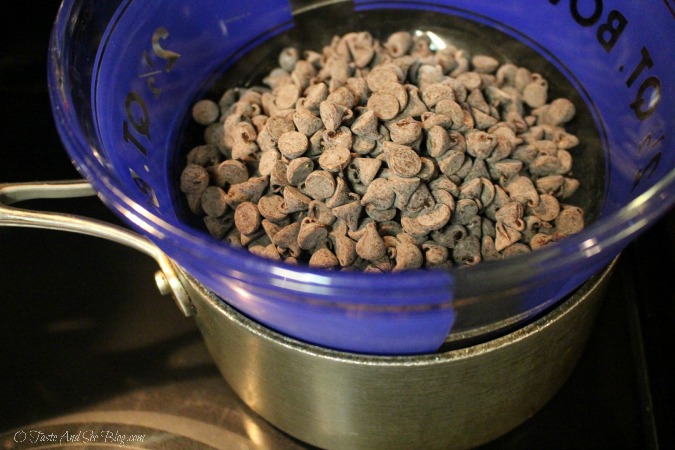 The chocolate can be microwaved but I prefer a double boiler. After melting, keeping the bowl on top of the hot water while dipping helps keep the chocolate warm and smooth.
Now you're ready to assemble:
Before beginning, line a second tray with parchment paper.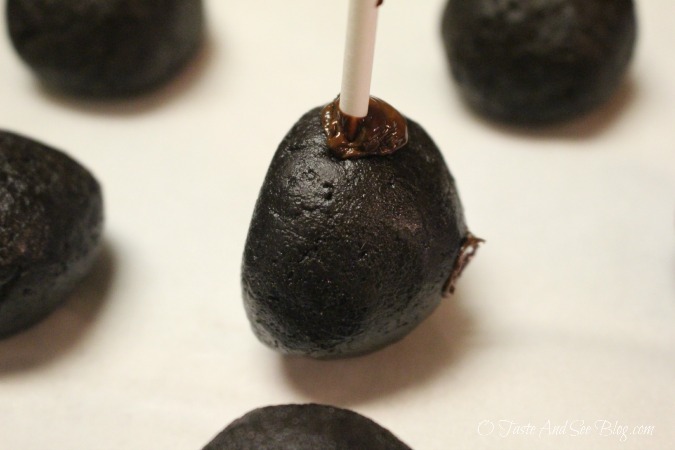 Remove Cookie Balls from freezer. The side on the tray will be flat. Great…we'll use that side to attach the feathers.
Dip the end of a lollipop stick into the chocolate. Take a Cookie Ball, flat side to the right or left, and gently insert chocolate end of the stick into top of Cookie Ball. It should go about halfway into the ball. The chocolate will act as a "glue" and hold the stick in place. Allow to sit while you prepare the feathers.
*I recommend only taking a few balls out of the freezer at a time. They are easier to dip when cold*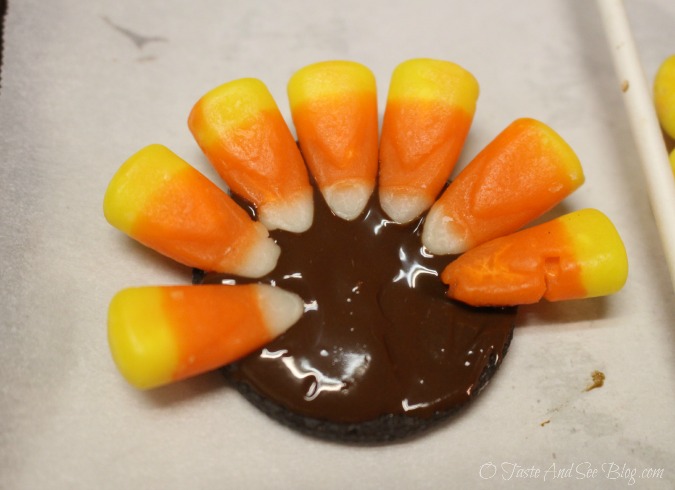 Take one half of your prepared OREO cookies and spread the flat side with melted chocolate.
Place chocolate side up, on prepared tray.
Starting in the middle, place candy corns in a semi-circle with tips touching chocolate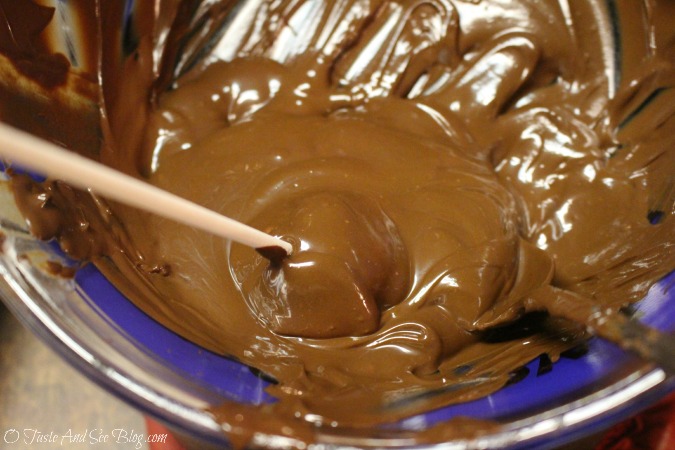 Your stick should be set. Dip ball into chocolate, making sure it is completely covered, all the way to the stick
Tap gently on side of bowl to remove excess chocolate. Keep the flat side down so that the chocolate drips off the bottom. It makes for a smoother front where the turkey's face will be.
Immediately place the flat side of the ball onto prepared cookie and candy corn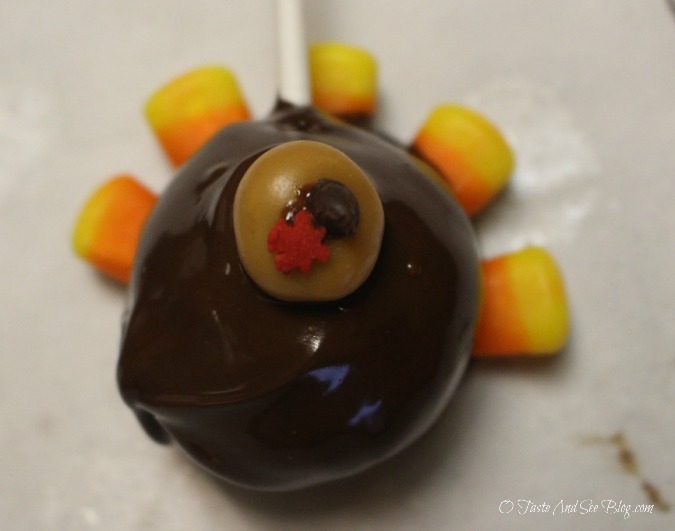 Place one caramel ball on the front of the ball, while chocolate is still "wet", and press gently.
Dip the end of a toothpick into chocolate and use it to "glue" on one mini-chocolate chip for the beak and one leaf sprinkle for the gobbler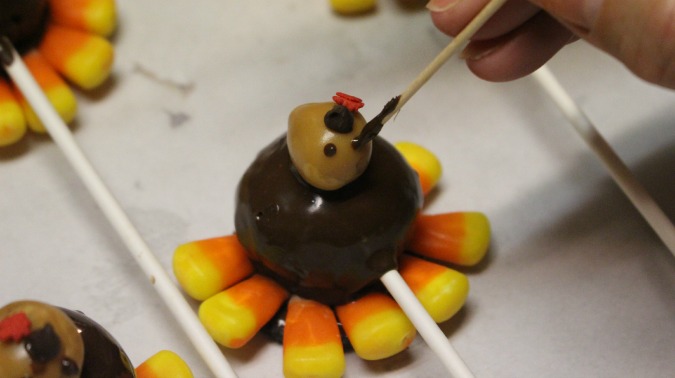 Dip the toothpick again and make 2 small dots for eyes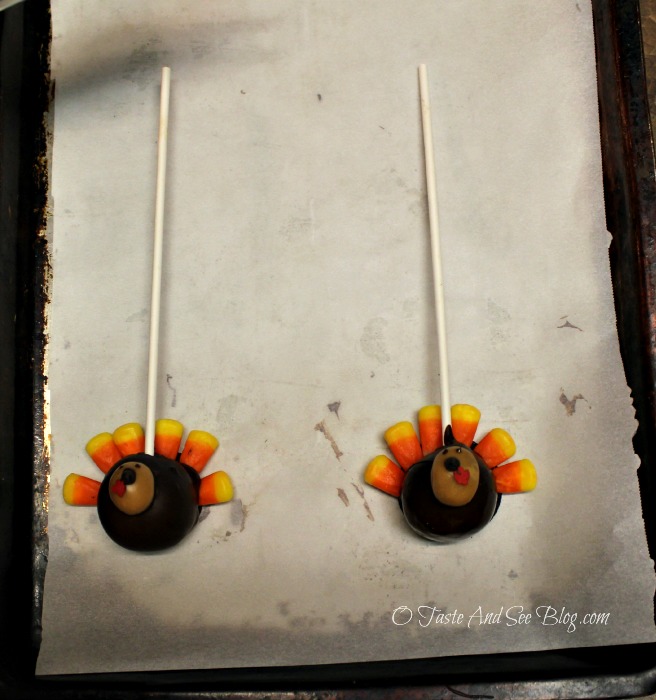 Repeat until your tray is full
Place into refrigerator for about 15 minutes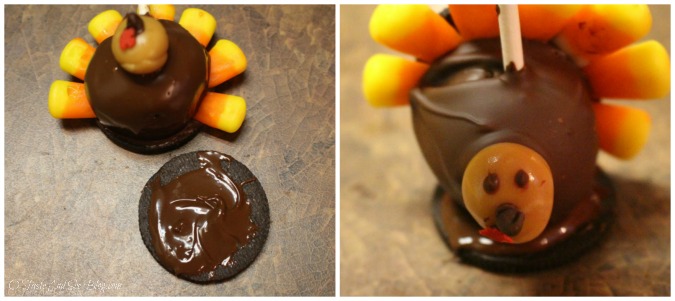 Remove from refrigerator
Using the other half of the OREO as base, cover with melted chocolate and place turkey on top and return to cold tray
When try is full, return to refrigerator for another 30 minutes or so, allowing time for everything to firm together
Be careful to make sure you have room for your sticks to fit without being tipped over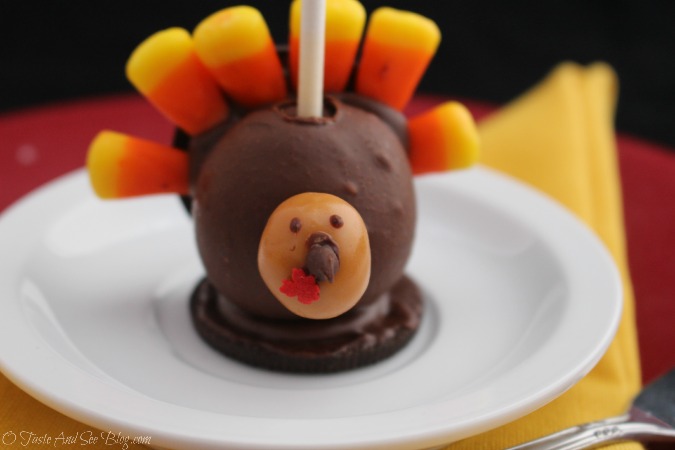 Look at that face!

For Place Cards, cut a circle from craft or construction paper
Using a hole punch, place a hole near the top and bottom
Write each person's name and place it on the stick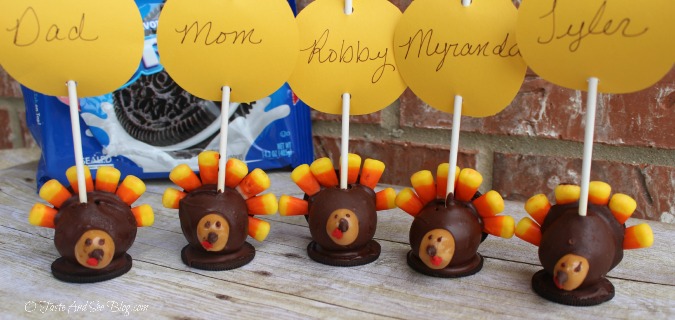 I first thought these would be the perfect accent for the kids at Thanksgiving, but I think the adults would be jealous if I they didn't get one!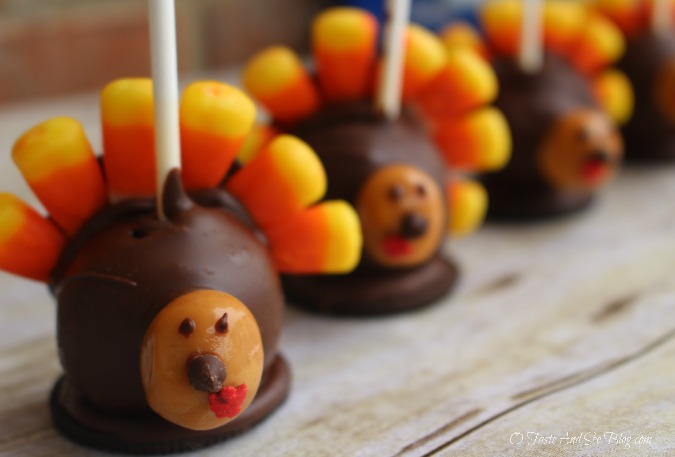 What creative ideas do you have using OREO Cookie Balls?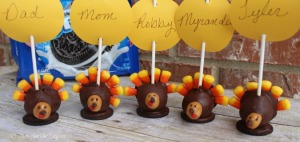 OREO Cookie Ball Place Card Holder
2014-11-09 12:52:06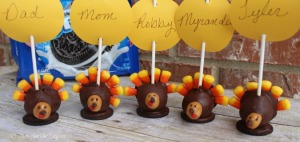 Cookie Balls
1 pkg (8 oz.) brick cream cheese, softened
36 OREO Cookies, finely crushed (about 3 cups)
4 pkg. (4 oz. each) semi-sweet baking chocolate, melted
Extras for Card Holders - 1 for each holder
1 OREO
1 lollipop stick
1 mini chocolate chip
1 leaf sprinkle
7 candy corn
1/2 caramel candy
Extra chocolate chips for melting as needed
Cookie Balls
MIX cream cheese and cookie crumbs until blended.
SHAPE into 48 (1-inch) balls. Freeze 10 min.
Assemble Turkeys - see Assembly directions
Preparing extras
Divide each caramel candy in half and roll between hands to form a slightly oval ball
Open your OREO cookies and take out the inside
Melt chocolate
Assembly
Line a second tray with parchment paper
Remove Cookie Balls from freezer
Dip the end of a lollipop stick into the chocolate
With flat side of cookie ball on right or left, gently insert chocolate end of the stick into top of Cookie Ball. It should go about halfway into the ball - set aside to dry
Feathers and Face
Take one half of your prepared OREO cookies and spread the flat side with melted chocolate.
Place chocolate side up, on prepared tray, leaving room for cookie ball and stick to lie flat
Starting in the middle, place candy corns in a semi-circle with tips touching chocolate
Now dip ball into chocolate, making sure it is completely covered, all the way to the stick
Tap gently on side of bowl to remove excess chocolate. Keep the flat side down so that the chocolate drips off the bottom.
Immediately place the flat side of the ball onto prepared cookie and candy corn
Place one caramel ball on the front of the cookie ball, while chocolate is still "wet", and press gently.
Dip the end of a toothpick into chocolate and use it to "glue" on one mini-chocolate chip for the beak and one leaf sprinkle for the gobbler
Dip the toothpick again and make 2 small dots for eyes
Repeat until your tray is full
Place into refrigerator for about 15 minutes
Stand Assembly
Remove from refrigerator
Using the other half of the OREO as base, cover with melted chocolate and place turkey on top and return to cold tray
When try is full, return to refrigerator for another 30 minutes or so, allowing time for everything to firm together
For Name Cards
Cut a circle from craft or construction paper
Using hole punch, place a hole near the top and bottom
Write each person's name and place it on the stick
Notes
To make caramel easier to roll heat 5-7 seconds in the microwave
I use a double boiler to melt chocolate and add 1 tsp of shortening
O Taste and See https://otasteandseeblog.com/