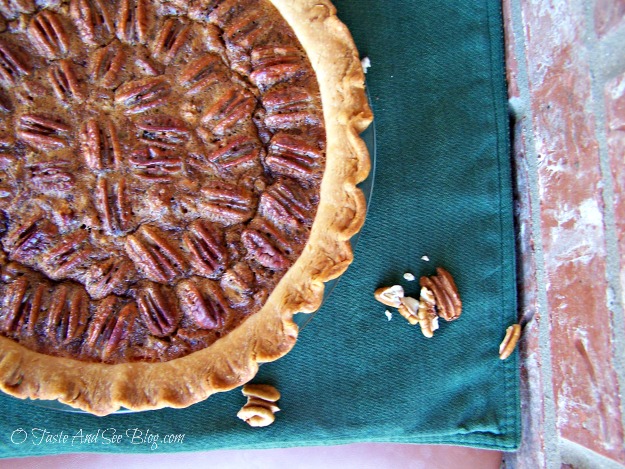 Pecan Pie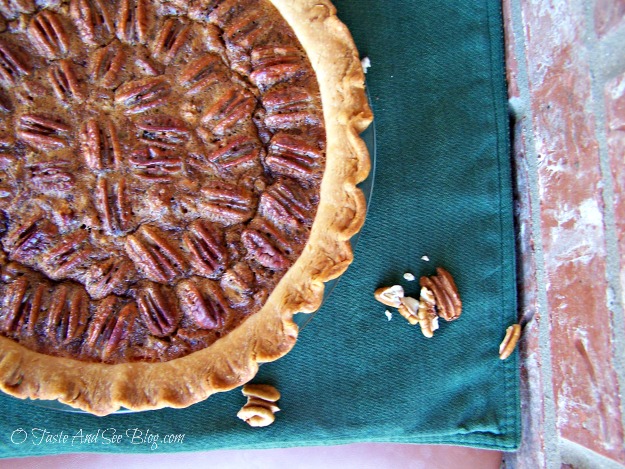 Pecan Pie – A Southern Thanksgiving Tradition
Pecan Pie brings back wonderful memories for me. The most wonderful being memories of my grandmother. She was a wonderful woman who had much influence in my life, including passing along to me her love of cooking.
I spent much of my childhood in her kitchen.. That's where she always seemed to be, even when she wasn't cooking. She would sit at the kitchen table and read the paper, do crossword puzzles or play solitaire (with a real deck of cards), all while relating wonderful stories about her life and family to a very inquisitive little girl.
She was from a different time. She was a child during World War I, a young adult during the "Roaring Twenties", a soldier's wife during World War II, made it through the Great Depression and the Civil Rights uprisings in the south. She lived to see Hippies, Flower Children and the Reagan Years come and go. When relating stories about her childhood, she would often comment, "We were poor, but we didn't know it."
She loved to cook and it was very important to her. She was from Alabama, the deep south, and there making food isn't just a way of providing a necessity for your family, it's a way of life filled with love and tradition. It's how you show people you care. She cooked a big dinner (the meal eaten between 12-2 pm) everyday and often had unexpected guests, who were always welcome. Visitors never left without a "gift" of some sort, usually something homemade or recently canned.
Until she was about eighty the whole family gathered at her house for Thanksgiving and usually Christmas. She made most of the dinner including several pies for dessert. Pecan Pie was the only pie I liked, thankfully, there was always plenty.
Big "cooking" holidays always remind me of her and how thankful I am for all she taught me. I don't have married children, grandchildren or great-grandchildren yet, but we will sit down to a huge Thanksgiving dinner with wonderful friends and my grandma's Pecan Pie.
Here's Her Recipe:

.

(printable recipe below)
3 eggs
1 cup sugar
1/2 cup light Karo syrup (or in Alabama, Golden Eagle Syrup)
1/4 cup melted butter or margarine
About 1 cup pecans (some chopped some whole)
1 pie crust (I use refrigerated pie crusts)
pre-heat oven to 350 degrees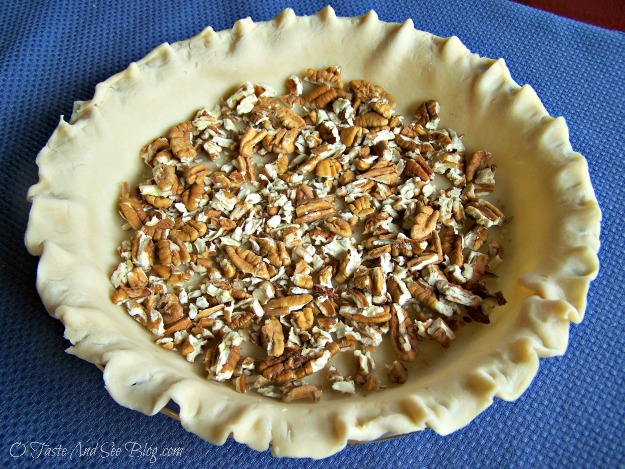 Unroll crust into pie pan (not deep dish) and crimp edges
Take about half the pecans and coarsely chop
Spread them on the bottom of pie crust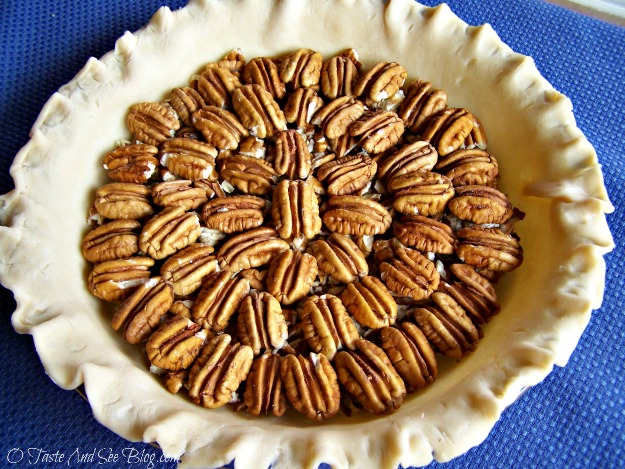 Arrange pecan halves in a decorative pattern over chopped nuts
**You can chop all the pecans or leave them all halved. It all tastes the same, I just like "pretty" food.**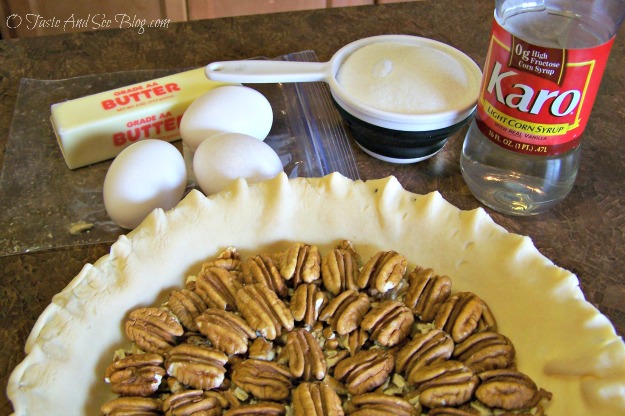 In a medium bowl, slightly beat eggs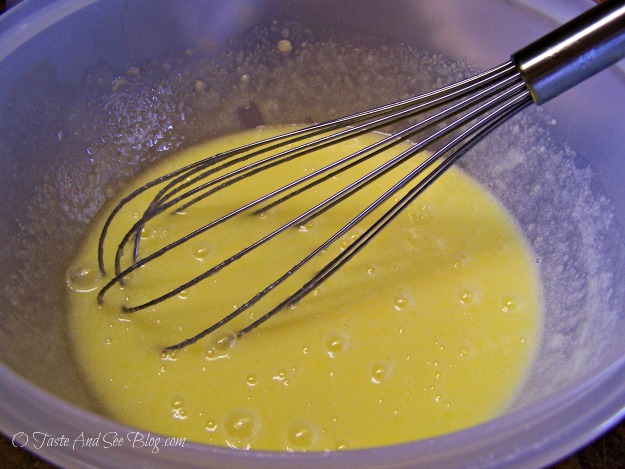 Stir in sugar, syrup and butter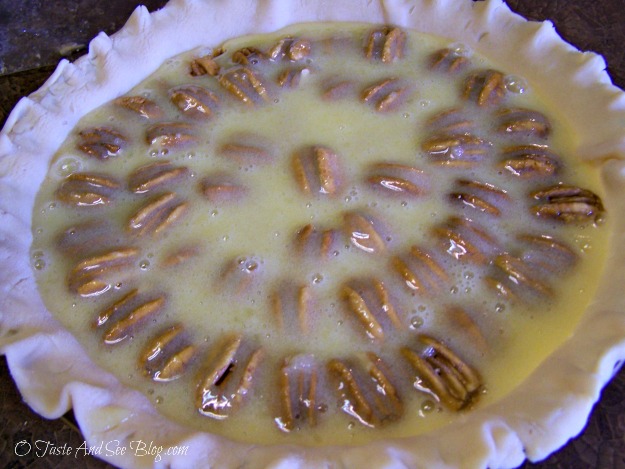 Pour mixture over pecans (they will float to the top)
Bake about 35-40 minutes or until slightly firm
***Check after about 25 minutes, If crust and top are getting too brown lay a piece of foil over them to prevent them from burning.
***Pie will "jiggle" slightly in the middle, even when done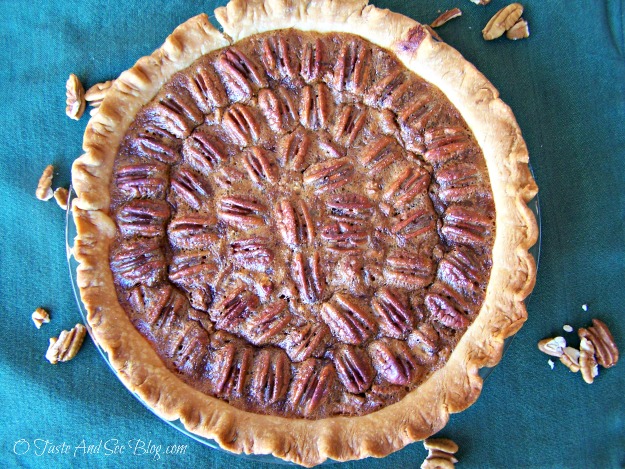 Happy Thanksgiving!
This post linked to Marvelous Monday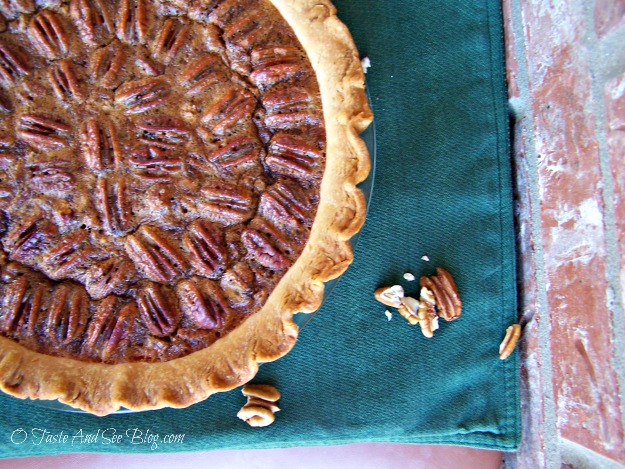 Pecan Pie
2013-11-27 22:58:59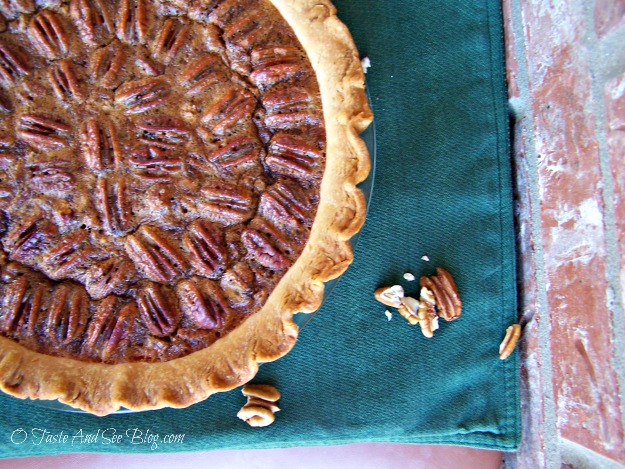 Serves 8
Ingredients
3 eggs
1 cup sugar
1/2 cup light Karo syrup
1/4 cup melted butter or margarine
About 1 cup pecans (some chopped some whole)
1 pie crust (I use refrigerated pie crusts)
Instructions
Preheat oven to 350 degrees
Unroll crust into pie pan (not deep dish) and crimp edges
Take about half the pecan and coarsely chop
Spread them on the bottom of pie crust
Arrange pecan halves in a decorative pattern over chopped nuts
In a medium bowl, slightly beat eggs
Stir in sugar, syrup and butter
Pour mixture over pecans (they will float to the top)
Bake about 35-40 minutes or until slightly firm
Notes
You can chop all the pecans or leave them all halved. It all tastes the same, I just like "pretty" food.
Check after about 25 minutes, If crust and top are getting too brown lay a piece of foil over them to prevent them from burning.
Pie will "jiggle" slightly in the middle, even when done
O Taste and See https://otasteandseeblog.com/