Upside Down Apple Pecan Pie
We have many traditions that are very important to our family. Some of these have come from my husband's side of the family, some from mine and some we've established on our own. Probably, my husband's most loved is our "pie" tradition. This one is relatively new for us as it started only after we moved to Texas.
Like most people, we bake pies at Thanksgiving and Christmas. Because the oven is occupied with turkey or ham on the actual holiday, we bake all our pies the day before. The wonderful aroma of these pies fills the house and greets my husband at the door as soon as he arrives home from work. He advances to the kitchen to be confronted by these lovely discs of deliciousness, usually still warm, only to be told that they are completely off limits until tomorrow! Now, he LOVES pie, but for some reason I only make them at holidays. So you can imagine his anticipation/anxiety over these pies just sitting there waiting to be eaten after the big family Christmas or Thanksgiving feast. He would always "suggest" we go ahead and have a piece the night before since we'd be too full to really enjoy them the next day. I would always say, "No", after all, they were to be taken to the big family dinner and you can't take pies with a piece or two out of each one to a dinner with other people. He wasn't convinced but he reluctantly gave in every year and waited.
Well, the next day would roll around and feast, we would! Of course, we were all too full for pie then so we would wait a few hours. Still plenty full, but having anticipated these pies for at least twenty-four hours, we were finally able cut the pies later in the evening. They were good but we knew we really weren't getting the full enjoyment from them.
When we moved to Texas, where we didn't have extended family to celebrate with, my husband saw the break he'd been waiting years for. Thanksgiving was coming and he knew that meant pies. A few days before the pie making began, he "suggested" again that we each have a piece of pie the night before, while we weren't too full and they were still warm. I knew it was true, I didn't enjoy them after such a huge meal and we didn't need to take them anywhere, so it was settled and a new tradition began! The night before Thanksgiving and Christmas, we eat pie!
Once we started our church, we decided to share this tradition with our church family and we call it "Pie & Praise". The Tuesday or Wednesday evening before Thanksgiving, we gather at our home, pies (or other desserts) in hand to celebrate the goodness of God and eat pie!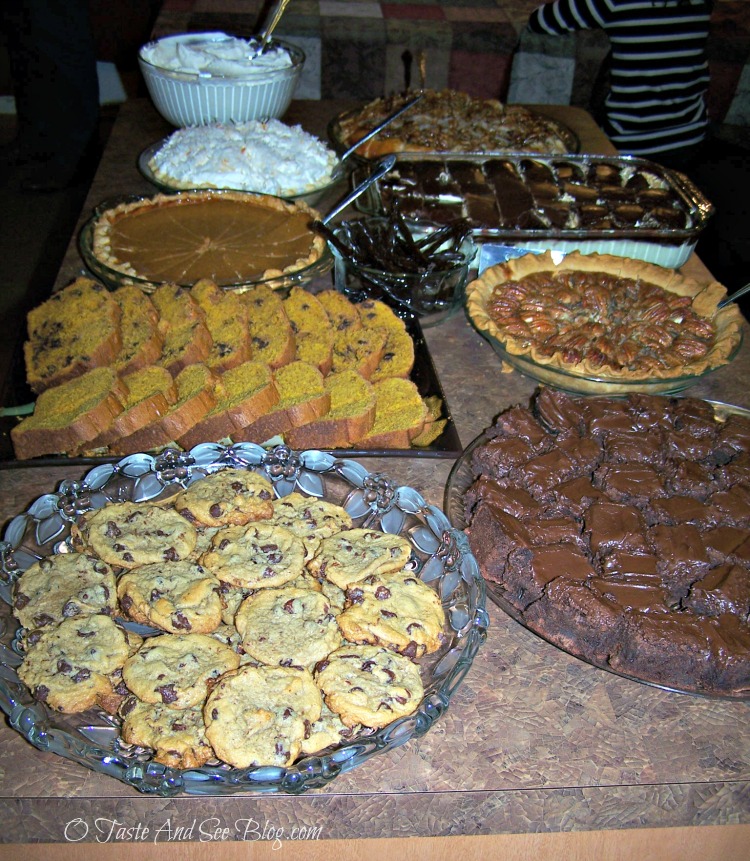 This year we had twenty-four people and lots of wonderful desserts! I made Pecan Pie and Upside Down Apple Pecan Pie.
Here's the Recipe:
(printable recipe below)
2 pie crusts (I use refrigerated)
1 cup pecans
5-6 tablespoons butter divided
1/2 cup brown sugar
6 Granny Smith apples
1/2-3/4 cup sugar
2 tablespoons flour
3/4 teaspoon cinnamon
Preheat oven to 350 degrees. Place pecans in a single layer on a baking sheet and toast about 8-10 minutes or until you start to smell them. Watch them carefully, they will burn quickly.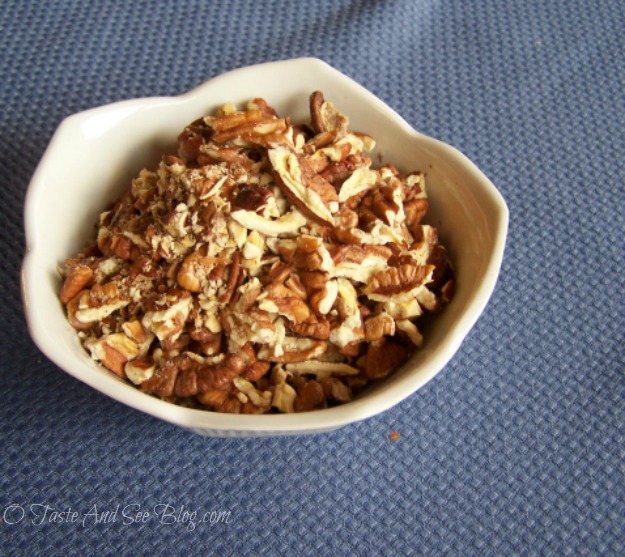 Increase oven temperature to 375 degrees. Cool pecans about 5 minutes and coarsely chop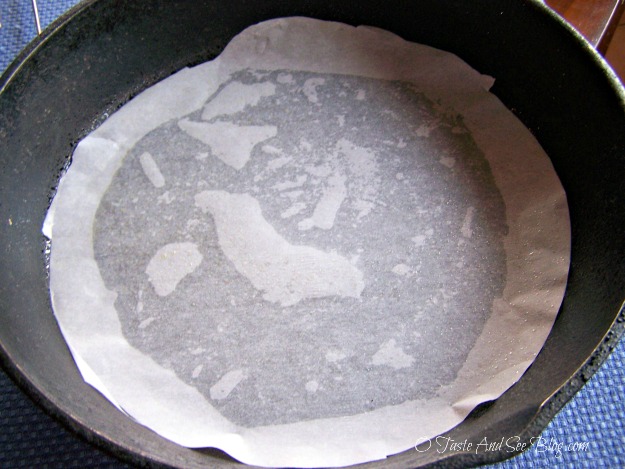 While pecans are cooling, spray a deep dish pie pan (I used a cast iron skillet) with cooking spray,making sure to spray sides well. Line the bottom with parchment paper and lightly spray again.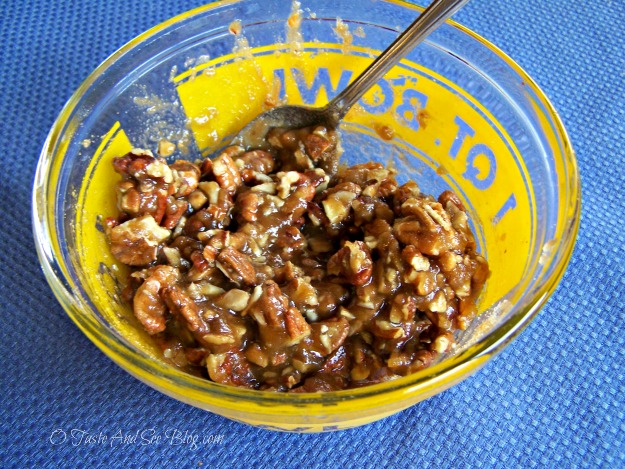 Melt 4 tablespoons butter and mix with brown sugar and nuts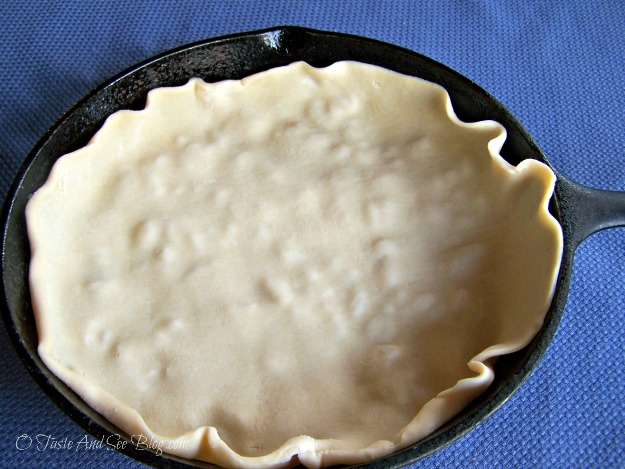 Spread nuts in bottom of prepared pan and place 1 pie crust on top
Make sure crust comes up sides of pan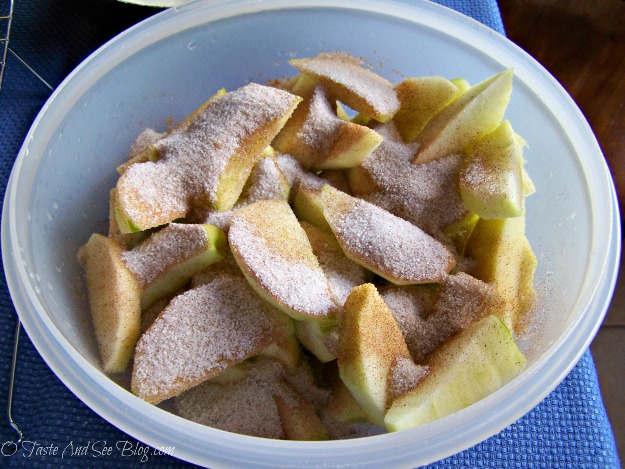 Peel and core apples, cutting into thick slices
Combine apples with sugar, flour and cinnamon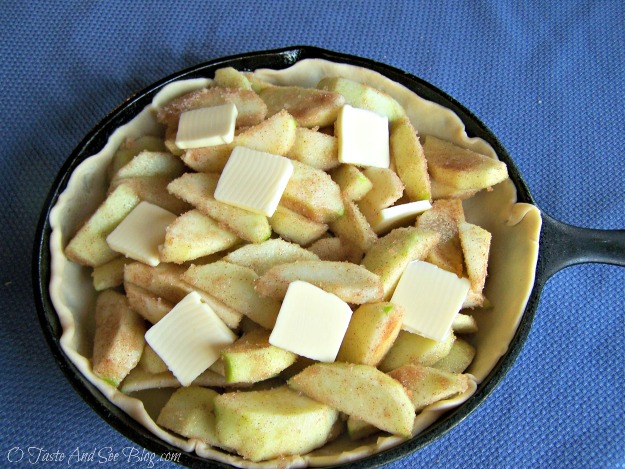 Spoon apples into crust and dot with remaining butter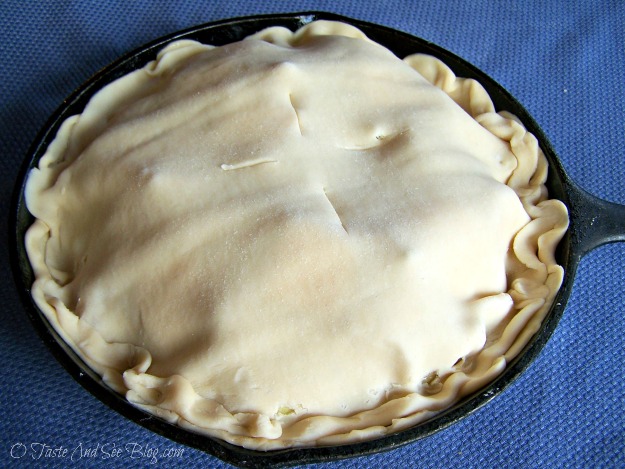 Place second crust on top and crimp together with bottom crust
Cut slits in top to allow steam to escape while cooking
PLACE ON A BAKING SHEET – IT WILL DRIP
Bake for 50-55 minutes
Check after about 30 minutes, if edges are getting too brown, shield with foil to prevent burning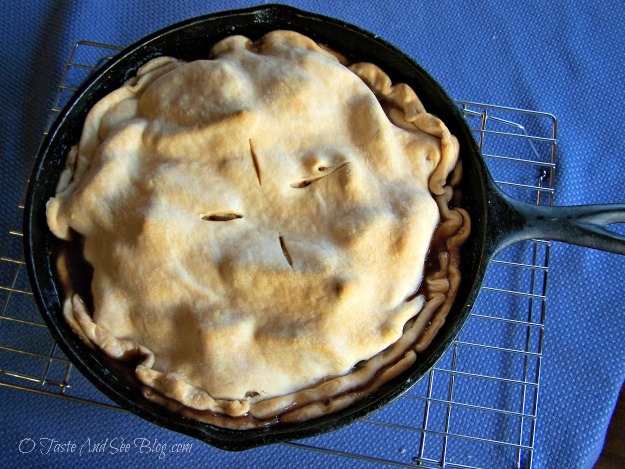 Cool on a wire rack about 5 minutes before inverting
I ran a knife around the edge to loosen. It's very important that the pie doesn't stick
This pie is best served warm with vanilla ice cream (Blue Bell Homemade Vanilla if you can get it).
What's your favorite holiday tradition?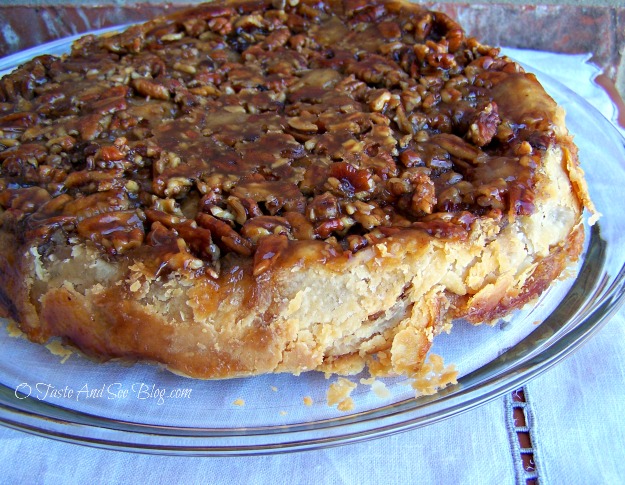 Upside Down Apple Pecan Pie
2013-12-02 01:38:45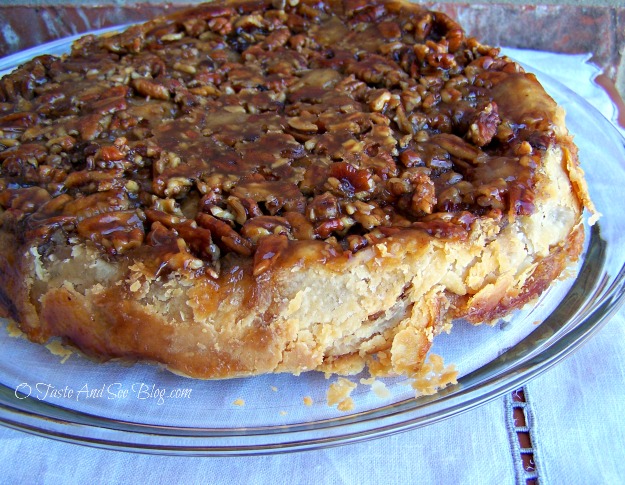 Ingredients
2 pie crusts (I use refrigerated)
1 cup pecans
5-6 tablespoons butter divided
1/2 cup brown sugar
6 Granny Smith apples
1/2-3/4 cup sugar
2 tablespoons flour
3/4 teaspoon cinnamon
Instructions
Preheat oven to 350 degrees. Place pecans in a single layer on a baking sheet and toast about 8-10 minutes or until you start to smell them. Watch them carefully, they will burn quickly.
Increase oven temperature to 375 degrees.
Cool pecans about 5 minutes and coarsely chop
While pecans are cooling, spray a deep dish pie pan (I used a cast iron skillet) with cooking spray,making sure to spray sides well.
Line the bottom with parchment paper and lightly spray again
Melt 4 tablespoons butter and mix with brown sugar and nuts
Spread nuts in bottom of prepared pan and place 1 pie crust on top
Make sure crust comes up sides of pan
Peel and core apples, cutting into thick slices
Combine apples with sugar, flour and cinnamon
Spoon apples into crust and dot with remaining butter
Place second crust on top and crimp together with bottom crust
Cut slits in top to allow steam to escape while cooking
PLACE ON A BAKING SHEET - IT WILL DRIP
Bake for 50-55 minutes
Check after about 30 minutes, if edges are getting too brown, shield with foil to prevent burning
Cool on a wire rack about 5 minutes before inverting
Notes
I ran a knife around the edge to loosen pie before attempting to invert
O Taste and See https://otasteandseeblog.com/