Roasted Broccoli and Red Peppers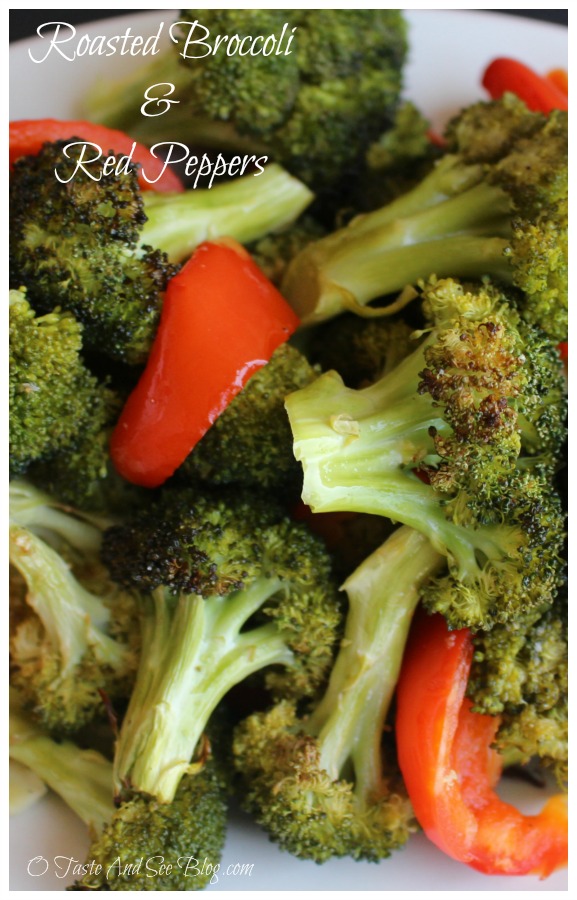 The wedding count down is on! Yes, we're well under 100 days until my daughter's wedding. Things are coming together and we've got many of the really important things out of the way, like the church, photographer, bridal gown and bridesmaids' dresses.
My mom, my mother-in-law and the groom's mom all have their dresses. I, however, have NOT really even looked yet. I'm not trying to procrastinate, it's just, other things have been more important…and I'd like to lose a few pounds. I thought maybe the wedding would give me a little motivation but it wasn't going so well. I really needed to get serious.
Enter….the Jenny Craig Weight Loss Starter Kit available exclusively at participating Walmart stores in the diet/weight loss aisle. #JennyCraigKit
I've seen the Jenny Craig weight loss system advertised and thought about checking into it. My biggest concern has always been…the food. Seriously, what if I don't like the food?! For me, that just screams, "Excuse to cheat!!"
The 5 day Starter Kit is a great way to try it out with no obligation. The kit includes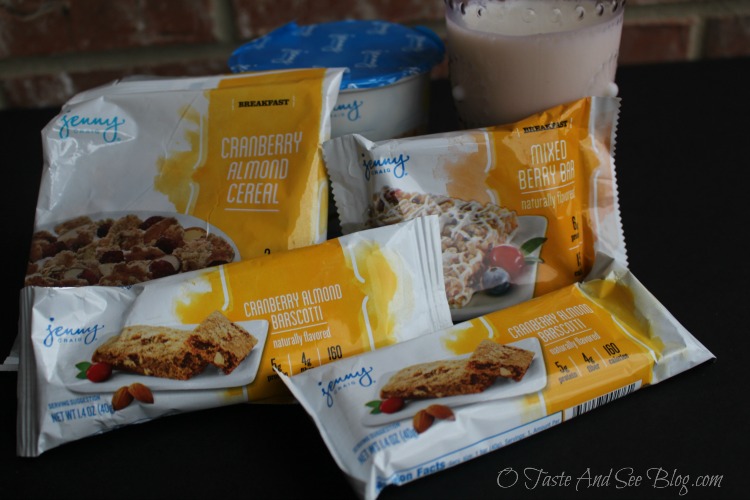 Five Breakfasts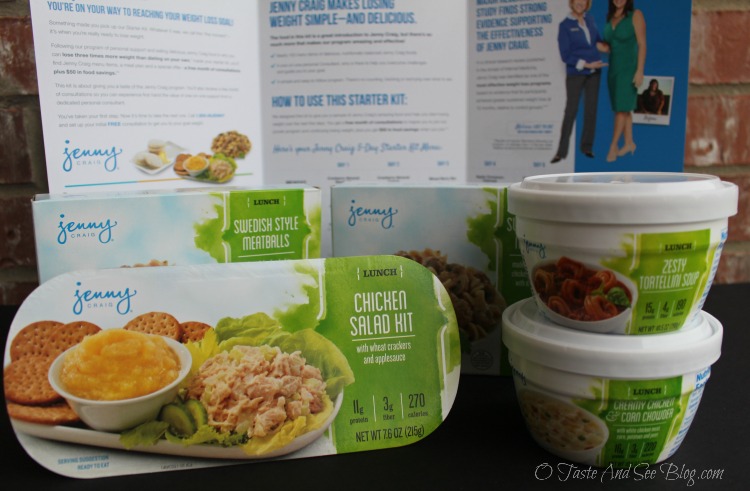 FIVE Lunches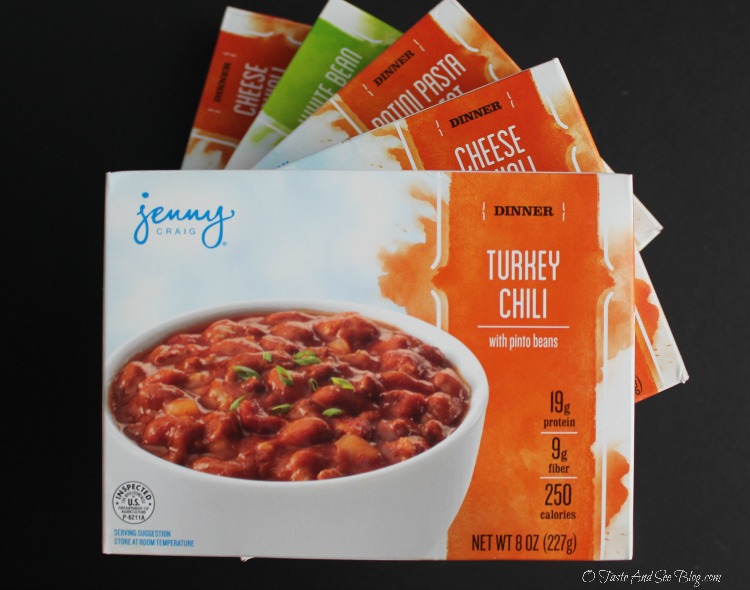 FIVE Dinners (and five snacks)
If you love it and decide to join the full program you get one month FREE consultation at any Jenny Craig and a special $50 food savings! That more than pays for the kit.
I tried the meals for 5 days and I think this is a very do-able program. Here are a few of the things I loved…
The Taste. I'm not one for suspense so I'm just going to say it right off…the meals were very good! I have to admit, I was pleasantly surprised at how good they were. Unlike some frozen meals I've tried, they don't need anything..no salt, pepper, extra seasoning…they were great just the way they were. My favorite was the Turkey Chili… I want their recipe!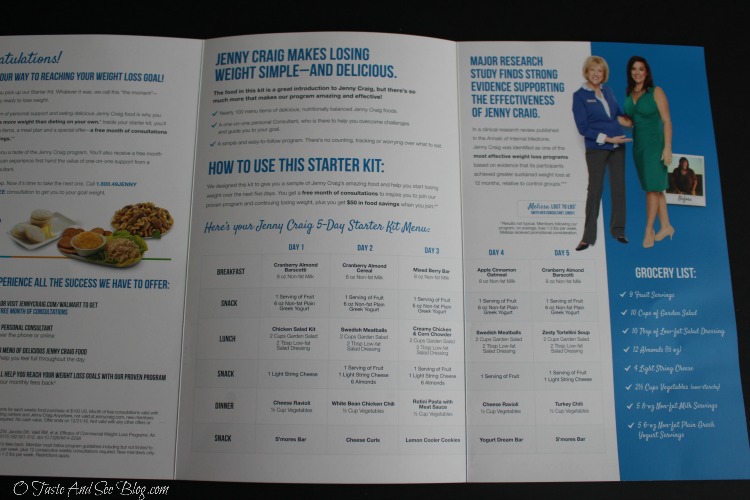 Convenient meal plan. I loved this! The program includes a meal plan that tells you exactly what to eat, and when. Also included is a shopping list for the "extra" things you'll need that week…perishable items that can't be included in the kit. It was so easy to follow! When it came time for lunch I just looked at my day, saw what I was supposed to eat, grabbed it out of the box and…done! Not knowing what to eat is always my biggest dilemma. It's that staring aimlessly into the pantry or refrigerator before mealtime that gets me off track. I see all the things I shouldn't eat and get distracted and often end up blowing it.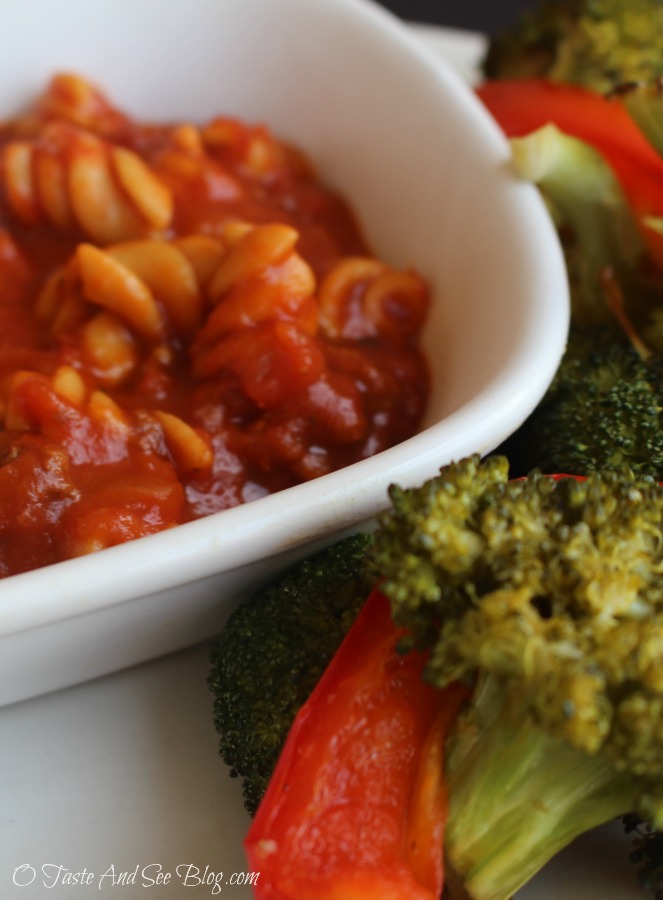 Well balanced meals. I feel like I struggle getting all the things I need each day and staying in my calorie range. With Jenny Craig I didn't feel that way at all. Each day included milk, plenty of veggies, yogurt, cheese and fruit.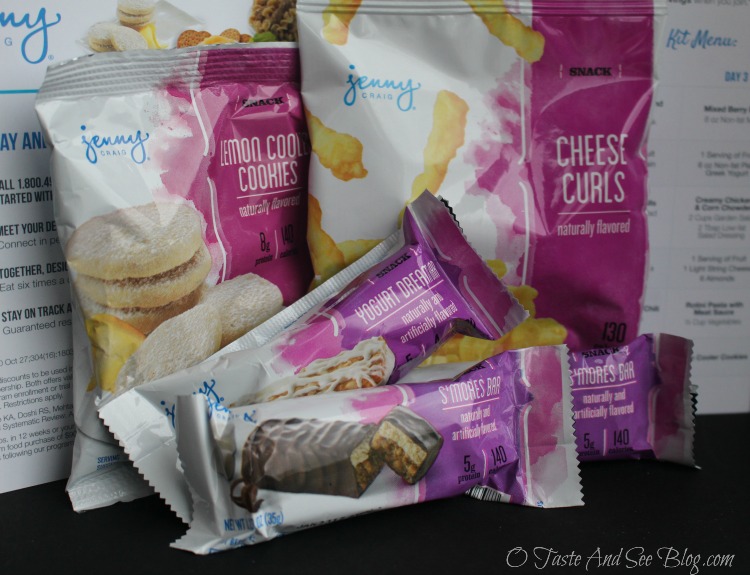 Build-in Snacks! Ok, not gonna lie…probably my FAVORITE thing! I think Jenny Craig has been spying on my family and knew exactly where my pitfalls would be. The people in my house love a good snack a couple of hours after dinner. That's KILLER when you're trying to lose weight…unless you have Jenny Craig. Every night, sometime after dinner, there's a snack built in to the plan. AND it's usually a sweet snack! I know, right?! These were the best! My favorite was a toss-up between the Yogurt Dream Bar and the S'mores Bar…who gets that kind of goodness on a "diet"? I didn't feel deprived at all.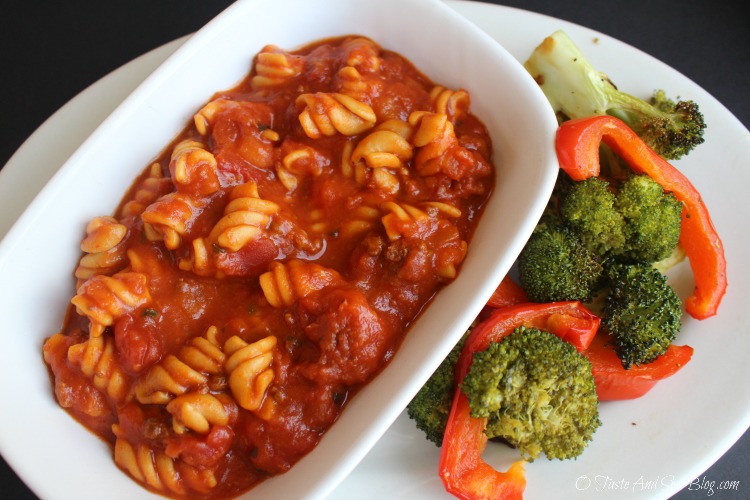 Regular Food. The dinners provided were just regular food. I chose to make my family dishes that were the same or similar to what I was eating and I didn't feel like I was missing out on anything. Each dinner also allows you to add a veggie of your choice so I was able to share those with my family as well. One evening I made the recipe I'm sharing today….Roasted Broccoli and Red Peppers. It's a tasty and colorful dish everyone enjoyed and it went perfectly with my Rotini Pasta and Meat Sauce.
Here's the Recipe:
3-4 broccoli crowns
1-2 red bell peppers (depending on how much you like)
1 tsp olive oil
1/2 tsp garlic powder
1/2 Seasoned Salt – or to taste
Pepper – to taste
Preheat oven to 375 degrees
Line a sheet pan with foil, for easy clean up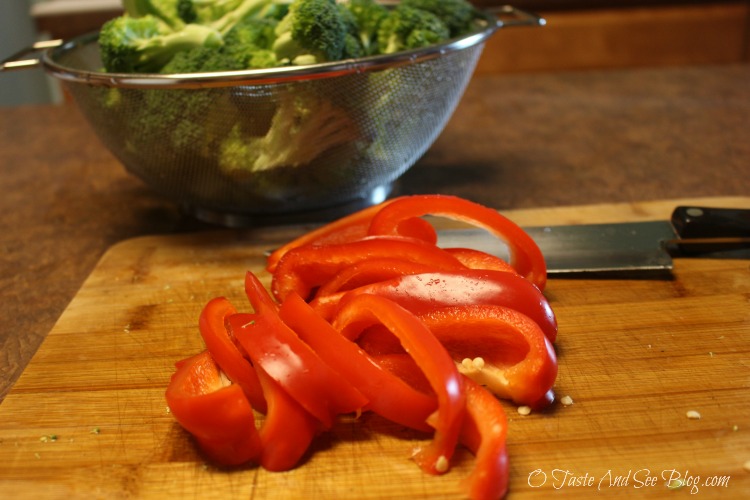 Chop broccoli into flowerets
Cut pepper in half and remove ribs and seeds
Slice into strips about 1/2 inch wide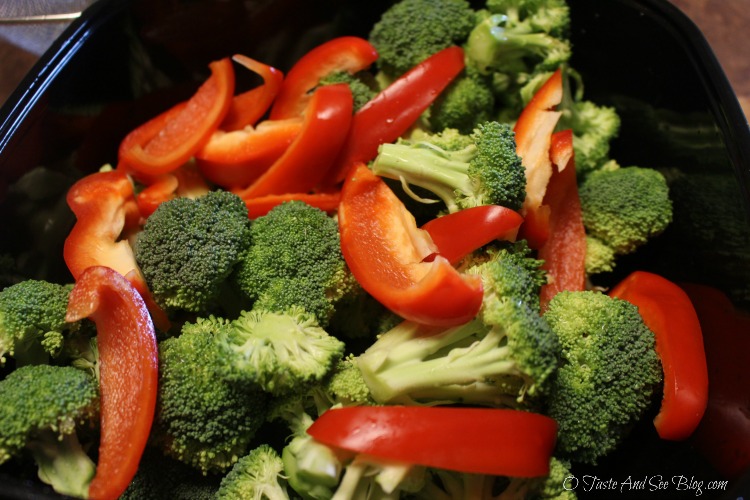 Place veggies in a large bowl, drizzle with olive oil and sprinkle with seasonings
Toss to coat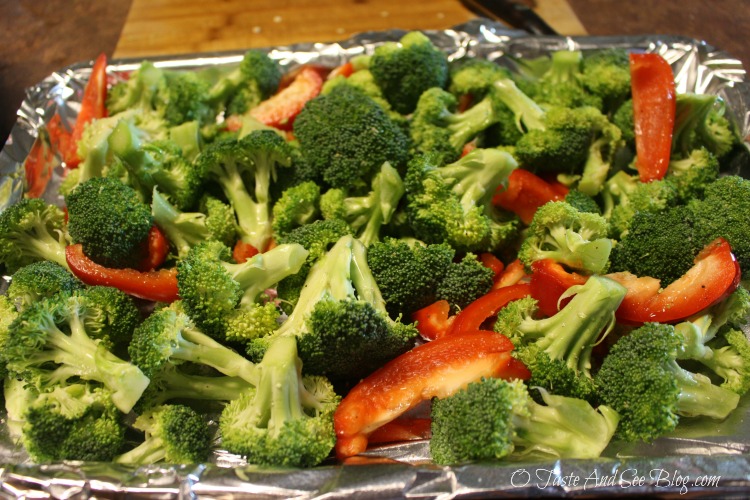 Place in a single layer on prepared pan and bake in preheated oven about 30-40 minutes, depending on how crispy you like your broccoli. About half way through the cooking give them a stir so they roast evenly on all sides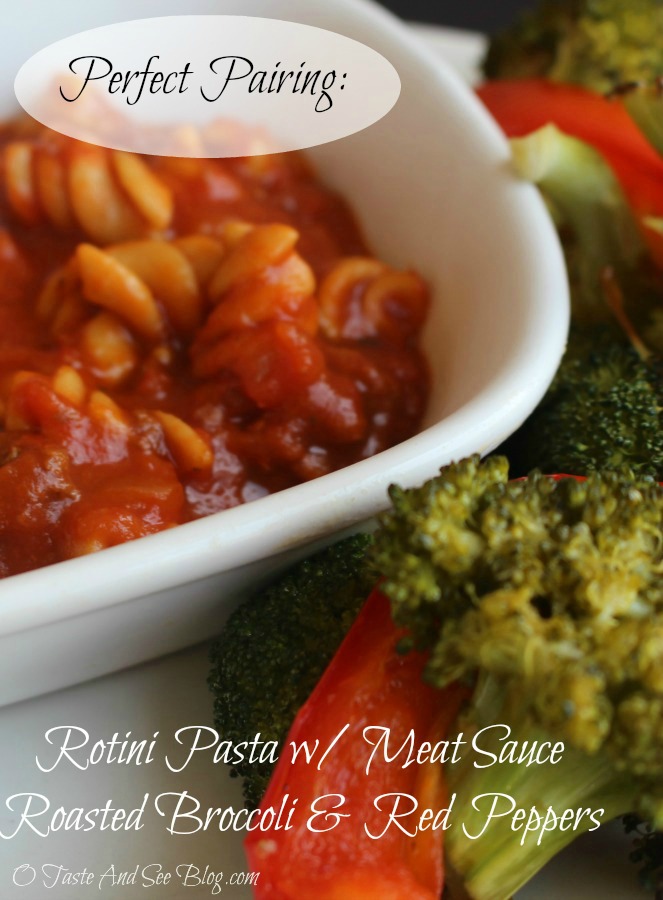 And for those "inquiring minds that want to know"….. I lost 4 lbs!
Results not typical. Members following the Jenny Craig program, on average, lost 1-2lbs. per week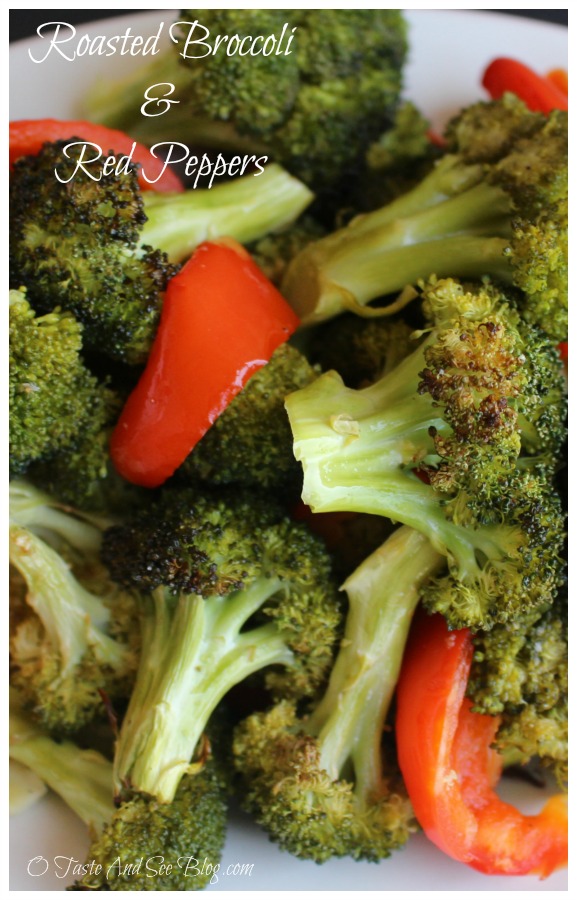 Roasted Broccoli and Red Peppers
2016-05-18 21:56:41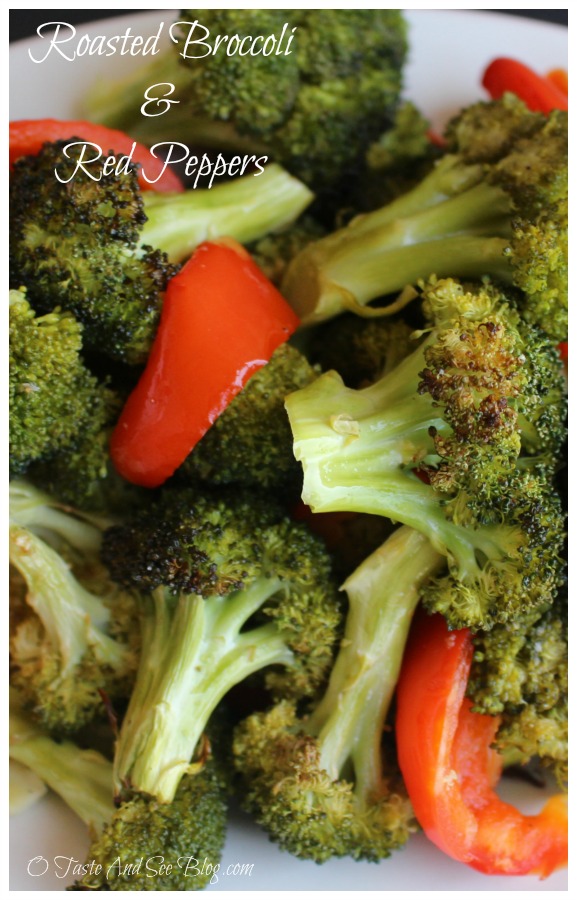 Serves 6
Colorful and delicious, low cal side dish
Ingredients
3-4 broccoli crowns
1-2 red bell peppers (depending on how much you like)
1 tsp olive oil
1/2 tsp garlic powder
1/2 Seasoned Salt – or to taste
Pepper – to taste
Instructions
Preheat oven to 375 degrees
Line a sheet pan with foil, for easy clean up
Chop broccoli into flowerettes
Cut pepper in half and remove ribs and seeds
Slice into strips about 1/2 inch wide
Place veggies in a large bowl, drizzle with olive oil and sprinkle with seasonings
Toss to coat
Place in a single layer on prepared pan and bake in preheated oven about 30-40 minutes, depending on how crispy you like your broccoli
O Taste and See https://otasteandseeblog.com/