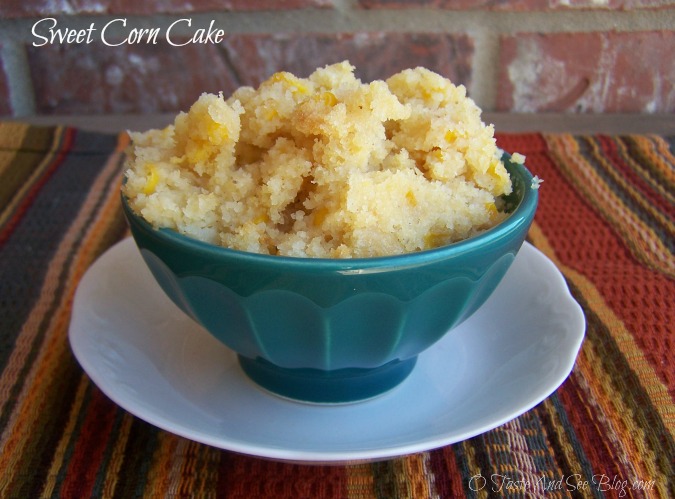 Sweet Corn Cake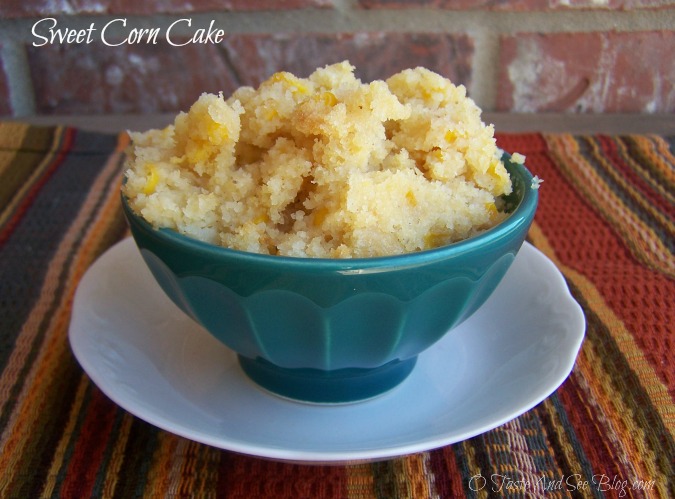 The one thing I missed most when we moved to Pennsylvania was Mexican food. I have LOVED Mexican food for many, many years and when I lived in Georgia we had a Mexican restaurant practically on every corner. You know, one of those "hole-in-the-wall" type mom and pop kinda places. In fact, one summer I lived less than a mile from my absolute favorite Mexican place and I had take-out from there about three times a week. My husband and I got married at the end of that summer and I'm still a little surprised my wedding dress fit.
But when we moved "up north" we didn't have a single one of those type places. I could hardly believe it! In fact, we only had one Mexican restaurant in the whole area…Chi-Chi's. Does anyone remember them?
It was about fifteen miles away so we didn't go very often but I was always excited when we did. It wasn't quite the same as I was used to but still good. One of my favorite things about going there was their Sweet Corn Cake. It was just a little rounded scoop of melt-in-your-mouth goodness, served with every meal. It was kind of a cross between a side dish and dessert and it always left me wanting more.
Eventually, we got several mom-and-pop Mexican places and then Chi-Chi's went out of business! What, no more Sweet Corn Cake?! That's when my husband ran across the book Top Secret Restaurant Recipes by Todd Wilbur and guess what we found among all the yummy recipes there? Chi-Chi's Sweet Corn Cake!
This copy cat recipe tastes remarkably similar but since Chi-Chi's has been out of business now for a number of years there's nothing to compare it to. It does take about an hour to bake and cooks in a water bath so make sure you have the right pans and plan ahead for cooking time. When I tried to make it in PA, I had a tough time finding the Masa Harina (a Mexican corn flour used for making tortillas) but that was several years ago. Here in Texas it's quite a different story, we have entire stores dedicated to "Mexican" groceries.
Here's the Recipe:
1 stick butter- softened
1/3 masa harina
1/4 cup water
1 can whole kernel corn
1/4 cup cornmeal
1/3 cup sugar
2 tablespoons half and half
1/4 tsp salt
1/2 tsp baking powder
Preheat oven to 375 degrees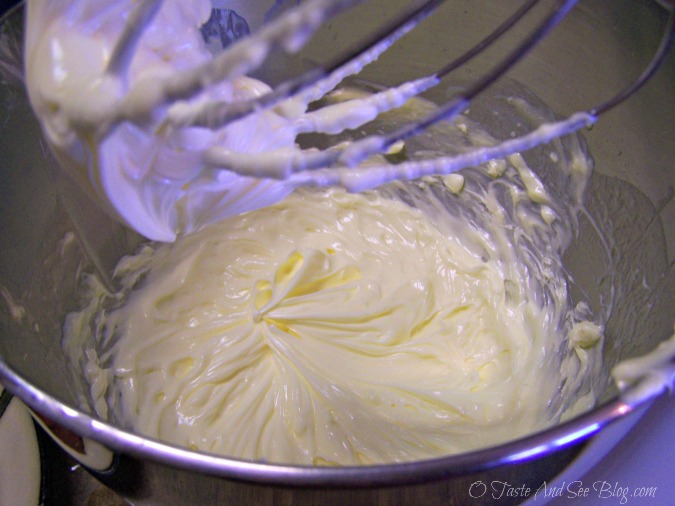 Using an electric mixer, beat butter until creamy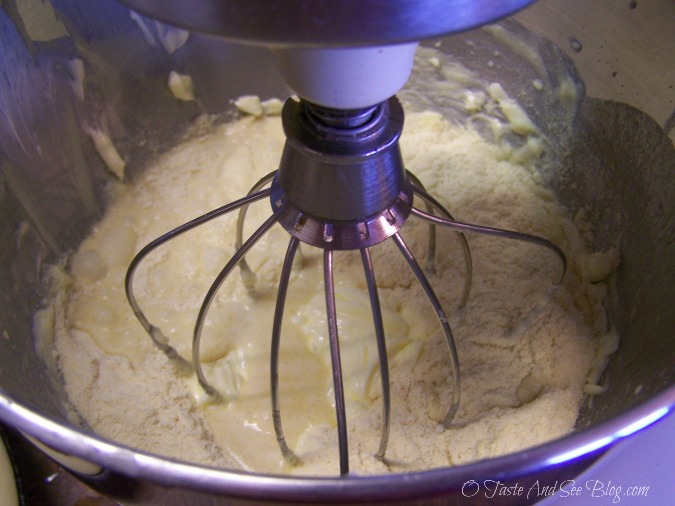 Add masa harina and water and beat until well combined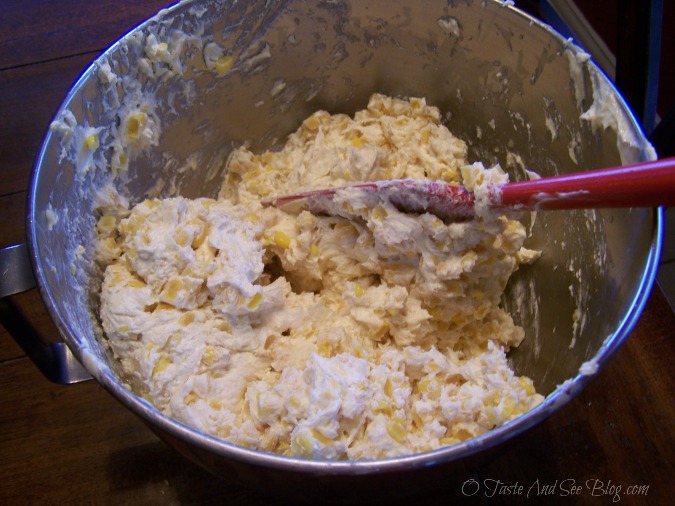 Add corn to the mixture and stir until well combined
Add cornmeal and stir well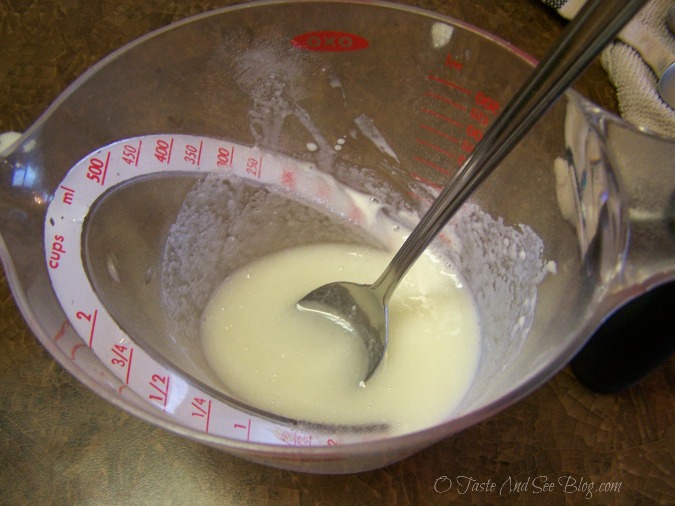 In a separate bowl (I use my measuring cup) combine half and half, sugar, salt and baking powder
Add this to corn mixture and mix by hand until well blended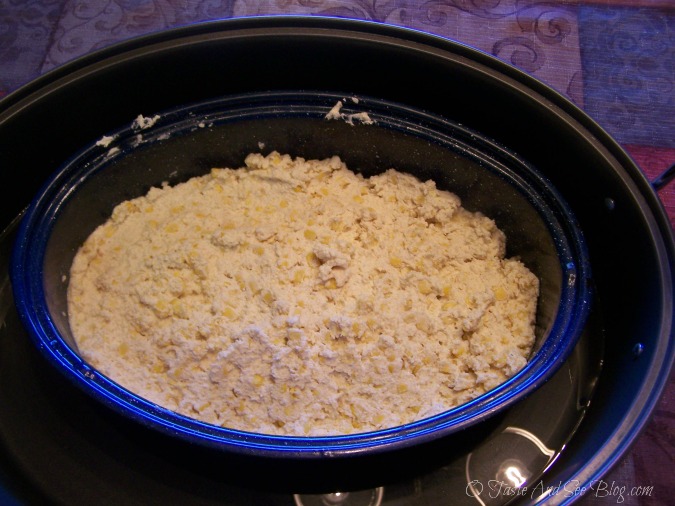 Pour mixture into a 8 x 8 pan
Smooth surface and cover tightly with tin foil or lid
Place this pan in a 9 x 13 filled one-third of the way up with hot water (this is known as a water bath)
Bake in preheated oven 50-60 minutes
I was making this for a large group. I have several recipes here in a bigger pan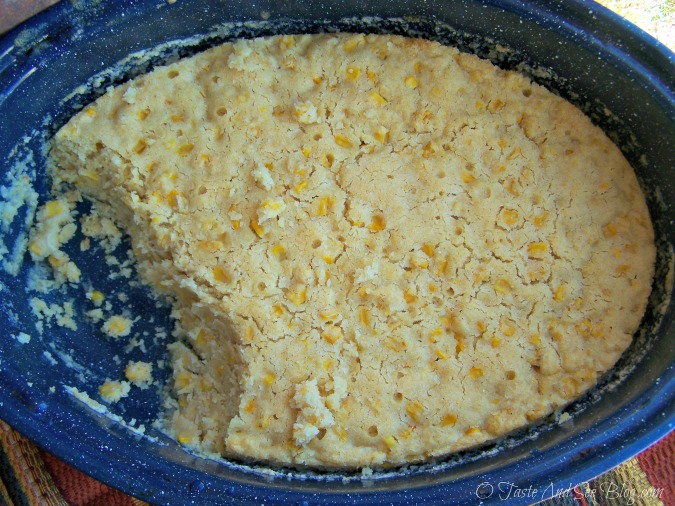 When Corn Cake is done be very careful removing from oven…the water will be extremely HOT!
Remove smaller pan from larger and allow to sit about 10 minutes before serving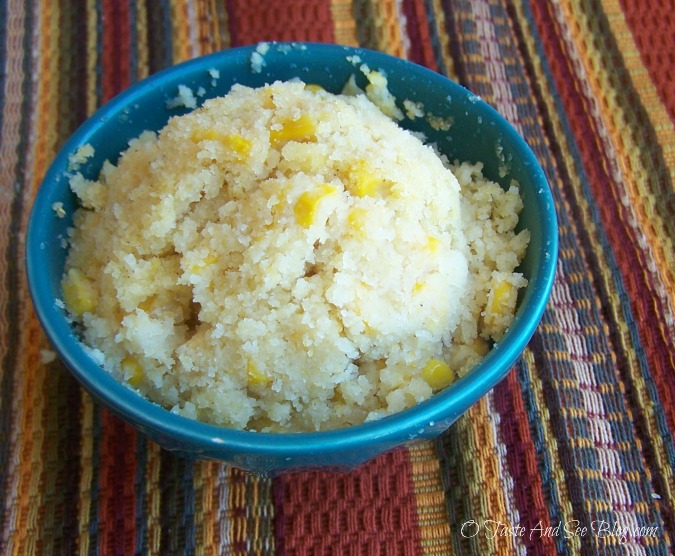 To get the nice rounded portions use an ice cream scoop or rounded spoon to serve
Does anyone besides me even remember Chi-Chi's?
Sweet Corn Cake
2015-01-15 22:30:05
Serves 8
Ingredients
1 stick butter – softened
1/3 masa harina
1/4 cup water
1 can whole kernel corn
1/4 cup cornmeal
1/3 cup sugar
2 tablespoons half and half
1/4 tsp salt
1/2 tsp baking powder
Instructions
Preheat oven to 375 degrees
Using an electric mixer, beat butter until creamy
Add masa harina and water and beat until well combined
Add corn to the mixture and stir until well combined
Add cornmeal and stir well
In a separate bowl (I use my measuring cup) combine half and half, sugar, salt and baking powder
Add this to corn mixture and mix by hand until well blended
Pour mixture into a 8 x 8 pan
Smooth surface and cover tightly with tin foil or lid
Place this pan in a 9 x 13 filled one-third of the way up with hot water (this is known as a water bath)
Bake in preheated oven 50-60 minutes
When Corn Cake is done be very careful removing from oven…the water will be extremely HOT!
Remove smaller pan from larger and allow to sit about 10 minutes before serving
To get the nice rounded portions use an ice cream scoop or rounded spoon to serve
Adapted from Top Secret Restaurant Recipes
Adapted from Top Secret Restaurant Recipes
O Taste and See https://otasteandseeblog.com/