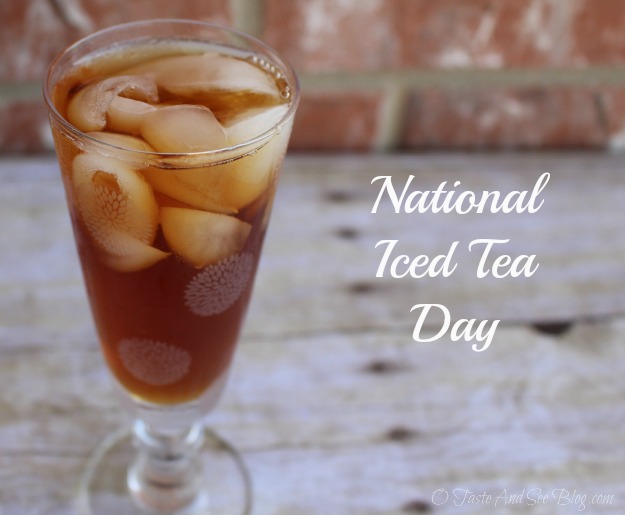 Sweet Tea
Disclaimer: No offense is intended to anyone NOT from the South…bless your heart.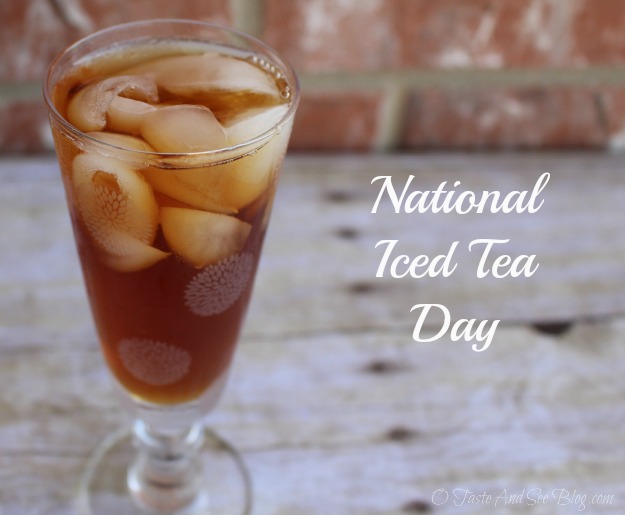 Today is National Iced Tea day! I've suspected for a while that these "National Days" were created by a Southerner, now I know they were!
I'm a little surprised this isn't a paid holiday in the South.
It's no secret, we Southerners LOVE iced tea….Sweet Tea to be exact. We drink it in the summer, we drink it in the winter, we serve it to guests, we make it everyday (because we drank it all yesterday), we always have it with lunch and dinner and often with breakfast, we even put it in our babies' bottles! WE LOVE SWEAT TEA!
Every restaurant in the South serves it, otherwise they wouldn't be able to stay in business. Oh, they have unsweet tea, for those folks who "ain't from around here" but most of it just gets dumped out at the end of the day.
Sweet Tea must be made sweet, it CAN NOT be sweetened at the table, no matter what you're told or how may sugar packets you use. Anybody knows sugar only melts in hot liquids. And it must be served with a glass FULL of ice.
No offense is intended for those who don't understand Sweet Tea. We lived up north for ten years so I understand it's a different culture. I'd like to relate a conversation I had when I first moved "up north". I had gotten a job as a server at a restaurant and on my first day my trainer was showing me around and explaining things. Here's what happened…
Trainer: "And here's where we brew our tea"
Me: "Is it sweet tea?"
Trainer: "No, we brew it ourselves."
Me: (thinking she obviously didn't hear me correctly) "Yes, but is it sweet tea?"
Trainer: (thinking who knows what) "No, we brew it ourselves."
Me: ( beginning to be very confused) "Yes, I know, but is it sweet tea?"
Trainer: (beginning to get a little aggravated) "No, we brew it ourselves!"
At this point I gave up. Clearly, I was not able to communicate properly with this lady. I, having "brewed it myself" no less than a million times, didn't see the disconnect. Again, who knows what she thought about me.
Later that evening when I returned home, I related this conversion to my mother-in-law who only laughed. She, also a Southerner, had lived there for a couple of years and understood the culture and "spoke the language". Then she explained to me that if folks there wanted tea they bought it in a gallon jug at the grocery store, in the refrigerated section. It was usually "sweet" (or at least their idea of it) and included a flavor…like lemon or raspberry. I understood, sort of, but where I'm from, the idea of buying iced tea at the grocery store was unheard of!
As our years "up north" passed, my mother-in-law and I did A LOT of cooking, sometimes for small groups and many times for very large groups. We always brewed Sweet Tea and they LOVED IT!
It's not hard and it's best made first thing in the morning so it has time to steep and be refrigerated all day so it's just right at dinner time! Don't let your Sweet Tea sit out on the counter after it's all made…it WILL spoil…and fast! It's the sugar, unsweet tea can be left out all day. If you're taking it on a picnic, keep it in the ice chest with plenty of ice.
Here's the Recipe:
Makes 1 gallon
1 1/2- 2 cups sugar (They don't call it "Sweet Tea" for nothin')
4 large (family size) tea bags – name brand – I prefer Lipton
Water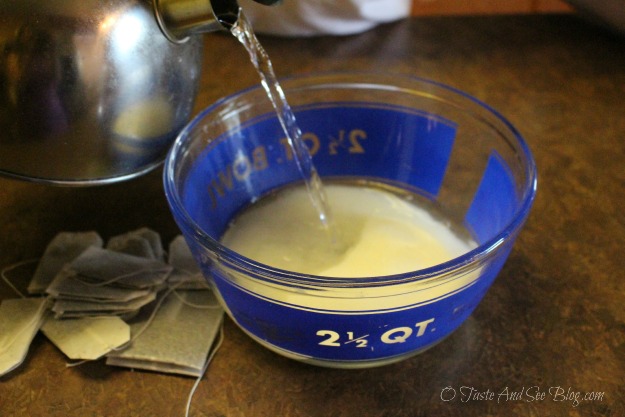 Bring a kettle full of water to a boil
Put sugar in a large bowl
(I usually make it right in the gallon container but it's not very pretty so this is for y'all)
When water comes to a boil add just enough to cover sugar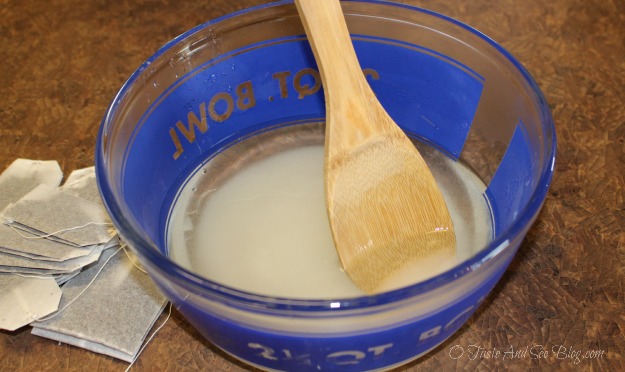 Place kettle back on the stove for a minute while you stir the sugar until it dissolves
*If you try to stir with the tea bags in the water they can burst and get tea leaves everywhere…not good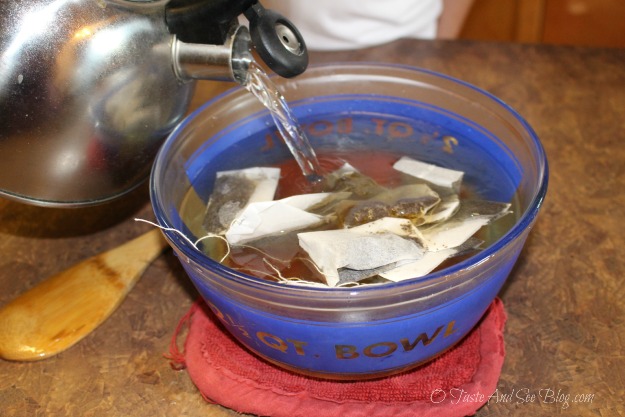 Add the tea bags to the bowl and finish filling with boiling water
*When I went to buy tea at the store they were out of family sized so I had to get small…that's why there's so many*
Gently, push the tea bags into the water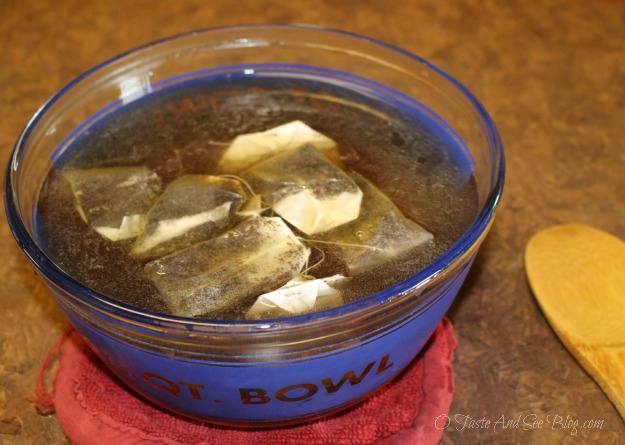 Allow tea to steep for at least an hour…the longer it steeps the stronger it is
At this point the tea will not spoil, it can be allowed to steep for as long as you like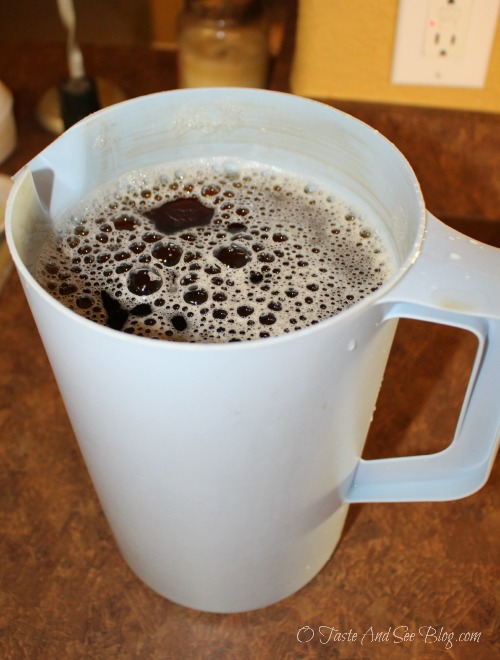 When tea has finished steeping, gently squeeze tea bags and discard
Pour into a one gallon pitcher and finish filling with cold water
Cover and place in refrigerator until ready to serve
*At this point you don't want the tea to sit out*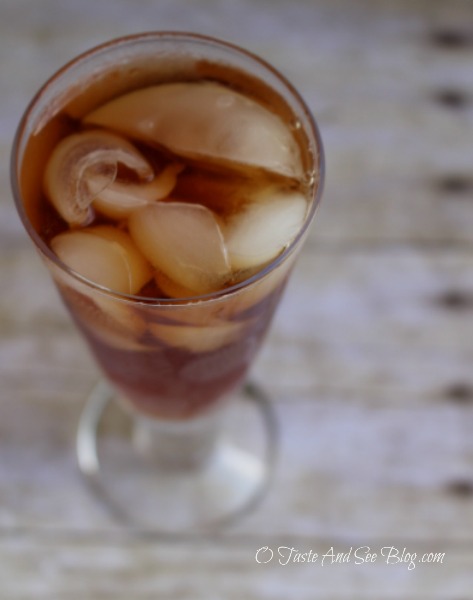 One more thing….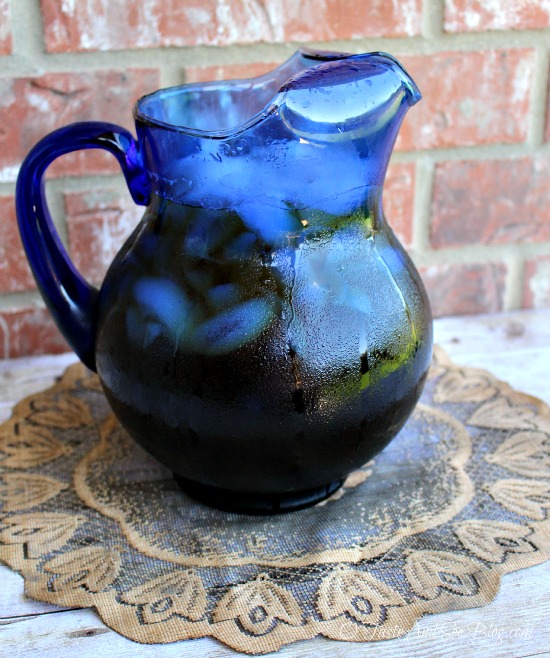 Use a coaster cause…
If the glass ain't sweatin'…it ain't cold enough!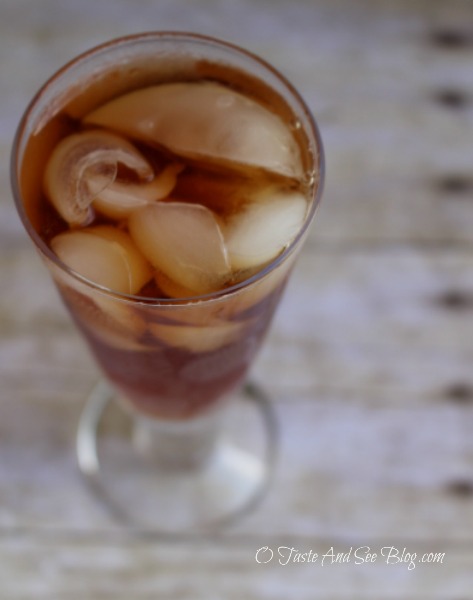 Sweet Tea
2014-06-07 16:24:46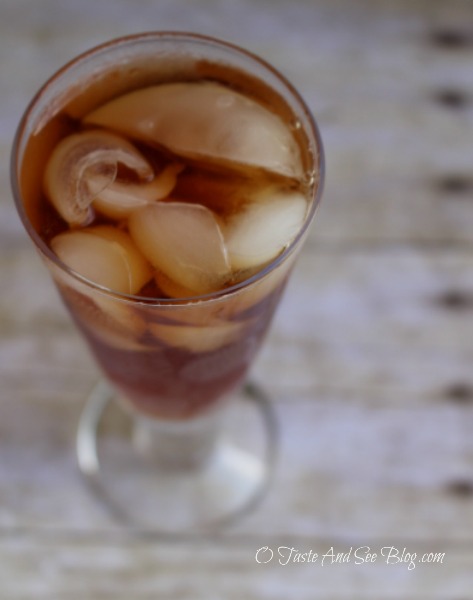 Ingredients
1 1/2- 2 cups sugar (They don't call it "Sweet Tea" for nothin')
4 large (family size) tea bags - name brand - I prefer Lipton
Water
Instructions
Bring a kettle full of water to a boil
Put sugar in a large bowl
When water comes to a boil add just enough to cover sugar
Bring a kettle full of water to a boil
Put sugar in a large bowl
Place kettle back on the stove for a minute while you stir the sugar until it dissolves
*If you try to stir with the tea bags in the water they can burst and get tea leaves everywhere...not good
Add the tea bags to the bowl and finish filling with boiling water
Gently, push the tea bags into the water
Allow tea to steep for at least an hour...the longer it steeps the stronger it is
At this point the tea will not spoil, it can be allowed to steep for as long as you like
When tea has finished steeping, gently squeeze tea bags and discard
Pour into a one gallon pitcher and finish filling with cold water
Cover and place in refrigerator until ready to serve
*At this point you don't want the tea to sit out*
O Taste and See https://otasteandseeblog.com/