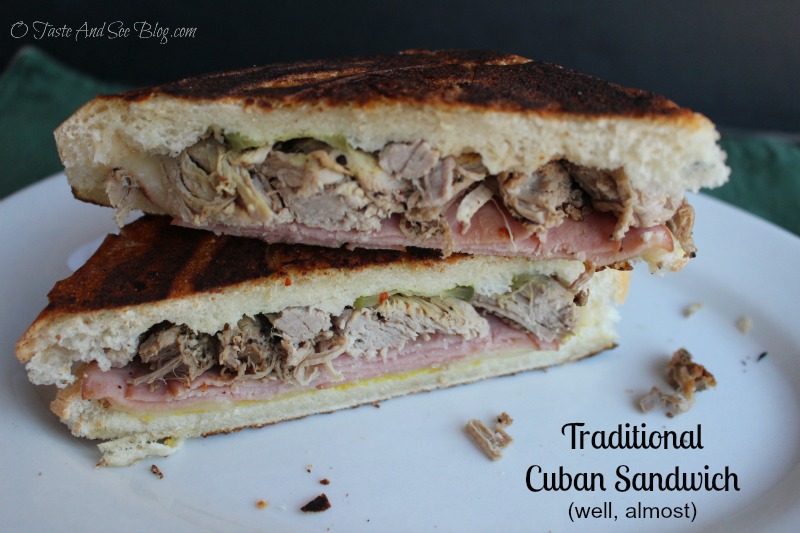 Almost Traditional Cuban Sandwich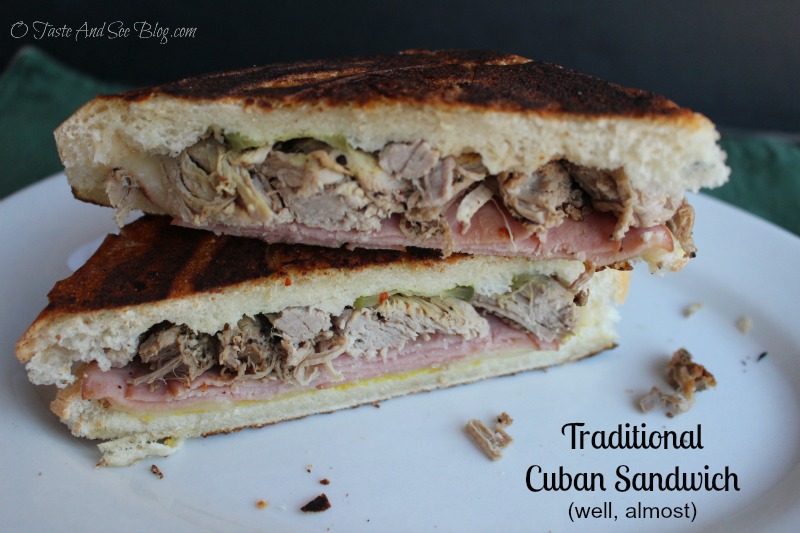 My husband and I (either separately or together) have lived in 6 states, in three regions of the country. The foods I make at home are a collection of recipes we've picked up along the way. Today's recipe for an Almost Traditional Cuban Sandwich comes from the area where my husband grew up, Tampa, Florida.
"Cubans" (the sandwich) are to Tampa what boiled peanuts and peaches are to Atlanta, chips and salsa to Ft. Worth, and Philly Cheesesteaks to well… Philadelphia. In 2012, the Cuban was designated the "signature sandwich of the city of Tampa".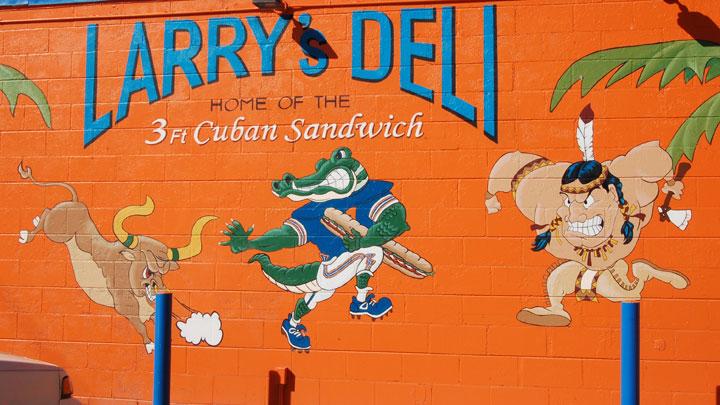 "Cubans" are readily available in Tampa. When we visit friends there one of the first places we head is a "hole-in-the-wall" called Larry's Deli and Sandwich Shop to get Cuban Sandwiches. They have umpteen (that just means a lot) varieties. They come cold, dry pressed or garlic butter pressed…. I ALWAYS get the garlic butter.
A Traditional Cuban Sandwich is made with roasted pork, ham, Swiss cheese, pickle, mustard and sometimes salami on Cuban bread. The key ingredient here is Cuban Bread, a traditional loaf is about 3 feet long, somewhat rectangular, with a hard, thin (almost papery) toasted crust and a soft flaky center. The first American bakery to produce Cuban bread was in the Ybor City region of Tampa. It is the necessary base for the Traditional Cuban Sandwich.
Sadly, we don't get to Florida very often. So, of course, I learned to make them at home, with one exception… the Cuban Bread. That's why I call mine "Almost Traditional Cuban Sandwich". Although these are wonderful, if you live in an area where you can purchase Cuban bread…. USE IT!
For my sandwich I chose Oscar Mayer Selects Natural Applewood Smoked Ham. Made with no artificial preservatives, and minimally processed, Oscar Mayer Selects Natural is the perfect choice for anyone looking for quality cold cuts with a delicious taste and no artificial ingredients. Selects Natural are available in five flavorful varieties including Slow Roasted Turkey, Applewood Smoked Turkey, Rotisserie Seasoned Chicken, Applewood Smoked Ham and Slow Roasted Roast Beef.
Here's the Recipe:
1 loaf French or Italian bread (substitute Cuban if possible)
2 oz (about 4 slices) Oscar Mayer Selects Natural Applewood Smoked Ham
2 oz roast pork ( Cuban pork is the best)
sliced dill pickles
yellow mustard
sliced Swiss cheese
garlic butter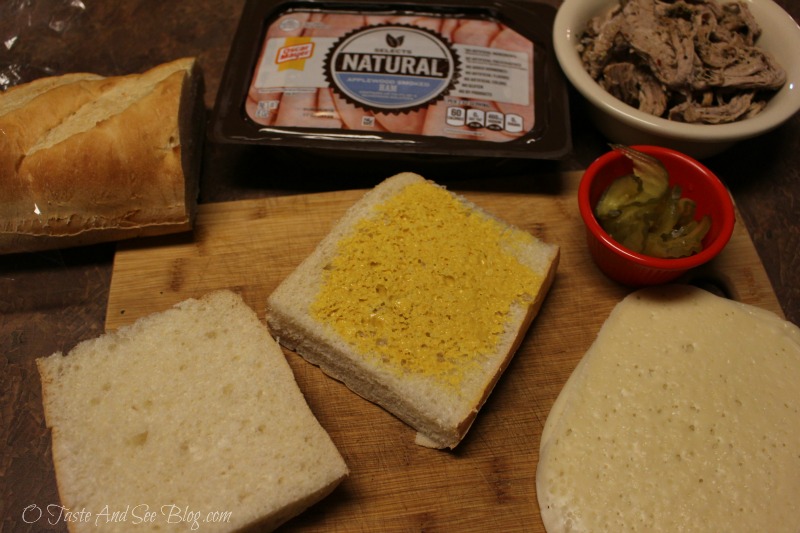 Cut bread into 4″ sections
Slice on long edge
Spread one side with desired amount of mustard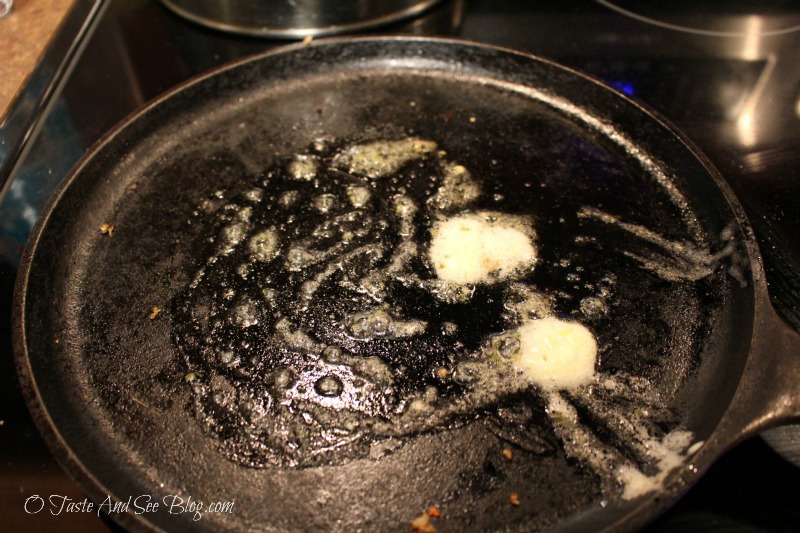 Melt garlic butter in skillet over medium-high heat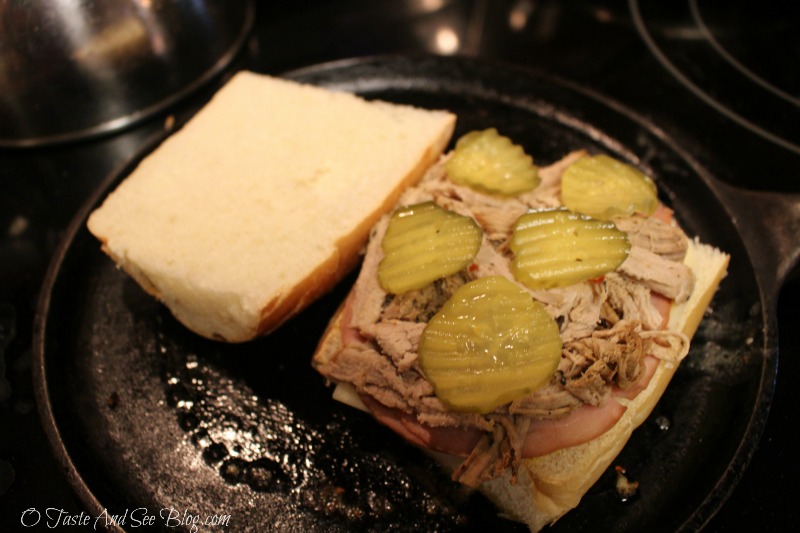 Place bread, crust side down, in skillet
Layer one half of bread with cheese, ham, pork and pickle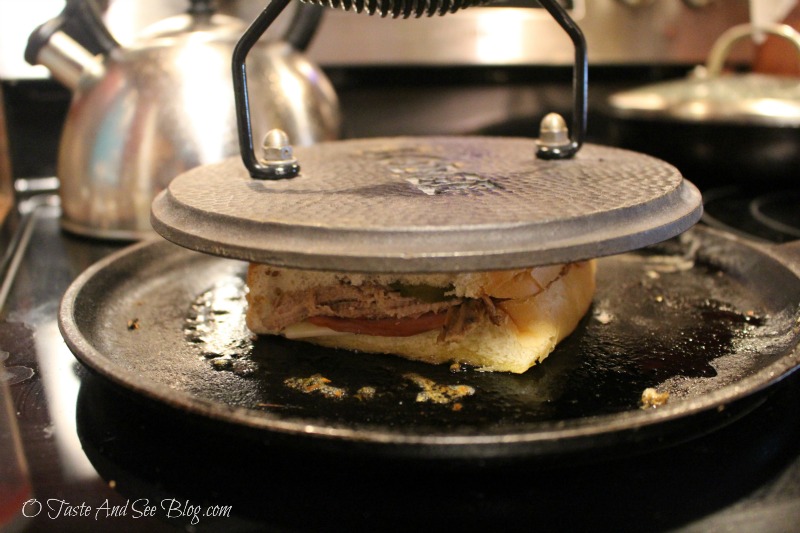 Top with second half of bread
Place bacon press or other heavy pan on top of sandwich and press
Allow to cook a couple of minutes then remove press and flip to grill other side – pressing again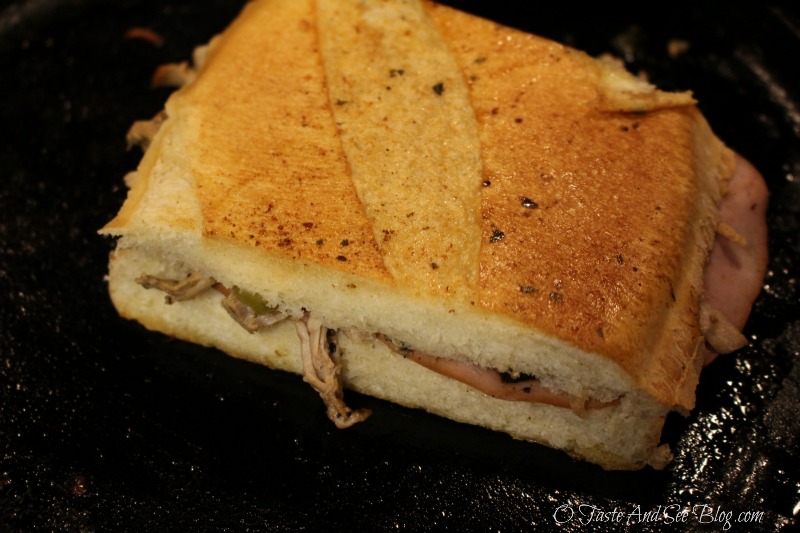 When sandwich has reached a golden brown, remove and serve immediately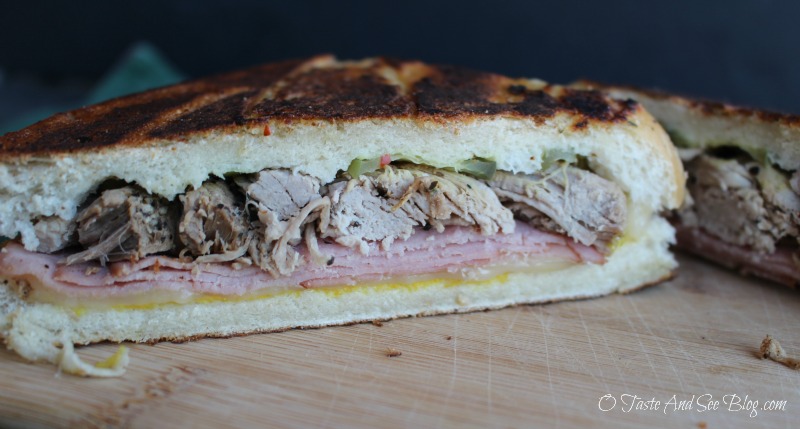 Does your town have a famous recipe?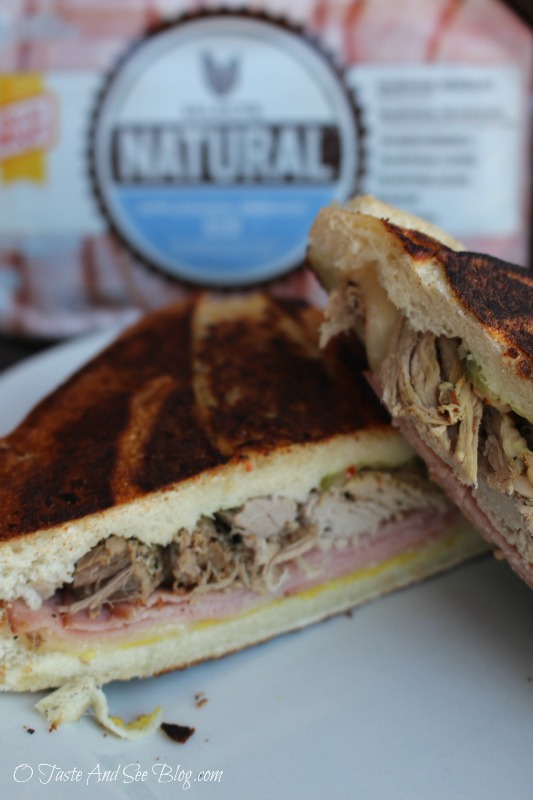 I was selected for this opportunity as a member of Clever Girls and the content and opinions expressed here are all my own.
Almost Traditional Cuban Sandwich
2016-02-02 20:45:11
Serves 1
Sandwich made with ham, roasted pork, Swiss cheese, pickles, mustard, and sometimes salami on Cuban bread or in this case, French or Italian bread.
Ingredients
1 loaf French or Italian bread (substitute Cuban if possible)
2 oz (about 4 slices) Oscar Mayer Selects Natural Applewood Smoked Ham
2 oz roast pork ( Cuban pork is the best)
sliced dill pickles
yellow mustard
sliced Swiss cheese
garlic butter
Instructions
Cut bread into 4″ sections
Slice on long edge
Spread one side with desired amount of mustard
Melt garlci butter in skillet over medium-high heat
Place bread, crust side down, in skillet
Layer one half of bread with cheese, ham, pork and pickle
Top with second half of bread
Place bacon press or other heavy pan on top of sandwich and press
Allow to cook a couple of minutes then remove press and flip to grill other side and press again
When sandwich has reached a golden brown, remove and serve immediately
O Taste and See https://otasteandseeblog.com/