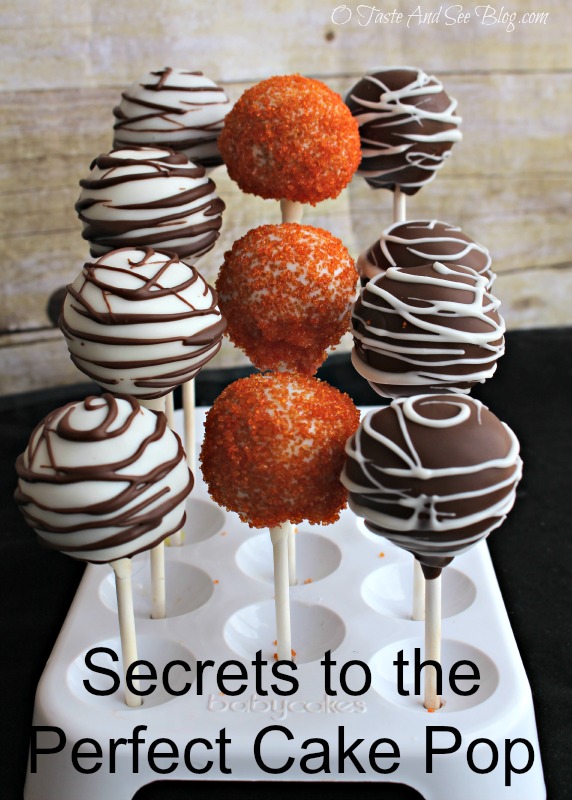 10 Secrets to the Perfect Cake Pops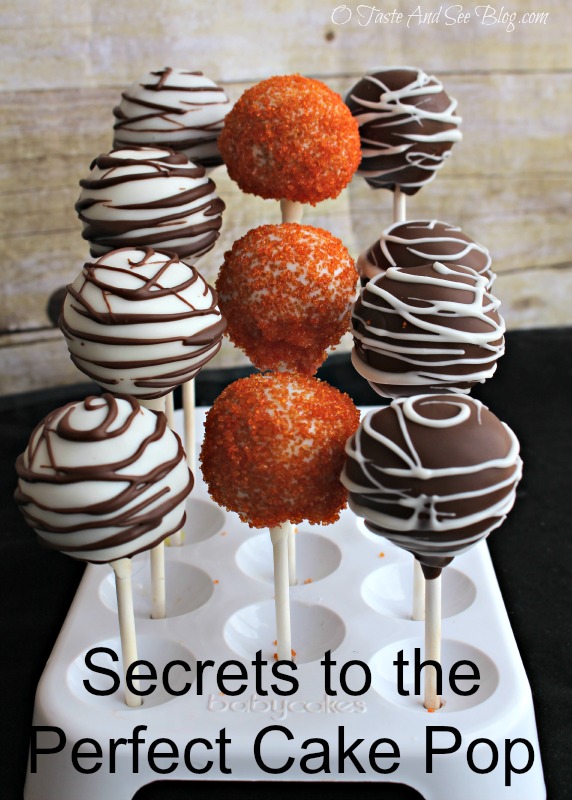 Cake pops are super popular right now and fun to make and eat.
Today, I'm going to share with 10 Secrets to the Perfect Cake Pop….and I have a Guest Baker to help!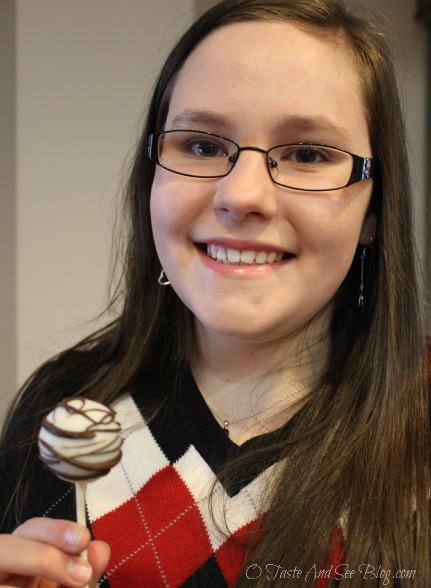 Meet Rosebud, of Rosebud Bakery. She's a talented baker and cake decorator, sweet young lady and friend.
When my daughter requested Cake Pops for her Graduation Reception I knew right away who I needed to call. Rosebud's Cake Pops are moist, delicious AND they look amazing! She makes her own sugar sprinkles so I was able to request Cake Pops to match our party colors….have I mentioned how much I LOVE food that matches a color scheme?!
Making Cake Pops requires several steps and it can be a little time-consuming. Having a friend or family member to help would be a great activity and time saver. But, if you're making them by yourself there's good news….they can be done over two or three days. Bake the cakes one day, make them into balls the next and dip and decorate on the third day. The candy coating seals them and keeps them moist so as long as they're covered they will keep a couple of days before serving.
Rosebud's Secrets to the Perfect Cake Pops are very helpful and will insure success!
Here's the Recipe:
1 box cake mix (any flavor)
Ingredients to prepare cake mix (usually oil or butter, eggs and water)
tub frosting in a flavor to complement the cake – NOT whipped (only 1/2 can is needed)
cake pop sticks
candy coating (recommended instead of baking chips, we used Candyquik)
Cake Pop holder or Styrofoam board for holding upright while they dry
Optional: Sprinkles for decorating
***For this post we made Red Velvet and Carrot Cake. With the Red Velvet we used white cream cheese frosting and dipped in chocolate candy coating. For the Carrot we also used white cream cheese frosting but dipped in white candy coating. In this post you'll see photos from both.***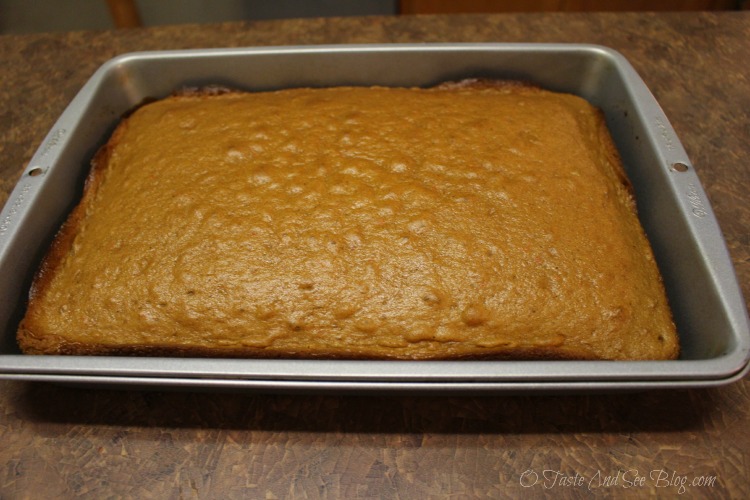 Bake cake according to package directions
(Any shape or pan is fine)
Cool completely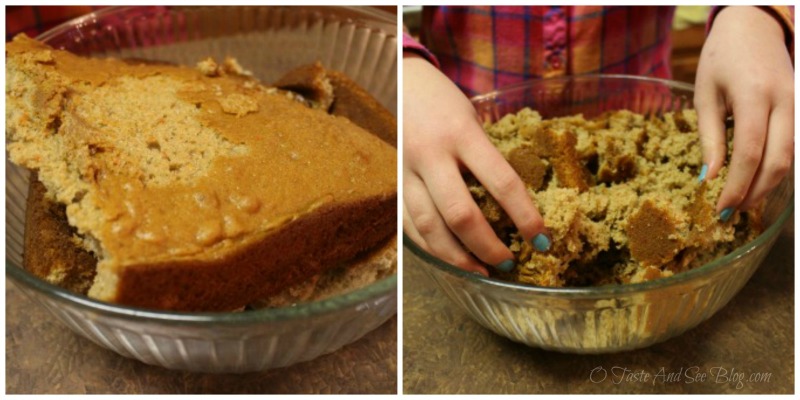 In a large bowl, crumble cake with hands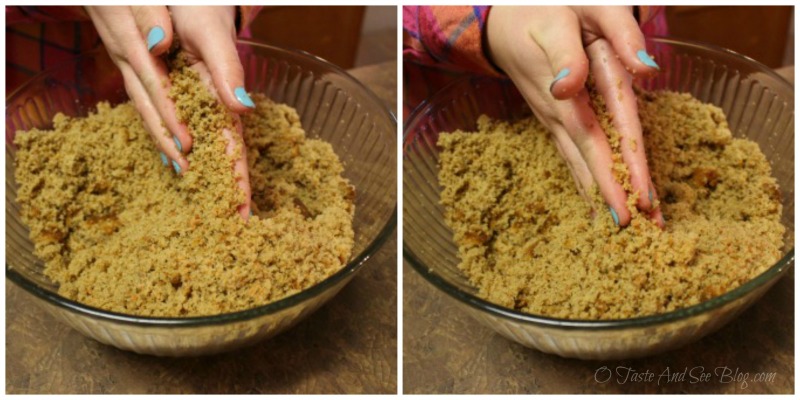 Crumbs should be very fine. This is best done by rolling between hands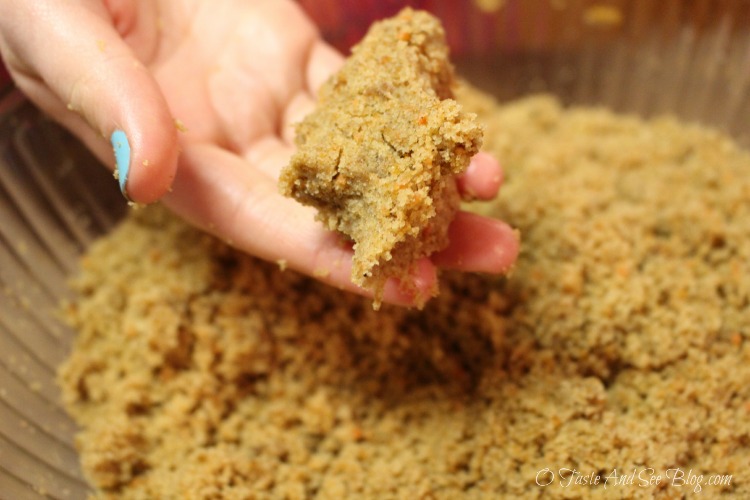 Perfect Cake Pop Secret #1: Crumbs are fine enough when cake sticks together and forms a ball when squeezed in hand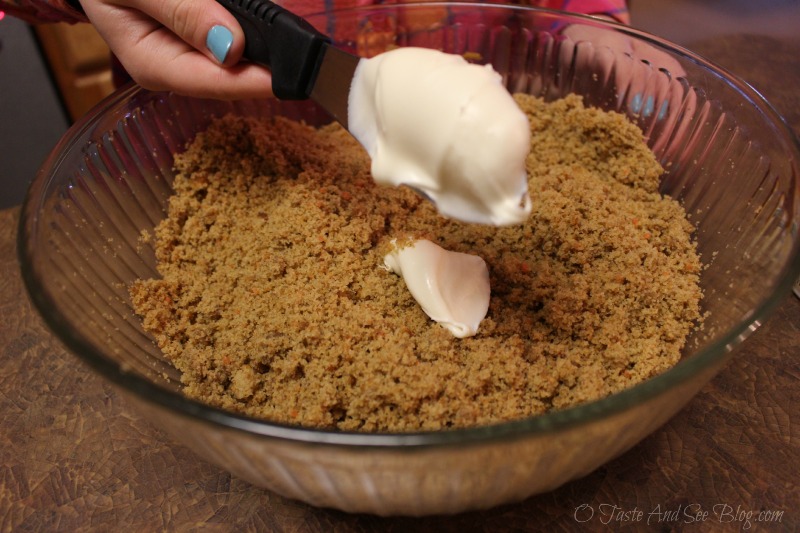 Begin adding icing, one scoop at a time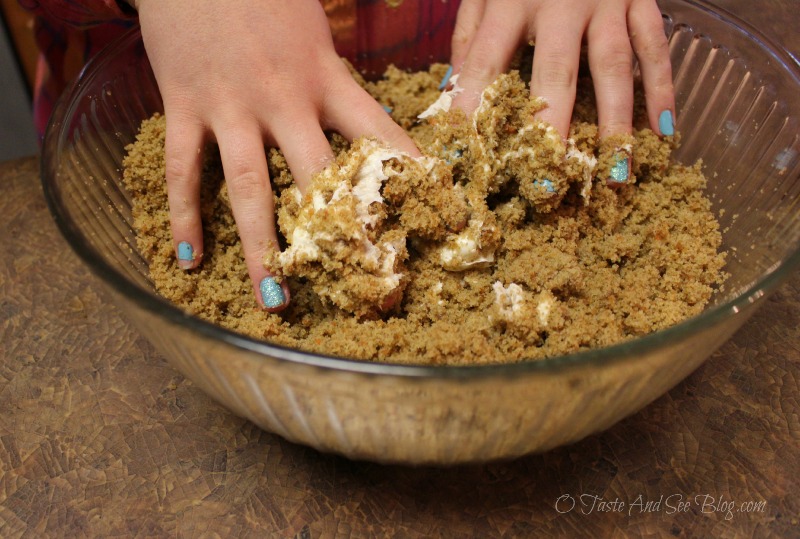 Mix with hands until fully incorporated
*It may get messy, but it's worth it!*
Continue to add more icing and mix completely, checking after each addition
Perfect Cake Pop Secret #2: You only need about 1/2 the can of frosting
Perfect Cake Pop Secret #3: Getting mixture the right consistency….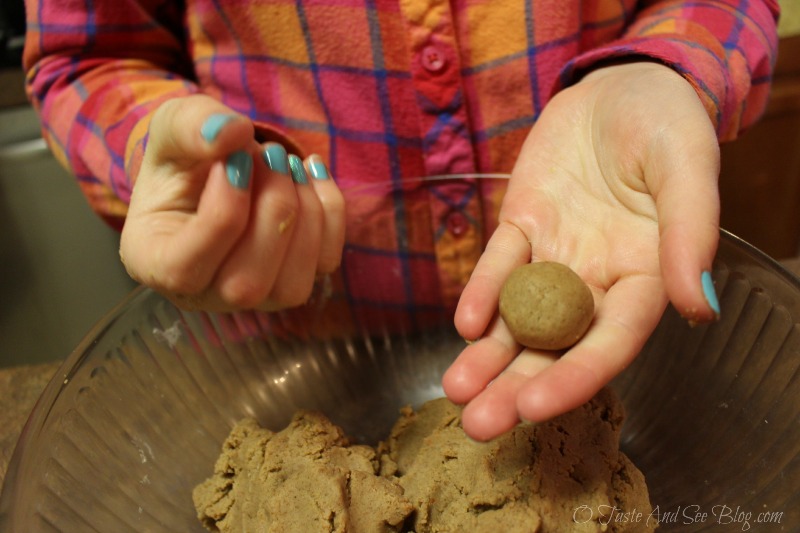 Roll a small amount of mixture into a ball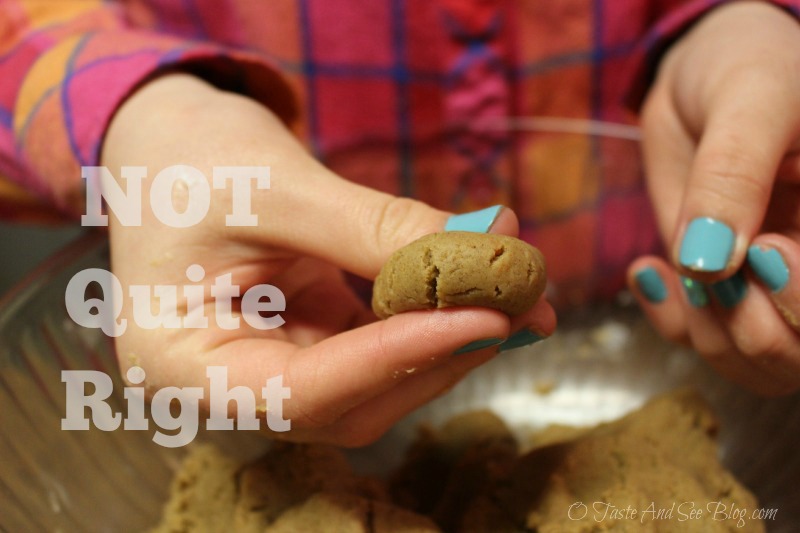 Holding ball between thumb and fingers, gently squeeze the back of the ball
IF cracks appear in the front of the ball IT'S NOT READY…this one is NOT ready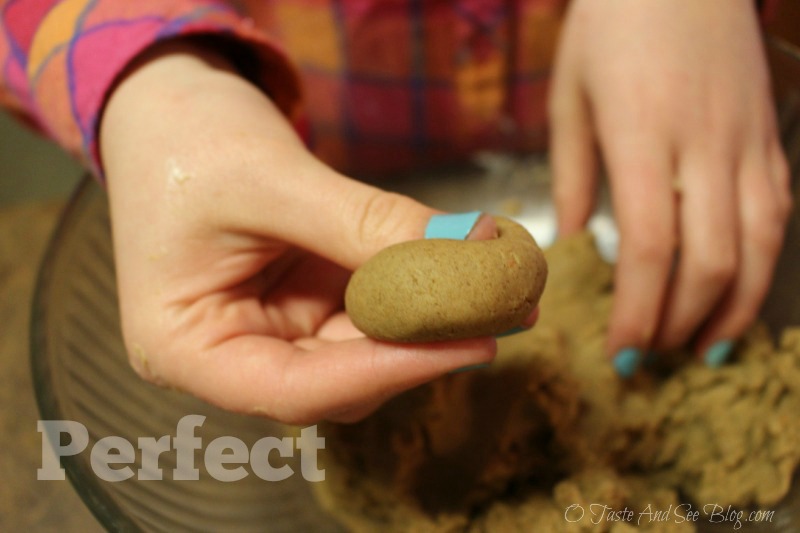 Add more icing a little at a time, mix and repeat until…
NO cracks appear when squeezed….This one IS perfect!

Using a 2 inch cookie scoop, form mixture into about 30 cake balls
Place on a cookie sheet and into refrigerator for about 4 hrs
At this point you can continue on with dipping the Cake Pops or cover and freeze until ready to dip
*They can be kept in the freezer a couple of days, however,
Perfect Cake Pop Secret #4: DO NOT DIP straight out of freezer.
They will be too cold and candy coating will crack when it hardens. If freezing, remove from freezer and place in refrigerator for at least two hours before dipping*
Perfect Cake Pop Secret #5: Keep balls in refrigerator until ready to dip, taking out only a few at a time. It's important for them to stay cool. If they get too warm they will fall off the stick when dipped.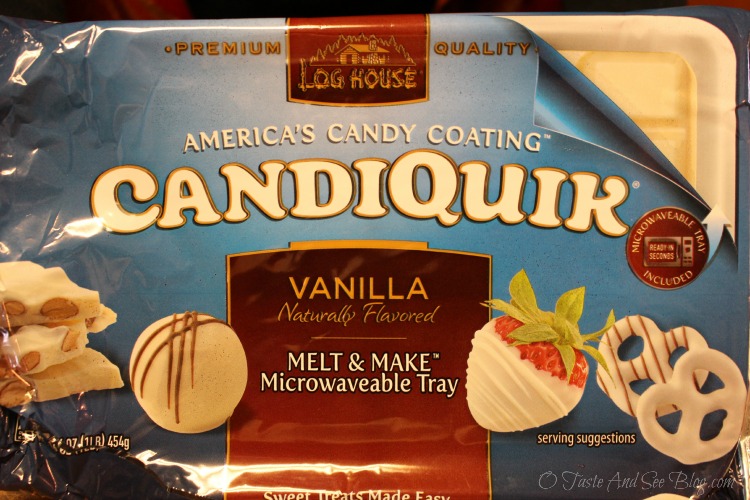 Perfect Cake Pop Secret #6: Use Candyquik instead of regular chocolate or almond bark
Melt candy coating in microwave, according to directions on package

Perfect Cake Pop Secret #7: Seal the tip of the stick before adding Cake Ball
Dip each cake pop stick about 3/4 in. in the melted Candyquik
Allow extra to drip off then place cake pop stand
*This is done to seal the sticks and keeps oils from cake pops from running down the stick and causing it to yellow*
Allow to dry about 10 minutes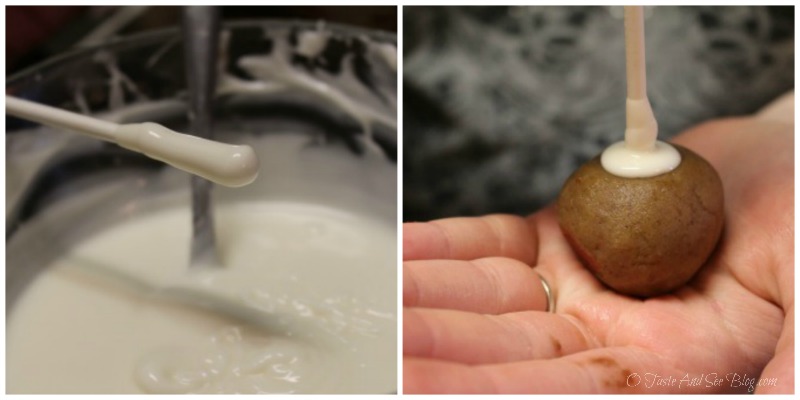 The side of the cake ball that was on the cookie sheet will be flat, that's the side you want to put the stick in
When sticks are ready take out a few cake balls and begin to dip
Dip sticks again in Candyquik then immediately into flat side of cake ball
**Best done holding hand flat and placing cake ball in palm. Insert stick about 1/2 in into ball**
Perfect Cake Pop Secret #8: Gently tap ball in hand to spread the chocolate out and form a seal
**We used chocolate and vanilla Candyquik. Although the pictures show different flavors, keep flavor consistent when dipping***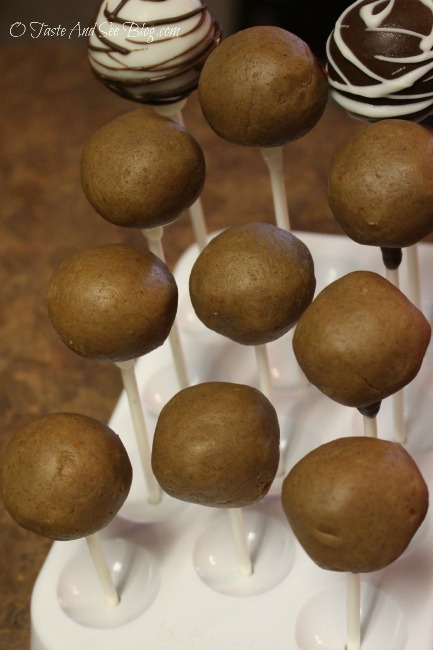 Place back into cake pop stand to dry
At this point, take a moment to gently reshape any balls that have become slightly misshapen
Allow to sit about 10 minutes
If cake balls seem to be getting too warm, put back in refrigerator to chill before dipping

One at a time, dip cake pops into melted Candyquik, and swirl to coat
Perfect Cake Pop Secret #9: Do not cover all the way to the stick, being very careful NOT to cover the seal completely. If the seal is covered the warm coating will cause it to melt and pop can fall off the stick
Allow excess coating to drip off by tapping gently on side of bowl,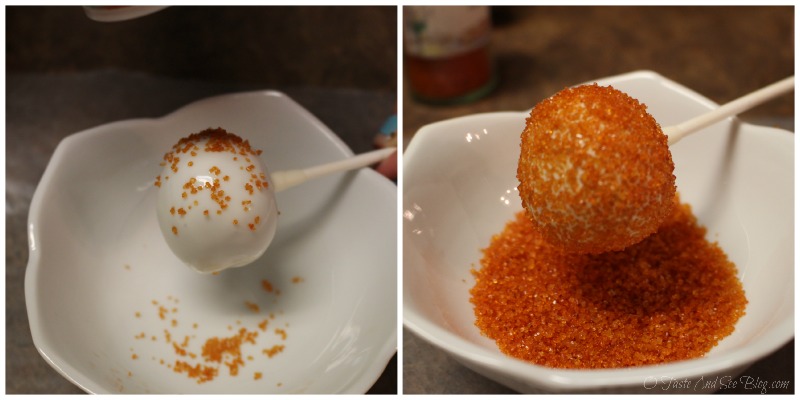 If covering with sprinkles, hold over a small bowl and cover while coating is wet
Then place back in cake pop stand to harden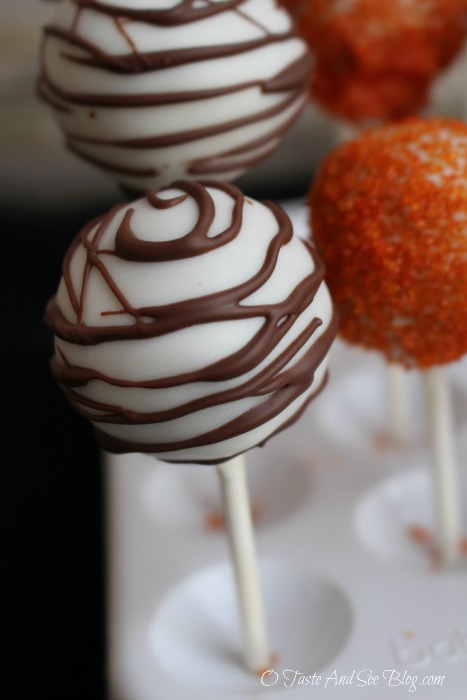 If decorating with stripes, first allow coating to harden completely

Perfect Cake Pop Secret #10: Decorating with stripes of opposite flavor candy coating
Using the flat end of a wooden skewer, dip in opposite color Candyquik
Holding over bowl of melted Candyquik, turn cake pop and drizzle with opposite color
Replace in stand and allow to harden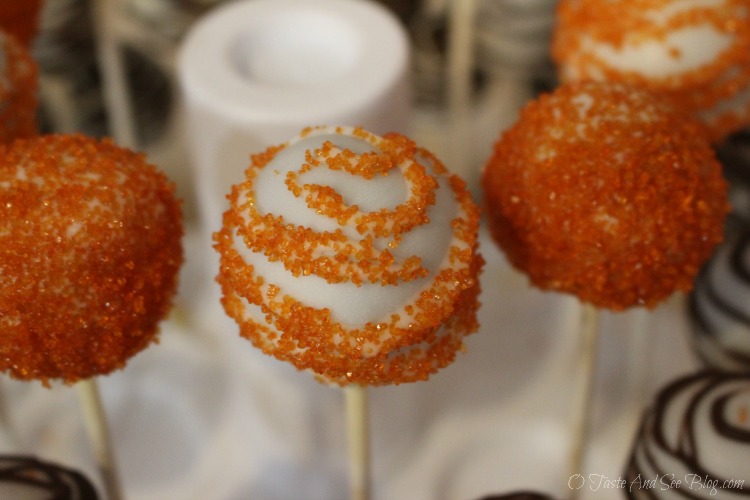 Or drizzle with the same color coating and sprinkle with sprinkles while wet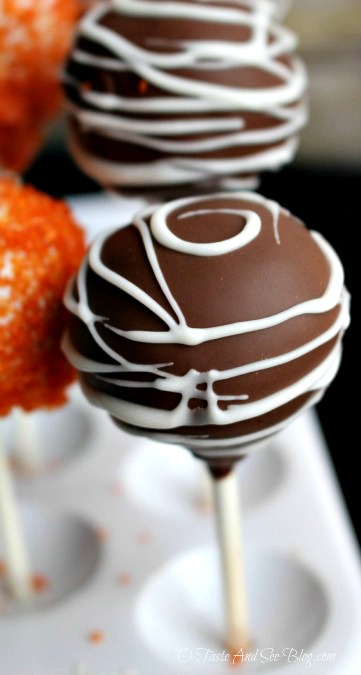 Beautiful on the outside….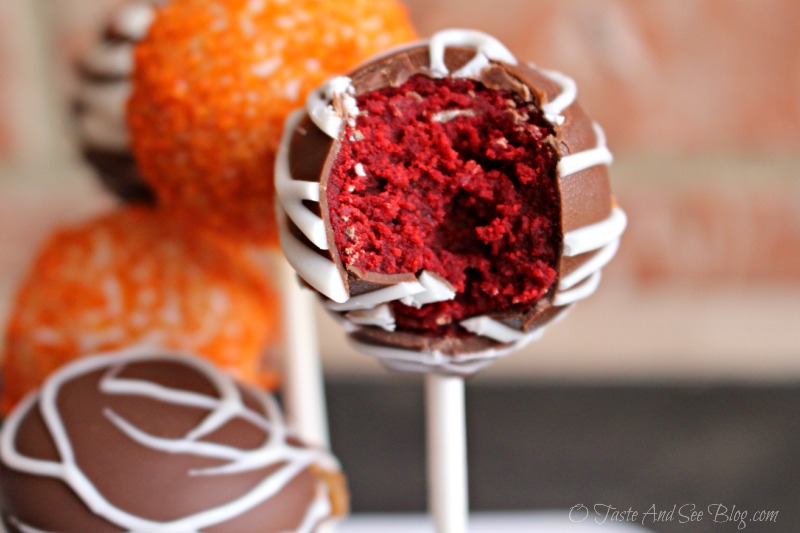 Moist and creamy on the inside!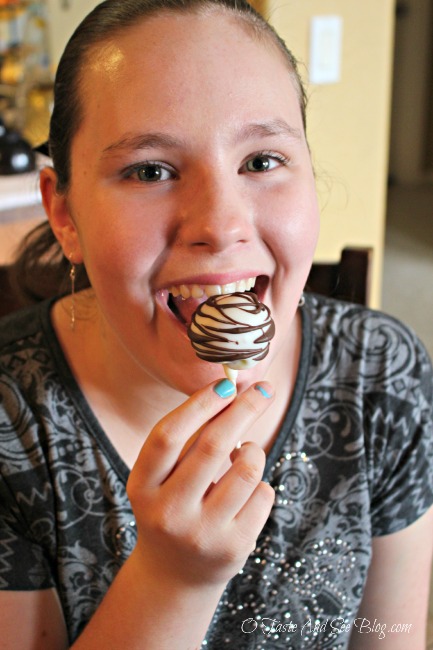 Of course, after making them we HAD to have a sample!
Thanks again, Rosebud, for being our guest baker and sharing your 10 Secrets to the Perfect Cake Pops!
For more of Rosebud's beautiful creations check out Rosebud Bakery on Facebook and let her know you stopped by liking her page!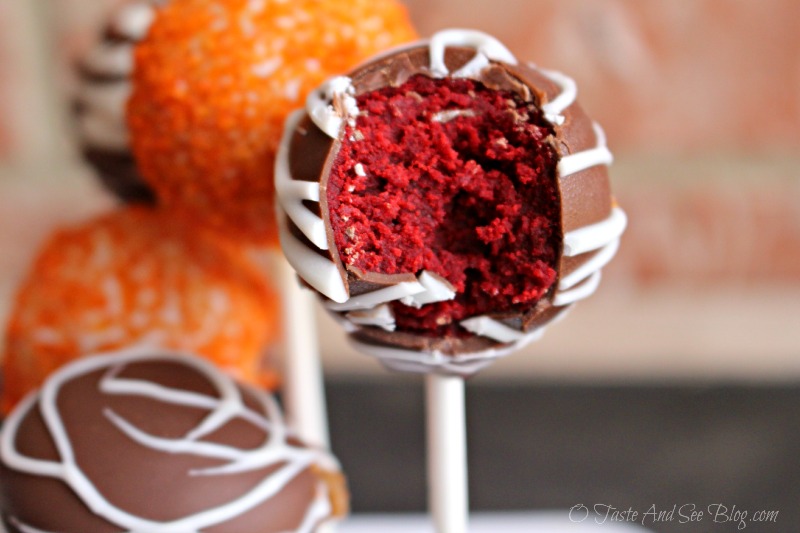 Perfect Cake Pops
2015-07-12 23:50:59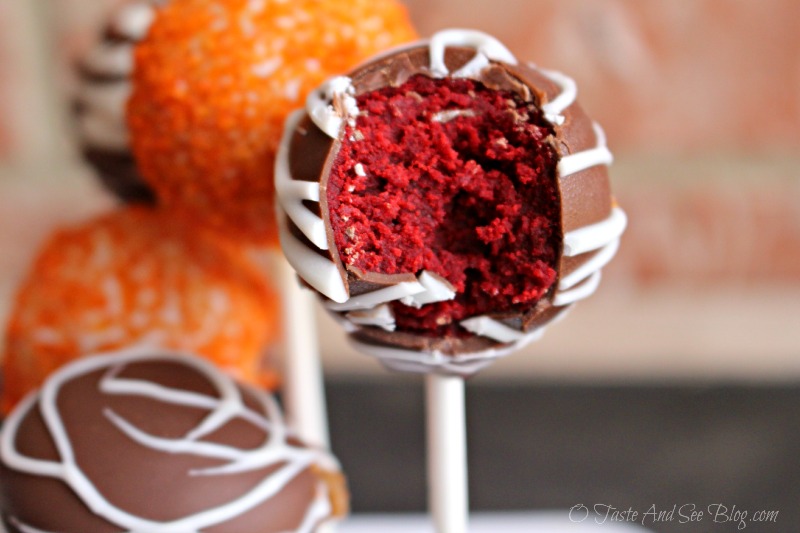 Ingredients
1 box cake mix (any flavor)
Ingredients to prepare cake mix (usually oil or butter, eggs and water)
tub frosting in a flavor to complement the cake – NOT whipped (only 1/2 can is needed)
cake pop sticks
candy coating (recommended instead of baking chips, we used Candyquik)
Cake Pop holder or Styrofoam board for holding upright while they dry
Optional: Sprinkles for decorating
Instructions
Bake cake according to package directions
(Any shape or pan is fine)
Cool completely
In a large bowl, crumble cake with hands
Crumbs should be very fine. This is best done by rolling between hands (See Secret #1)
Begin adding icing, one scoop at a time
Mix with hands until fully incorporated
Continue to add more icing and mix completely, checking after each addition (See #2 & 3)
Using a 2 inch cookie scoop, form mixture into about 30 cake balls
Place on a cookie sheet and into refrigerator for about 4 hrs
At this point you can continue on with dipping the Cake Pops or cover and freeze until ready to dip (See #4 &5)
Melt candy coating in microwave, according to directions on package (See #6)
Seal the tip of the stick before adding Cake Ball (See #7) by dipping each cake pop stick about 3/4 in. in the melted Candyquik
Allow extra to drip off then place cake pop stand
Allow to dry about 10 minutes
The side of the cake ball that was on the cookie sheet will be flat, that's the side you want to put the stick in
When sticks are ready take out a few cake balls and begin to dip
Dip sticks again in Candyquik then immediately into flat side of cake ball
Best done holding hand flat and placing cake ball in palm. Insert stick about 1/2 in into ball and gently tap. (See #8)
Place back into cake pop stand to dry
At this point, take a moment to gently reshape any balls that have become slightly misshapen
Allow to sit about 10 minutes
If cake balls seem to be getting too warm, put back in refrigerator to chill before dipping
One at a time, dip cake pops into melted Candyquik, and swirl to coat
Do not cover all the way to the stick (See #9)
Allow excess coating to drip off by tapping gently on side of bowl
If covering with sprinkles, hold over a small bowl and cover while coating is wet
Then place back in cake pop stand to harden
If decorating with stripes, first allow coating to harden completely (See #10)
10 Secrets to the Perfect Cake Pop
#1: When crumbling cake, crumbs are fine enough when cake sticks together and forms a ball when squeezed in hand
#2: You only need about 1/2 the can of frosting
#3: Getting mixture the right consistency
Roll a small amount of mixture into a ball
Holding ball between thumb and fingers, gently squeeze the back of the ball
IF cracks appear in the front of the ball IT'S NOT READY…this one is NOT ready
Add more icing a little at a time, mix and repeat until…
NO cracks appear when squeezed
#4: DO NOT DIP straight out of freezer. They will be too cold and candy coating will crack when it hardens. If freezing, remove from freezer and place in refrigerator for at least two hours before dipping
#5: Keep balls in refrigerator until ready to dip, taking out only a few at a time. It's important for them to stay cool. If they get too warm they will fall off the stick when dipped.
#6: Use Candyquik instead of regular chocolate or almond bark
#7: Sealing the tip of the stick is done to keep oils from cake pops from running down the stick and causing it to yellow
#8: Gently tap ball in hand to spread the chocolate out and form a seal. This helps secure the ball to the stick
#9: When dipping Cake Pop DO NOT cover the seal completely. If the seal is covered the warm coating will cause it to melt and pop can fall off the stick
#10: Decorating with stripes of opposite flavor candy coating
Using the flat end of a skewer, dip in opposite color Candyquik
Holding over bowl of melted Candyquik, turn cake pop and drizzle with opposite color
Replace in stand and allow to harden
O Taste and See https://otasteandseeblog.com/