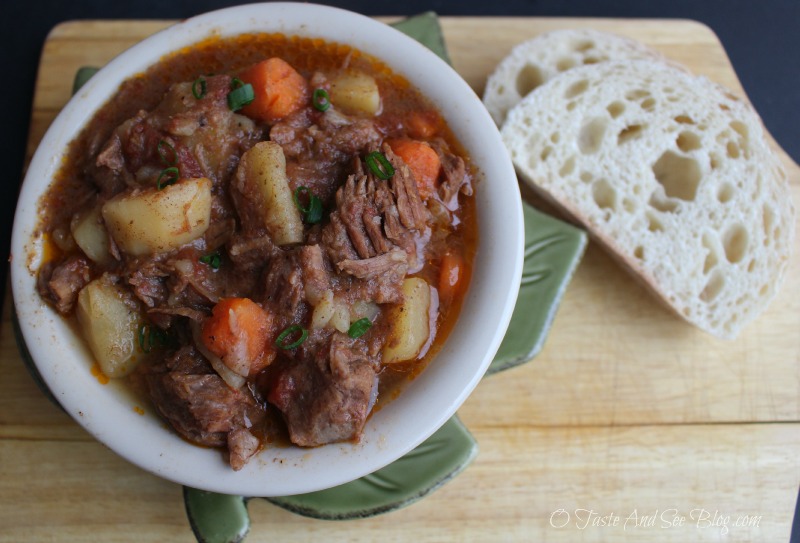 Crock Pot Beef Stew and Calphalon Cutlery Giveaway
I participated in an Influencer Activation on behalf of Influence Central for
Calphalon

. I received product samples and a promotional item to thank me for my participation.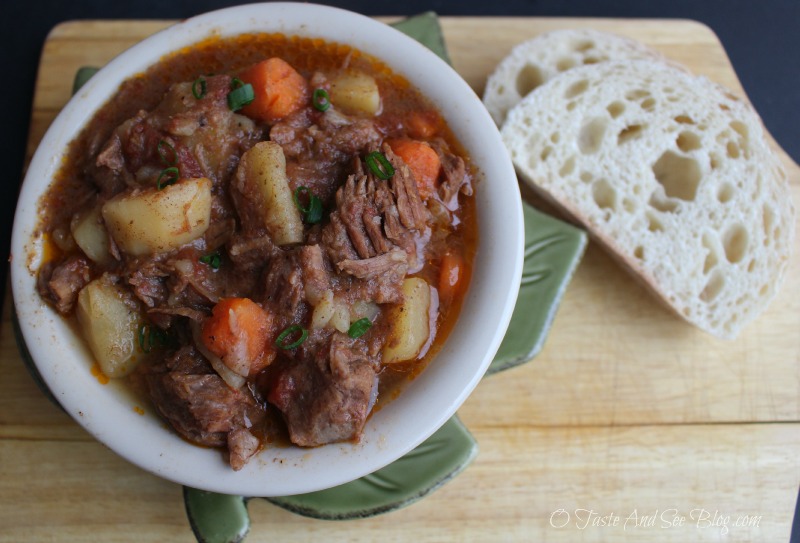 A couple of weeks ago I ran into my dad at the grocery store. (One of the wonderful things about having your parents close by) I helped him pick out the things on his list and as we went by the meat counter he mentioned he'd been wanting Beef Stew. Cooking for two isn't difficult but some recipes are just better made in large batches. I knew he and my mom would never be able to eat a whole pot of Beef Stew so I told him I'd make some soon and bring it to them.
I had my weekly menu all planned so I figured we'd wait, but then we had some unexpected changes. My in-laws were able to come a day early, that same day it POURED rain and a trip to Six Flags (where we were planning to eat dinner) had to be cancelled. I now needed dinner for seven people. This Crock Pot Beef Stew uses simple ingredients I already had, my parents could easily be included so it was decided. Beef Stew for nine.
This recipe is super easy and can be made on the stove top or crock pot. The most time-consuming part is cutting everything up. The best way to get any job done well is to have the right tools. For any chef (home or professional) that means a good set of nice sharp knives.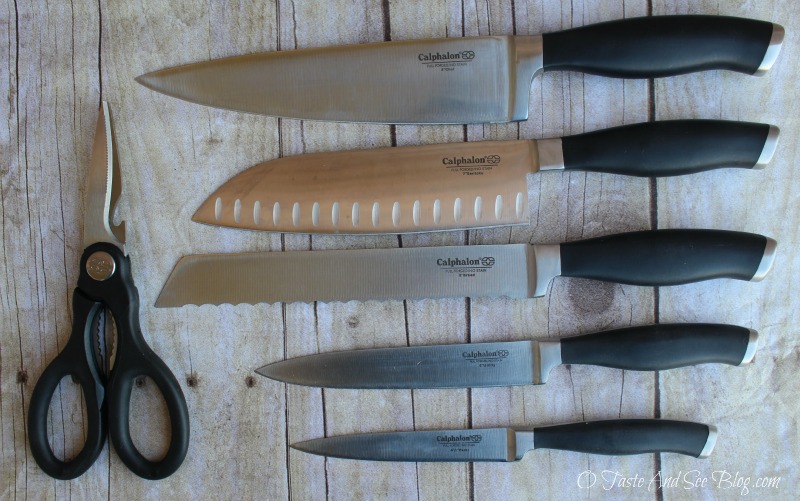 I recently received this Calphalon Self-Sharpening Cutlery Set to try out. I liked them immediately! They have a really nice feel…well balanced and easy to use and they're made from high-carbon, no stain forged stainless steel.
GREAT NEWS! You have a chance to win your own Calphalon Self-Sharpening Cutlery Set , retail value $219! Giveaway information is listed below so be sure to scroll down and check it out.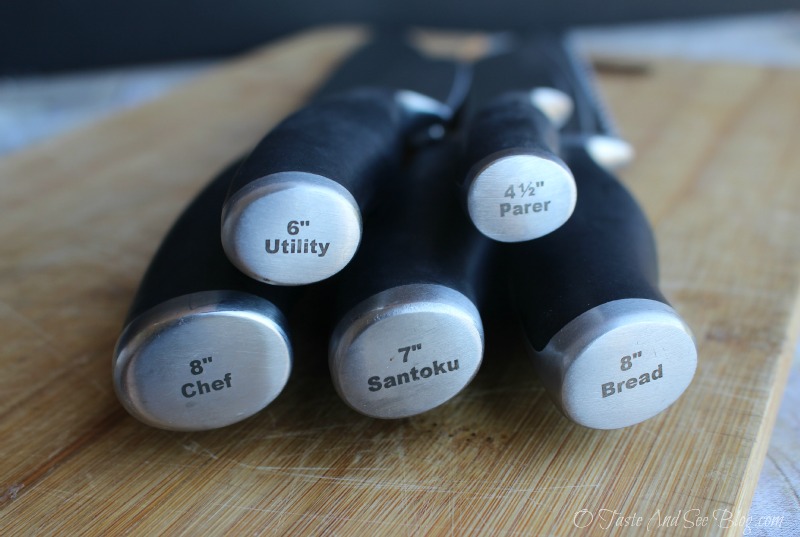 As silly as it sounds, I love the names on the end of the handle.
Pretty much everything you need is in the 15-piece set, including kitchen scissors and steak knives. Although, steak knives will not be necessary for the Beef Stew….it's fork tender!
The storage block is beautiful and looks great sitting on the counter. However, it's got a lot more than looks going for it. Here's where the "self-sharpening" comes in. Ceramic sharpeners are built into each slot to automatically sharpen knives every time you use them. Because the sharpeners are placed at the perfect angle, every time a knife is removed or replaced it's correctly sharpened. Can you imagine never having a dull knife? How cool is that!?
I took some picture using the knives but Calphalon has some really great videos showing you proper knife skills.
Back to the Crock Pot Beef Stew….
It was hearty and delicious!
Here's the Recipe:
2-3 lb chuck roast
6-8 medium potatoes
1 1/2 cups carrots
1/2 medium onion
1 can Fire Roasted Tomatoes(14.5 oz) undrained
3/4 cup water
3 cups beef broth
1/2 tsp salt
3/4 tsp garlic
1 bay leaf
dash thyme
pepper to taste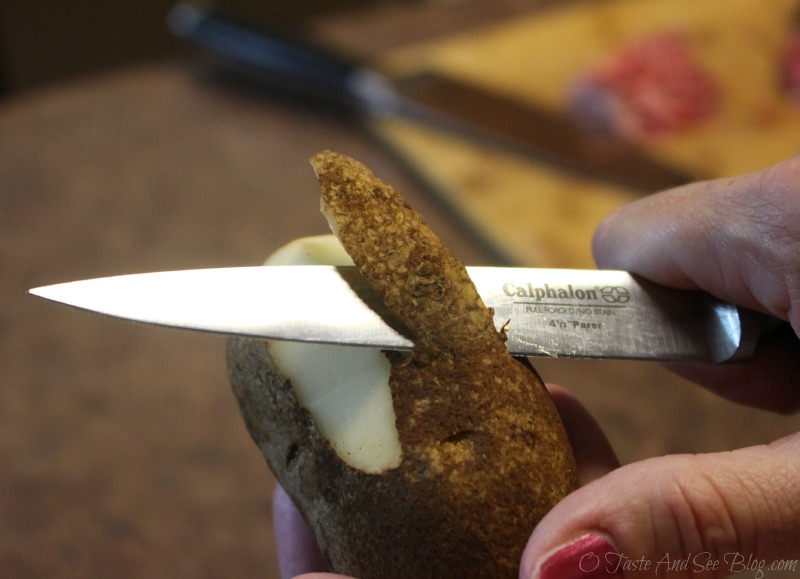 Peel Potatoes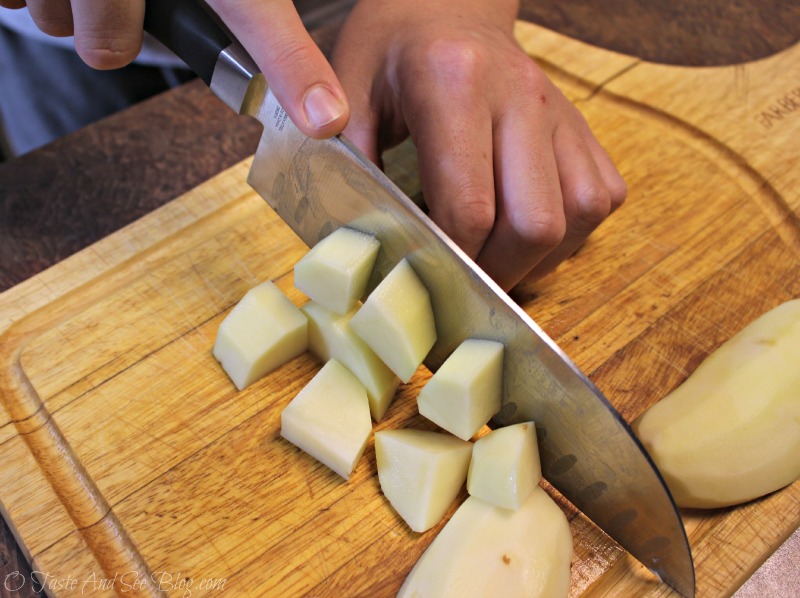 Cube Potatoes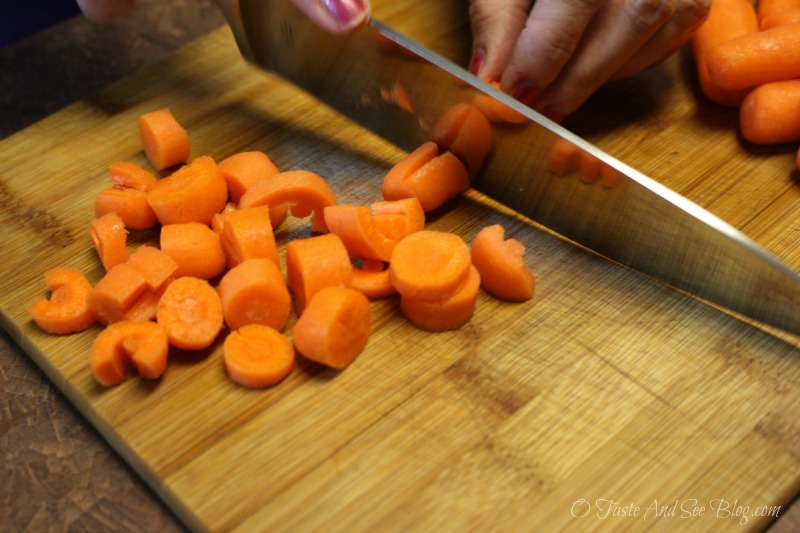 Slice Carrots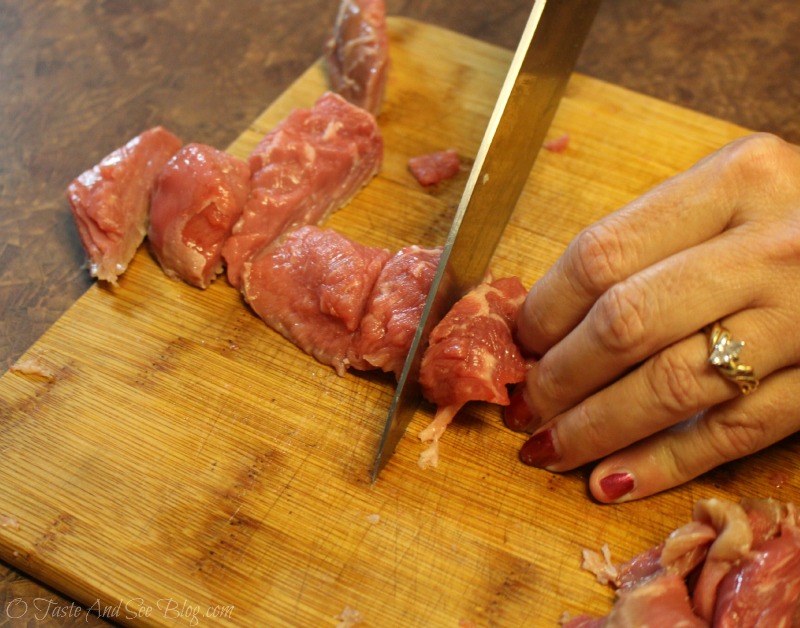 And cut meat into chunks
*To allow for more even cooking, meat and veggies should be cut into about the same size pieces*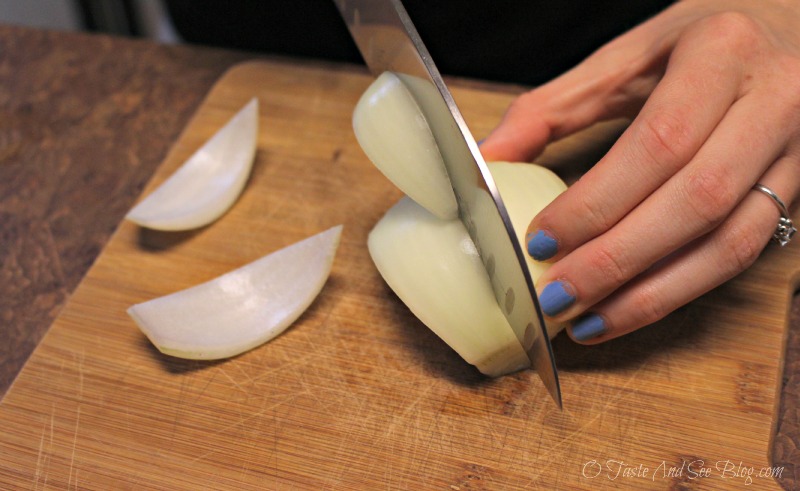 Slic onion into thick slices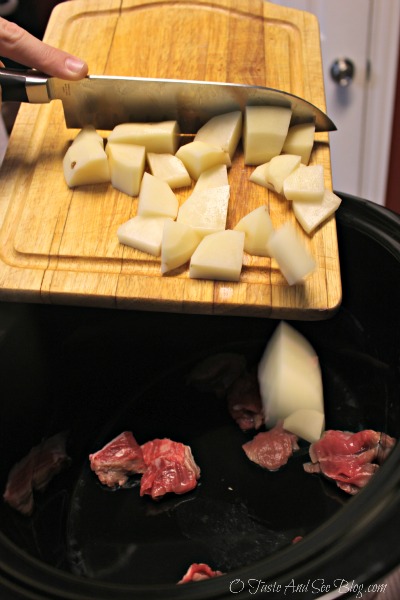 Add everything to the crock pot, including spices and cook on high 5-6 hrs or low 7-9 hrs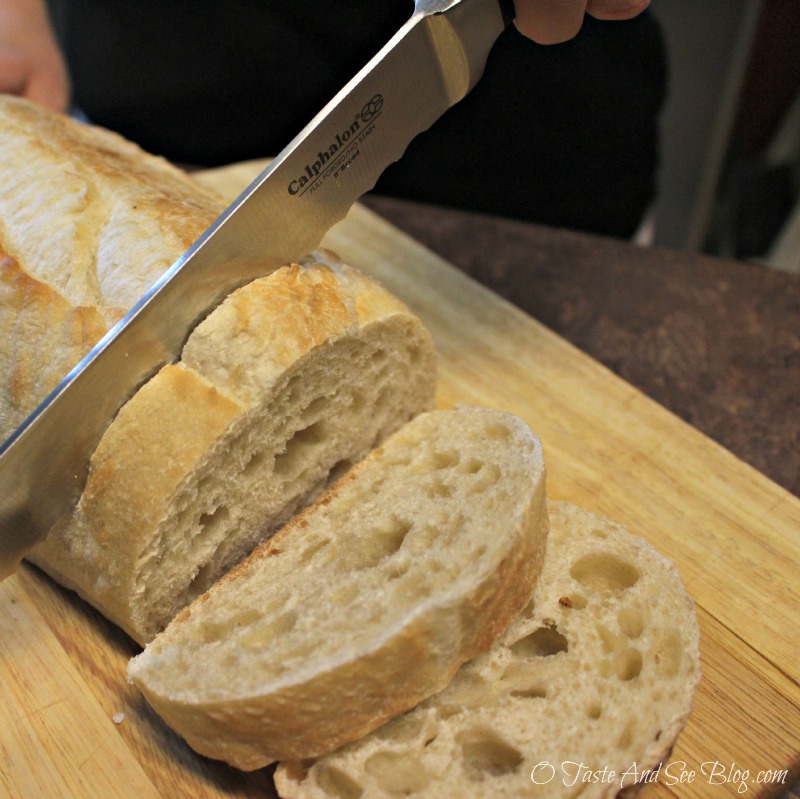 This recipe is wonderful served with some good bread
Contest entrants are only eligible to win once per sweepstake, per household as part of a campaign sponsored by Influence Central.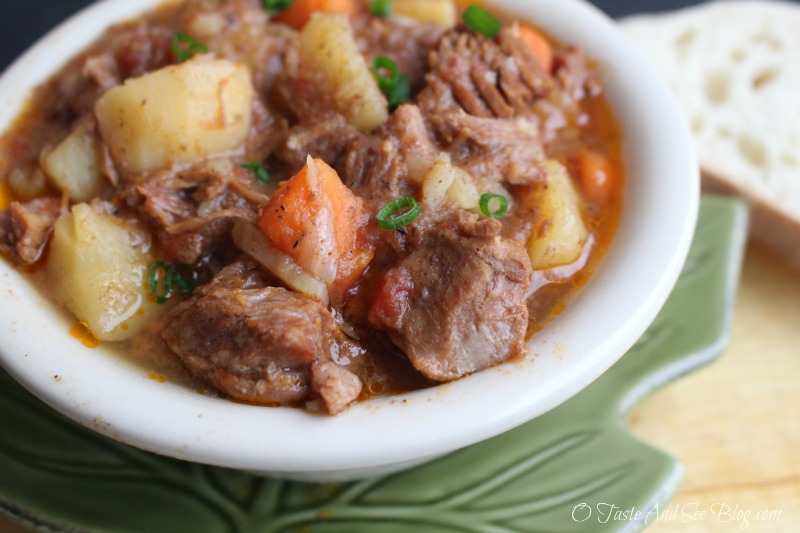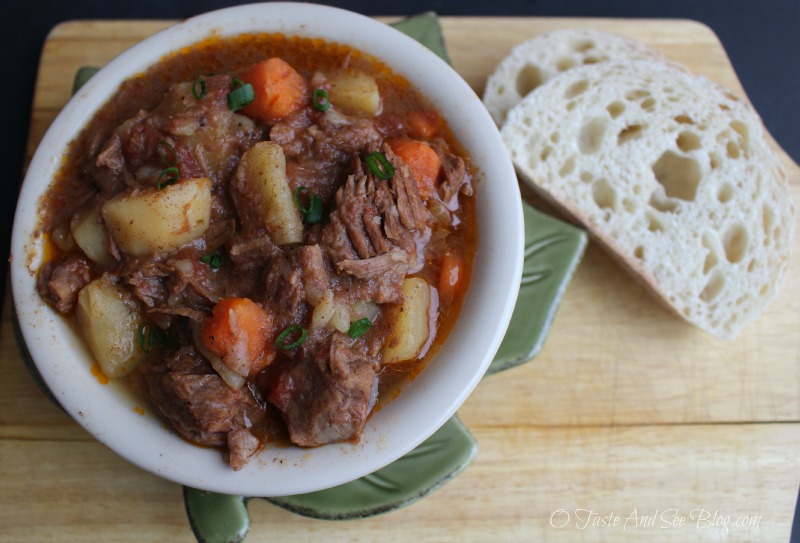 Crock Pot Beef Stew
2015-10-29 21:33:29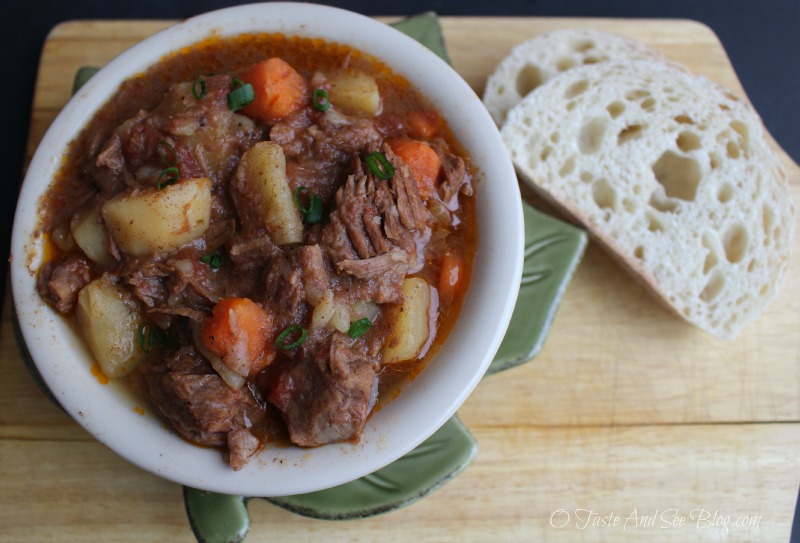 Ingredients
2-3 lb chuck roast
6-8 medium potatoes
1 1/2 cups carrots
1/2 medium onion
1 can Fire Roasted Tomatoes(14.5 oz) undrained
3/4 cup water
3 cups beef broth
1/2 tsp salt
3/4 tsp garlic
1 bay leaf
dash thyme
pepper to taste
Instructions
Cut meat, carrots and potatoes in chunks about the same size
Cut onion into thick slices
Add all ingredients to crock pot
Cook on high 5-6 hrs or low 7-9
O Taste and See https://otasteandseeblog.com/