Meadow Ridge Condos Fraser, CO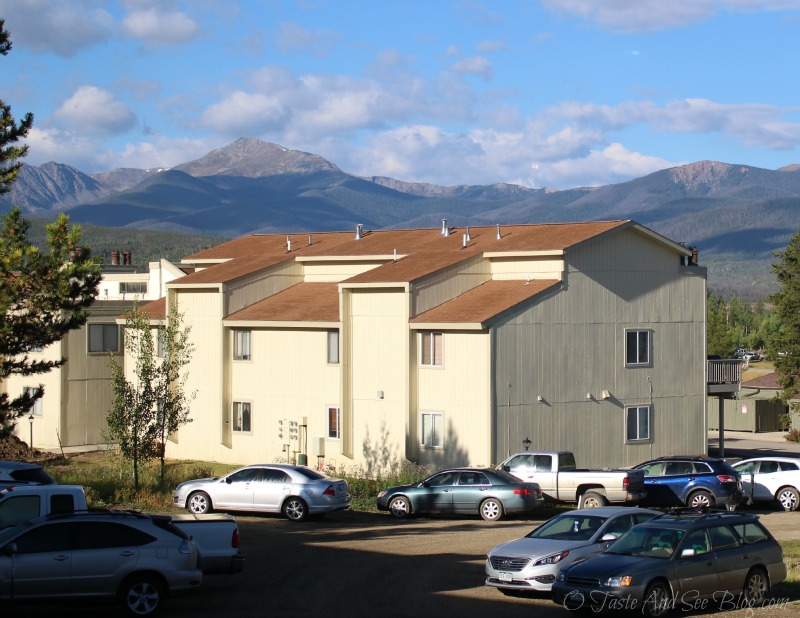 After we Visited the Pot Shop, the girls and I proceeded to our condo. I made the reservations through the Winter Park central booking office, which was SUPER easy! It was definitely the way to go. I called the 800 number and spoke to Katie. She was so sweet and lives in the area so she was able to answer my questions with first hand knowledge. I explained what I was looking for, she gave me a few recommendations and asked what else I'd like to do while there.
She knew we wanted to get the most "bang for our buck" so she recommended staying in Fraser. Even though it's technically a different town, you can't really tell when you leave Winter Park and get into Fraser. The whole drive from one end of Winter Park to the other end of Fraser is maybe eight miles. It sounded perfect! She sent me an email with several options including activities. We could pay one price and do everything we wanted!
After looking over the itinerary we chose Meadow Ridge Condos. I called Katie back and made our reservations. We originally decided on a two bedroom one bath condo, since there were only three of us. By the time I called back (it was a couple of weeks) there weren't any available so we bumped up to a two bedroom, two bath for just a little more.
There's a nice workout room and outdoor heated pool at the complex. Parking is great and it's conveniently located. Each unit is individually owned so the upgrades and decor vary from unit to unit. But I imagine they are all lovely.

Our View from the balcony
I will tell you, summer (or at least late summer) is THE PERFECT time to visit! The weather was AH-MAZING, or at least for Texans! Highs in the low 70's and lows in the 40's! They don't even have air conditioning in the condos…just heat, which we were excited to use! AND THE PRICES!!! Oh, my! Because of the time of year they have special deals. Our condo was right at $100 per night, including tax. We've stayed in plenty of hotels that were much smaller, not nearly as nice and cost a lot more than that!
I noticed as we made our way to the condo that the number we had been given was different from what had been on my confirmation but I didn't think much about it.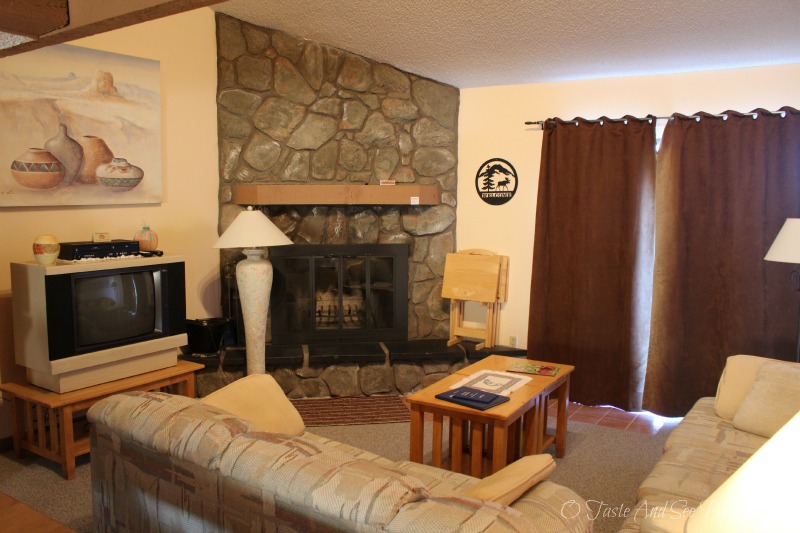 We fell in love with our condo the moment we entered. We decided to leave our stuff by the door and check things our so we'd know whose suitcase needed to go where. We had a choice, go upstairs or down. We chose up first where there was a lovely living area and kitchen with beautiful appliances and counter tops!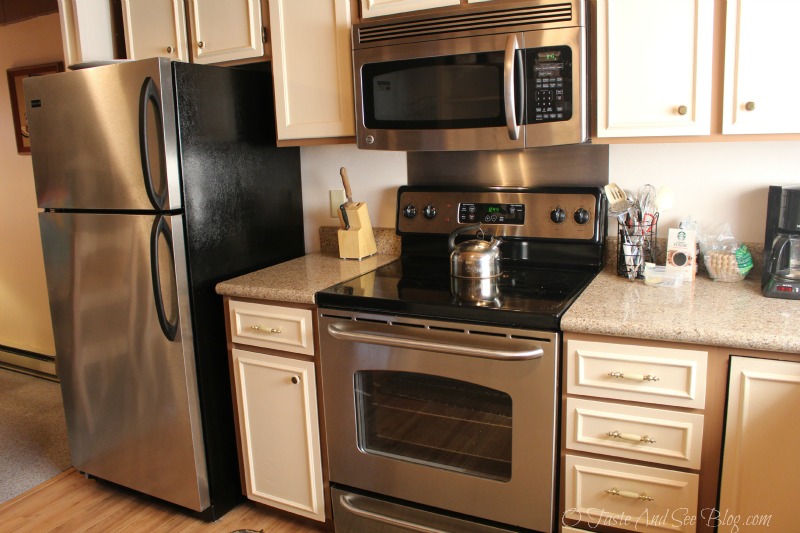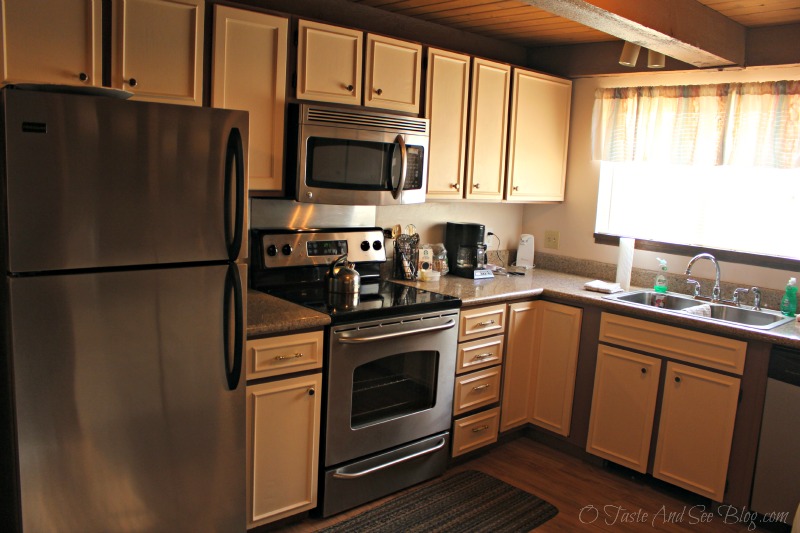 (I know, only a food blogger gets excited about kitchen counter tops and appliances in a vacation rental, even if she's not planning to do any cooking)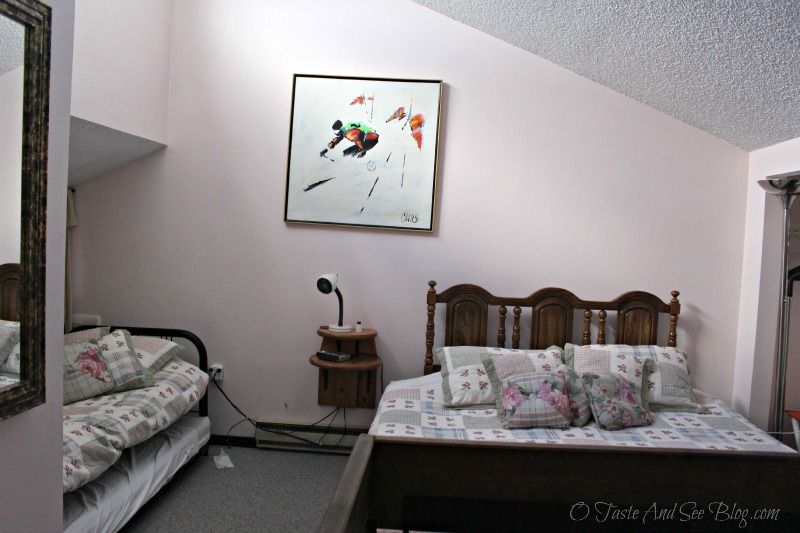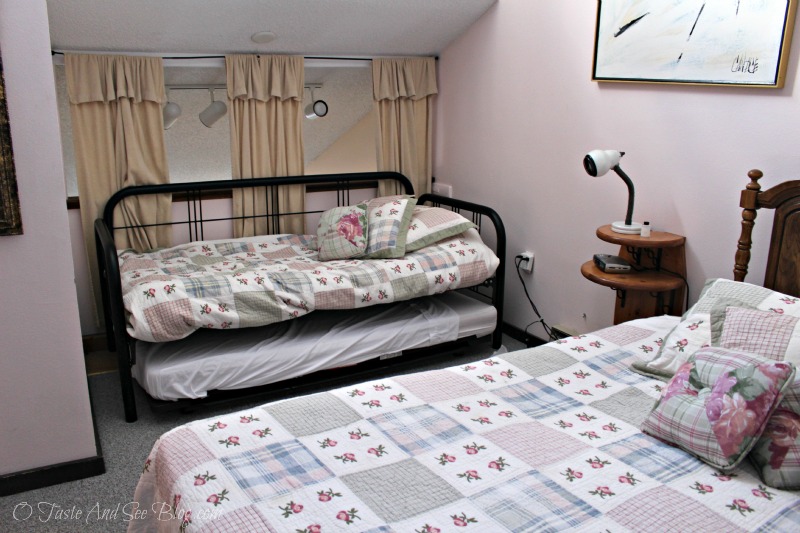 We noticed another set of stairs leading to a loft. It had a king sized bed as well as a single with a trundle and its own bathroom. The girls wanted to take the loft. Great…I'd take the bedroom downstairs.
When we went to check out my room, to our surprise there were TWO bedrooms down there, each with their own bathroom! For some reason we'd been upgraded to a three bedroom, three bath. at NO extra charge! SW-EET!!! I can count the number of times (on one hand with fingers left over) I've had my very own bathroom. This really was going to be a VACATION!
This was my room….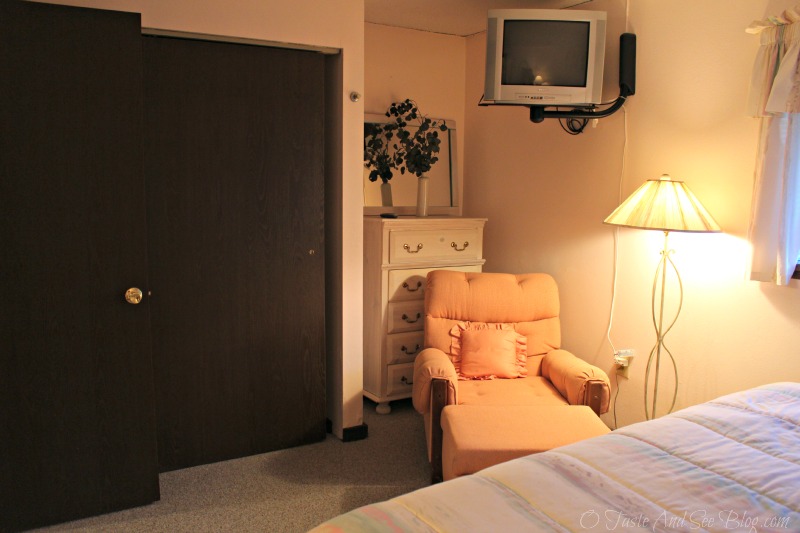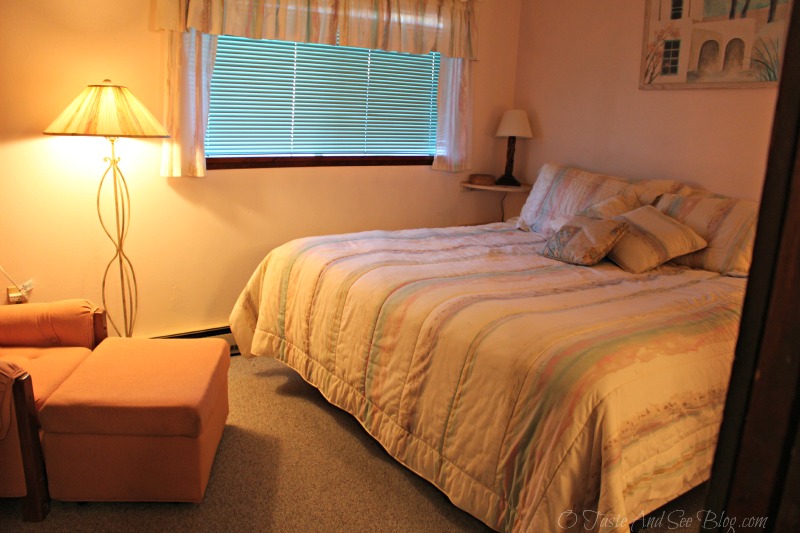 Somehow, I missed taking pictures of the third bedroom, but trust me…it was there. We each got our own bedroom and bathroom!
Our condo would sleep eight. It also had everything needed for all eight guests, towels, dishes, seating and even a large dinning room table for eight. We decided this would be a great vacation place to bring extended family.
If your planning a visit to Colorado, any time of year, I highly recommend Winter Park and Meadow Ridge Condo!
Just FYI: This has not been a sponsored post, I just loved this place so much I wanted to share it with you.