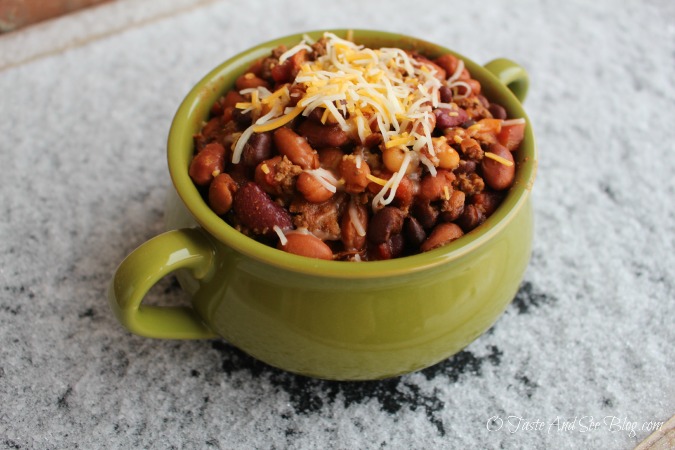 Four Bean Texas Chili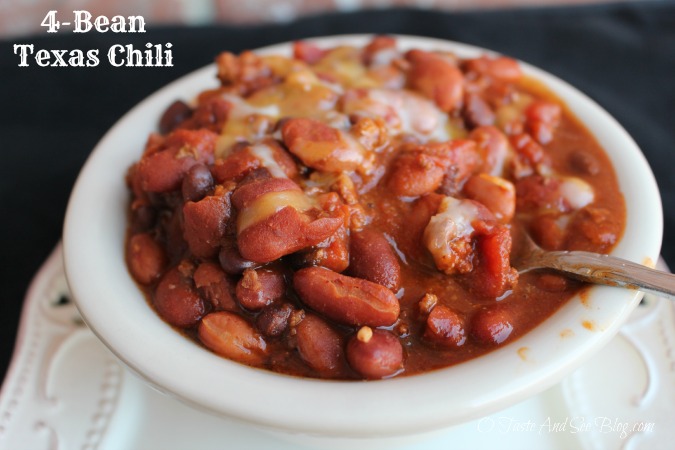 WAA-HOOO! It's finally here! Our SNOW DAY! That's right, after weeks of seeing and hearing on TV, Facebook, and radio about all the snow, ice and cold temps around the country, we are finally getting our SNOW DAY here in Texas. When I say snow "day" that's exactly what I mean…ONE day, which is why we can get so excited about it.
When it comes to snow (or more specifically sleet) in Texas, we epitomize the saying, "Here today, gone tomorrow". After living up north for ten years, we're perfectly OK with that. We get a lovely white covering (or almost covering) on everything, cold weather, a day off and NO SHOVELING, because it's going to remove itself tomorrow. Unlike a lot of places, we actually look forward to snow.
Now, don't get me wrong, when this is gone I'm fine with it being 70 degrees again…but for now we celebrate the cold.
What happens at our house when we get "snowed in"? I cook! Last year's Texas Snow Day it was Christmas Cookies, this year….4-Bean Texas Chili!
I have to confess, this isn't typical Texas Chili, but it does have the "Texas" flavor. Typical chili here is made with chunks of beef instead of hamburger and little or no beans. While I love a big bowl of this, the official state dish, I'm feeding five (sometimes more) practically grown people and we need to stay on a budget. Hence, the 4-Beans.
So what makes "Texas" chili different? Cumin. Yes, we love some cumin out here. Salsa, chili, tacos….anything you can think to dip a chip in or put inside a tortilla usually gets some cumin. I once bought some chili powder that was labeled "Texas Chili Powder". When I read the ingredients it was just plain chili powder and cumin. If Texas had an official state spice I think it'd have to be cumin. Just one thing to remember when using it, a little goes a long way.
This recipe can be made in a big pot on the stove but I prefer to use the crock pot. Make sure you use a large crock pot, it will fill it almost to the top, but don't worry about left overs….it's better the next day!
Here's the Recipe:
1 lb ground beef
1/4 cup finely chopped onion
2 tbsp + 1/2 tsp chili powder
2 cans pinto beans – drained
1 can black beans – drained
1 can kidney beans – drained
2 cans chili beans
2 cans chili tomatoes
1 tsp cumin
1/2 tsp minced garlic
*All cans are 14 oz size
**Do not drain tomatoes or chili beans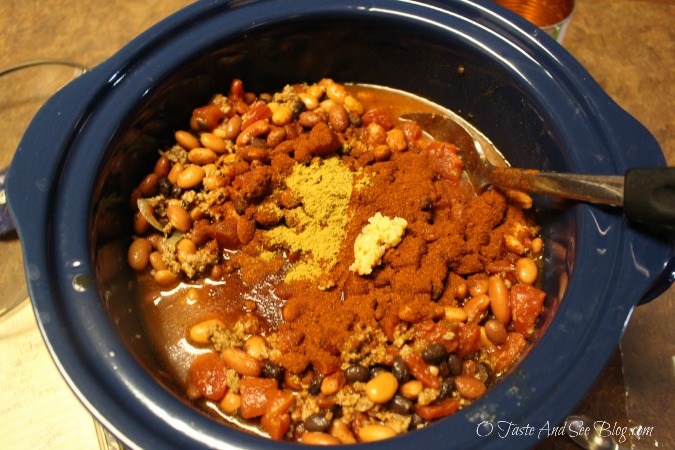 Brown hamburger and onions adding 1/2 tsp chili powder about half way through cooking
When done, drain and add to crock pot
Add all the other ingredients and stir to mix well
Cook on high 4-5 hrs, at least
Serve with Tortilla Chips, Fritos, crackers or Fry Bread.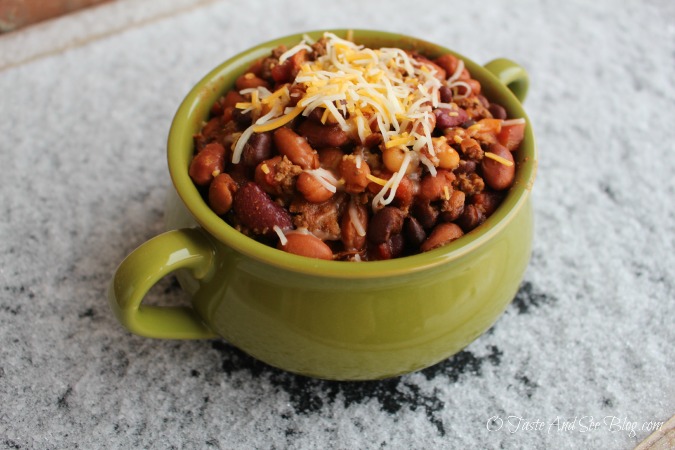 See….SNOW, sort of. Mostly it was just sleet.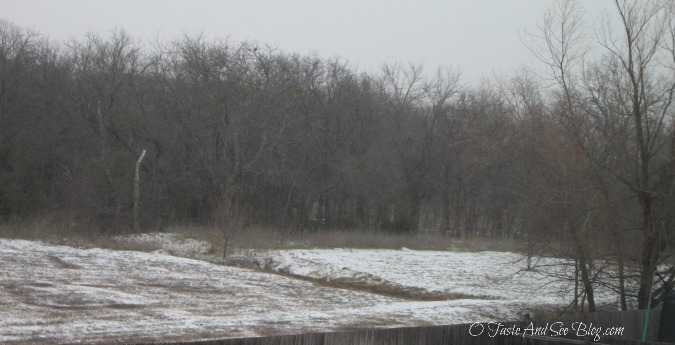 Well, it almost covered the ground.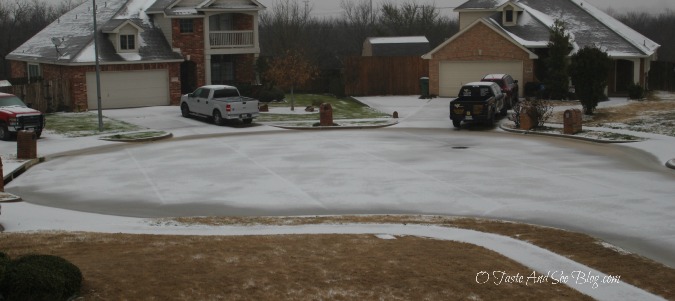 Don't let it fool ya', it was very slippery. Don't laugh, when it comes to snow we take what we can get.
Suggestions for left overs:
Nachos, Chili Cheese Fries, Chili Dogs or Chili Burgers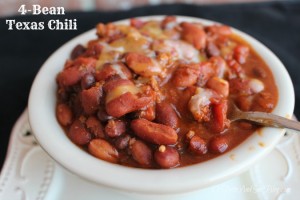 4-Bean Texas Chili
2015-02-24 01:29:54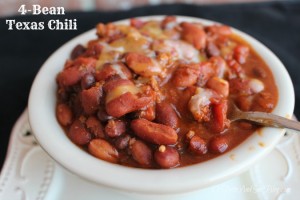 Ingredients
1 lb ground beef
1/4 cup finely chopped onion
2 tbsp + 1/2 tsp chili powder
2 cans pinto beans – drained
1 can black beans – drained
1 can kidney beans – drained
2 cans chili beans
2 cans chili tomatoes
1 tsp cumin
1/2 tsp minced garlic
Instructions
Brown hamburger and onions adding 1/2 tsp chili powder about half way through cooking
When done, drain and add to large crock pot
Add all the other ingredients and stir to mix well
Cook on high 4-5 hrs, at least
Notes
All cans are 14 oz size
Do not drain tomatoes or chili beans
O Taste and See https://otasteandseeblog.com/