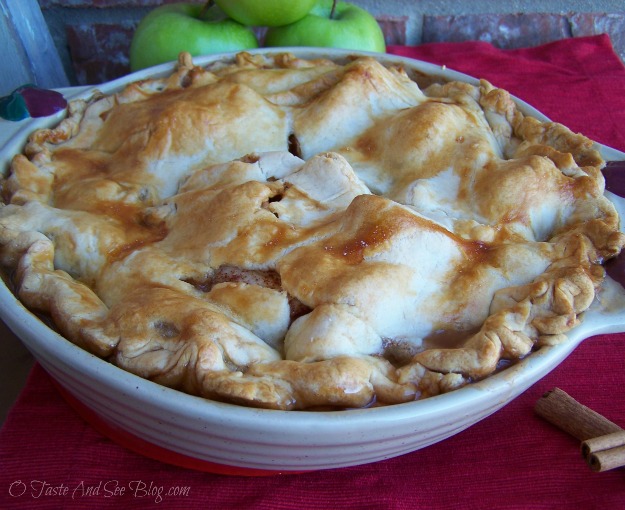 Old Fashion Apple Pie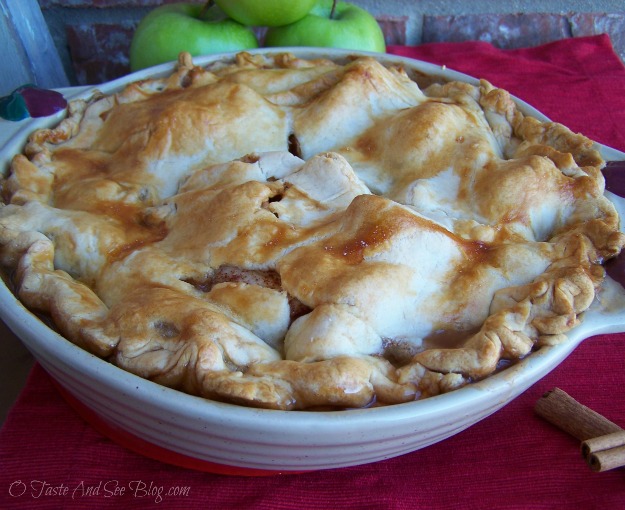 Independence Day is just around the corner and it reminds me of all things American!
When I was a child, before the days of VCRs, BluRays, and DVRs, we were forced to watch the commercials that interrupted our TV shows. I still remember many of them, especially the ones with catchy tunes or slogans. Whether we buy their product or not, that proves we are influenced greatly by what we see and hear.
Old Fashion Apple Pie reminds me of one such commercial. Every time I think about it I remember a jingle from an old Chevrolet commercial that promoted all things American. They sang a chorus about "Baseball, Hot Dogs, Apple Pie and Chevrolet. They go together in the Good Ol' USA."
I decided to look around on the internet and see if I could find these commercials…sure enough, I did. If you're feeling nostalgic, or you're too young to remember them, you can watch a couple. Test Drive Junkie has the full collection of this campaign, but the 1975 and 1976 are my favorites. Be warned…it's a catchy tune and you may be singing for the rest of the day!
Isn't it true though?
Baseball is called "America's pass time" and who among us (Americans) hasn't played a little baseball, if not on an organized team at least on the 4th of July or other picnic.
Hot dogs – do they eat those anywhere else? Oh, I know plenty of countries eat sausages but real hot dogs? I don't think so. I know, I know, all you "healthy" people (no offense intended) out there are saying, "Ewww, do you know what's in those things?" To which the rest of us respond, "No, and I don't want to! I like them." Hot dogs fall into under the category ALL THINGS IN MODERATION.
Chevrolet – It seems just about every American family at one time or another has owned a Chevrolet. I know, many now (us included) own foreign cars but I know your parents or grandparents were loyal American car buyers.
And of course, Apple Pie! It just doesn't get much more American than that! So, as you head off to your 4th of July picnic in your Chevrolet (or whatever) to eat hot dogs and play baseball….here's an Old Fashion Apple Pie recipe to take with you!
Here's the Recipe:
4-6 Granny Smith apples
3/4 -1 cup sugar
1 tsp cinnamon
3-4 slices butter or margarine
dash of salt
2 pie crusts
1 egg white and sugar (optional)
Preheat oven to 350 degrees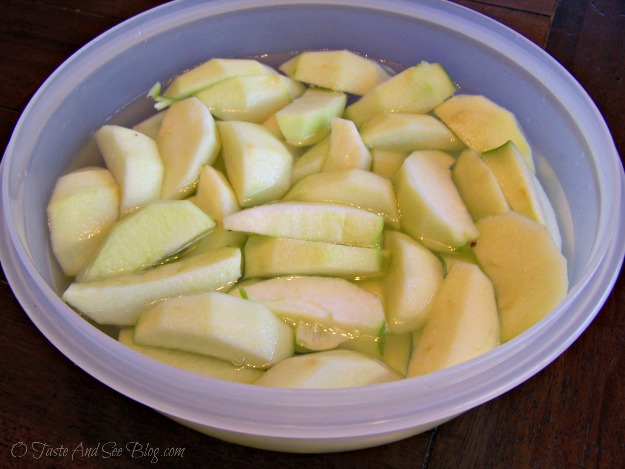 Peel apples and slice into wedges (about 8 pieces)
To keep them from turning brown fill a large bowl with cool water and sprinkle in some salt
As you cut the apples, place them in the water
They will not absorb and taste salty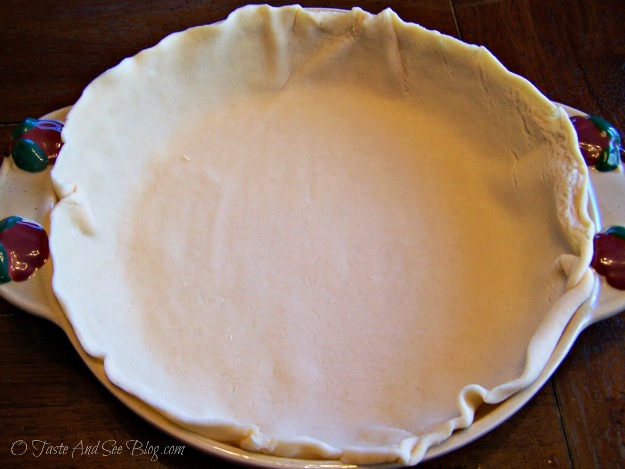 Place 1 crust in a deep dish pie pan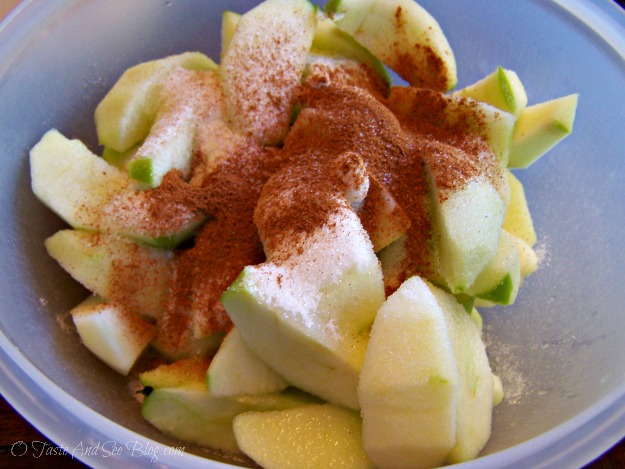 Drain apples and pat dry
Toss with sugar, salt, and cinnamon until apples are coated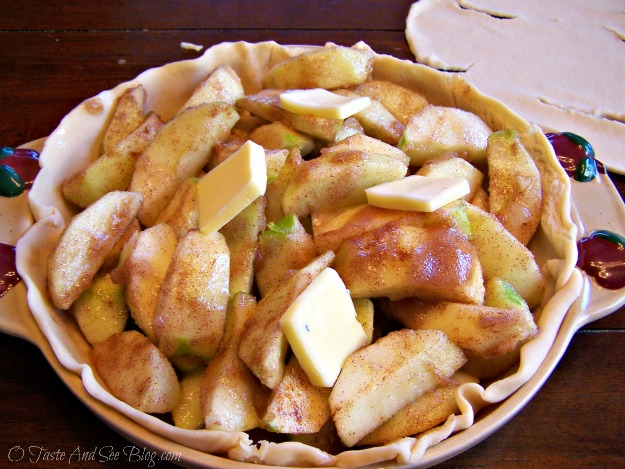 Place coated apples in pie crust…heap them up!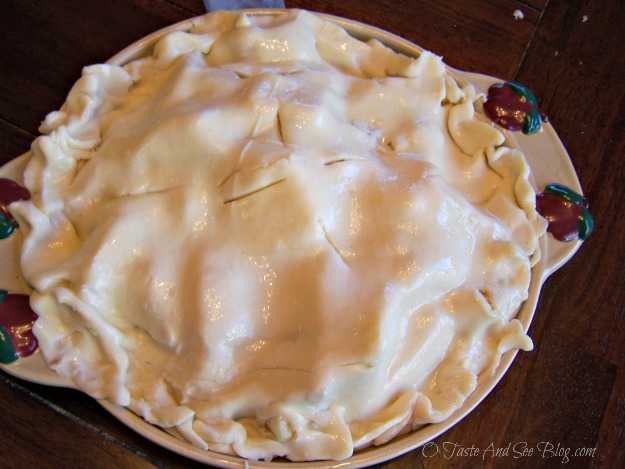 Place top crust over apples and seal edges with bottom crust
Cut 3-4 slits to vent
Brush with egg white and sprinkle with sugar (optional)
Bake at 350 degrees for about 45 min to 1 hr
**I highly recommend placing on a large baking sheet under in case it drips….and it will**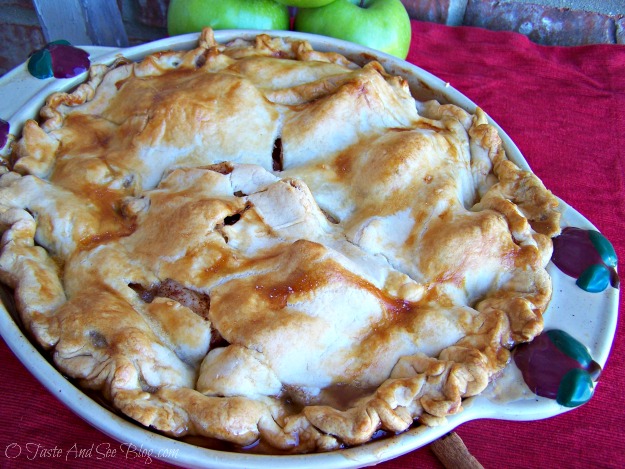 Long live Baseball, Hot Dogs, Apple Pie and Chevrolet…and America!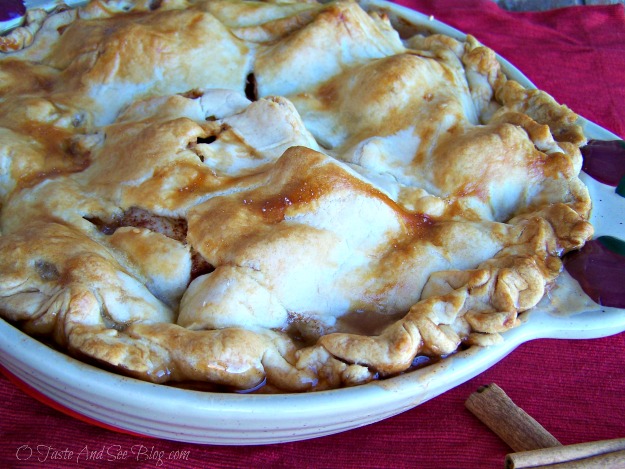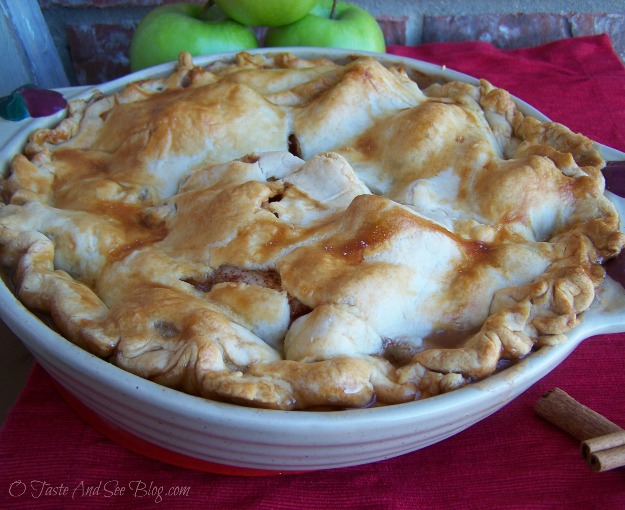 Old Fashion Apple Pie
2014-06-24 16:34:38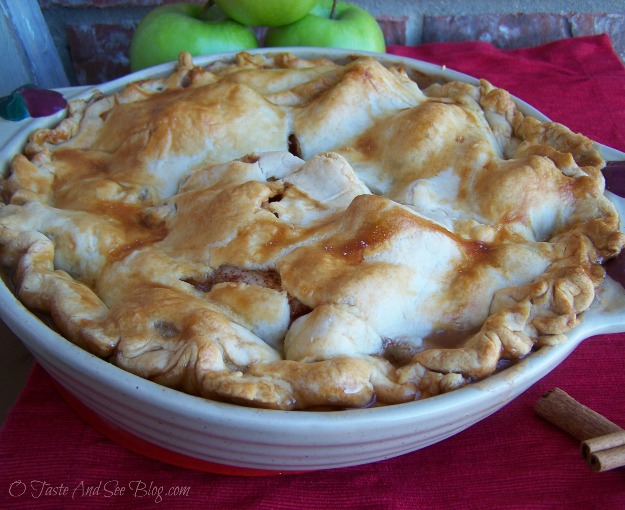 Ingredients
4-6 Granny Smith apples
3/4 -1 cup sugar
1 tsp cinnamon
3-4 slices butter or margarine
dash of salt
2 pie crusts
1 egg white and sugar (optional)
Instructions
Peel apples and slice into wedges (about 8 pieces)
Place in salt water to keep from turning brown
Place one crust in a deep dish pie pan
Drain apples and pat dry
Toss with sugar, salt, and cinnamon until apples are coated
Place coated apples in pie crust...heap them up - they cook down.
Place top crust over apples and seal edges with bottom crust
Cut 3-4 slits to vent
Brush with egg white and sprinkle with sugar (optional)
Bake at 350 degrees for about 45 min to 1 hr
Notes
To keep them from turning brown fill a large bowl with cool water and sprinkle in some salt. As you cut the apples, place them in the water. They will not absorb salt and taste salty
**I highly recommend placing on a large baking sheet under in case it drips....and it will**
O Taste and See https://otasteandseeblog.com/