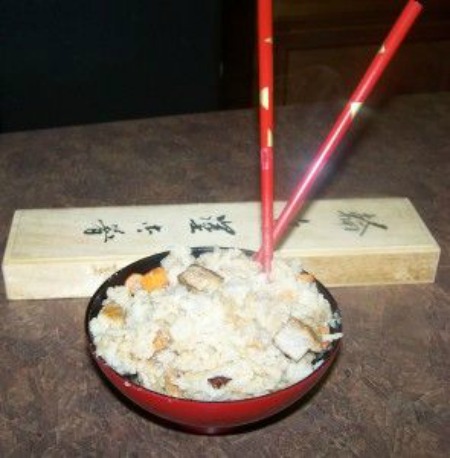 Pork Fried Rice – From Leftovers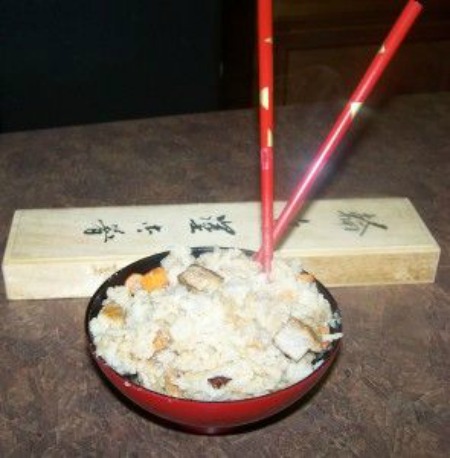 "What's for dinner?" That is a question I am asked at LEAST four times a day, once by each member of the family. Usually when I tell them what we are having, the response is something like, "Oh, good", but about one a week I get the typical, "Oh, leftovers" (spoken in a somewhat dejected voice). I don't know what it is about leftovers … people loved them the first time around … what's changed? I try to tell them,"Some things are even better the next day" (in my most cheery voice). No one buys it.
So what DO you do with those little bits of this and that? They can't just be thrown out. What if you could turn them into a "new" dish? Would people love them again? YES! I have several recipes that use ONLY leftovers. In fact, this one is BEST when made with leftovers. And even though this one wasn't passed down for generations, it did come from "Grandma".
Pork Fried Rice….It's What's For Dinner!
Here's the Recipe:
Remember…It really is best with leftovers
2-3 Cups cooked rice (I usually use long grain but Jasmine is great too)
Pork chops- whatever amount you have- cut into bite sized pieces
shredded carrots
Diced Onions
Ginger
Garlic
Pepper
Soy Sauce
2-4 Tablespoons butter or margarine
1-2 Eggs
Heat a small amount of oil in a large skillet (I use one with sides). Saute onions until about half done then add pork cubes. Sprinkle with garlic, ginger and pepper.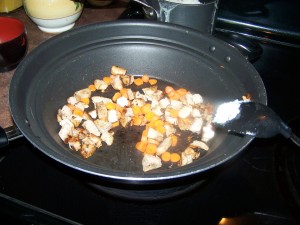 Remove from pan and set aside. Add butter to skillet. When melted add rice and carrot – stir fry about 1-2 minutes. Add more ginger, garlic and pepper. When well fried add soy sauce to taste. Add pork to rice and stir fry to mix well. Make a "well" in the center of rice. Crack eggs into "well" and scramble. Fry eggs thoroughly and chop into small pieces. Mix eggs into rice a stir fry until well incorporated.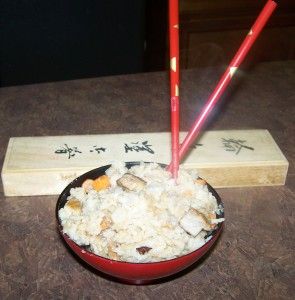 We like to make it a little more FUN but serving in "Japanese" bowls and eating it with CHOP STICKS!
Special Thanks to My Daughters …They Made This Me
al!