Quick and Easy Homemade Pizza Dough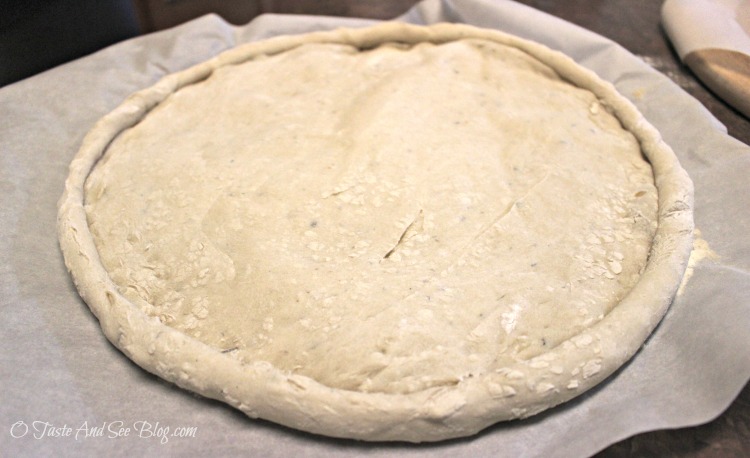 Often when we think of homemade "anything-bread", we think hours of rise time. But, Homemade Pizza Dough doesn't have to be difficult or time-consuming. This Quick and Easy Homemade Pizza Dough includes a rest time of about 20 minutes but doesn't need to rise, so you can have pizza crust ready for topping in about 30 minutes! If, however, you prefer a thicker crust and want to take the time, it can be left in a warm place for an hour or so to rise. Either way, it's delicious!
Here's the Recipe:
1 cup warm water
1 package yeast (or 2 1/4 tsp)
1 tsp salt
2-3 cups all-purpose flour
1 tsp Italian seasoning
1 tsp minced garlic
Other things needed:
Electric mixer with dough hook (can be done by hand)
parchment paper
baking stone or pizza pan
*This can be mixed by hand but an electric mixer with a dough hook is much easier*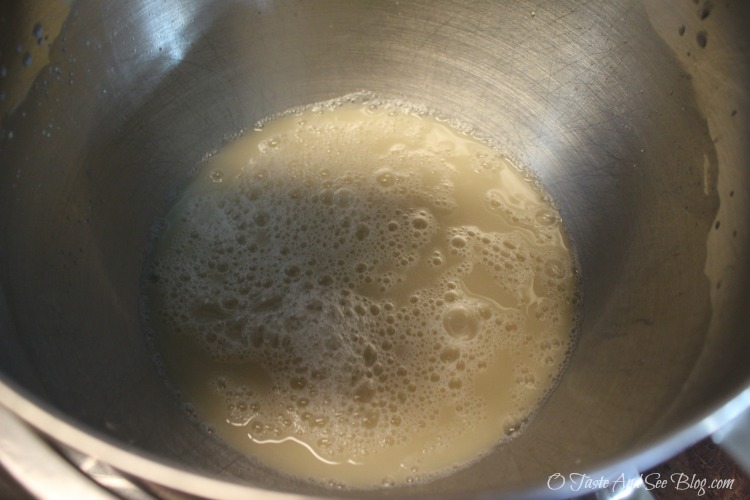 In bowl of stand mixer, combine yeast and warm water and stir to dissolve
Allow to sit for 1 minute. It should become bubbly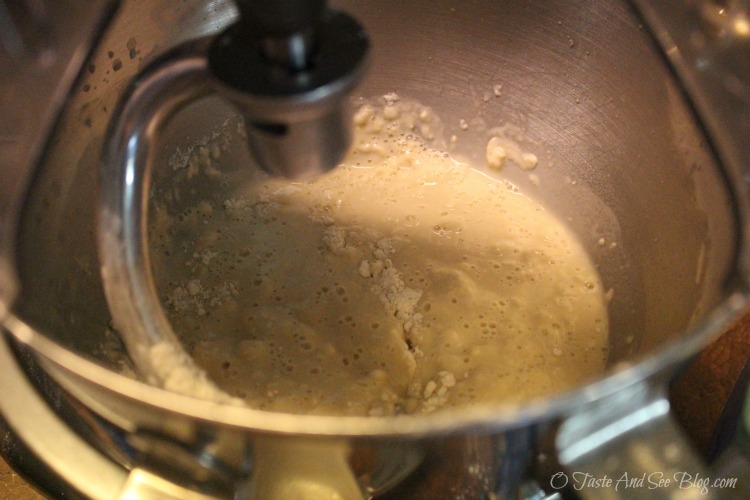 Add salt, garlic, Italian seasoning and 2 cups of flour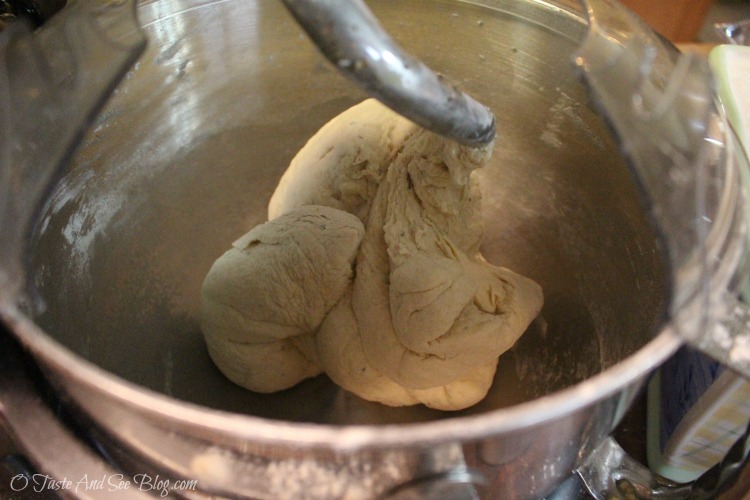 Using dough hook attachment, mix until dough pulls away from sides and forms soft ball
Add more flour as needed
*Or mix by hand until dough forms a soft ball then knead by hand until elastic*
Cover with towel and let dough rest 15-30 minutes
*For thicker crust, allow dough to rise for about an hour*
Turn oven to 400 and place pizza stone or pan in oven to get hot while oven is preheating
*Hot pizza stone or pan allows the bottom of the crust to get crispy*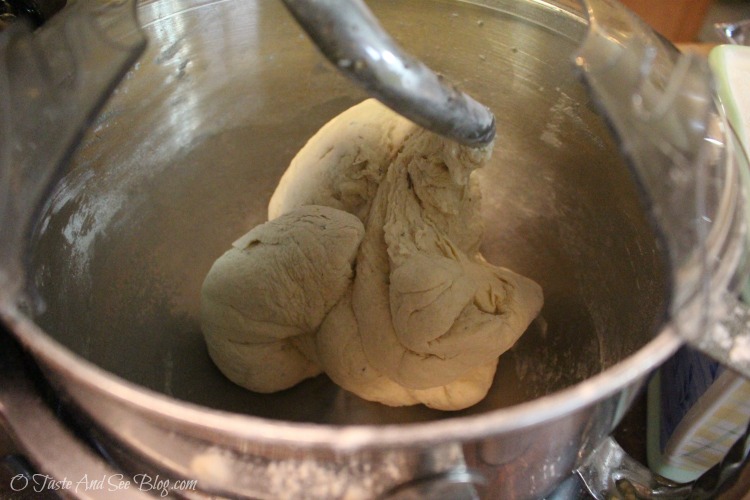 When ready to use, dust parchment paper lightly with flour and roll dough into 12-15 inch circle
Rolls edges in, slightly over themselves, in order to form edge of crust
*The key to transferring pizza crust is the parchment paper.
Leaving the crust on the parchment paper, place both on hot pizza stone or pan and bake for 2-3 minutes. *This keeps the crust from getting soggy when you add the sauce*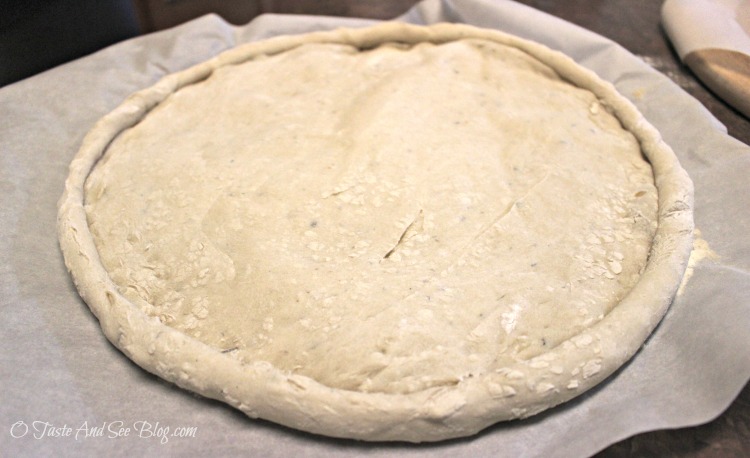 Remove from oven and top with your favorite sauce and toppings
Quick and Easy Homemade Pizza Dough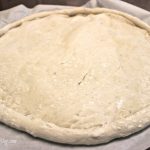 Homemade pizza dough doesn't have to take hours. This quick and easy recipes with NO rise time has crust ready for toppings in about 30 minutes.
1 cup warm water
1 package yeast (or 2 1/4 tsp)
1 tsp salt
2-3 cups all purpose flour
1 tsp Italian Seasonging
1 tsp minced garlic
Also Needed
Electric Mixer with dough hook
Parchment Paper
Pizza Stone or Pizza Pan
In bowl of stand mixer, combine yeast and warm water and stir to dissolve

Allow to sit for 1 minute. It should become bubbly

Add salt, garlic, Italian seasoning and 2 cups of flour

Using dough hook attachment, mix until dough pulls away from sides and forms soft ball

Add more flour as needed

*Or mix by hand until dough forms a soft ball then knead by hand until elastic*

Cover with towel and let dough rest 15-30 minutes

Turn oven to 400 and place pizza stone or pan in oven to get hot while oven is preheating

When ready to use, dust parchment paper lightly with flour and roll dough into 12-15 inch circle

Rolls edges in, slightly over themselves, in order to form edge of crust

Leaving the crust on the parchment paper, place both on hot pizza stone or pan and bake for 2-3 minutes. *This keeps the crust from getting soggy when you add the sauce*

Remove from oven and top with your favorite sauce and toppings
This can be mixed by hand but an electric mixer with a dough hook is much easier
For thicker crust, allow dough to rise for about an hour
Hot pizza stone or pan allows the bottom of the crust to get crispy
The key to transferring pizza crust is the parchment paper