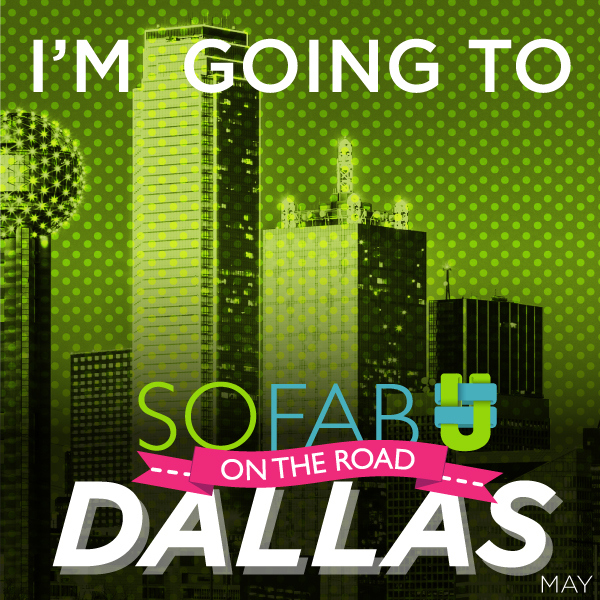 SoFab On The Road Dallas
I am writing this post in exchange for a discounted conference ticket; however, all opinions are mine and mine alone.
When I started blogging almost two years ago, I felt really overwhelmed with ALL the things I didn't know. With the help of the internet and a blogger friend I began to catch on. As with all technology fields, things are constantly changing so there's always something more or new to learn.
That's why….
SoFabU on the Road is a unique event that allows influencers to take advantage of educational opportunities that will help set them a part from the rest. It features hands-on, interactive sessions for influencers to implement what they're learning on the spot. The sessions are paired with fun city-specific adventures where attendees get to practice their newly learned skills.
I can't decide what I'm looking forward to the most….
Great Speakers like Randi Duke, founder and creator of Dukes and Duchesses, a craft and DIY blog that has grown from a hobby into a business over the last few years. Randi has previously spoken at Haven Conference and loves sharing with and encouraging other bloggers. Regularly featured on sites such as Today, Country Living, and Buzzfeed, Randi enjoys inspiring people with simple seasonal and everyday projects. Randi lives in Dallas with her husband, five kids, and a very dirty dog.
Learning more about Social Media. There will discussions on how to become a proficient user of social media, tips and tricks for branding your social media platforms, finding your voice, increasing social media followers, enhancing engagement, and forming a lasting social media strategy and presence on all platforms.
Networking with Brands. It's always interesting to hear what brands are really looking for and how we as bloggers can help them.
Or..
Meeting many of the ladies I feel like I already know from communicating with them online.
Interested? You can check out the schedule here. SoFabU on the Road is open to all bloggers and influencers.
When: Saturday, May 30
Where: Gaylord Texan in Grapevine, TX
Sponsors: Johnny Rockets, Müller, Kraft and iBlog
Don't live in or near Dallas? Not to worry! SoFabU is headed to lots more cities!
June – NYC
July – Chicago
Aug. – Minneapolis
Sept. – Atlanta
Oct. – Bentonville
About Collective Bias and Social Fabric
Collective Bias® is the only shopper social media company that solves shopper marketing problems by weaving together organic social content with engaging, real-life stories to generate millions of impressions, increased share of voice, SEO and retail sales for brands and retailers. Top brands such as Tyson, Nestlé and Duane Reade rely on Collective Bias to sell their stories socially. Based in Bentonville, Arkansas, with satellite offices in New York City, Chicago, Minneapolis, San Francisco, Cincinnati and London, Collective Bias was named one of America's 25 Most Promising Companies by Forbes and a part of the Inc. 5000.
Social Fabric® is Collective Bias' proprietary community of nearly 3,000 shopping-focused influencers with an aggregate multichannel reach in excess of 130 million.
For more information, please visit Collectivebias.com or find us on Facebook and Twitter.

Hope to see you there!