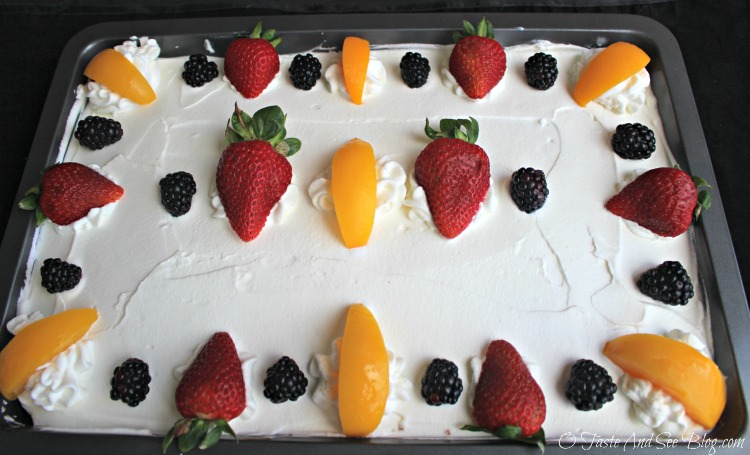 Tres Leches Cake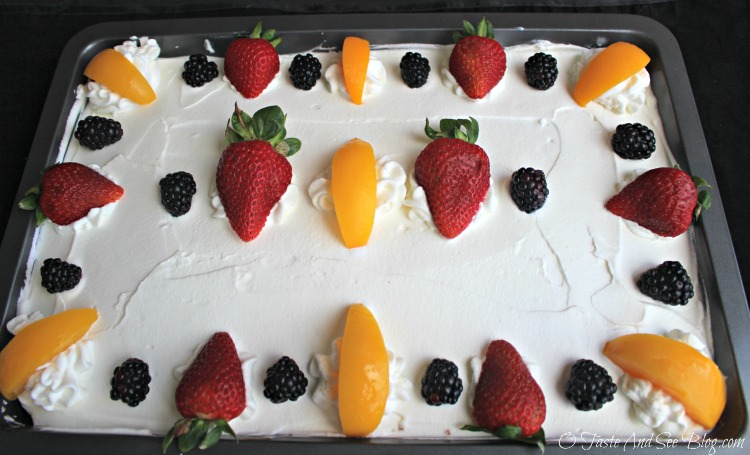 As promised, today is the day I'm sharing the awesome recipe for the Tres Leches Cake we had at our Taco Tuesday Mexican Fiesta!
In case you aren't familiar, Tres Leches Cake is a popular Central and South American dessert. The cake is typically a sponge cake, soaked in three milks… evaporated, condensed and heavy cream. It has a distinct texture that keeps it from being soggy. It's topped with whipped cream topping and traditionally garnished with berries and peaches.
I first had Tres Leches Cake when my husband and I were in Mexico visiting the Bethesda Children's Home in Tlapa, Mexico. It was AH-MAZING!!! They had two, Chocolate and Vanilla, I may or may not have had a piece of each.
Of course, when I got home I decided to find a recipe and make my own. That was before I started this blog, thankfully, because my attempt would have easily made the "Epic Fails" list of that year! When we took a piece from the pan, a large puddle of milks was left behind. My children tried it and deemed it "TOOOO soggy". Since they'd never had Tres Leches Cake before they forever decided they didn't like it.
So, that was that. Tres Leches would be enjoyed at my favorite Mexican restaurant or purchased from Sam's (which has a very good one, btw)
Until, a few weeks ago…
A friend posted pictures on Facebook of his homemade Tres Leches. It looked so wonderful…and NOT soggy…I asked for the recipe, which I've now made twice…in two weeks! It's perfect! As close as I've had to "the real thing" in Mexico. The first cake I made was a trial run for Taco Tuesday and I gave part of it to our neighbor, since no one likes it here but my husband and I. Later, my neighbor told me he doesn't usually like Tres Leches because it's too soggy, but he decided to give it a try (you know, not wanting to be rude) and LOVED it! He ate the whole thing himself.
My son decided to try it at Taco Tuesday. Well, he LOVED it! Which means, I (nor my husband) got very much of the second Tres Leches Cake.
About the Recipe:
This is another SUPER easy recipe! Believe it or not, it starts with a cake mix…which NO ONE will know unless you tell them.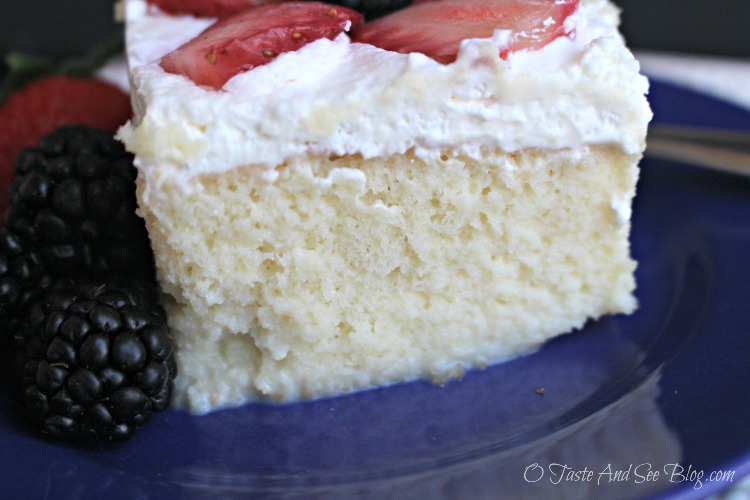 What makes this recipe different? From what I can figure, there's two things.
Instead of following the directions on the box, different amounts of oil, eggs and water are used.
The milks are poured on while the cake is warm then placed IMMEDIATELY into the refrigerator. I'm pretty sure this is what allows the cake to soak up all that yummy milk and hold on to it.
The frosting is homemade whipped cream. I added a little Cool Whip. You could use either or a combination as I did. The fruit is a must! I used canned peaches, well-drained and dried with a paper towel, and berries. I also saw a recipe using Maraschino cherries, though not traditional, would work if berries are out of season.
Here's the Recipe:
For Cake:
1 box French Vanilla Cake Mix
4 eggs
2 Tbsp oil
1 1/4 cups water
Milk Mixture:
1 can sweetened condensed milk (14 oz)
1 can evaporated milk (12 oz)
3/4 cup heavy whipping cream
Frosting:
1 cup heavy whipping cream
1-2 Tbsp powdered sugar
Optional but recommended – canned sliced peaches, fresh blackberries and/or strawberries
Recipe for Homemade Whipped Cream *I recommend the optional vanilla for this recipe*
Preheat oven to 350 degrees
Prepare a 9×13 baking dish by spraying it with non-stick cooking spray (I used a great Calphalon Brownie Pan that was the perfect size and didn't need to be sprayed)
In a large bowl using electric hand mixer, combine cake mix, eggs, water and oil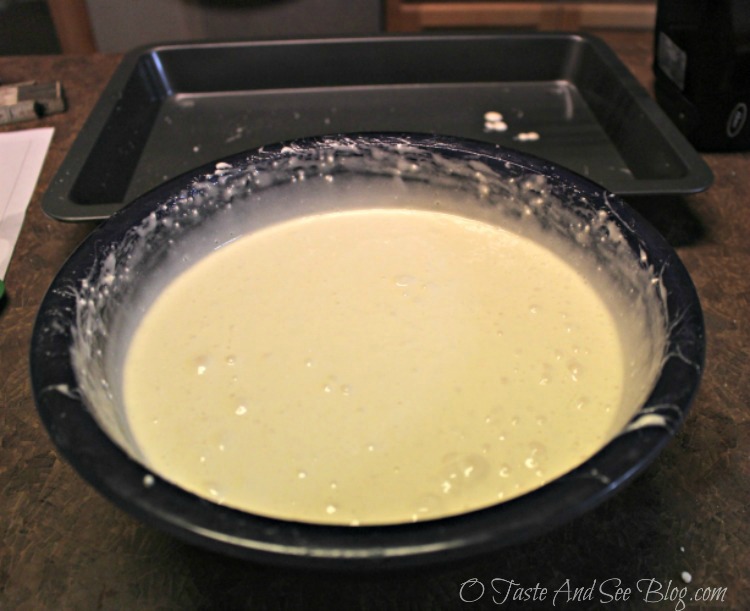 Beat on low for 2 minutes
Pour batter into prepared pan and bake about 20-30 minutes or until toothpick inserted into center comes out clean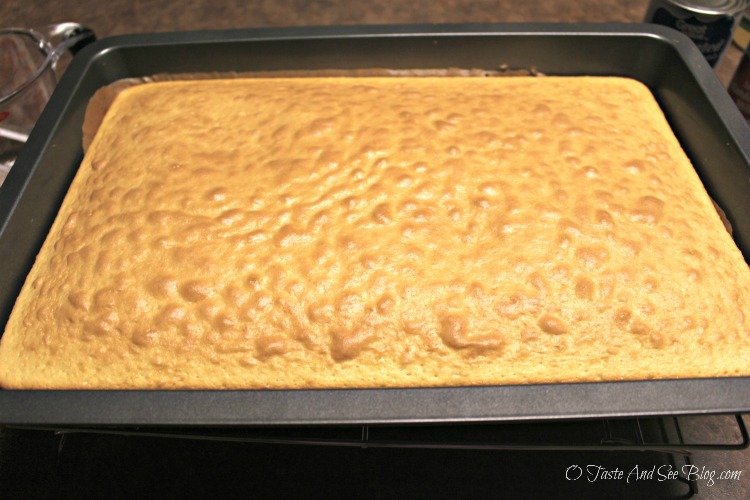 Remove from oven and allow to cool 5 minutes *This will be just enough time to mix up your milks*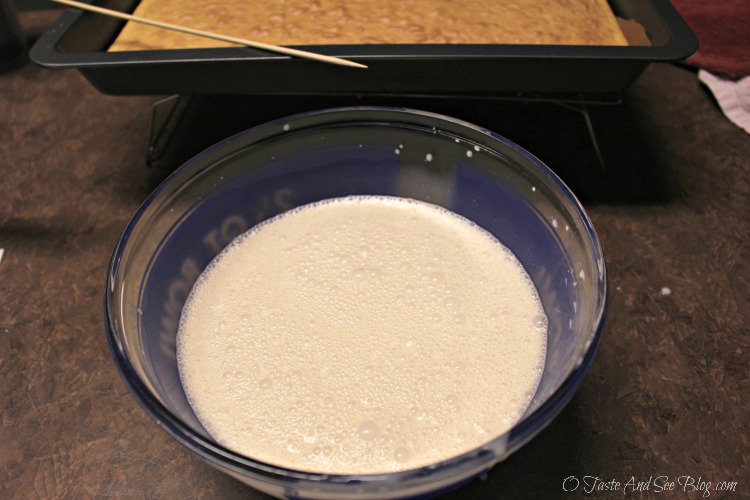 While cake is cooling, whisk milks together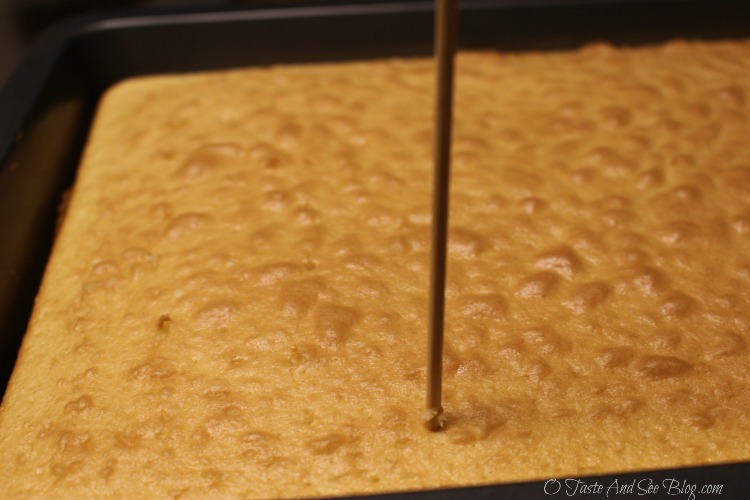 Using a skewer or fork, poke holes all over the top of the cake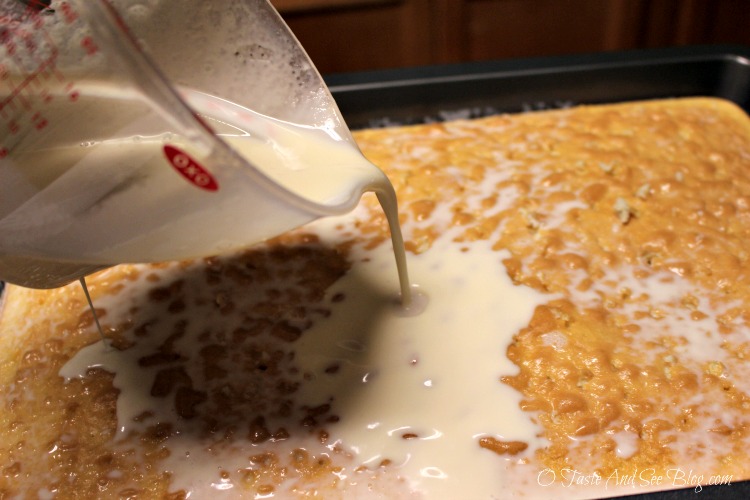 Pour the milk mixture evenly over the top of the cake *The milk will "puddle" around the sides and edges. Not to worry, it will be absorbed*
Immediately place the cake into the refrigerator for at least 6 hours or overnight
*I placed mine without a cover until it had time to cool completely, then placed plastic wrap over it*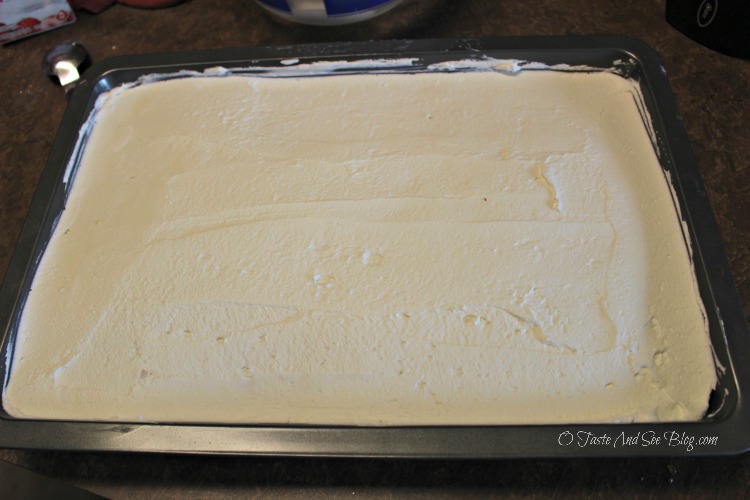 Once the cake is set, wash berries and dry well. Drain peaches and dry completely
Make Homemade Whipped Cream, using optional vanilla
*Cool Whip may be substituted. I added about a 1/2 or so of Cool Whip to my Homemade Whipped Cream, mostly because I like a lot of icing and it didn't have any more heavy cream. It's not that sweet so even adding more doesn't overwhelm*
Spread Whipped Cream frosting evenly over cake
Place fruit on top of cake
Because of the milks and whipped topping, store cake in the refrigerator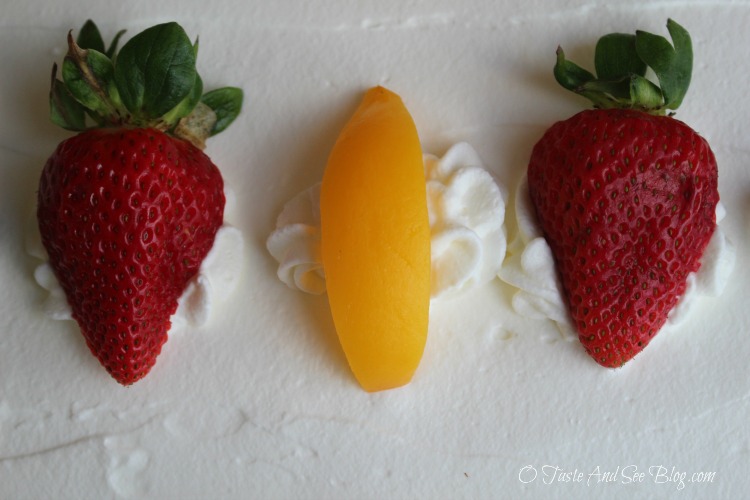 *Optional Decorating:
Reserve about 3/4 cup of whipped cream and place in piping bag with large star tip
Pipe a large "star" for each peach slice or berry to sit on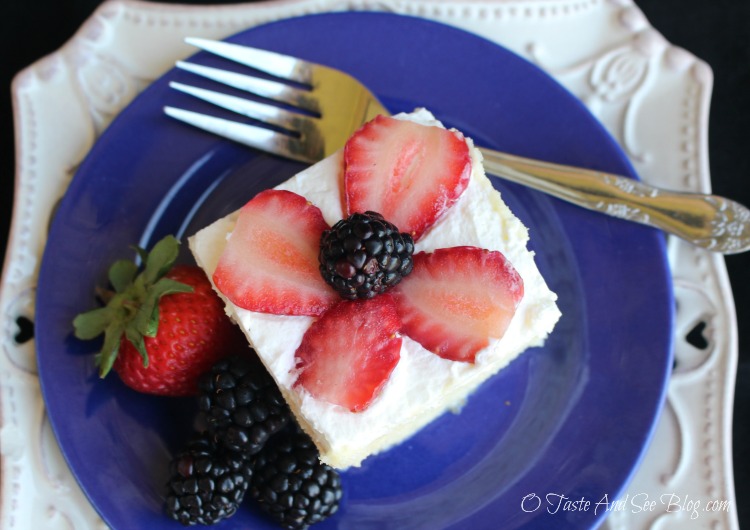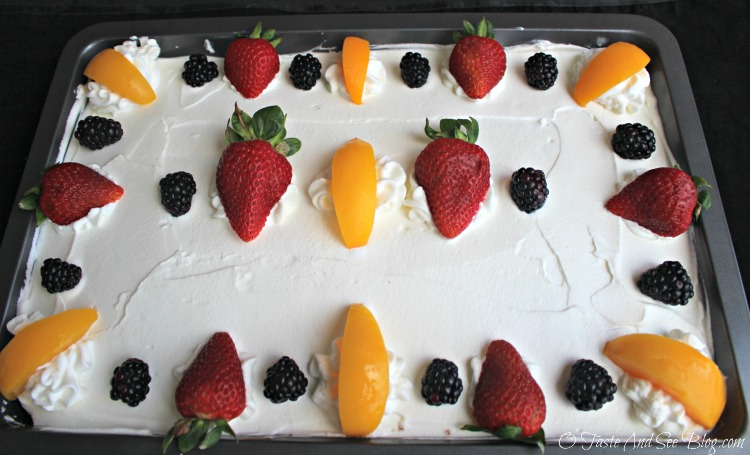 Tres Leches Cake
2016-05-15 03:03:31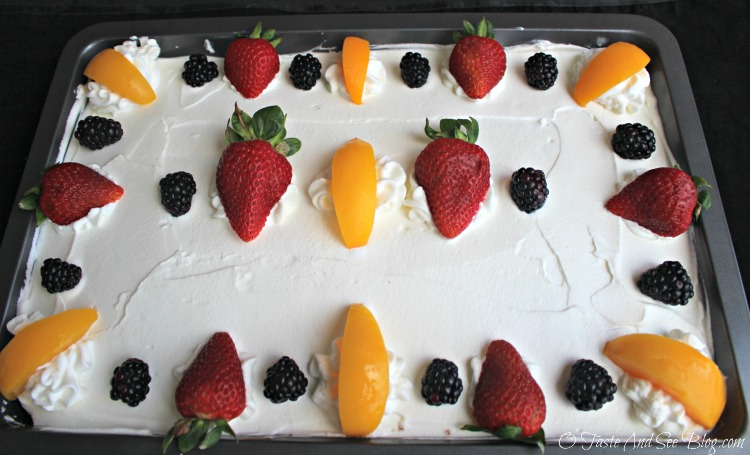 Serves 12
For Cake
1 box French Vanilla Cake Mix
4 eggs
2 Tbsp oil
1 1/4 cups water
Milk Mixture
1 can sweetened condensed milk (14 oz)
1 can evaporated milk (12 oz)
3/4 cup heavy whipping cream
Frosting
1 cup heavy whipping cream
1-2 Tbsp powdered sugar
Optional but recommended – canned sliced peaches, blackberries, strawberries
Instructions
Preheat oven to 350 degrees
Prepare a 9×13 baking dish by spraying it with non-stick cooking spray
In a large bowl using electric mixer, combine cake mix, eggs, water and oil
Beat on low for 2 minutes
Pour batter into prepared pan and bake about 20-30 minutes or until toothpick inserted into center comes out clean
Remove from oven and allow to cool 5 minutes *This will be just enough time to mix up your milks*
While cake is cooling, whisk milks together
Using a skewer or fork, poke holes all over the top of the cake
Pour the milk mixture evenly over the top of the cake *The milk will "puddle" around the sides and edges. Not to worry, it will be absorbed*
Immediately place the cake into the refrigerator for at least 6 hours or overnight
Once the cake is set, wash berries and dry well. Drain peaches and dry completely
Make Homemade Whipped Cream, using optional vanilla
*Cool Whip may be substituted. I added about a 1/2 or so of Cool Whip to my Homemade Whipped Cream, mostly because I like a lot of icing and it didn't seem thick enough. It's not that sweet so even adding more doesn't overwhelm*
Spread Whipped Cream frosting evenly over cake
Place fruit on top of cake
*Optional Decorating
Reserve about 3/4 cup of whipped cream and place in piping bag with large star tip
Pipe a large "star" for each peach slice or berry to sit on
Notes
I used a great Calphalon Brownie Pan that was the perfect size and didn't need to be sprayed
When putting cake in the refrigerator I placed mine without a cover until it had time to cool completely, then covered it with plastic wrap
O Taste and See https://otasteandseeblog.com/