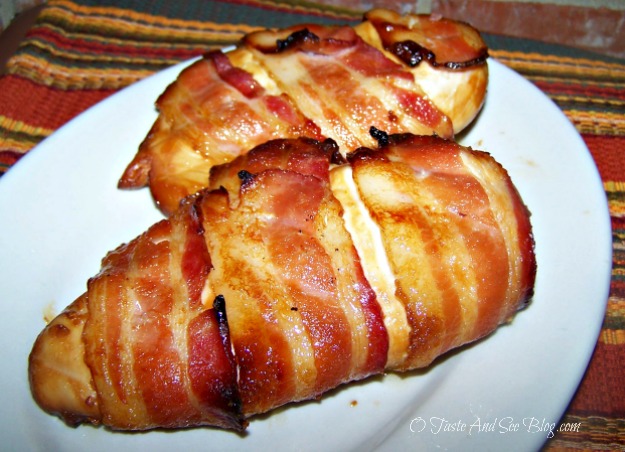 Brown Sugar Bacon Wrapped Chicken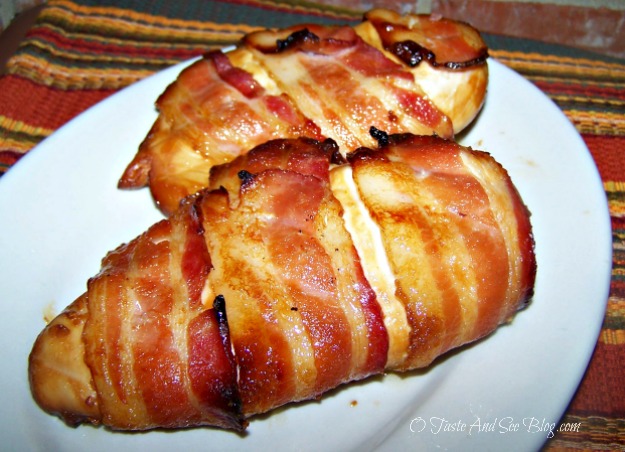 I try to grocery shop only once a month (although not always very successfully) so I stock up on sale items and use them in multiple dishes. Recently, I made Homemade Bacon Bits, Birthday Chicken, Bacon Cheese BBQ Chicken and my daughter made this Brown Sugar Bacon Wrapped Chicken. As you may have guessed, bacon and chicken were on sale this month. What a great combination! Chicken is so versatile and what isn't just a little better with bacon?
This recipe take a little planning as it has to marinate a couple of hours in the refrigerator. I usually forget to take meat out of the freezer the night before so I end up thawing it quickly in a sink of cool water then putting it in the frig to marinate as soon as it's ready. The original recipe uses boneless chicken thighs but we prefer white meat so we use boneless chicken breasts. For a more healthy or "pork free" option, turkey bacon could be substituted.
Here's the Recipe:
1/3 cup soy sauce
1/4 cup orange juice
1 tablespoon hot sauce
1 1/2 tablespoon finely chopped garlic
4 boneless skinless chicken breasts (about 2 lbs)
4-8 slices of bacon (enough to wrap around each chicken piece)
1 cup packed light brown sugar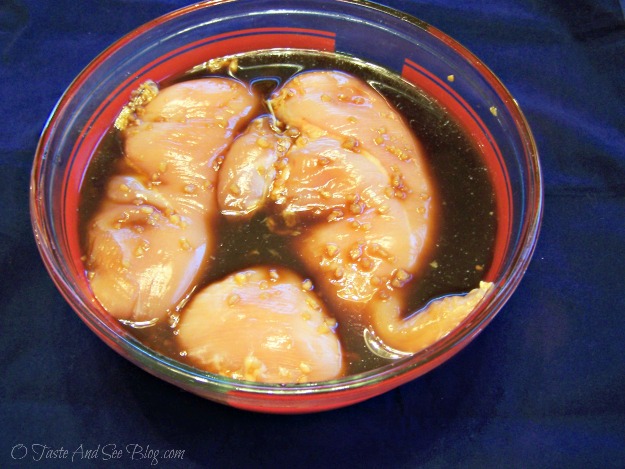 In large bowl, combine soy sauce, orange juice, hot sauce and garlic
Add chicken and coat well
Cover and refrigerate at least 2 hours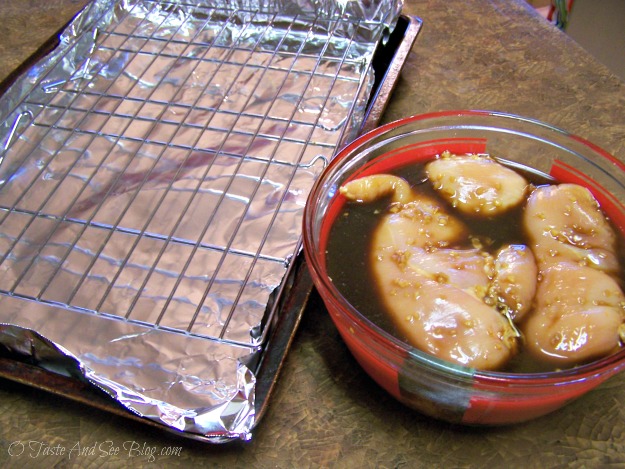 Preheat oven to 375 degrees
Line a jelly roll pan (or other rimmed baking sheet) with foil
Spray a wire cooling rack with cooking spray and place on pan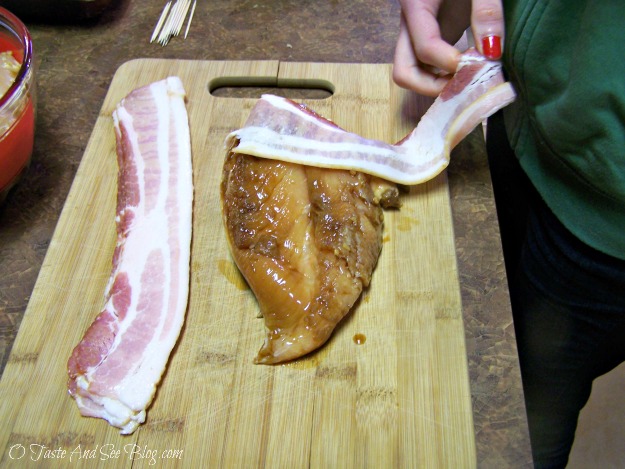 Remove chicken from marinade and wrap with bacon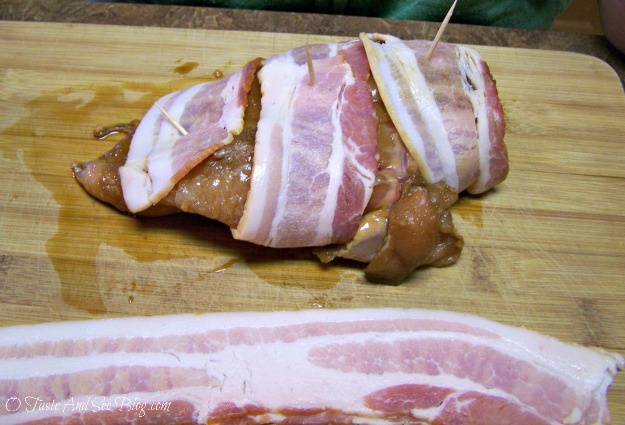 Secure with toothpicks
Use more than one piece if necessary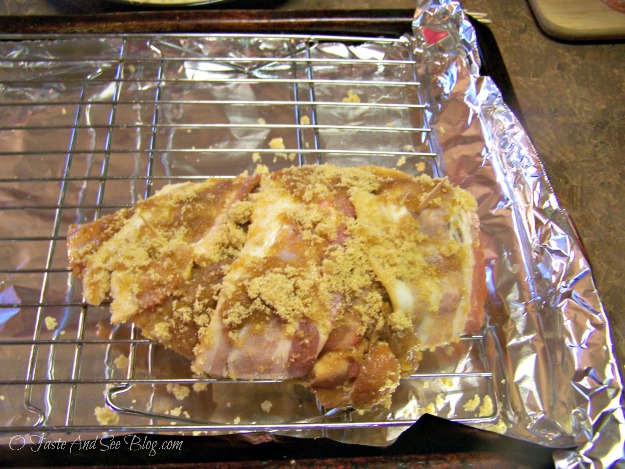 Crumble brown sugar in a shallow dish
Dip each piece of wrapped chicken in the brown sugar, coating evenly
Place on wire rack
Bake at 375 degree (turning once) until bacon is crispy and chicken is cooked through
It should take about 45 minutes, depending on size of chicken breasts

Remove toothpicks before serving
Not only does it taste great but the house smells wonderful, too!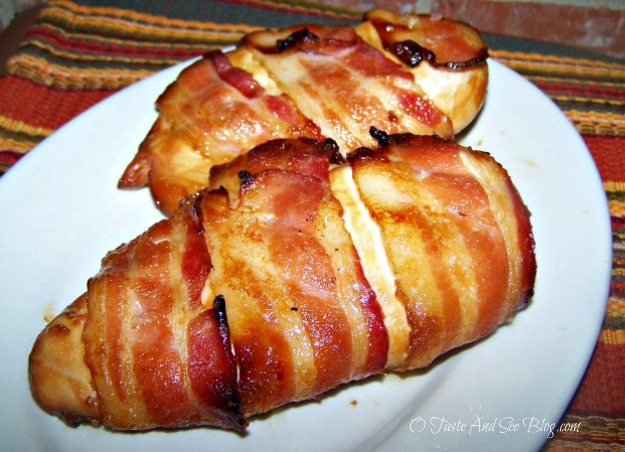 Brown Sugar Bacon Wrapped Chicken
2014-02-21 01:48:44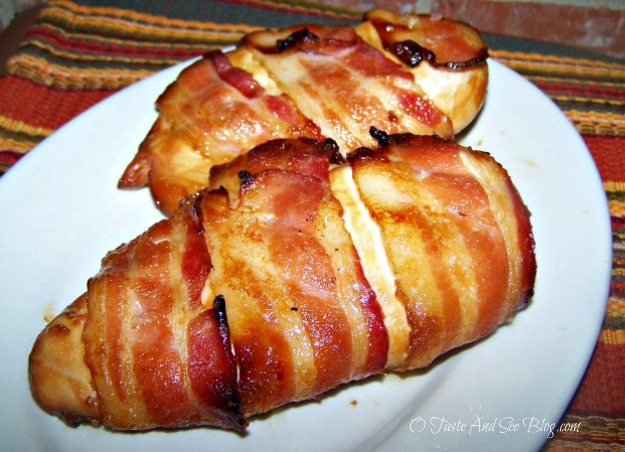 Serves 4
Ingredients
1/3 cup soy sauce
1/4 cup orange juice
1 tablespoon hot sauce
1 1/2 tablespoon finely chopped garlic
4 boneless skinless chicken breasts (about 2 lbs)
4-8 slices of bacon (enough to wrap around each chicken piece)
1 cup packed light brown sugar
Instructions
In large bowl, combine soy sauce, orange juice, hot sauce and garlic
Add chicken and coat well
Cover and refrigerate at least 2 hours
Preheat oven to 375 degrees
Line a jelly roll pan (or other rimmed baking sheet) with foil
Spray a wire cooling rack with cooking spray and place on pan
Remove chicken from marinade and wrap with bacon
Secure with toothpicks
Use more than one piece if necessary
Crumble brown sugar in a shallow dish
Dip each piece of wrapped chicken in the brown sugar, coating evenly
Place on wire rack
Bake at 375 degree (turning once) until bacon is crispy and chicken is cooked through
It should take about 45 minutes, depending on size of chicken breasts
Notes
The original recipe calls for boneless chicken thighs. We just prefer white meat.
Turkey bacon could also be used
Adapted from Paula Deen's Southern Cooking Bible
Adapted from Paula Deen's Southern Cooking Bible
O Taste and See https://otasteandseeblog.com/