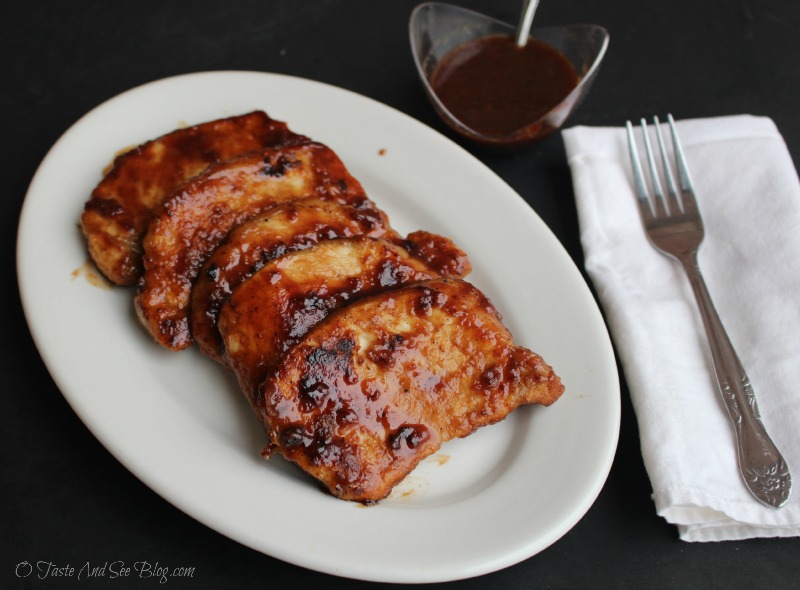 Cranberry Apple Cider Glazed Pork Chops
This post was written on behalf of SheSpeaks/Smithfield at Walmart. As always, the recipe is delicious and all opinions are my own.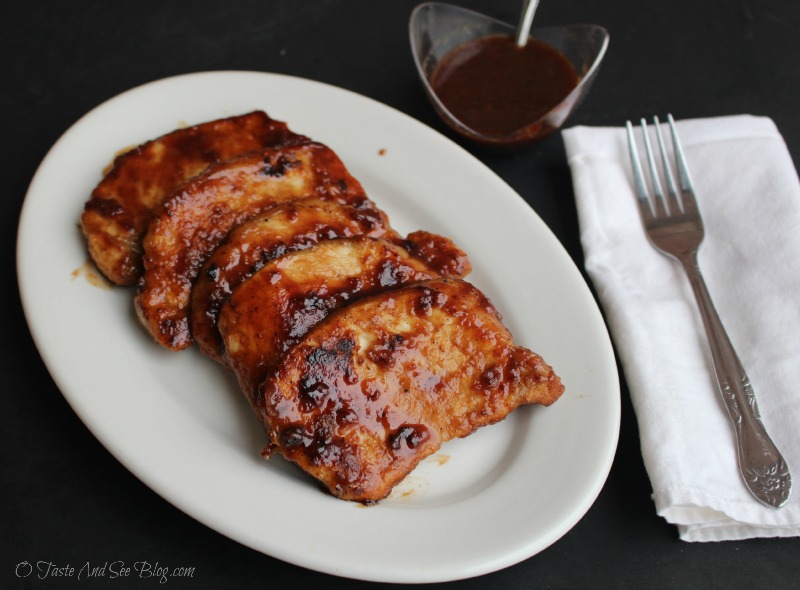 Cranberry Apple Cider Glazed Pork Chops, a quick and easy dish using flavors of the holiday season!
How was everyone's Thanksgiving? I hope you all had a blessed day. We had a wonderful time celebrating and expressing our thanks with friends and family. One thing I am thankful for is my parents, who were with us for the first time in I-don't-even-know-how-many years.
Then we enjoyed some leftovers! Seriously, we love the leftovers. Turkey dinner again, sandwiches and turkey noodle soup are a few of the things we look forward to each year.
However, the one thing we always seem to throw away is cranberry sauce. I know, you're thinking, "Really?" Yes, my husband is the only one who likes it. The rest of us just smother everything in gravy. This year, I decided to try a new recipe, Cranberry Apple Cider Glazed Pork Chops, using a little of that left over cranberry sauce, apple cider and Smith All Natural Fresh Pork Chops (which I picked up at Walmart while shopping for Thanksgiving).
I didn't really have a recipe to go by, I was just making this one up as I went along and was a little nervous about serving it to my family. (Did I mention my husband is the only one who likes cranberry?) But, everyone loved it! My daughter commented that she liked it because it didn't have "too much tang". The addition of apple cider and a little honey tempered the tartness of the cranberry sauce just perfectly.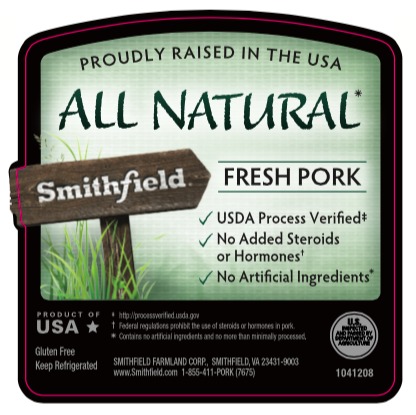 If you've seen some of my other pork recipes (Baked Pork & Apples, Pork Kabobs, or Ham & Cheese Pocket Sandwiches) you know, Smithfield is my go-to for all things pork. They offer all natural products, proudly raise their animals in the USA, provide jobs for community members and support both national and local causes. Plus, it's a quality product and tastes great!
Here's the Recipe:
Seasoning:
1-1 1/2 lbs Smithfield All Natural Boneless Pork Chops
2 Tbsp all-purpose flour
1/4 tsp garlic powder
1/4 tsp chili powder
salt and pepper to taste
2 Tbsp oil
Glaze:
1/2 cup apple cider
1/2 Tbsp apple cider vinegar
1 Tbsp honey
salt and pepper to taste
cranberry sauce – 1/2 inch thick slice
*I used jellied cranberry sauce but whole would be good, too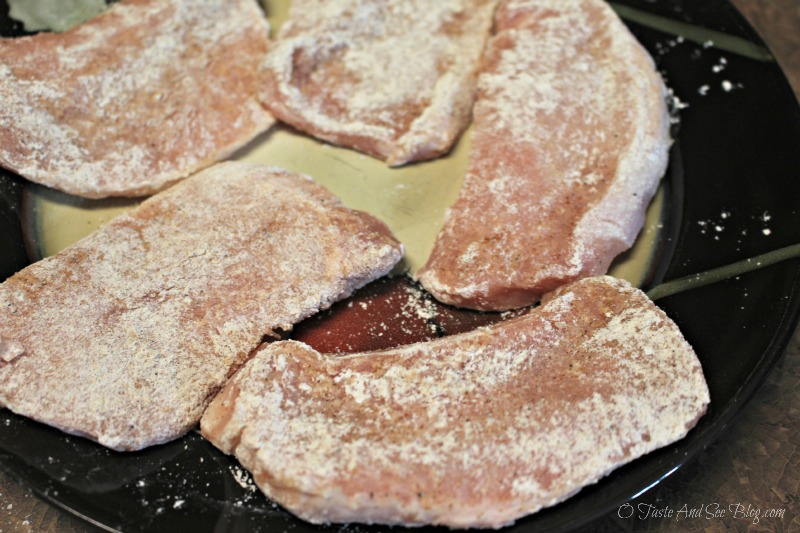 Mix flour, garlic powder, chili powder, salt and pepper
Lightly bread each side of pork chops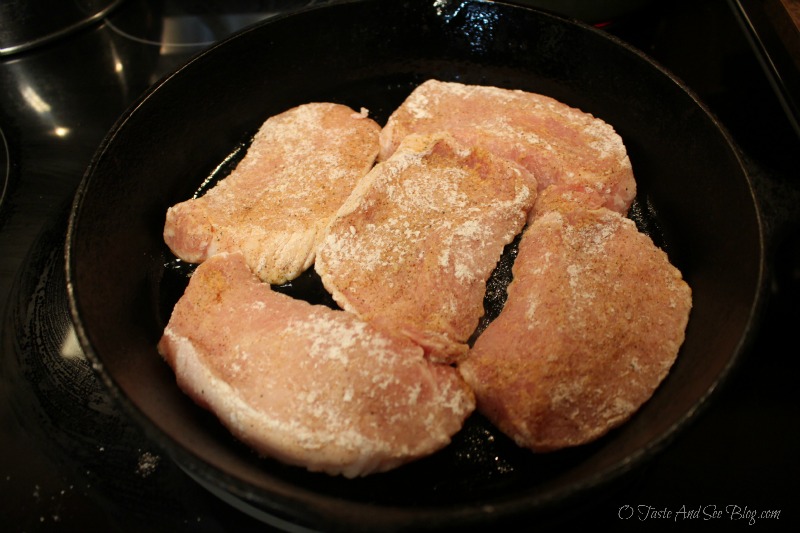 Heat oil in skillet and add pork chops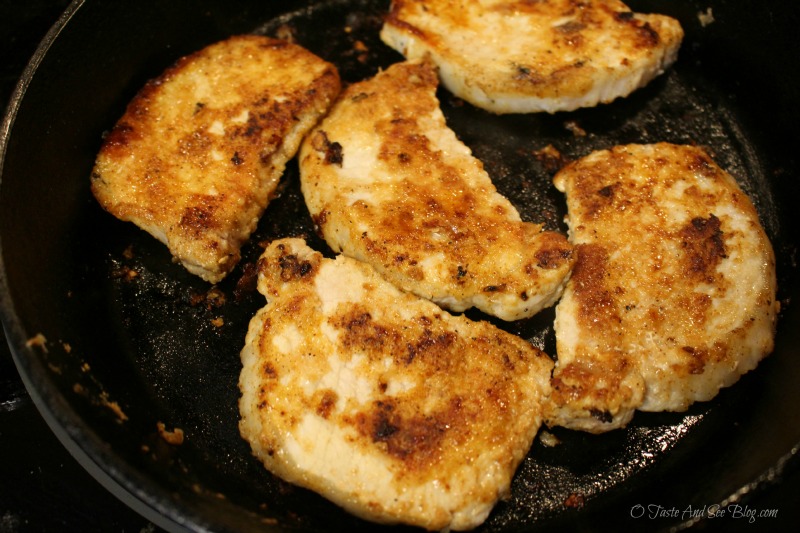 Cook 2-3 minutes, then turn to brown other side
Cook until center of chop is no longer pink (time will depend on thickness of chops)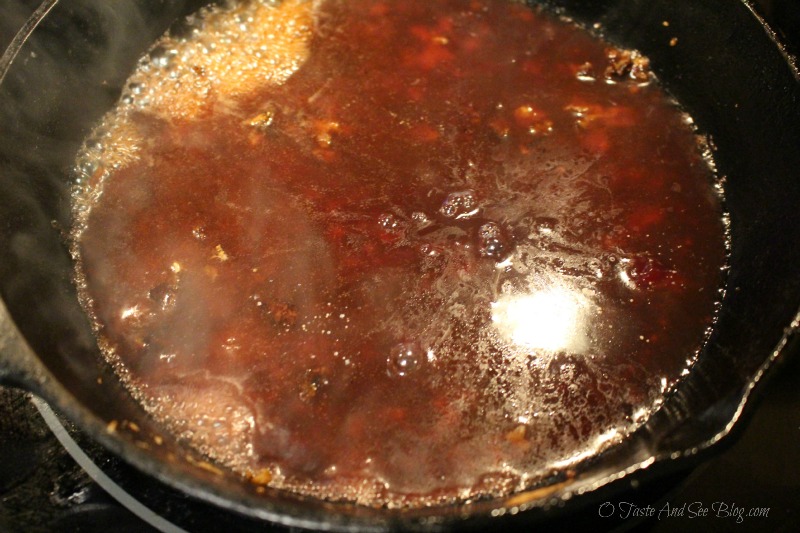 Remove pork from pan and set aside
Add apple cider and apple cider vinegar to skillet and deglaze, making sure to scrape all the yummy bits from the bottom of the skillet
Add cranberry sauce and honey whisking until smooth
Add salt and pepper and continue to simmer until glaze begins to thicken slightly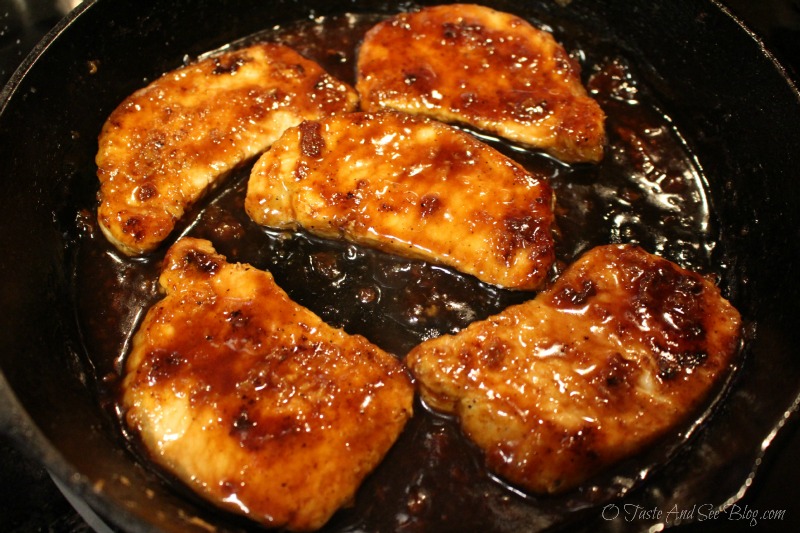 Add pork chops back to skillet, turning to coat and heat 1-2 minute on low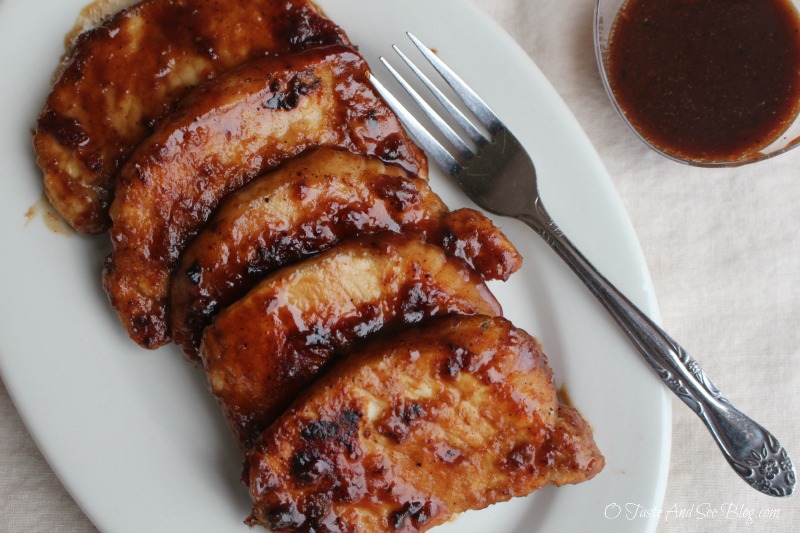 Transfer chops to serving plate and drizzle with additional sauce or serve on the side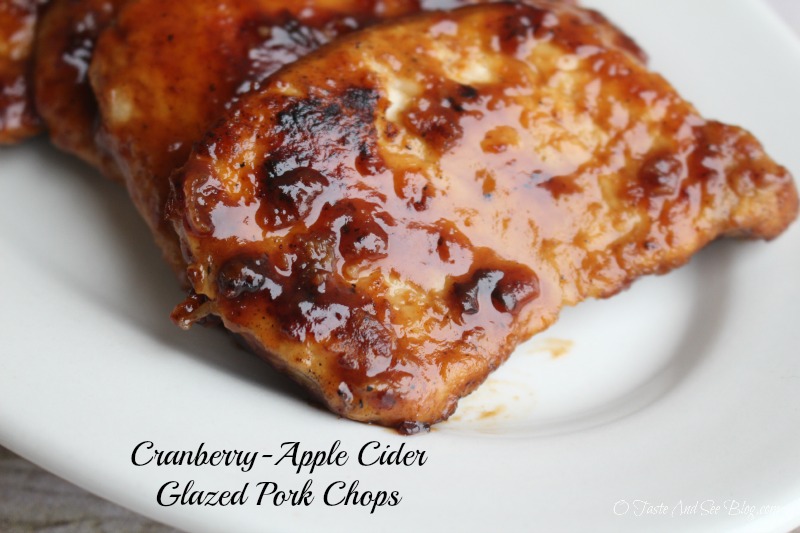 What did you make with your leftover?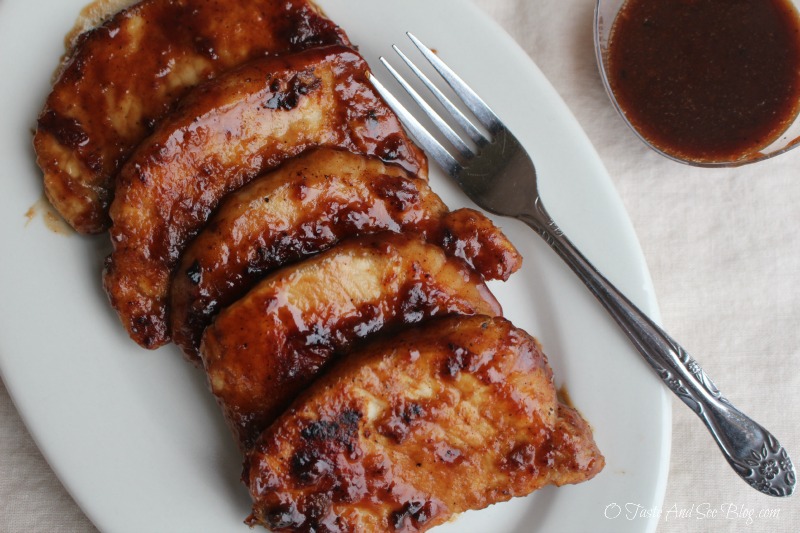 Cranberry Apple Cider Glazed Pork Chops
2015-12-02 22:55:21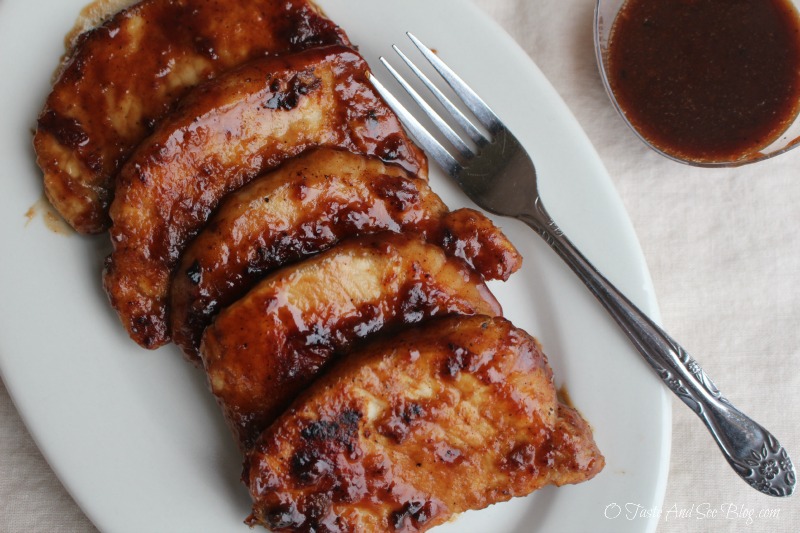 Serves 4
Seasoning
1-1 1/2 lbs Smithfield All Natural Boneless Pork Chops
2 Tbsp all-purpose flour
1/4 tsp garlic powder
1/4 tsp chili powder
salt and pepper to taste
2 Tbsp oil
Glaze
1/2 cup apple cider
1/2 Tbsp apple cider vinegar
1 Tbsp honey
salt and pepper to taste
cranberry sauce – 1/2 inch thick slice
Instructions
Mix flour, garlic powder, chili powder, salt and pepper
Lightly bread each side of pork chops
Heat oil in skillet and add pork chops
Cook 2-3 minutes, then turn to brown other side
Cook until center of chop is no longer pink (time will depend on thickness of chops)
Remove pork from pan and set aside
Add apple cider and apple cider vinegar to skillet and deglaze, making sure to scrape all the yummy bits from the bottom of the skillet
Add cranberry sauce and honey whisking until smooth
Add salt and pepper and continue to simmer until glaze begins to thicken slightly
Add pork chops back to skillet, turning to coat and heat 1-2 minute on low
Transfer chops to serving plate and drizzle with additional sauce or serve on the side
Notes
Whole or jellied cranberry sauce is fine
O Taste and See https://otasteandseeblog.com/