Kit Kat Cake
Today I am Thankful for: Celebrating Goals Achieved!
In our family, when someone reaches a goal or milestone in their life, we like to celebrate. The general rule for celebrating is, the bigger the accomplishment; the bigger the celebration. When our middle daughter recently earned her black belt, we thought that called for a bigger celebration so….we had a PARTY!
We decided this party would be a casual, FUN party. My daughter wanted some "finger" food and due to time constraints we had to keep it very simple. Her final "menu" included "Muddy Buddy" Chex Mix, veggie tray and dip, pretzels (her favorite snack) and of course…CAKE. The guest list included about SEVENTY people so we needed a lot of cake. Because of time issues we decided to buy a larger cake at Sam's Club and make a smaller Kit Kat cake.
The first time we made this cake was a few months ago for her sixteenth birthday. We had seen it in the bakery department of a local grocery store and knew it would be easy and delicious. We wanted it to go with the party "theme" so we chose to use candies only in the colors of the karate belts she has earned (and given by our school). It was really quite easy…we (by "we" I mean her sister) just bought a large bag of M & M's and picked out the red ones, since our school doesn't have a "red" belt. To round out our belt colors I purchased small bags of single color "M&M" type candies in white and black at our local party store. We tied a wide black ribbon around the cake to represent her Black Belt and we had a "black belt party themed" cake!
***I must confess, I used a cake mix…but you could use your favorite "scratch" cake recipe as well.***
Here's the Recipe:
(printable recipe card below)
1 box cake mix and ingredients listed on back (usually oil, eggs and water) She chose chocolate because that's her favorite
1 can frosting – again, she chose chocolate (her favorite, plus it went with the black belt theme)
1 large bag of "M & M" type candies – mini's or medium size
10 Kit Kat bars – regular size
Ribbon in color to match your party
Prepare cake according to package directions
Bake in two 9″ round pans
Cool completely
Place one cake layer bottom up and ice
Place 2nd layer bottom down on top of first and ice
Cover top and all sides with icing
Break Kit Kats in bars of 2 and stick to sides of cake
Press gently to allow them to stick, being careful not to break the or "smash" the cake
The Kit Kats will stick up above the cake, that's OK, you need it to hold on the candies
"Dump" candies on top of cake and "spread" somewhat evenly. You can pile on as many or as few as you want. We like a lot, but my when my husband passed the food table, he thought the cake was a candy dish full of m&m's so he reached in and grabbed a small handful off the top.
Tie a wide ribbon around the cake in a color to match your decorations…several small "curling" ribbons could also be used and ends curled
Everyone loved this cake, in fact….
Next time I'm skipping the store bought cake and making TWO of these!
Kit Kat Cake
2013-11-08 02:26:49
Serves 15
Easy, Fun and Delicious. Cake decorated with Kit Kat candy bars and M & M's
Ingredients
1 box cake mix (flavor of your choice)
Ingredients to prepare cake - usually oil or butter, eggs and water
1 can prepared frosting
1 large bag of mini or medium sized M & M (or other coated chocolate) candies
10 large Kit Kat bars
Instructions
Prepare cake according to package directions
Bake in two 9" round pans
Cool completely
Place one cake layer bottom up and ice
Place 2nd layer bottom down on top of first and ice
Cover top and all sides with icing
Break Kit Kats in bars of 2 and stick to sides of cake
Press gently to allow them to stick, being careful not to break the or "smash" the cake
The Kit Kats will stick up above the cake, that's OK, you need it to hold on the candies
"Dump" candies on top of cake and "spread" somewhat evenly
Tie a wide ribbon around the cake in a color to match your decorations...several small "curling" ribbons could also be used and ends curled
Notes
Your favorite "scratch" cake or icing recipe could be used
Because almost everyone wanted a piece and it has a lot of extra candy on it, I was able to serve smaller slices so it would go farther
O Taste and See https://otasteandseeblog.com/
This post linked with Saturday Night Fever, Best of the Weekend,
Freedom Fridiays
, Inspire Me Monday, Tell Us Tuesday, Tuesday Trivia, Inspire Us Thursday,
Thumpin' Thursday
, Pin It Thursday,
Foodies & Crafties Soiree
,
Craft Frenzy Friday
This post featured at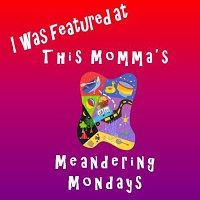 AND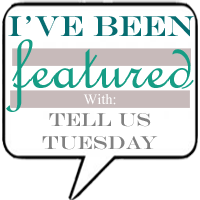 AND
AND