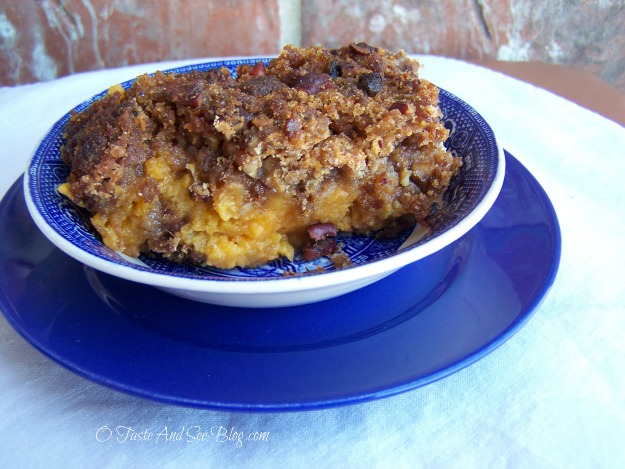 Sweet Potato Casserole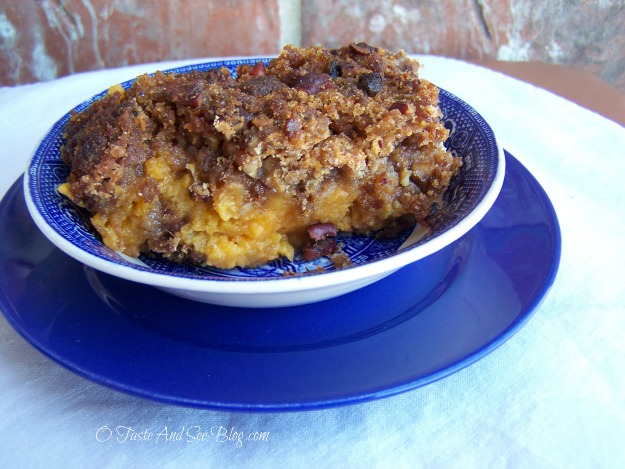 Sweet Potatoes…A Real Southern "Delicacy"
Having lived in three different regions of the country, it's very evident that food is regional. In Pennsylvania my favorite regional food was Philly Cheese Steaks, now in Texas probably Chips and Salsa, but nothing says "Southern Food" like sweet potatoes.
Other regions eat them too, but in the South they are grown locally and sold in large paper grocery bags at roadside stands, They are prepared in many ways – baked like a white potato, made into pies (used instead of pumpkin), cooked in a cast iron skillet on top of the stove and called "candied yams", and my favorite way…Sweet Potato Casserole! Some call it souffle but the best name is "casserole". Why, what's the difference? Well, it's sweet, like it could be a dessert but if you call it casserole, that puts it back into the category of "vegetable side dish" which means you can have it with your dinner and still have dessert later! What's not to love about that?
When we lived in Pennsylvania, we would make this dish and take it to our church mission conference "International" dinner, because it was "foreign" to them…but they LOVED it! Every year as the dinner approached, we would have people ask us if we were making sweet potatoes. We were always happy to bring it…there's nothing more complimentary to a Southern cook than to be asked to bring her "signature" dish or be asked for the recipe.
This is a dish everyone in our family loves, although I do leave the pecan topping (which is best if it's just as thick as the sweet potatoes) off a portion for my son, who likes marshmallows instead. This was his "lucky" Thanksgiving, we had twenty-three people at our house and there were a few others that couldn't eat nuts so they got one all their own. This is the one thing that no matter how much I make or how much is left over, it NEVER gets thrown away. This year I made a triple batch, which barely fit into my mixing bowl.
After it's taken out of the oven is stays hot forever…or seemingly…so it's perfect to take to Christmas parties or baked a little early at holiday meals when the oven is needed for more "last minute" dishes. It's just as good left over, re-heated in the oven or microwave. My husband even likes is cold right out of the frig. It doubles (or triples) easily and can be mixed a day ahead and baked when needed (wait until baking time to add topping or they will melt into casserole).
Here's the Recipe:
(Printable version below)
3 cups cooked and mashed sweet potatoes (1 med-large sweet potato is about 1 cup cooked)
1 cup sugar
2 eggs – slightly beaten
1/2 tsp salt
1 stick butter (or margarine) melted
1/2 cup milk
1 1/2 tsp vanilla
Topping:
1 cup chopped pecans
1/3 stick butter or margarine – softened
1 cup brown sugar
1/3 cup all purpose flour
***Cooking Sweet Potatoes:
For years I peeled the sweet potatoes then boiled them. If you've ever peeled a raw sweet potato you know why they are called "sweet". They are sticky and drops of a thick liquid can weep from them. They are a mess to peel. One year I was making a large quantity of it with a friend for a Sunday School Christmas party. She told me she never peeled them first, just boiled them, then the peels slip right off! That was one of those, "Why didn't I think of that" moments.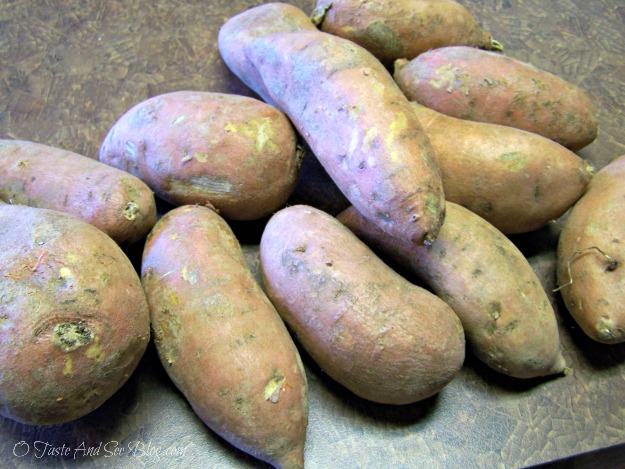 Wash sweet potatoes well, place in a large pot, cover with water and boil until done
If the potatoes are large cut in half cross-wise to help them cook faster
To check for doneness, insert a long knife blade into potato, if it slides off..they're done
Remove from water and allow to cool before attempting to peel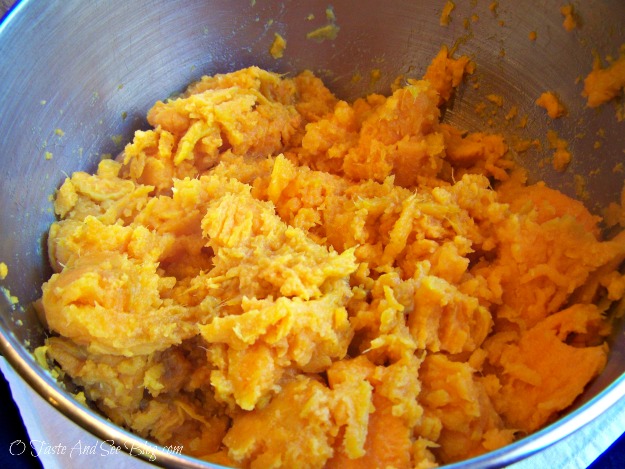 Peel and measure sweet potatoes and place in large mixing bowl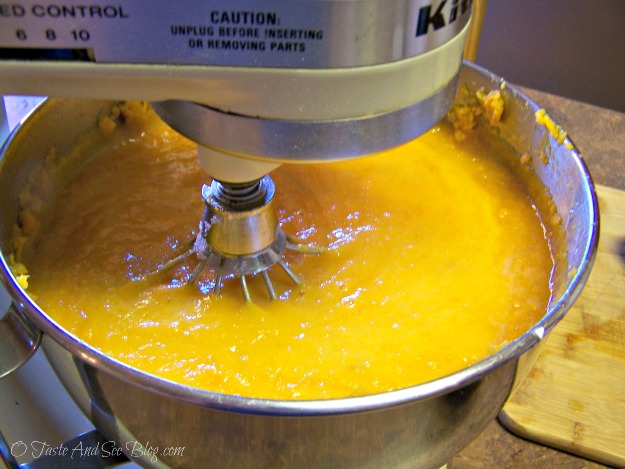 Place all other ingredients in bowl and mix until well blended and smooth
As I mentioned, this is a triple recipe…your mixing bowl probably won't be this full
***Note: Start the mixer slowly! All that liquid will "spray" everywhere if you turn it on too fast. Believe me…I do it almost every year…especially when I make more than one batch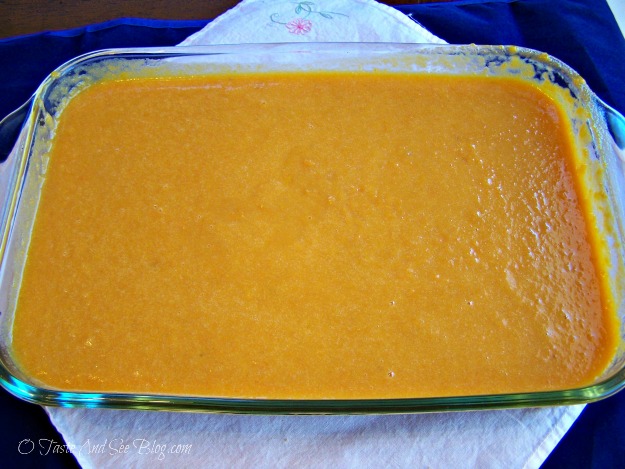 Pour into a baking dish – 2 recipes fills a 9 x 13 perfectly…leaving plenty of room for topping
At this point it can either be baked or covered and stored in the frig. I always mix it the day before.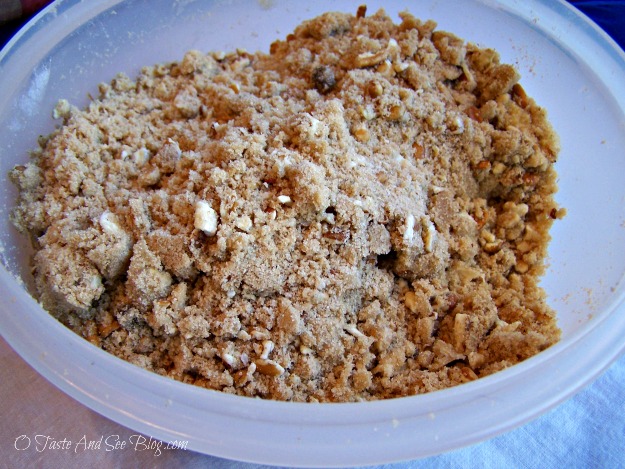 Mix topping in a medium to large bowl – depending on how many recipes your making
If making ahead, cover and store until ready to use but do not put it on top of potatoes until ready to bake. The liquid from the potatoes will cause the sugar to melt and topping and filling will become one.
When ready to bake:
Preheat oven to 325 degrees
Top potatoes with topping and bake 30-45 minutes or until no longer "jiggly" in center
***Please note – baking times depend on many things…the amount being made, individual ovens, how many other things are in the oven with it, even altitude. Baking times are a general guideline so check early but know that it may also take longer than recommended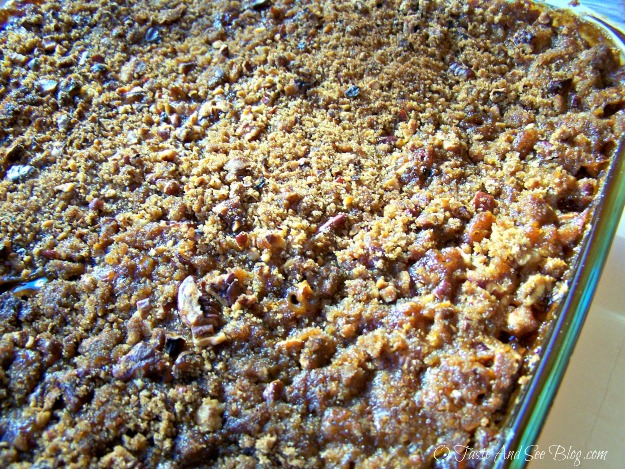 It will stay hot for a long time so this is the perfect dish to bake a little early then have room for rolls or green bean casserole!
If you don't like or can't eat nuts, they could be omitted or marshmallows substituted
If marshmallows are used they should be added after casserole is completely done and returned to oven for 3-5 minutes to allow them to melt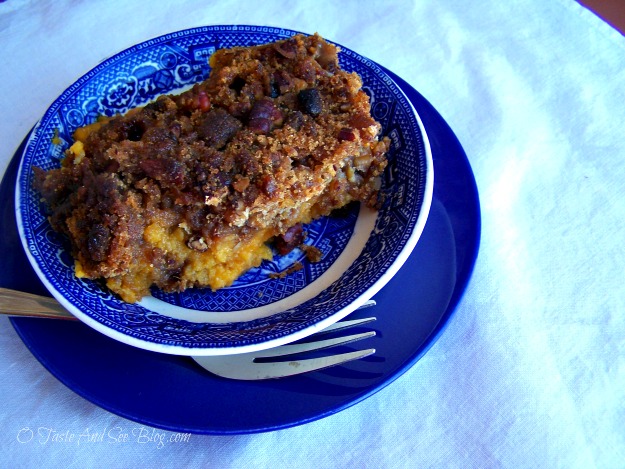 Ok, confession…I did leave it in the oven ever so slightly too long. It shouldn't be quite that dark but it was still DELICIOUS!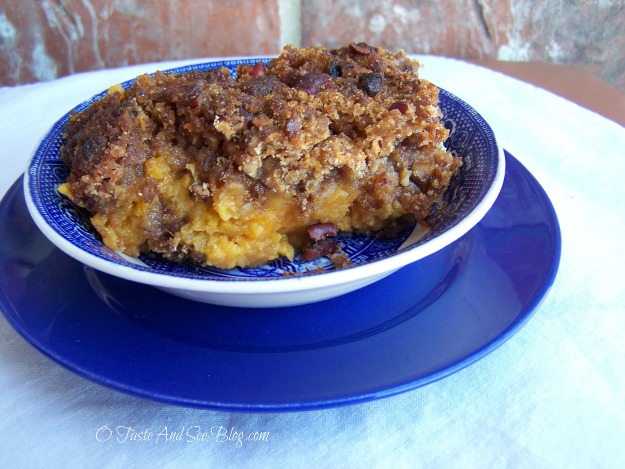 Sweet Potato Casserole
2013-12-06 15:03:31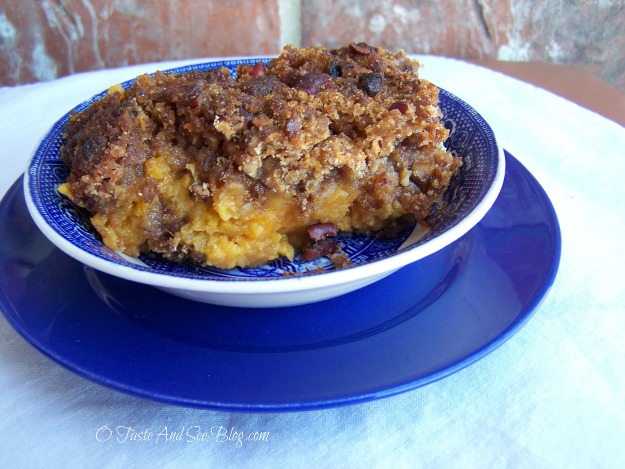 Ingredients
3 cups cooked and mashed sweet potatoes (1 med-large sweet potato is about 1 cup cooked)
1 cup sugar
2 eggs - slightly beaten
1/2 tsp salt
1 stick butter (or margarine) melted
1/2 cup milk
1 1/2 tsp vanilla
Topping
1 cup chopped pecans
1/3 stick butter or margarine - softened
1 cup brown sugar
1/3 cup all purpose flour
Instructions
Wash sweet potatoes well, place in a large pot, cover with water and boil until done
If the potatoes are large cut in half cross-wise to help them cook faster
Remove from water and allow to cool before attempting to peel
Peel and measure sweet potatoes and place in large mixing bowl
Place all other ingredients in bowl and mix until well blended and smooth
Pour into a baking dish - 2 recipes fills a 9 x 13 perfectly...leaving plenty of room for topping
At this point it can either be baked or covered and stored in the frig.
Mix topping ingrediens in a medium to large bowl - depending on how many recipes your making
When ready to bake
Preheat oven to 325 degrees
Top potatoes with topping and bake 30-45 minutes or until no longer "jiggly" in center
Notes
To check potatoes for doneness insert a long knife blade into potato, if it slides off..they're done
When mixing, start the mixer slowly! All that liquid will "spray" everywhere if you turn it on too fast. Believe me...I do it almost every year...especially when I make more than one batch
If making ahead, cover and store until ready to use but do not put it on top of potatoes until ready to bake. The liquid from the potatoes will cause the sugar to melt and topping and filling will become one.
***Please note - baking times depend on many things...the amount being made, individual ovens, how many other things are in with it even altitude. Baking times are a general guideline so check early but know that it may also take longer than recommended
O Taste and See https://otasteandseeblog.com/